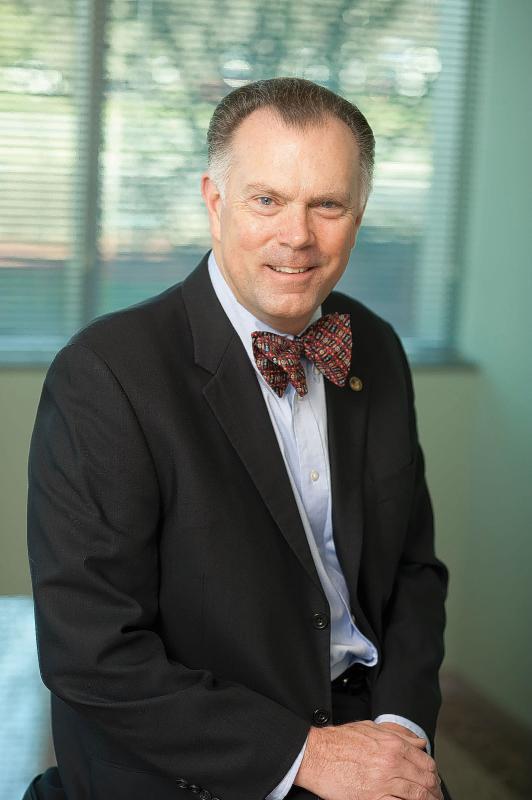 Lebanon — Stephen Christy, longtime president and CEO of Mascoma Savings Bank, has announced his retirement, effective Jan. 1, 2017.
Christy, who was named 2014 community banker of the year by the New Hampshire Bankers Association, joined the bank as a teller in 1973 and rose through the ranks, taking the helm in 1990. He saw the mutually owned bank through a series of unprecedented changes, including global financial crises, the Great Recession and the advent of electronic banking. During that time, the bank experienced growth that board Chairwoman Gretchen Cherington called "quite phenomenal."
"I'm very proud of his tenure," Cherington said in a telephone interview on Thursday.
In 1973, the bank had one office, $28 million in assets and about 15 employees, Cherington said. Today, the Lebanon-based business has more than two dozen locations in the Twin States, $1.4 billion in assets and 320 employees.
During Christy's tenure, Mascoma Savings Bank has expanded its involvement in commercial banking and now has a sizable commercial portfolio in Burlington and one developing in Portland, Maine, she said. It also added a wealth management company and acquired Centurion Insurance Group.
But Christy, 66, said there was no grand plan for expansion. Rather, it "just happened."
"We've been very fortunate. We really operate the bank in a great market," he said in a telephone interview Thursday. "We've just … continued to expand the franchise as opportunities presented themselves and as they made sense."
The bank's business was fueled by the growth the region experienced after the interstates came through in the 1960s, he said. From the early 1970s to the real estate recession of the late 1980s and early 1990s , the bank doubled in size every five years.
For that to happen, "you have to grow at 15 percent per year," he said. "That is a lot of growth."
When Christy became CEO, the country was in the throes of a recession. During his first year as president, the cost of FDIC insurance outstripped the bank's earnings. Yet, the Upper Valley was not nearly as affected as other places in New Hampshire, he said. "We were very fortunate to be in this marketplace ."
As the economy began to grow again, so did the bank. Between 1996 and 1999, it added eight offices of Green Mountain Bank and two offices of New London Trust . In 2014, it acquired Connecticut River Bank.
'Tilting at Windmills'
Christy cuts a distinctive path through the Upper Valley with his trademark bow ties, and through the air in his shiny 1948 Cessna 195. Career-wise, except for five years with an unrelated business, his journey has been in banking. In those four decades, he's seen dramatic changes — the number of banks in the U.S. has fallen from 18,000-plus in 1973 to about 5,000 today, he said. The number of mutual banks, which are owned by customers rather than shareholders, has dropped in New Hampshire from at least 30 in the early 1980s to about 10, with four or five in Vermont. Fewer than 10 percent of banks in the United States are mutually owned.
"We have had people courting us to convert, " he said, "and while it might make some of us wealthy, we just don't think it's in the best interest of the community."
With that in mind, Christy sees the bank's recent expansion efforts as part of a larger mission.
"W e've acquired one full bank and parts of two other banks, but … we view that as positive, in the sense that we are mutualizing those entities that are publicly owned," he said. "Maybe we're tilting at windmills, but we think it's important. "
But the biggest changes have come in the form of technology and red tape.
In 1973, tellers at Mascoma Savings Bank were using adding machines and primitive computers. Now, the technology that's available is "just unbelievable," Christy said.
"We have a whole generation, my children's generation and younger, they don't even come into the bank," he said. " T he industry is in kind of a balancing act, in terms of how it balances its investment in bricks and mortar … and in technologies."
And over the years, state and federal regulations have made banks "far less user friendly ."
During his days as a teller in Lebanon, seniors living at Rogers House came into the bank to cash their Social Security checks, often their sole source of income. Several weeks later, they might return in need of $10 to buy groceries, or $15 for a fan, when the temperatures spiked.
"We would type up a little note and have them sign it ," and customers repaid the no-interest loans when their next check arrived , he said. " When the regulators found out about that, I thought I was going to jail," he said with a chuckle. "They put a screaming halt to that."
Today, when someone applies for a loan, "you practically have to strip search" them, he said. "I understand why it's changed, but that doesn't make me any happier about it."
He said he didn't think most banks in Vermont and New Hampshire were responsible for these problems, but regulators tend to "come onto the battlefield and shoot the wounded," he said. "We survived it."
Leading by Example
When the bank acquired several branches in Vermont, Christy suggested it donate a portion of its earnings to its nonprofit Mascoma Savings Bank Foundation each year.
"We look at it as a dividend back to the community that made us successful," he said.
Founded in 1988, the philanthropic organization has provided more than $3.5 million in grants to local nonprofits.
On a similar note, bank employees are encouraged to do volunteer work, Christy said. "It just amazes me what our employees do in the communities where they live."
Christy has led by example, serving on the boards of a long list of community organizations, including Mary Hitchcock Memorial Hospital, the Dartmouth-Hitchcock Clinic, Alice Peck Day Memorial Hospital, the New Hampshire Aviation Historical Society and the Montshire Museum of Science. He chaired the boards of the Dartmouth-Hitchcock Alliance and Vital Communities, and is a past president of both the Rotary Club of Lebanon and the Lebanon Public Libraries Foundation. He is a former member of the Lebanon Airport Advisory Committee.
Christy serves on the boards of the Daniel Webster Council of Boy Scouts of America in Manchester, the New Hampshire Humanities Council and the American Precision Museum.
His professional involvement spans state and national organizations. He is a past director of the Vermont Bankers Association and of the New Hampshire Bankers Association, where he was board chairman. He is also a former director of the Federal Home Loan Bank of Boston, where he chaired the audit committee, and a former director of the American Bankers Association.
Christy is known for his dedication to customers and caring for people he works with, Cherington said, offering a personal example.
About a year ago, while attending a meeting, Cherington learned of the death of someone close to her. Christy, who was also at the meeting, offered to drive her home, but Cherington said she would be fine.
"He called me about an hour later to make sure I was OK," she said. "I think he's done that for many people. … He takes a personal interest in people, both when things are going well and when things are not going so well."
Christy serves on the bank's executive committee and its board of directors, which will be working with Kaplan Partners, a Philadelphia-based executive search firm, to find a successor.
It will be a challenge to replace Christy, whose name "has become synonymous with Mascoma Savings Bank," Cherington said in a statement. "But we are confident that his legacy will continue."
On Thursday, in email exchanges with the Valley News, Christy's peers in the Upper Valley banking community praised him.
An instrumental member of New Hampshire's banking industry, Christy's "No. 1 focus has always been on meeting the needs of individuals, businesses and the communities of the Granite State," said Christiana Thornton, president and CEO of the New Hampshire Bankers Association. "He has been a strong advocate for New Hampshire's banking industry, both locally and nationally … and has been recognized by his peers for his strong commitment to the state. He is a genuine and outstanding individual who continues to leave a mark on his bank, communities, region and the financial services industry."
Stephen Theroux, president and CEO of Lake Sunapee Bank, said he has known Christy for more than 35 years, served on many committees with him and has been with him at "way too many industry events."
"Steve has had an incredible career, always a positive voice for community banking, and constantly taking leadership positions on the many civic and industry committees he has served," Theroux said. "His retirement will mark the end of an era and his remarkable leadership at Mascoma Savings Bank."
Christy's father was in the Presbyterian ministry, and the family lived in several southern states. But the summers found Christy working on the Mount Washington Cog Railroad. After earning a bachelor's degree in history, he moved to the Granite State, where he met the woman who would become his wife. He and Donna raised their two children in Lebanon and have lived in the same house since 1978. He plans to stay in the area, but otherwise he's not yet sure what retirement will have in store.
That will all be sorted out "when the time comes," he said. Come next year, though, he is hoping to spend more time in the air in his antique Cessna.
"One of my jobs, I'm sure, will be to get out from under my wife's feet," he said.
Aimee Caruso can be reached at acaruso@vnews.com or 603-727-3210.