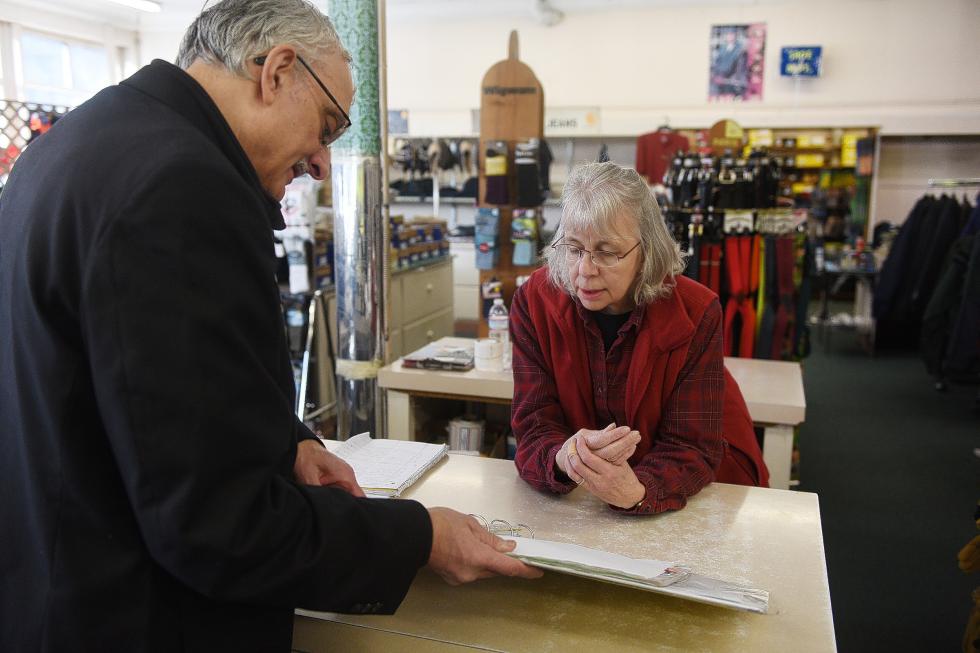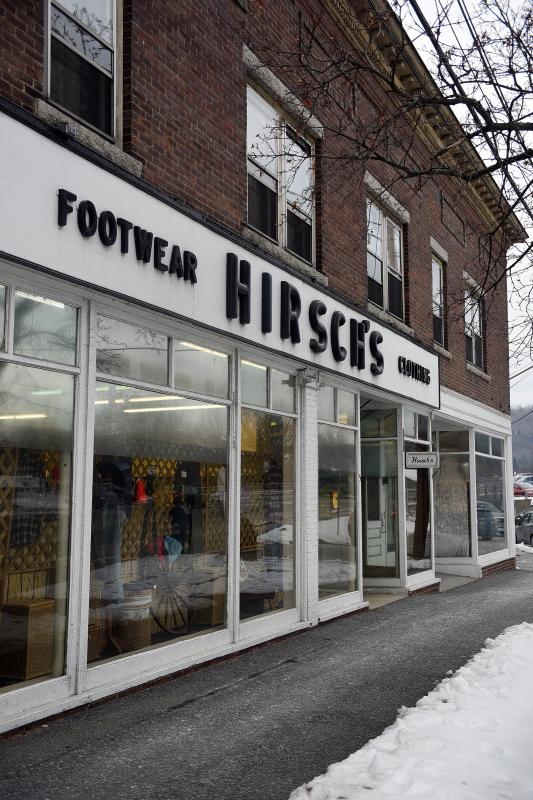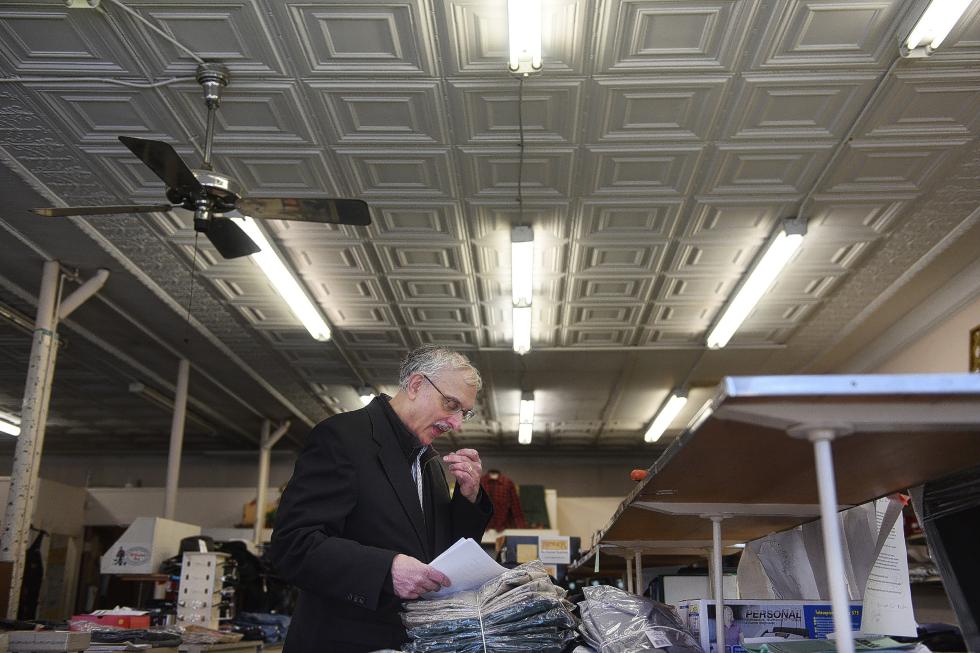 Lebanon — In northern New England, the thin blue line begins inside a modest storefront on Hanover Street in Lebanon. From there it spreads out to hundreds of police departments, fire departments and public works departments throughout New Hampshire and Vermont.
That's because when it comes to outfitting the men and women in blue — or gray, black or khaki for that matter — Hirsch's Clothing, Footwear and Uniforms usually gets the dispatch call.
Hirsch's has been selling work clothes, rugged outdoor apparel, shoes and boots to Upper Valley residents since the store was first opened in 1947 on Court Street by the late Benjamin Hirsch. His son, Ed Hirsch, took over the store in 1982 and pushed it into selling utility apparel to local municipalities, ultimately making Hirsch's one of the leading supplier of uniforms throughout the Twin States.
"Uniforms and work clothes have been a lifesaver," said Hirsch recently while taking a break from preparing orders for shipment.
The past 20 years have not been kind to small retailers such as Hirsch's as big-box chain stores and then online shopping pulled away their customers. Only a handful of family owned clothing stores remain in the Upper Valley, and someone walking into Hirsch's might get the impression the longtime Lebanon retailer is next.
But despite the building, which includes six one-bedroom apartments above the store, recently being listed for sale, Hirsch said the business is holding steady because of a sales niche not evident to the public who walk through its doors.
Though the prevalence along one wall of fluorescent yellow safety vests that road crews wear are a hint that Hirsch's may not be the place for back-to-school clothes any longer.
"I'm proud of how we've built this from the ground up," Hirsch said of the uniform business.
Out on the sales floor, uniforms with embroidered names and insignia patches are waiting to be packed into boxes: navy-blue turtleneck shirts for Springfield Fire-Rescue; blue and maroon polo shirts for Bradford's municipal workers; green sweatshirts for Dartmouth's facilities department; fire-resistant coats for Hanover's fire department; uniform dress shirts for the Orange County Sheriff's Department; dress coats for Charlestown Fire & Hose and protective outwear for Rumney Fire & Rescue.
And although they all may look similar to the general public, the uniforms among the multiplicity of region's fire and police departments can vary in subtle but important ways.
"It's very low-tech and non-Internet," Hirsch said of customizing uniforms. "How do you describe this on the Internet?"
Selling and taking sales orders from local fire departments and police forces "is what we do all day here, although the public doesn't see it."
A member of Woodstock's fire department comes through the door to discuss the gold sleeve braiding that is to be wrapped around the forearms of dress coats that signify an officer's rank. The department's annual Firefighters Ball is on Feb. 6 and members will be wearing their "class-A" dress uniforms. He wants to make sure the plain gold braiding will match the current plain braids already on the dress coat and doesn't get mistaken for the fancier gold braiding with raised beads that is also available.
"Uniforms require tremendous attention to details and the braids have to be consistent," Hirsch explained, before laughing at himself. "I have an obsessive personality, so this is a good fit."
The merchandise isn't cheap, either. A class-A dress coat for a firefighter can easily run to more than $400, depending on material, and a dress cap typically costs about $50. He also sells the white coats and checkered pants that restaurant chefs wear, and scrubs for hospital staffs.
A third-generation merchant whose grandfather peddled dry goods in a horse-drawn wagon between Burlington and Barre, Vt., and whose uncles owned clothing stores in Brandon, Vt.; St. Albans, Vt.; Somersworth, N.H.; and Newport, N.H., Hirsch initially didn't intend to delve into the family business. Growing up in Lebanon — his father's store was originally called Hirsch's Army Navy — Hirsch said he never had a particular career in mind other than knowing he had a "particular interest in people" and wanting to "work one-on-one" with them.
Although Benjamin Hirsch was an honors graduate from Rutgers University before serving in World War II as a German and Russian translator, Ed Hirsch didn't travel far from home for college: He chose Dartmouth College. Under then-president John Kemeny, Dartmouth had launched a concerted effort to recruit more Upper Valley kids. He majored in psychology and then went on to earn a graduate degree at Cornell University's famed School of Industrial and Labor Relations.
After graduation, he went to work at the former Dartmouth National Bank in Hanover, and then joined a bank in Albany, N.Y., as a portfolio manager and analyst.
Later, when his father became ill in the early 1980s, Hirsch was asked to come back and take over the family business.
At first, he wasn't sure it would be right for him.
"I didn't see myself taking over because I didn't think my personality was compatible with the business," Hirsch said.
"I was my parent's only son, so they asked me," he recalled. "And being the kind of fellow I am, I did what they asked me."
What Hirsch quickly discovered was that the clothing business, with customers coming in every day looking for something they needed but needing some help in the process, utilized his interest and knowledge in psychology and human relations that for him was the basis of a business enterprise.
When the retail nature of the business started to fall off in the late 1990s, Hirsch looked for other ways to make up for the lost revenue. He found the solution when he made his first uniform sales to bus companies such as Dartmouth Coach. From there, the uniform business gradually grew.
Timing, as is often required in business, was on Hirsch's side.
The utility apparel business was consolidating into two major national giants, Aramark and UniFirst (which has an operation in Lebanon to serve Dartmouth Hitchcock Medical Center), opening up an opportunity for a nimble independent to step in and sell to the small-town fire, police, EMS departments and municipalities with frequently part-time or volunteer members that were no longer of interest to the big companies that focus on large municipal contracts, according to Hirsch.
"The orders are not substantial enough for them," Hirsch said.
But, by working as a middleman between the smaller departments and the apparel manufacturer — Hirsch subcontracts out the insignia embroidery with a small shop in Lebanon — he can profitably do what is not worthwhile for larger firms.
"We specialize in small units," he said. "Our whole approach is one sale at a time."
He describes it as a "traditional New England business." Still, Hirsch admits, "some of these towns I've never been to," noting he's sold uniforms to municipal departments in such places as Georgia, Vt., and Sanborton, N.H., even though he's never set foot in either. (Epsom, N.H.-based Bergeron Protective Clothing works as a sales agent on behalf of Hirsch's in some towns).
In the early years, Hirsch's wife, Laura Hirsch, would work alongside him, helpful especially when it came to women's unforms.
Laura Hirsch is now an English as a Second Language teacher with SAU 6.
With the other Hirsch family stores in New England long since closed, and Hirsch's son in law school and daughter a humanitarian aid worker in Israel, Hirsch is resigned that there will probably not be a fourth generation to continue in the business whenever he's ready to retire.
"Yeah, I'm the last," he said.
Still, Hirsch's outwardly hasn't changed with the times and still appears to be like the clothing stores that once could be found in any small New England town.
Shirts, pants, sweaters, and long underwear are piled and folded on banquets and tables; extra-wide clip-on fireman suspenders, vests, coats, and rain gear hang from racks; shelves display accessories such as chopper mitts, rag wool socks, hats, and oversized handkerchiefs
And the labels reflect old-line names favored by generations of men who get dirty for a living: Carhartt, Dickie's, Levi's, Woolrich and Duofold.
A sign above an entrance on one side of showroom floor announces "boot room" and inside along the walls and on the floor are stacked assorted rugged footwear brands: Redwing, Hitec, Public Safety, Wolverine, Dunham, Wolverines, Timberland and Baffin.
Yet with the exception of Johnson Woolens in Johnson, Vt., nearly all the U.S.-label merchandise is now made in foreign factories, Hirsch lamented, a result of globalization that has forced clothing manufacturers to lower-cost labor markets in Asia and South America.
"You can't buy a uniform shirt made in the U.S. anymore," Hirsch said.
John Lippman can be reached at jlippman@vnews.com or 603-727-3219.