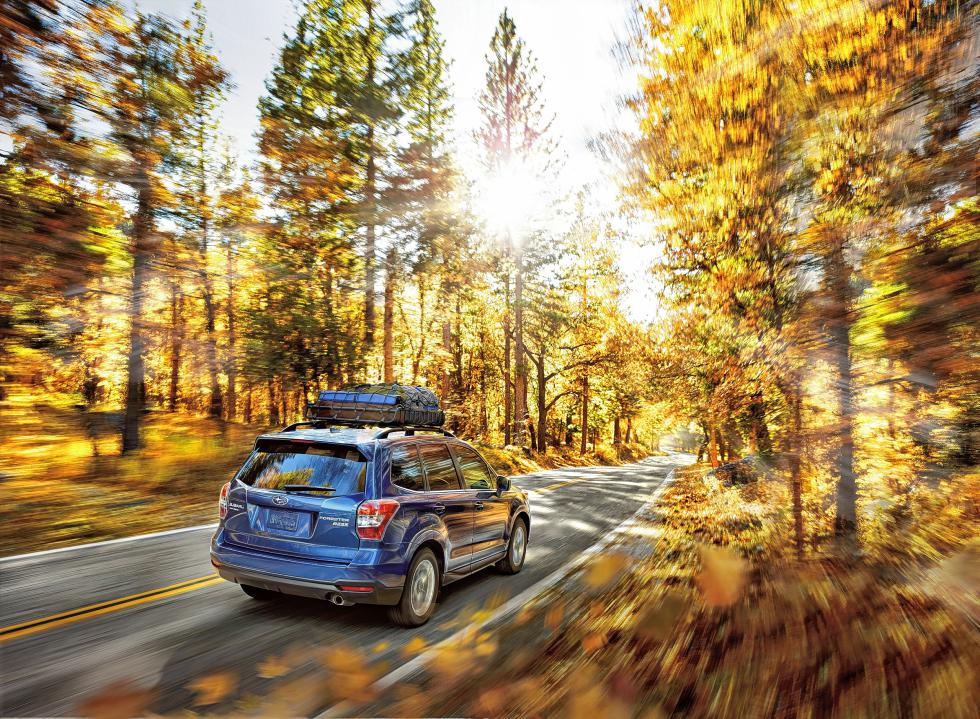 Gasoline and granola doesn't sound like the breakfast of champions to me.
But green-leaning, slightly square Subaru has long managed to whip it into a sweet mix with its gentle all-wheel-drive, fuel-sipping, earth-saving image.
As you know, style-challenged Subaru puts practicality and function far above performance and pretty lines — and it works exceedingly well.
For the last five years, the Japanese manufacturer has grown faster than any brand in the auto industry, selling upright crossovers and odd sedans that boast of being — hold onto your hats — "partial zero emissions" vehicles.
Whoopee.
Occasionally, though, solid-citizen Subie adds some bubbling high-octane fuel to the blend to feed more interesting crossovers like the turbocharged 2016 Forester XT Touring.
Not that Subaru is a complete stranger to the many pleasures of horsepower. Its low-selling WRX STI sedan can heat up any street.
And at one time about a decade ago, the boxy Forester XT could even be ordered with a turbocharged engine and a manual transmission, making it stand out in Subaru's lineup of Dudley Do-Right crossovers.
While the new, more mainstream Forester XT lacks that kind of radical charm, it packs plenty of personality — something Subaru somehow manages to squeeze into most of its vehicles.
The white Forester XT Touring model I had recently certainly looked innocent enough.
Tall for a compact crossover, the Forester sported unusually large windows and too much overhang in front, which made it look a bit clumsy. A long, fairly flat hood settled over a protruding front end dominated by large twin-projector headlamps and a blacked-out grille.
Big doors, a hatchback and fairly flat sides kept the emphasis on practical, with the Forester appearing ready and able to haul five pudgy accountants to Golden Corral for lunch.
But look closer. Smallish dual exhausts protrude discreetly from beneath the rear bumper, and the XT rolls on slightly larger 225/55 tires wrapped around nice-looking 18-inch alloy wheels.
The XT gets its motivation from an unusual "flat" four-cylinder engine that spins all four wheels — unfortunately through a continuously variable transmission (more on that in a minute).
Mainstream Foresters feature a normally aspirated 2.5-liter horizontally opposed four — meaning its cylinders lie parallel to the street, with two on each side.
Most four-bangers stand upright, with all four cylinders in a straight line, an arrangement that is less effective for weight distribution than the Subie's.
In XT models, which only account for about 10 percent of the Forester's strong sales, Subaru goes a step further, fitting it with a turbocharged 2-liter four similar to the growler in the WRX sedan.
Under the Hood
Although Subaru limits the version in the XT to 250 horsepower, that is still a substantial 80 more than in regular models of the Forester.
Even tethered to a spirit-sapping CVT, the salty four-banger can push the Forester to 60 in a quick 6.3 seconds, according to Car and Driver.
Though the engine would occasionally display some brief turbo lag, it generally shoved the Forester away from stops with enough gusto to push driver and passenger into their seats.
As with most vehicles that have CVTs, the Forester felt jumpy and strong through about 70 mph.
But from that point on, acceleration in the 3,700-pound XT felt kind of flat. That was mostly a characteristic of the CVT, which tries to keep rpm within the engine's most efficient power range, even when speeds are rising.
Here's a small suggestion: Drive the XT in "sport" mode and the CVT will attempt to mimic a six-speed automatic.
Despite the extra power, the XT managed respectable fuel economy, getting 23 miles per gallon in town and 28 on the highway.
At one time, Forester XTs handled — and generally rode — like rally racers, tearing into corners with almost no lean, all four wheels churning and scratching for traction.
The new XT feels softer. It moves around more in moderately fast corners and fidgets some.
Also, the grip and steering seemed more limited. Though the steering was light and fairly well-weighted, it didn't provide much feedback from the road.
Still, the XT is a bit quicker to 60 than the Ford Escape equipped with the 2-liter EcoBoost engine and much faster than the Mazda CX-5 powered by the 2.5-liter SkyActiv motor.
More important to most buyers, I suspect, the new XT rides better than previous models, striding over highways and neighborhood streets with a relatively firm, athletic gait.
At $36,250, the XT kind of straddles that region between average transaction prices ($32,000 to $33,000) and what I view as near-luxury ($40,000 or so).
On the Inside
The black interior in my XT reflected that. Basic with a fair amount of hard plastic, the interior nonetheless displayed some flair and efficiency.
Thanks to those tall windows, driver and passengers sit high with good visibility over the hood.
Meanwhile, a textured dashboard curved over the instrument panel, providing a second hood at mid-dash over a handy display that showed time, temperature and fuel economy.
A 7-inch screen lower in the dash was large enough to display things for a quick glance without becoming a major distraction.
If safety is a concern — and I think it is with many Subaru customers — the XT also offers adaptive cruise control that will supposedly stop the vehicle, lane-departure warning, pre-collision braking (a spooky concept) and Subie's eyesight driver-assist system.
Moreover, legroom and headroom in the back are quite good for people under 6 feet tall, while the front seats felt comfortable despite being kind of flat.
As you may have heard, Subaru's biggest problem these days is just building enough vehicles to keep up with demand — and rightly so, I think.
Subaru is the most interesting of all the Japanese brands and one of those rare vehicles where the likable whole is greater than the sum of its parts.
At a Glance
2016 Subaru Forester XT Touring
Type of vehicle: All-wheel-drive, compact, five-passenger crossover.
Price as tested: $36,250.
Fuel economy: 23 miles per gallon city, 28 mpg highway.
Weight: 3,691 pounds.
Engine: Turbocharged, direct-injected 2-liter horizontally opposed four with 250 horsepower and 258 pound-feet of torque
Transmission: Continuo.usly variable.
Performance: 0 to 60 mph in 6.3 seconds.