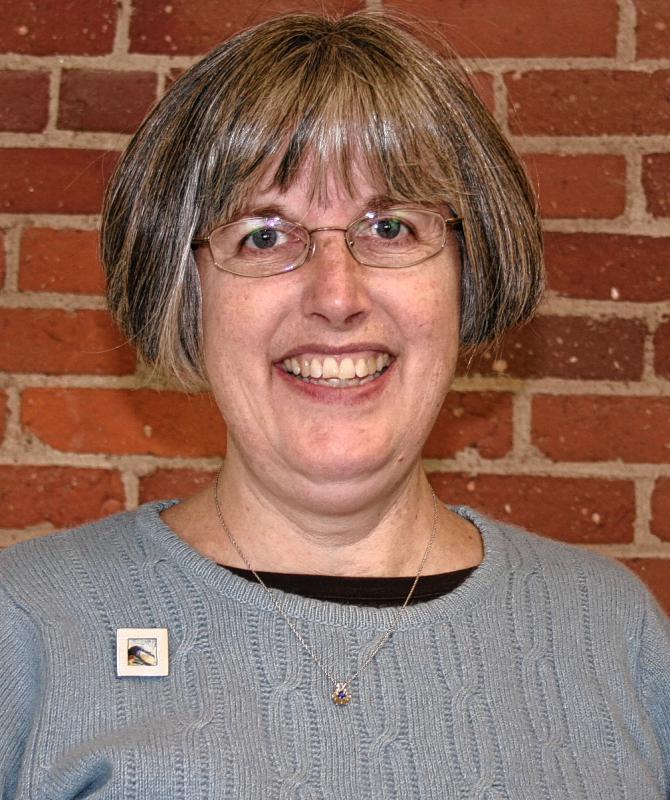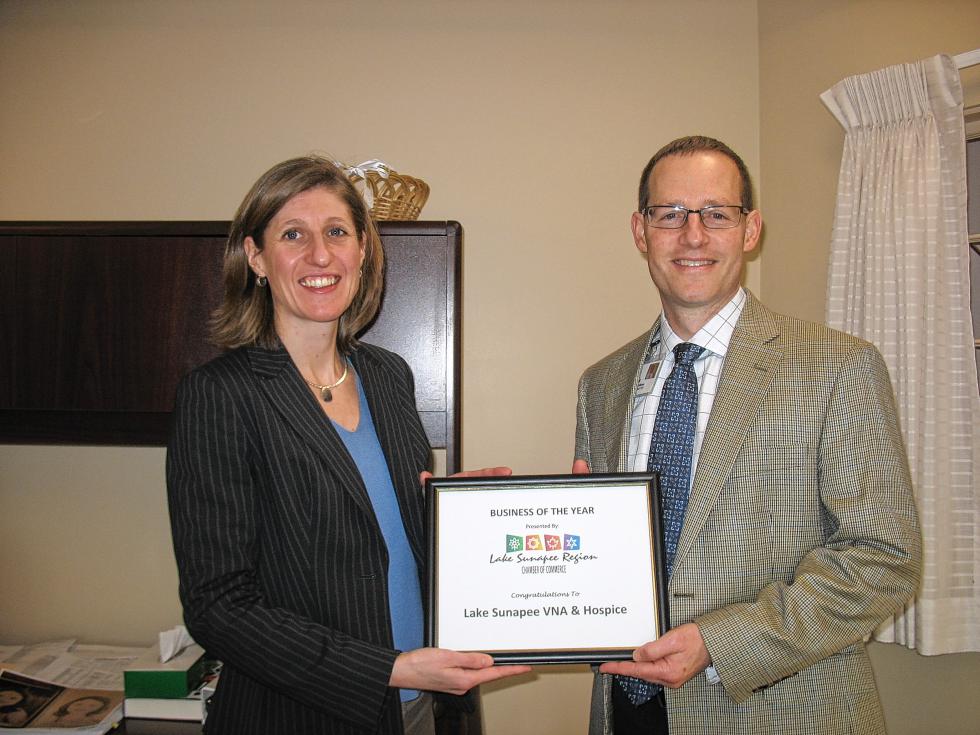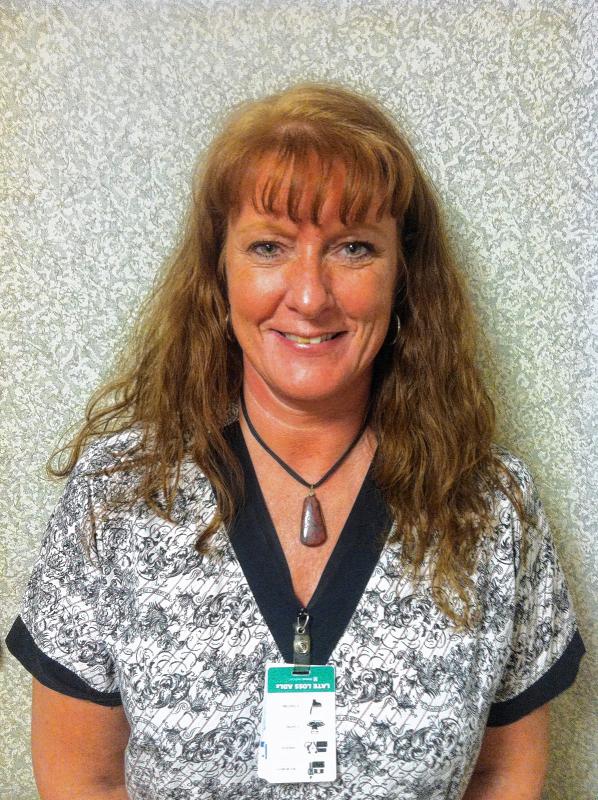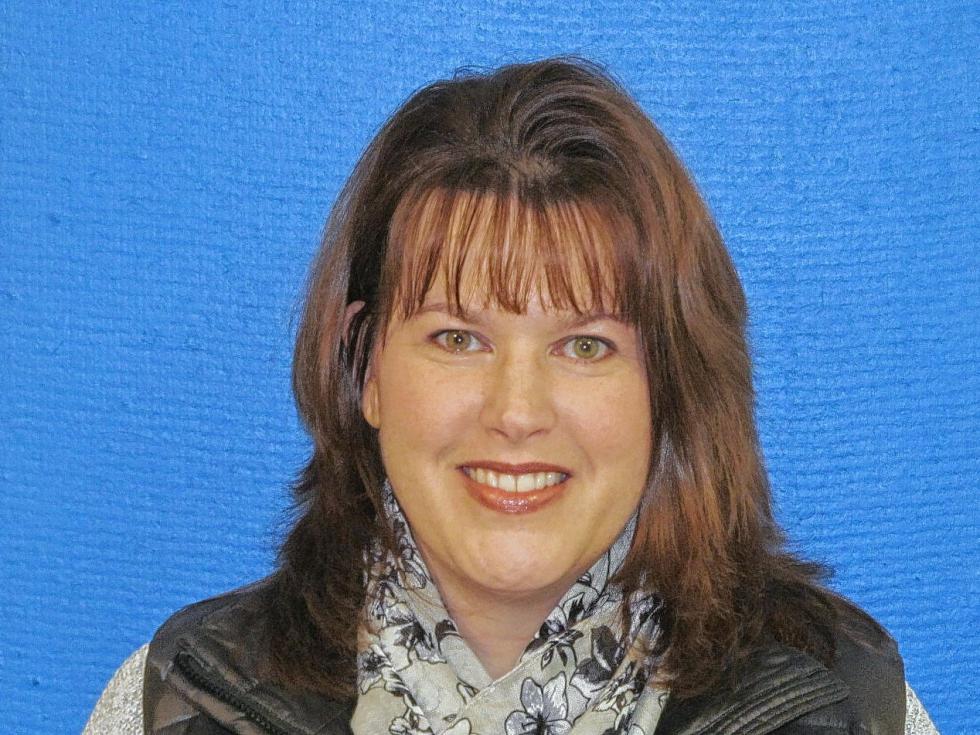 Lake Sunapee Region VNA & Hospice Is Business of the Year
New London — Lake Sunapee Region VNA & Hospice has been named 2016 business of the year by the Lake Sunapee Region Chamber of Commerce.
"I am so pleased. I can't think of a more deserving organization to receive this award than our local VNA, which touches so many lives every day," said Sara Colson, the chamber's executive director.
The award honors a local business "that gives back to the community, has a positive impact through its work and enhances quality of life in our region," Lake Sunapee Region VNA & Hospice said in a news release.
Nominations can be submitted by chamber members and other community members.
Jim Culhane, the VNA's president and CEO, said the nonprofit was "deeply honored to have been selected, especially knowing how many businesses do important work and are also deserving of such recognition."
Newport Health Center Receives $65,000 Grant
Newport — New London Hospital has received a $65,000 grant from Jane's Trust of Boston toward construction of its new, $9 million Newport Health Center.
The project, called Building for Health, includes a fundraising campaign that has raised more than $800,000, including the grant.
"We are very appreciative of this gift from Jane's Trust," Bob Rex, campaign chairman, said in a recent hospital news release. "This funding brings us closer to our goal of $2.2 million and helps ensure our success in enhancing healthcare services in Newport."
The 28,600-square-foot health facility is expected to be completed this fall. Like the original site, it will offer primary care and rehabilitation services.
It will also provide expanded space for behavioral health, laboratory, radiology and women's health, and include an on-site pharmacy and room for new provider services from affiliate Dartmouth-Hitchcock, New London Hospital said.
The current 16,000-square foot health center will remain open through construction, "to continue to care for the community uninterrupted," the hospital said.
APD Names Practice Manager
Lebanon — Lee Ann Bergeron, of Enfield, has joined Alice Peck Day Memorial Hospital as the practice manager for its surgical and specialty care clinics, including general surgery, orthopedics, pain management, podiatry and urology.
Prior to joining APD, Bergeron was the practice manager with Upper Valley Oral Surgery. She also served as practice manager for Dr. Thomas Schell and Dr. Patrick Noble, dentists with an office in Lebanon.
Before entering the health care field, Bergeron worked for 13 years at Hypertherm, where she held a variety of roles. Most recently, she was North American consumable sales team leader.
She holds a bachelor's degree in international business from Franklin Pierce University.
"I am delighted to join APD's fast-growing surgical clinics and look forward to helping support patients with efficient and friendly offices," Bergeron said.
Charlestown Office Names Patient Care Manager
Charlestown — Beth Shelton, a registered nurse, has been named patient care manager for the Fall Mountain office of Home Healthcare, Hospice and Community Services.
The nonprofit provides home care and hospice services throughout southwestern New Hampshire. It also has offices in Keene and Peterborough.
Shelton has worked for the agency for 23 years in roles that include visiting nurse, team leader and, most recently, staff nurse educator.
As patient care manager she will supervise the nurses, rehabilitation therapists and home health aides who provide home care.
The Fall Mountain office serves nine towns, including Charlestown, Claremont and Unity. The public can meet Shelton at an open house on Feb. 3, from 3-5 p.m., at the office, 33 Arbor Way, Charlestown.
Shelton lives in Walpole, N.H.
Nurse is Lebanon Center Employee of the Month
Lebanon — Teresa Dyke, a licensed practical nurse, was recently named employee of the month at Lebanon Center Genesis HealthCare.
The award is based on staff nominations and input from residents and their family members.
Martha Chesley, the facility's administrator, said Dyke is "an exceptional nurse."
"She provides care and compassion for every life that she touches. Her coworkers highly respect her nursing knowledge and enjoy working with her," Chesley said in a news release. "The residents and their family members entrusted to her care love her."
Dyke always remains focused on improving the quality of care her residents receive, and Lebanon Center feels very fortunate to have her as a valued member of its team, Chesley said.
A graduate of Vermont Technical College, Dyke has worked at Lebanon Center for the past three years.
— Compiled by Aimee Caruso