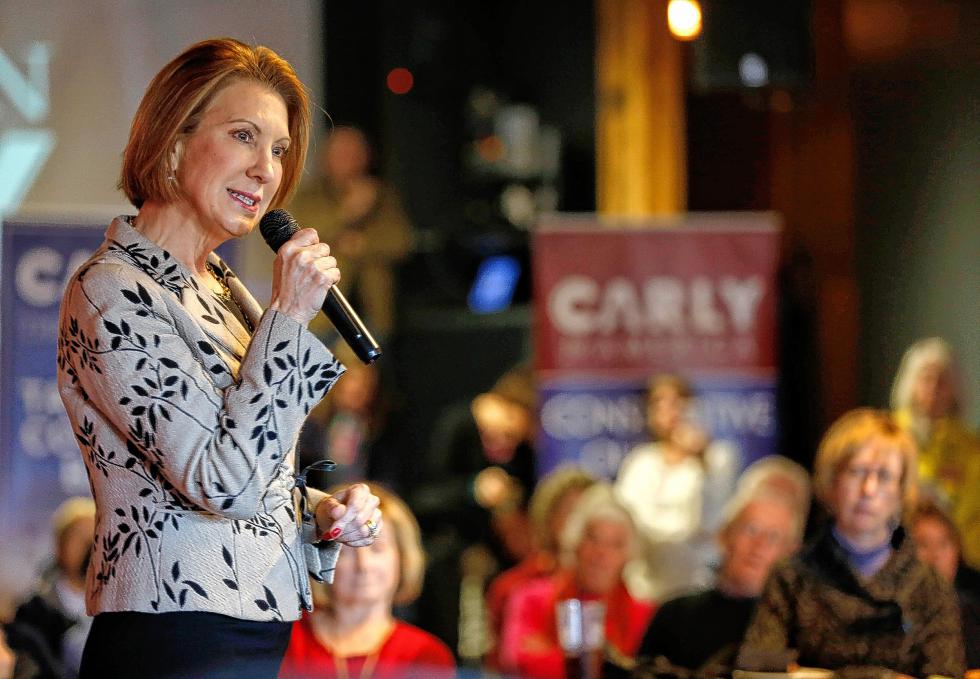 The University of Pennsylvania campus auditorium was half-empty when GOP presidential candidate Carly Fiorina strode onstage, smiling and waving with the same corner-office charisma she had showcased in hundreds of speeches around the world.
The former chief executive of Hewlett-Packard had been invited to give a keynote address in November to a conference on American business — a topic she knew well, having spearheaded one of the biggest tech mergers in history.
Instead, Fiorina opened with her charitable work overseas and what she learned by giving microloans to poor women in India.
"There are two looks that people get," she told her audience, a mix of college students and business professionals in Philadelphia. "There is a look that somebody gets when they realize they can achieve more than they thought. … There's also a look people get when they're hopeless. You see it in their eyes when people have given up."
She compared her former employees at HP to the budding entrepreneurs in the slums of New Delhi — all of whom, she explained, needed a boost to reach their potential. She had helped provide it, she said.
As she pursues her long-shot presidential bid, Fiorina has often sought to characterize her divisive tenure at HP as a success. She exhibited the same drive, discipline and unbending resolve she argues is needed to fix the country's problems, along with a willingness to take action in the face of fierce opposition.
But her decision to champion a mega-deal with Compaq Computer in 2001 — the most significant and criticized move of her career — ultimately became a key reason she lost her job as the country's most high-profile female CEO. And it remains a liability in her primary campaign.
"An awful lot of analysts said, 'No, don't do this,' and she took it upon herself to prove them wrong," remembered Roy Verley, HP's former chief corporate spokesman. "And the more the criticism mounted, the more determined she became to make it work."
Fiorina, 61, declined multiple requests for an interview for this article. When asked at the business conference about the merger, she defended her decision to press ahead. "If you are not leading, you are failing," she said. "To transform a company from a laggard to a leader took a lot of bold moves and tough choices."
"What kept me going during that time," she said, "is the fact that I knew that this company and these people were capable of leadership and greatness. When you know what someone's capable of, you do everything you can to ensure they have the opportunity to demonstrate their capacity." But it was also an opportunity for her to demonstrate her own.

The $25 billion merger wasn't her idea. It came from HP's longest-serving director, the bespectacled nuclear physicist George "Jay" Keyworth. In late 2000, Keyworth rushed to meet with Fiorina at HP's headquarters in Palo Alto, California, to discuss his brainstorm. The company could use its multibillion-dollar war chest to buy Compaq, swallowing a rival and virtually doubling HP's size and stature overnight.
Keyworth was one of the more trusted minds on HP's board, and he was so fired up about a deal's potential he said she should call Compaq's chief right away.
But Fiorina, who had moved a year earlier from her leading role at AT&T spinoff Lucent Technologies, tossed "cold water on the idea immediately," she wrote in her memoir, Tough Choices. She was adamant that she and the company keep the upper hand, telling Keyworth they wouldn't "have to make the first move." Compaq, she predicted, would come to them.
Fiorina had been hired in 1999 to transform Hewlett-Packard, the tech giant then trapped in a death spiral and losing on multiple fronts to rivals such as Dell and IBM. The board saw Fiorina, then 44, as the perfect driver to speed the "grandfather of Silicon Valley" into the new millennium.
In her first few months, Fiorina acted quickly, restructuring HP's 83 decentralized divisions. She encountered immediate resistance at the 60-year-old firm, renowned for a chummy corporate culture called "The HP Way."
One of her first power moves was an attempt to buy auditing giant PricewaterhouseCoopers's lucrative consulting arm, believing the takeover would vindicate her sweeping reorganization and net her an early win. But after the deal was leaked to the press, then torpedoed by the dot-com bust, HP was publicly embarrassed.
In an interview, Steve Huhn, a former HP vice president of global sales, said Fiorina "was personally, very heavily involved in all that discussion and research" and shared in "a great amount of regret."
When talk turned to Compaq, Fiorina declared in a heated argument with Keyworth that any new deal under her watch would demand not just intense scrutiny but "absolute secrecy." In the weeks after Keyworth's pitch, she pushed HP to enlist advisers at McKinsey & Co. to give strategic counsel and commissioned an internal team to crunch the numbers on a handful of alternative ideas, including splitting the company in half.
One big obstacle disappeared that spring when Michael Capellas, her counterpart at struggling Compaq, called with an enticing offer. In a merger, he said, the HP brand would survive — and Fiorina would stay on top. In May 2001, Fiorina ended her quarterly meeting with HP's nine directors on a giddy note of conquest.
"I figured out that Compaq would come to us and ask to be bought. Well, guess what. It has happened," she said, as recalled by Walter Hewlett, son of HP's co-founder, in Peter Burrows's book Backfire: Carly Fiorina's High-Stakes Battle for the Soul of Hewlett-Packard. Fiorina moved counterclockwise around the table, asking the directors whether HP should proceed with the deal. Everyone but Hewlett said yes.
Fiorina was a microscopic planner — a former speechwriter said she demanded detailed analyses of her audiences before speaking events — and her management in the run-up to the merger was no less precise. She convened a series of special sessions with the board to debate the deal down to the finest detail, from projections on how server sales would shift in Europe to which executives would sit in which chairs.
Keyworth and Dick Hackborn, an HP director and the chief architect of its hyper-profitable printing empire, cheered on the merger, joining with another board member, Bob Wayman, an HP lifer, in becoming her top advisers. But others on the board, including telecom veterans Sam Ginn and Bob Knowling, were far more leery about depending on the collapsing business of PCs.
No one outside the board and a select group of top executives knew of the confidential research effort, and by the summer of 2001, Fiorina was still tussling with whether the merger was worth it. At least 15,000 employees would need to be lopped off to get the kind of cost savings the deal needed to thrive. Flying home one night in the corporate jet, she vented to her husband, Frank Fiorina, that it would be "incredibly ugly," "a huge shock" and "a fight from start to finish."
Her workforce was also quickly tilting toward suspicion. In June 2001, after a desperate HP asked workers to sign up for an optional pay cut, 80,000 employees volunteered, some under the belief that it would save them all from pink slips. When Fiorina a month later announced 6,000 layoffs, some workers felt betrayed, or as if she was showing who was in charge. As one employee told Palo Alto Weekly, "She wants to put fear in our hearts, and she's done that."
But Fiorina believed she was running out of time. HP was bleeding cash. Her directors and advisers continued to assure her that a deal with Compaq, however messy, was worth the risk.
In August, she flew to New York to share her decision with the Compaq board, who had just met with their bankers and still had booklets open on the table showing how much they expected Compaq's stock to rise. But Fiorina was far less bubbly: "The market will hate this deal. They won't understand it, and they won't reward us for it," she recounted telling them in her memoir. "We will have to convince them that we've done the right thing."
Shortly before the announcement, she summoned to her airy glass office the HP leaders who would be critical to leading the integration, to tell them what they would soon see all over the news. This time, there was no discussion. Fiorina was not one for "engaging her team in a lot of collaborative decision-making," said one former executive who requested anonymity to avoid damaging his current business relationships. "When she'd come to a decision of what she wanted to do … she'd made up her mind."
In public, she oozed confidence. At a conference that month in Aspen, Colo., the Stanford medieval-history graduate ended her speech by quoting Leonardo da Vinci in Italian: "Ogni impedimento e distrutto dal rigore — Every obstacle yields to stern resolve."
At 2 p.m. on the last Friday in August, Fiorina and the HP board convened at the office of the Silicon Valley law firm Wilson Sonsini Goodrich & Rosati to read over the pages outlining the final agreement. And in those last nights, Fiorina wrote, she began saying the Lord's Prayer to herself "over and over again, just as I had as a little girl."

When the doors swung open at the Flint Center in Cupertino, Calif., at 6:30 a.m. on March 19, 2002, Fiorina's last chance to defend the merger had already devolved into a circus.
In the six months since announcing her decision in New York, Fiorina had waged a cross-country charm offensive, flying 100,000 miles to sell the merger to HP's big investors. For the deal's final vote, which required shareholder approval, HP hosted a meeting at a community-college theater where Steve Jobs had unveiled the first Macintosh in 1984.
But that morning, an angry army of HP workers and retirees had amassed at the center, calling for Fiorina's firing and carrying signs saying, "Merger today, Chapter 11 tomorrow." Many of the agitators wore green, for the color of the cards on which they would vote no. One laid-off software engineer dressed in a leprechaun hat and handed out green carnations.
But Fiorina wasn't backing down. "The majority of our employees understand and support this merger," Fiorina told the crowd, her voice drowned out by waves of boos.
Shortly after the merger announcement, the families of the company's founders had mobilized, warning that the deal would decimate the company's culture. Walter Hewlett led the charge, and within weeks the opposition effort had sent letters to shareholders, hired lawyers and public-relations firms, and placed national newspaper ads calling the deal a "$25 billion mistake."
Fiorina showed subtle hints that she was having second thoughts. One Sunday in late 2001, according to Perfect Enough: Carly Fiorina and the Reinvention of Hewlett-Packard by George Anders, Fiorina sat in the first-floor study of her mansion in California's Los Altos Hills and called half a dozen HP directors, asking each for a yes-no answer on whether the rocky merger should stop or go on as planned.
But with their backing, Fiorina and HP executives mounted an increasingly public counterattack on the family foundations that owned 18 percent of HP's shares. Walter Hewlett sniped that Fiorina, a first-time chief executive, was "learning on the job," while Fiorina and other HP leaders penned a series of excoriating "Dear Walter" letters that called him an "academic and musician," inexperienced and out of touch.
"This is a choice between taking the hill and charging ahead or retreating," she said at a technology conference in Palm Springs.
Amid the chaos of the shareholder fight, HP still had to map out how this newly merged behemoth would operate, and Fiorina surprised some on her staff with her deep involvement in the relatively boring grunt work of corporate integration.
At one point, more than 1,500 employees were working full time as part of a "launch team" set to prepare HP for life after the merger. And yet every Friday, from 8 a.m. to noon, the former HP executive told The Washington Post, Fiorina would lead a committee meeting in which she would decide on regional real estate holdings and even the titles for middle managers. Many days, former employees said, she would stay at the office past midnight, polishing the wording in news releases.
The vote on the merger — the decision Fiorina had staked her career on — would for months prove too close to call. But Fiorina's roadshow focus on big investors proved a winning strategy, and the merger won with a razor-thin 51 percent of the 1.6 billion share votes.
Afterward, Fiorina and her team flew overnight on a corporate jet to Compaq's Houston headquarters. Early the next day, Fiorina walked the halls in high heels and a green suit, beaming, a victory lap in her conquered land.
"People were just pouring out of their offices, cheering and clapping, so optimistic about the future," said Susan Bowick, a former HP head of global human resources.
But the euphoria wouldn't last. Basing its projections off the froth of the late-1990s dot-com bubble, HP had believed its forecasts for Compaq's new gains were conservative. Instead, they proved wildly overstated. In the three years after the merger, HP's share price crumbled 13 percent, while printer giant Lexmark's stock climbed 60 percent and computer maker Dell's soared 90 percent.
In 2005, the board that had once seen Fiorina as the company's savior turned on her. She was fired.

Fiorina has been forced to revisit the merger many times since.
When she ran for the Senate in California in 2010, Democratic incumbent Barbara Boxer attacked Fiorina by reminding voters that the merger forced HP to slash 30,000 jobs. And at a GOP presidential debate this past September, Republican front-runner Donald Trump called the merger "a terrible deal" and ranked Fiorina as one of the worst 20 CEOs "in the history of business."
When the subject comes up on the campaign trail, Fiorina routinely characterizes herself as a "change warrior" who "saved the company." Last year, at a human resources conference in Washington, she said "people who drive change get a lot of arrows in the back."
The merger opened opportunities for HP that helped the company survive. But its fortunes truly turned only after Fiorina left, leaving some to question whether she or her replacement, Mark Hurd, deserved credit. And a decade later, HP remains a firm on the brink of catastrophe. Its share price has never again come close to its pre-merger peak.
In September, a still-struggling HP announced it would slash up to 30,000 jobs, a mass layoff rivaling that of the cuts under Fiorina in the wake of the Compaq deal.
That same month, the super PAC supporting Fiorina's candidacy, Carly for America, premiered an hour-long documentary, Citizen Carly, in which Fiorina sits, hands clasped in a paisley-print chair, to explain just how well the merger worked.
"The merger with Compaq was the best strategic option for us," Fiorina said. "It wasn't surprising for me that not everybody could see that. It wasn't their job to see it. It was my job to see it."