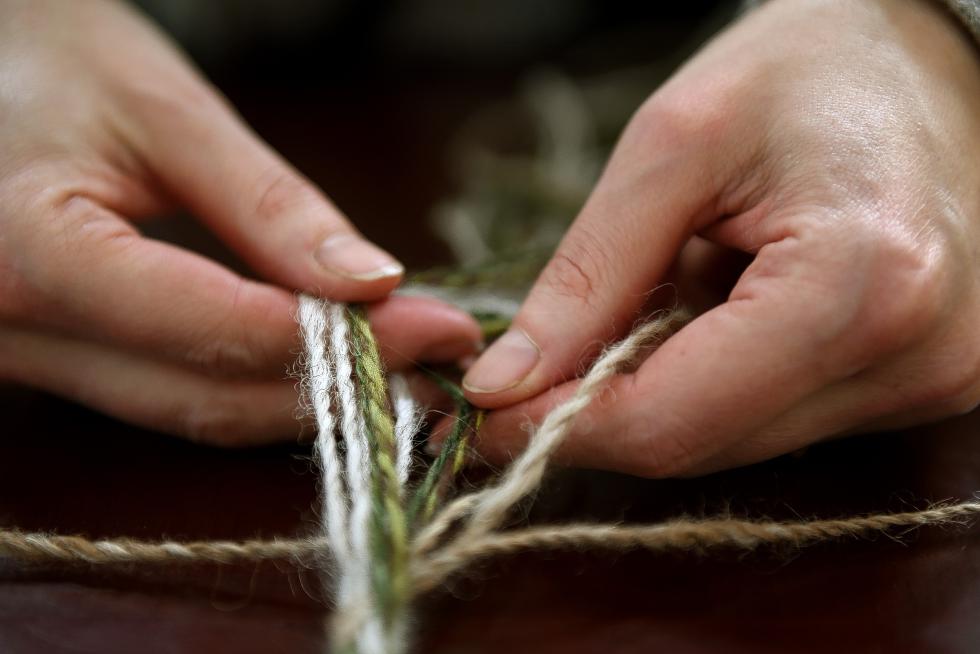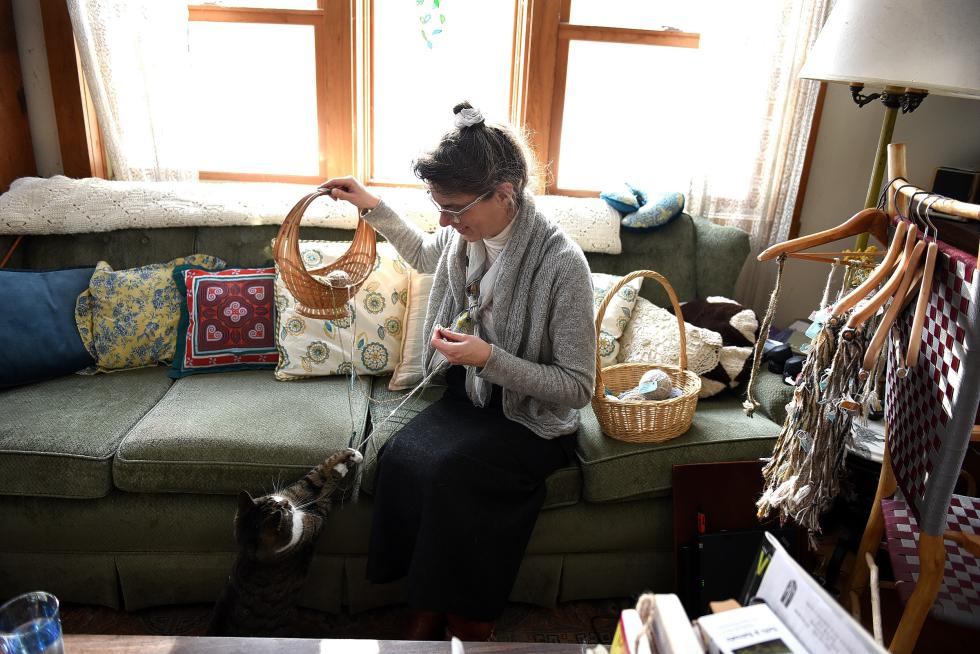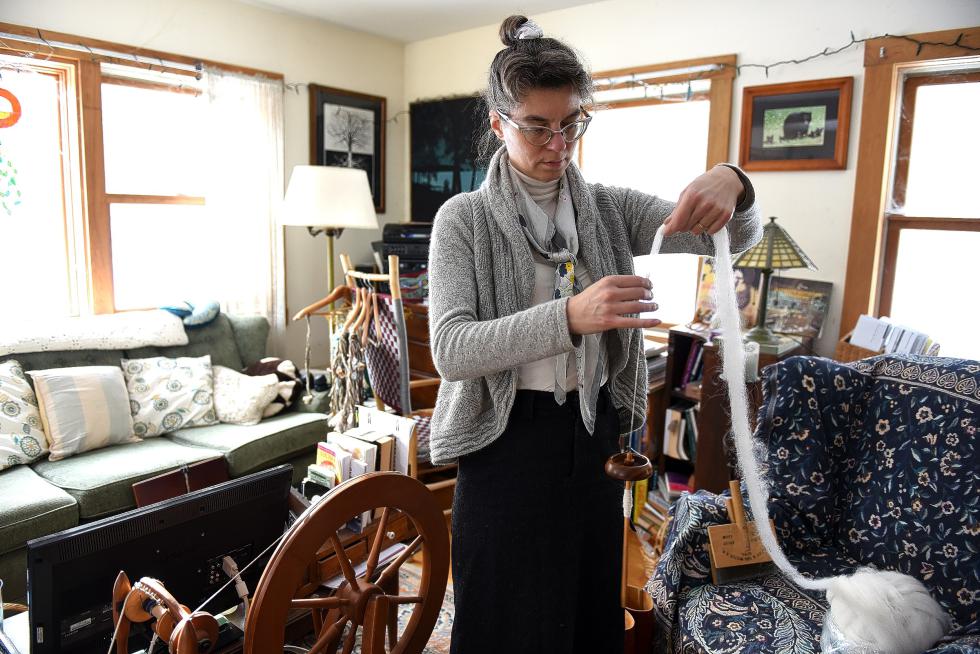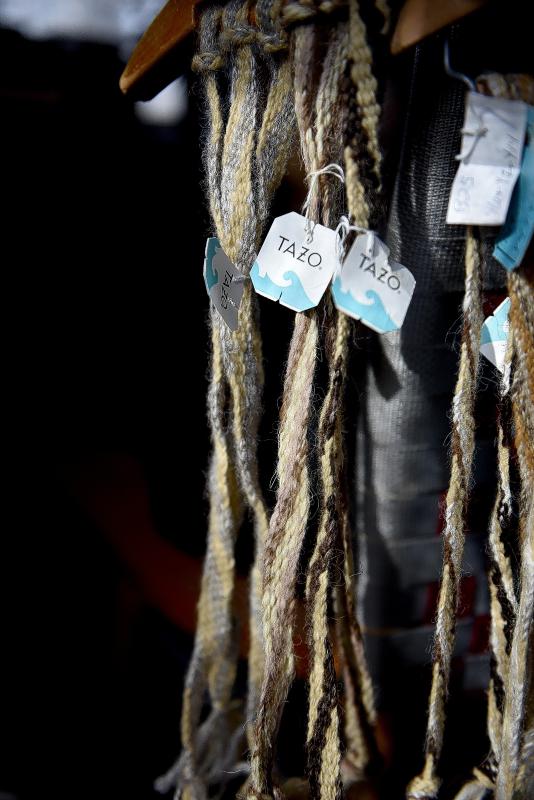 Dawn Hancy, a Vershire resident and fan of all things local, ushered in the New Year with a glass of hard cider from a nearby farm. This year, Hancy plans to turn her longtime interest in fiber and sustainability into a business of her own. The product? Boot bracelets.
Worn over anything from cowboy boots to Uggs, the accessories often are made of beads or metal chains. Hancy's, however, are handwoven sheep's wool and alpaca fiber, most of which comes from local animals. She hopes sales of the "fairly simple and straightforward" product will help fund some projects she has brewing and also promote causes that are dear to her, such as organic and small-scale farming.
"That's really the exciting thing for me, to get people interested and supporting that," said Hancy, who will donate 5 percent of her profits to organizations that support sustainable agriculture.
'I've Been Building Up to This'
A Cleveland native, Hancy had never lived on a farm, but she'd always been a horse person, and her husband, Phil Yacovella, had an interest in homesteading. In 2003, the couple and Hancy's son, Mojo Hancy-Davis, left Ohio and moved to a roughly 20-acre property in Vershire, which they named Sherwood Farm and Forest. With its myriad opportunities for community farming and access to "food like you've never eaten," the Green Mountain State turned out to be even better than they'd imagined, the 46-year-old Hancy said. "We just landed in heaven."
Over the years, they've done some gardening for themselves and sold and bartered milk, eggs and meat from animals they raised. Hancy homeschooled Mojo, who now is 24, and has worked in several libraries. Along the way, she started working with fiber, doing quilting, needlepoint and hand spinning. She picked up finger weaving about 10 years ago.
"I love to have something to do with my hands when I'm sitting around chatting," said Hancy, who is part of a local fiber craft group. Initially, she wove belts and bookmarks, but then some friends started wearing them on their wrists or ankles, which planted a seed. Recently, the time was right to pursue her business, The Vermont Boot Bracelet Co.
For the past several years, she was caring for her mother, Mabledean Hancy, who lived at Hancy and Yacovella's home. Mabledean now is in good health, and in July she moved to an assisted living community in Chelsea. Hancy's sister, who also was staying at the house, found a place of her own.
"I'm transitioning to empty nesting," Hancy said. "Now I really have an opportunity to launch this type of business and promote a really exciting new year for me. I've been building up to this."
A Community Education
A Reiki practitioner, Hancy plans to augment her income with sales of the bracelets, currently priced at $25 each or $45 per pair, and eventually she'll add in several other part-time gigs. Her ideas are wide ranging, from Steampunk tea parties to retreats that combine crafts workshops and healing. But Hancy says she doesn't feel pulled in different directions. "I feel like it all really works together, especially in a local small economy," she said.
Yacovella's job with a manufacturing company is "basically supporting" them as Hancy makes the transition , and so far, she's invested just more than $50 for business materials, and less than that to expand her stockpile of fibers. Hancy already owned a loom and laptop, both of which she bought secondhand.
She's drawing on past experience, including the skills she picked up as librarian and director of the Williamstown, Vt., and Chelsea public libraries. At small libraries, the director does everything, from reading to kids to creating a budget and meeting with the board, Hancy said.
Her resume also includes owning a wood-fired oven baking business, an experience that got her thinking about how to fairly price items. "I am really looking for that sweet spot," deciding what to charge in order to earn "a truly fair living wage," she said.
She's also taken workshops at farming and grazing conferences and holds a certification in permaculture. A business course for farmers taught her about budgeting, personnel and regulations, and she learns by simply being around people with similar interests.
"Vermont is so great for community education," she said. "Farmers teach each other."
'Your Nice Boots'
In this area, where people can wear boots all year long, the bracelets can be a way to celebrate "our slightly quirky climate," said Hancy, who spins the yarn by hand. "You can be practical and be a farmer and have mud boots, and you can have your nice boots" and dress them up.
Hancy considers them akin to the colored ribbons people wear to drum up awareness of various social issues. In this case, the fiber advertises natural products.
"It's important to get away from microfibers and petroleum products," she said. The bracelets also can serve as a "gateway" for learning about heritage breeds, sustainable agriculture and other farm-related topics.
People care where their food is grown, and fibers could be next, she said. "How many people know which farm their clothing comes from?"
Some of the yarn is left as is, and some Hancy dyes with plants such as tansy, marigolds, carrot tops or blackberries. Each bracelet takes about 45 minutes to make.
"I think they're really cute, attractive and fun," she said. "It's fun to wear something homemade from natural materials."
The Intuitive Approach
Rather than set up a formal business plan, Hancy is adjusting as she goes.
"I've found that's the only way to do it in life," she said. "I really appreciate the intuitive approach as much as the organizational."
So far, she's sold a few bracelets at farmers markets and at the Made In Vershire Shop on Route 113. She's working on getting display space in local stores and earmarked January for building up stock and tweaking her Etsy shop and website, bootbracelets.net. When it comes to online marketing, there's "a bit of a learning curve," said Hancy, who said the process is "kind of a fun exploration."
Nonetheless, she's seeking out advice on running a business, including the technical aspects. "I don't need to reinvent the wheel," she said.