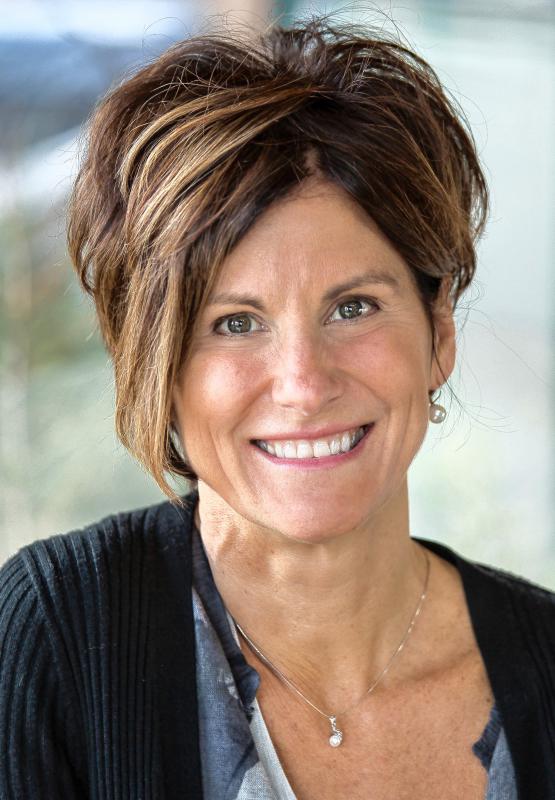 Over a steaming cup of coffee, the CEO of Green Mountain Power explains why electric utilities that oppose green power risk getting left behind, and why GMP's business success depends on how well it manages the changes it has helped bring to the energy industry .
The Paris climate conference has been in session for more than a week when Mary Powell, the CEO of Green Mountain Power, Vermont's largest electric generation utility, and I meet for coffee at the GMP offices in Montpelier. It occurs to me that a successful accord at the Paris talks, with its emphasis on eliminating fossil fuel power generation, will hasten the demise of traditional utilities like GMP.
So, I ask, what are you going to do in your next career?
A gale of laughter greets my question. "Bring it on, is what I say. I hope to God they do something over there," she says.
Not quite the response I anticipated! Powell has always believed long-term success in business means one should be a business disrupter — focused on putting one's current business out of business.
"At GMP, we have been focusing for some time now on what it means to be the energy company of the future, and really accepting the emergence of a completely different energy system that provides much more socioeconomic and environmental value to the Vermonters we serve," she says.
While many utilities have spent a lot of time trying to protect their soon-to-be obsolete business models, GMP has become a national leader in defining what the energy company of the future will look like. The epicenter of Powell's vision is the city of Rutland, which now generates the most solar power in New England on a per-capita basis.
Her excitement at how the people of GMP are re-creating the energy business is palpable. "Did you know (U.S. Secretary of Energy) Ernest Moniz and the entire Vermont congressional delegation came to Rutland to look at what GMP has done there?" she asks. Then, she points proudly to a June 29, 2015, article in The New Yorker ("Power to the People") that described GMP's Rutland achievement.
In fact, what GMP did in Rutland already is part of green-energy folklore. As The New Yorker described the work the company did to one house, "Over the course of several days, coordinated teams of contractors stuffed the house with new insulation, put in a heat pump for the hot water, and installed two air-source heat pumps to warm the home. They also switched all the light bulbs to LEDs and put a small solar array on the slate roof of the garage. … The family paid for the improvements, but the utility (GMP) financed the charges through their electric bill, which fell the very first month. … The family reduced the footprint of their house by 88 percent in a matter of days, and at no net cost."
"And we did this as part of a total socioeconomic transformation of the city — by increasing the citywide occupancy rate from 84 percent to 96 percent, by attracting a number of innovators and solar companies to Rutland. In fact, there are 20 more businesses in downtown Rutland in this three-year period," Powell told me. "So it wasn't just about putting out solar fields, but transforming Rutland into what we call the energy city of the future."
The cost of the components to generate power locally, to heat and cool homes, to manage power consumption proactively using smartphones, and to protect against outages with new battery technology now is very affordable. Investment recovery times for a 2,000- to 3,000-square-foot house now hover around six to eight years and are headed down. The difficulty lies in finding and coordinating the vendors who supply and install the components of the new technology.
"That's where we come in," Powell said. "With our utility company expertise, we can step in and act as expert advisers and general contractors, and then, with our smart meter technology, help our customers manage power demand for their home by using the smart meters that GMP has already installed for our customers."
GMP worked with Rutland's mayor to find the first customer, and the project now has more than 100 homes. "So you asked me what happens to GMP going forward. Well, we become part of the solution instead of the problem," Powell said.
Collaboration, customer focus and a studied understanding of her own strengths and weaknesses define this unassuming and enormously successful businesswoman, who has been disrupting her own career trajectory throughout her life.
Powell, 54, was born and raised in New York, where her father was an actor. She studied acting at one of Manhattan's most prestigious schools, but soon recognized that she would never be an outstanding artist or actor. "I just did not have the passion or talent," she said.
She had enjoyed working as a part-time waitress and thought about a career in restaurant and hotel management. But along came an offer to join The Reserve Fund, America's first money-market mutual fund, as a technical writer in its IT department. She took the job and, as has happened so often in her career, found herself in the right place at the right time.
"It was 1980, the money-market industry was expanding rapidly, and the two guys who started the business grew their fund from $200 million to $3.5 billion in a period of seven years," Powell said.
She was an integral part of the growth. Within two years she was running the human resources department, and later became the associate director of operations.
She learned an important lesson from her experience at The Reserve Fund — she had the gift of being able to work with people.
"A business is no better or no worse than its people," she said emphatically. "Managers who struggle with leadership do not love people."
It is a lesson that has shaped her career ever since.
But Powell and her future husband, Mark (a superb chef trained in classic French cuisine), both wanted to "hear the birds sing and live the good life, so to speak," she said, so they made "the classic quality-of-life move." Powell's father had a cottage on Lake Champlain, on land her grandfather had bought in 1900, and where she often had visited. "There has been a Powell in Vermont for four generations," she said. So they decided to move up here.
There was a short-lived job with a video distribution company, and one with an environmental consulting firm. Then she took a job as director of human resources for the state of Vermont. This job, she said, taught her another lesson about herself: "I learned that my magic is unlocked not necessarily by what work I'm doing, but who I'm doing it with."
She left the state job in 1992, worked in the banking industry for five years, then applied for a job at GMP in response to an advertisement for a vice president of organizational development. She was hired in March 1998, promoted to senior vice president that fall, became chief operating officer in 2001, and in 2008 was appointed president and CEO.
Powell now works at a job she loves and lives a life she loves, with her husband, a daughter, four horses and an equal number of dogs. "For better or worse, I'm a plugged-in, 24/7 chief executive — except for my vacations, when I am totally unplugged," she said.
And in keeping with her lessons learned, Powell works obsessively to remain close to her company's people. Her office is a stand-up desk, out in the open, where all the other employees also work.
So where does Mary Powell go next?
"Who knows?" she said. "One of the best pieces of advice I ever received was to jump off the train when it's moving really fast, so the person who is coming behind you has to really run to hop on. And right now I'm still busy moving the train awfully fast."