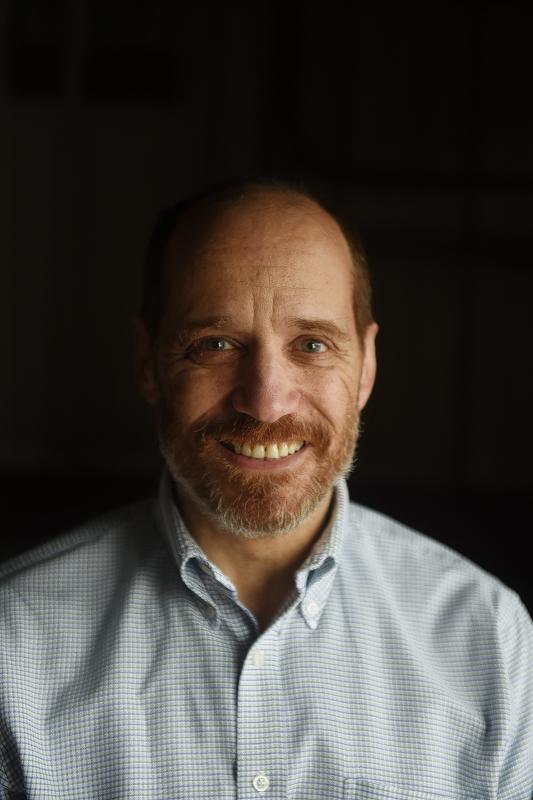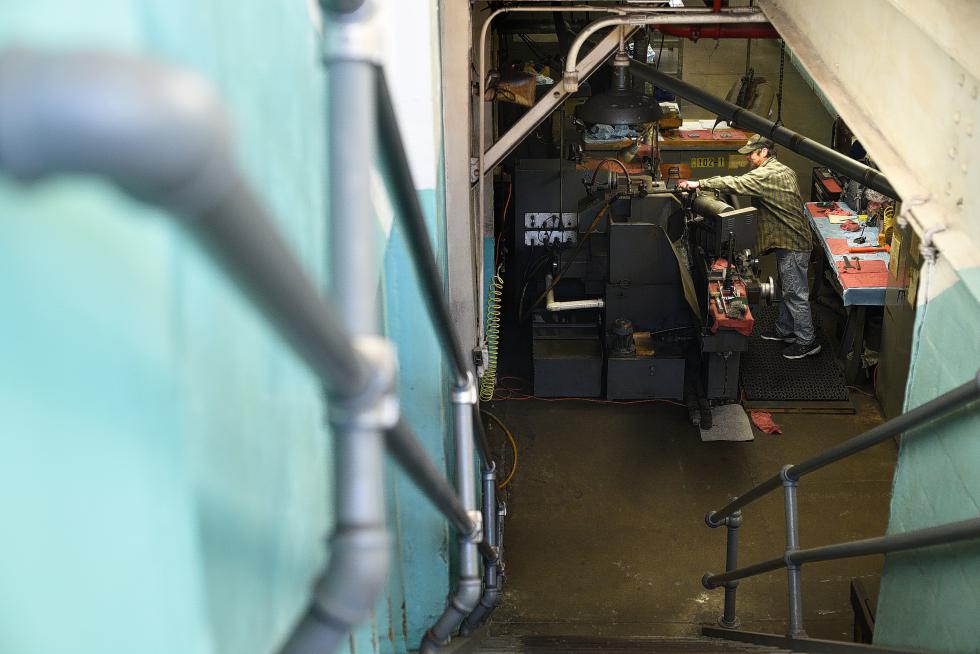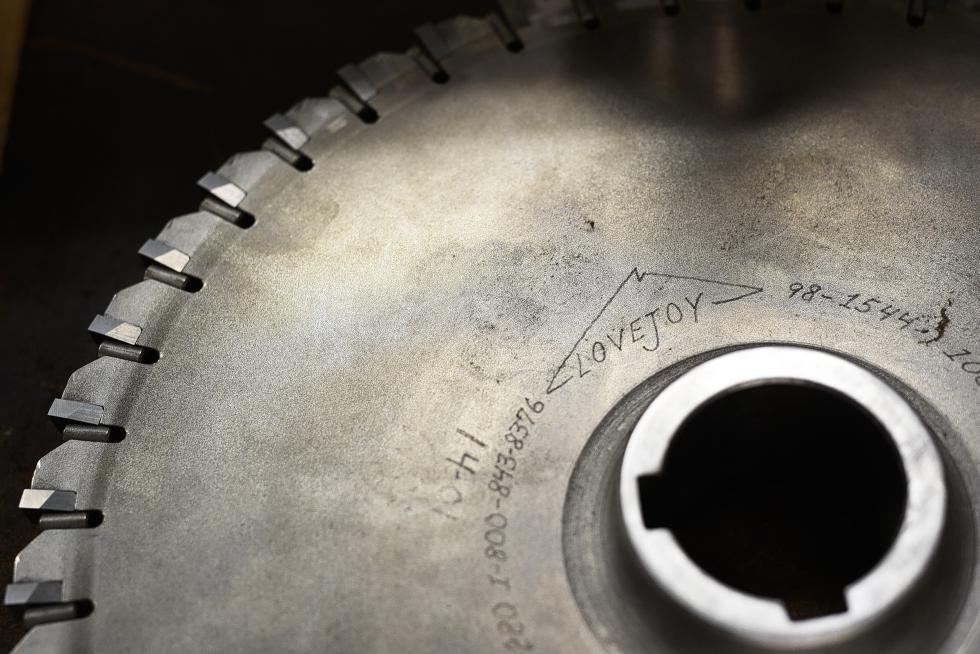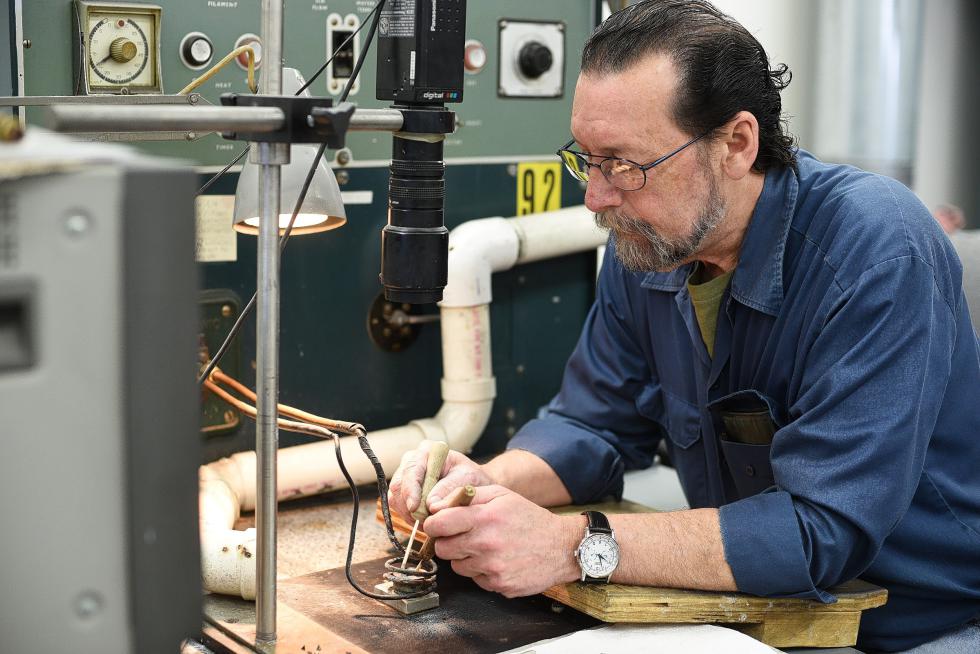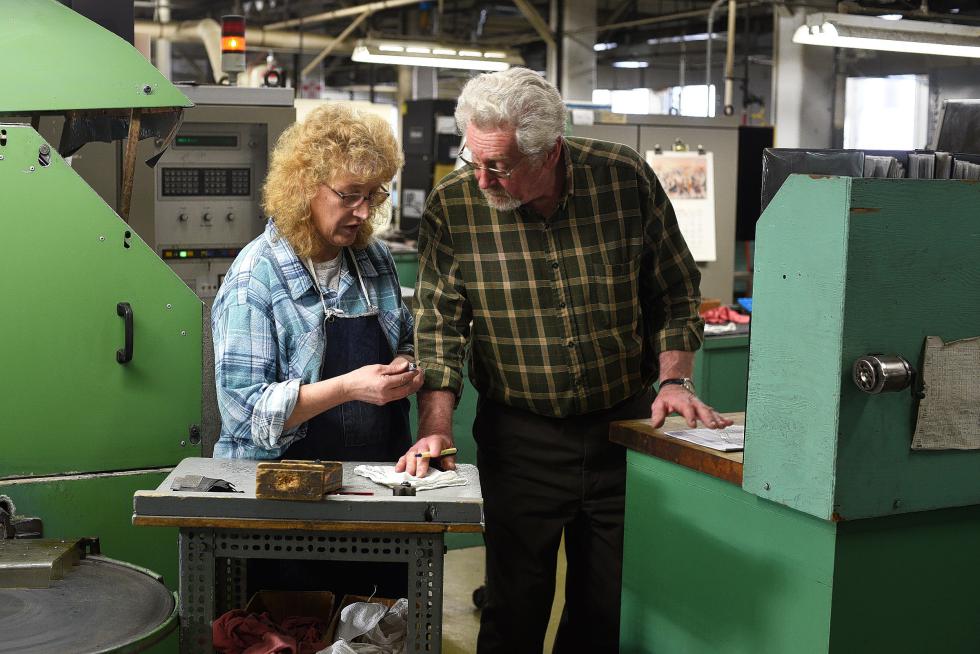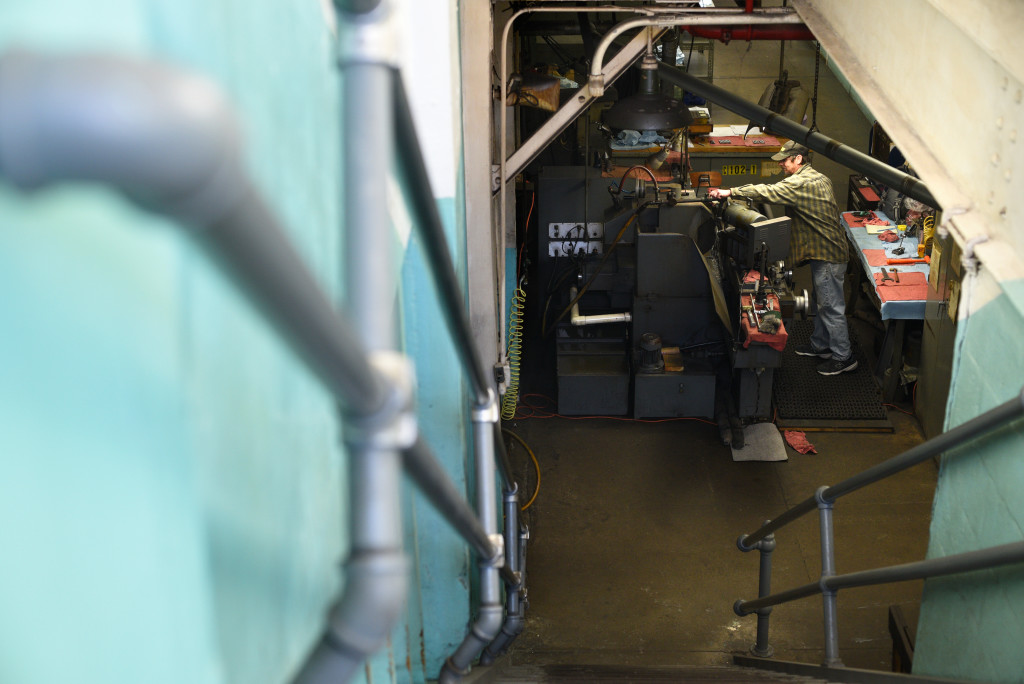 Warren Garfield is giving a tour of the Lovejoy Tool Co. factory, carrying his workingman's frame with a graceful ease among the maze of rooms and jungle of machinery spread like sentries throughout the red brick building.
If Garfield appears as comfortable on the floor of the Springfield, Vt., factory as a man does in his own home workshop, it's understandable: He has worked at the company for 50 years, starting the day after he graduated from engineering school in Boston, rising from machine operator to plant manager and board member.
With a bramble of white hair, a goatee, a ruddy glow and the bear-paw hands of a craftsman, Garfield, 70, says he keeps at his job overseeing 25 people in production at Lovejoy Tool because it "stimulates the mind. … I see a lot of people go downhill fast when they stop working."
On the second floor, Garfield, along with Lovejoy Tool Vice President Todd Priestley, stop before an automated milling machine, a 30-foot-long horizontal encasement that evokes a Dr. Seuss contraption with an intake mouth on one end and a bulbous nose at the other. Called a Tsugami 6-Axis Lathe, plain metal bars are fed into the mouth and, five to 15 minutes later, the basic components of cutting tools emerge from the other hand, slide down a chute and plop into a container.
"This does what it used to take 15 people to do," Garfield explains, admiring the Tsugami.
"Now we only need one person in the room who can be freed up to work on any of the other 15 machines" because the Tsugami performs multiple milling functions itself, Garfield said. It was a big advance for Lovejoy Tool, whose cutting tools are used in the aviation industry to shape the rotary blades in Pratt & Whitney turbine jet engines and in the heavy-equipment industry to machine engine blocks for Caterpillar Inc.'s dozers and excavators.
Garfield and Pr ie stley can detect the gears grinding in a visitor's head thinking about how the Tsugami is a classic example of automation displacing factory worker jobs, one of the reasons behind the collapse of Springfield and the Connecticut River Valley's once-mighty manufacturing industry. Foreign manufacturers in the last quarter of 20th century learned how to modernize and automate much sooner than their American counterparts and, coupled with lower labor costs, siphoned off entire sectors of the U.S. manufacturing economy.
While job losses could be one way of looking at it, Garfield and Priestley acknowledge, another way to understand automation in manufacturing is that it has helped a small firm like Lovejoy Tool remain competitive, maintain its staff and contribute to the local economy. Because automation can be ratcheted up or down depending upon orders flowing into Lovejoy Tool, it doesn't force the company to contract or expand during business cycles, which allows it to manage a level number of workers who can be deployed on other projects as needed.
"Our real niche is application-specific tooling," said Priestley, the great-grandson of Charles Safford, one of the founding partners of Lovejoy Tool. As the tooling industry consolidated and the larger companies emphasized mass-produced products, Lovejoy Tool moved in the opposite direction and focused on custom-designed machine tools. "Our advantage is that we can deliver a specially made tool quicker than a larger competitor," Priestley said.
For example, Garfield said, the company's "weld prep specials" have been used to machine parts for Toyota with a cost savings of more than 25 percent over the car company's other suppliers , and it recently was contracted to make special boring tools for General Electric Co.
Indeed, if Lovejoy Tool hadn't adopted new technology, it likely would have met a fate similar to that of other companies in "Precision Valley," as the triangle of Springfield, Windsor and Newport, with Claremont at its center, was called in its manufacturing heyday.
But Lovejoy Tool, founded in 1916 and operated by one of the founding families, the Saffords, for 100 years — a remarkable achievement for any company, all the more given what happened to the region's manufacturing base — has managed to survive by holding onto its New England roots while pivoting to adapt in the machine tool marketplace, according to people both inside and outside the company.
The change is evident in the nameplates bolted onto the machinery on Lovejoy Tool's factory. Interspersed among dark, hulking blocks of equipment made by legacy American companies with names such as Jones and Lamson, Kent-Owens and Kearney & Trecker now are modern computer numerical controlled machines from foreign manufactures such as Okuma (Japan), Hermle (Germany) and Agathon (Switzerland).
Automation has "actually been a job saver," Priestley said. "One of the things that has helped us survive is that we've kept up with cutting tool technology."
A sign of the times: Lovejoy Tool has its own Facebook page (168 likes) and its sales team now tweets news of product development announcements. "Check our tooling for cavity machining. High Feed, Toroid and finish Ball Nose tools. Available with extended reach," said one recent 117-character tweet.
'The Last of the Classic Machine Tool Companies'
The long, slow decline of manufacturing in Precision Valley played out over decades, but rapidly accelerated in the late 20th century.
One of first to go was machine tool giant Joy Manufacturing Co. — which in the 1940s had merged with Sullivan Machine Co., then the state's largest manufacturer — which had cut its workforce to 100 from 800 before closing in the early 1980s. Among the next to fall was Cone-Blanchard Machine Co. in Windsor, which supplied the aerospace and automotive industries and, between 1980 and 1987, laid off 450 of its 580 workers before shutting down altogether in 2002. The final blow came that same year, when Goldman Industrial Group, a Boston-based investment firm that had gobbled up old-line Springfield manufacturing firms Fellows Corp.; Bryant Grinder Corp.; Jones and Lamson Corp.; and J&L Metrology and at the time still employed a total of 300 workers, filed for bankruptcy and closed its plants. (J&L Metrology, which makes optical comparators that allow manufacturers to detect deviations as small as the width of a hair in tool making, continues to operate in Springfield today.)
Bob Flint, executive director of the Springfield Regional Development Corp., calls Lovejoy Tool "the last of the classic machine-tool companies in the region, working on trying to evolve and reinvent itself, while staying a force in cutting tools."
Founded by Fred Lovejoy, an Andover, Vt.-born mechanical engineer who had been chief draftsman and special tool designer for Jones and Lamson, Lovejoy Tool always has been located in the same 55,000-square-foot industrial building on Springfield's Main Street. Fred Lovejoy's breakthrough — and what launched his company with Jones and Lamson's backing — was inventing an "inserted blade lathe tool" that allowed the blade to be replaced, rather than the entire tool.
The inserted blades and the tools in which they are inserted, also called cutters, remain at the heart of the company's approximately 30 product lines today.
Beginning with 15 employees, 10 of whom were machinists, Lovejoy Tool generated $42,000 in revenue during its first year in business. In recent years the company, which now has about 45 employees, has generated about $5 million annually in revenues. At its non-wartime peak in the early 1980s, Lovejoy Tool employed about 150 people.
"We've had good years, we've had bad years, more good than bad," Priestley said, in response to a question about Lovejoy Tool's profitability. "Last year was tough," he notes, due to lower oil prices curtailing exploration and in particular because of the sequester of the federal budget that rippled through the military, whose suppliers are buyers of Lovejoy Tool's products.
But 2016 "has gotten off to a very strong start," Preistley said. One important factor: Lovejoy Tool is debt free.
"We have a strong balance sheet," he said.
Adapting, But Retaining Core Values
Nonetheless, as a manufacturing company that makes the manufacturing tools used by other manufacturers, Lovejoy Tool takes a hit whenever those companies close, relocate or have a falloff in business. Priestley cites the closings of the GE plant in Burlington, which made the Gatling gun that had parts machined by Lovejoy Tool cutters, and the Worthington Compressor plant in Connecticut, which used Lovejoy cutters to machine compressor parts, as events that affected the company.
So, too, has the current downturn at longtime Lovejoy Tool customer Caterpillar, which is reeling — the company now is making 40 engines a week, compared with 42 every day a few years ago, Priestley said — in part because of the economic slowdown in China but also because the falloff in the mining industry and gas and oil exploration has slackened demand for Caterpillar's earth-moving equipment.
The flexibility provided by automating portions of the production process in determining workforce needs, however, helped Lovejoy weather the Great Recession and its aftermath much less painfully than many other industrial companies, Garfield said.
The company had to reduce payroll by only "four or five" positions, some of which it later was able to fill as the economy recovered, he said.
"Most of our reductions were the result of retirements and new technology purchased, which was more automated and required less employees," Garfield explained. "Some of the new equipment can run 24/7 unmanned. This allows us to ramp up or down with business cycles without hiring or laying off. Makes the workforce more secure in down times."
And Garfield notes that it's not uncommon for Lovejoy Tool to call back retired employees when business gets especially busy.
"Our real strength is people and the dedicated workforce," said Priestley, 39, who majored in small business at the University of Vermont and joined the company in 2012 after running a snowboard program in Montana for 10 years, where he met his wife, Ericka, a first-grade teacher with Windsor Schools. His father, Lovejoy Tool President and Chairman Doug Priestley, also grew up in Montana.
For Garfield, it's the intellectual challenge that has kept him engaged at Lovejoy Tool for five decades.
"Being in charge of manufacturing production, developing new methods as well as new tools, makes for a very busy day," he said.
He also thrives on problem-solving with customers, "which may require me to develop a new cutter or different insert coating," he said.
Both Priestley and Garfield credit the company's private ownership, along with a willingness to innovate, as the reason behind Lovejoy Tool's longevity. There are fewer than 100 shareholders, many of them current and former employees, along with members of the Lovejoy and Safford families.
"Staying private," Garfield said, has worked to Lovejoy Tool's advantage because on-site management is deeply invested in the business and its workers.
"All our decisions are made in-house, not by a corporate office somewhere," Garfield said, his irritation with problems created by absentee owners evident in his voice.
"As soon as J&L sold out, as soon as Bryant sold out, as soon as Fellows sold out, the money went out of state and wasn't plowed back into the business for research and development," he said.
Priestly said the company still is approached "monthly" by potential buyers, who Garfield describes as "private equity guys looking for big returns. I'm amazed at the number of them out there."
But don't look to Lovejoy Tool to become a cog in another company's corporate structure. The company values it heritage and independence.
"We're the last one," Priestley said.