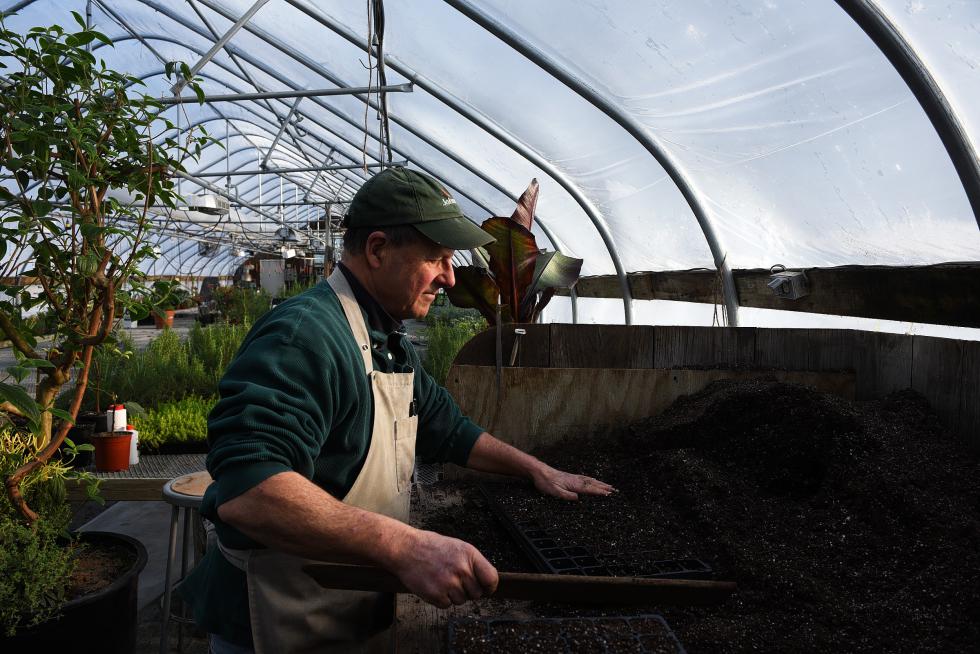 Setting out petunias in the flower beds and starting tomato and pepper plants in the vegetable garden may seem a long way off here in February, but in New Hampshire and Vermont greenhouse operations, the spring season already is well underway. Propane-fired heaters are roaring, seeds are being placed in growing media and tiny seedlings of some species already are emerging as growers prepare for the sales rush that will begin as soon as the peepers begin their music in the wetlands.
Producers of spring plant materials have spent months planning what they'll be offering their customers come April and May, hoping to please buyers who want the tried-and-true varieties they've been happy with for years, as well as those who want the trendy new strains they've seen on TV gardening shows or pitched by the likes of Martha Stewart.
All of their efforts are against the backdrop afforded by big-box stores like Home Depot and Wal-Mart that peddle spring plants at cheap prices, often below the cost of production for a locally owned and operated greenhouse enterprise. As the spring plant industry has evolved in the last 25 years, with the mass-merchandisers seeking domination of the sector, the little guys have been battling back with the one tool the bigs can't match: knowledge.
Being able to show the customer how to make certain her plants will grow and be healthy is the local greenhouse's strong suit. The big-box store can offer the lower price, but once the item has been run over the checkout scanner, the buyer is on her own to try to make it grow and flourish. Any successful local greenhouse or garden center today will have people available to explain the fine points of plant culture and advise on such things as the best planting choices for specific locations, how to build soil fertility and safe ways to manage pests.
The spring plant business a generation ago, before the arrival of the now-ubiquitous big-box stores in northern New England, was a mosaic of small producers and marketers selling directly to retail customers and a handful of larger greenhouses that wholesaled products to feed stores, groceries and part-time dealers, such as those who popped up along roadsides each spring selling off the back of their pickup trucks. The coming of Wal-Mart, Home Depot, Lowe's and similar large-scale chain marketers in the 1990s soon forced changes that would reshape the structure of the region's plant industry, and those forces of change continue today.
Big-box stores operate with a simple business model when it comes to spring plants: They take products into their stores on what amounts to a consignment basis. The growers — typically located in New Jersey, Florida, Ontario and other far-off climes — truck in the plants, set up the displays and then assume responsibility for caring for the merchandise until it is sold. They will hire workers to travel around to several stores to water plants, freshen up displays, pluck off dying leaves and blooms and remove unsalable plants. The grower handles all the risk and the retailer pays only for stuff that actually sells.
Locally owned spring plant retailers have come to follow one or another of several business structures. Some will plant the seed and grow out the seedling all the way to the time it's sold to a customer. Others will buy "plugs" — tiny thimble-sized clumps of dirt with a germinated seed already poking a shoot out into the light — from a specialized grower and then nurture the plants to transplantable size. And there are operations that start some plants from seed, use plugs for others and buy still others that are market-ready.
Retailing spring plants requires constant attention to current fads. Customers will have learned of new strains of flowers from television shows, magazines and word of mouth, and they will come looking for transplants that will satisfy their dreams. Having those hot new items will lure in customers who also will buy the familiar and traditional plants, too. Then the seller will need to know what to tell the customer to get the young plants to grow well after they've been taken home and transplanted.
The only sector of agriculture where New Hampshire is ahead of Vermont in sales volume is the horticulture category, the amalgam of greenhouse, floral, foliar and nursery production. Key reasons, of course, are that New Hampshire has more than twice the population of Vermont, and New Hampshire has a higher median household income. As horticultural products almost exclusively are purchased with discretionary income, the Granite State's lead is easy to understand.
Federal agricultural statistics put the value of horticultural sales in New Hampshire at $43.4 million, and Vermont's at $15.4 million, but leaders in the industry in both states contend those numbers significantly underestimate the extent of the sector's business activity.
New Hampshire's edge is helped considerably by the presence of two of the largest horticultural enterprises in New England, both of which are not only huge but sit at the cutting edge of the joining of science and technology in plant propagation. Pleasant View Gardens, with installations in Loudon and Pembroke, and D.S. Cole Growers in Loudon, all just outside of Concord, have vast greenhouses with their climates controlled by computers, completely self-contained watering systems and state-of-the-art fixtures that allow utilization of just about every square foot of floor space.
Pleasant View provides an extensive line of branded products in "liners" — containers that resemble large ice cube trays holding tiny emergent plants in soil — for greenhouse operators to grow out, and finished materials ready for sale by garden centers, supermarkets and other retailers.
D.S. Cole pursues similar markets and puts an emphasis on finding new and exotic blooming plants all around the globe. Both are deeply involved in the biotechnology of plant breeding.
For both small greenhouse operators serving local markets and mega-sized outfits like Pleasant View and D.S. Cole, the biggest problem is labor. It's their biggest cost and their biggest headache. Most greenhouse work involves repetitive detail work and is apt to be seasonal in nature, so finding people who can handle the work and remain on the job is a continuing challenge. Immigrant workers often prove to be excellent greenhouse employees, but finding people with the communication skills and knowledge of plants necessary for direct retail sales is a huge concern.
Fuel costs long have been an issue for greenhouse operations of all sizes, but the current slump in prices for fuel oil and propane has been a welcome break for all.
The biggest operation in northern New England, Pleasant View heats its sprawling Loudon complex with wood chips, while here and there around New Hampshire and Vermont, it's possible to find a greenhouse kept warm with a wood stove. But propane is the fuel of choice for the vast majority of operations.
Margins for greenhouse operators at whatever scale are tight, virtually everyone will say, and the economic pressure posed by big-box stores isn't going to ease any time soon.