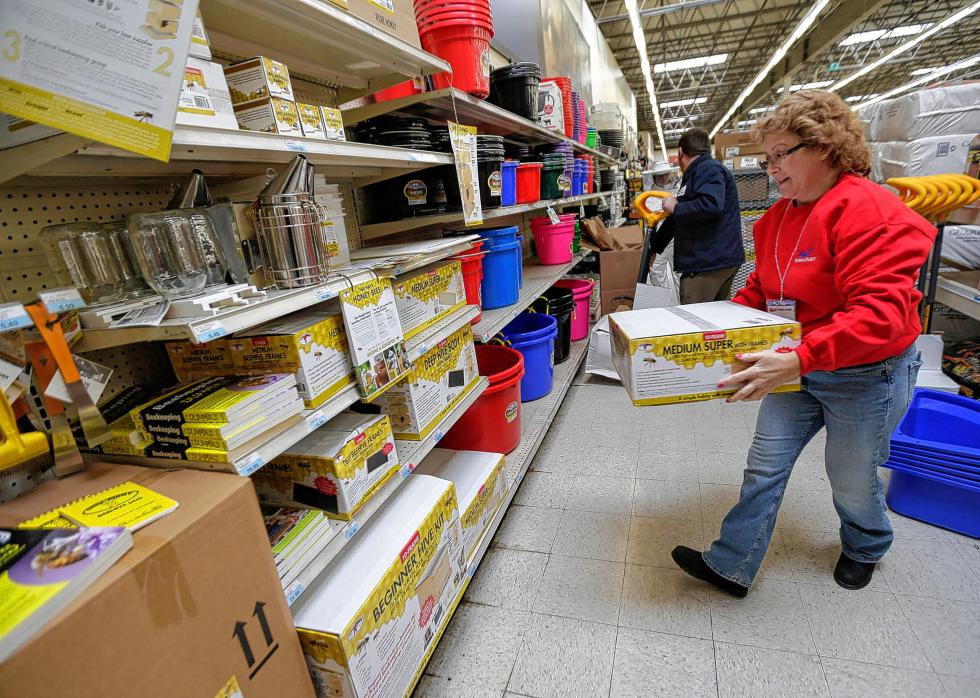 Janesville, Wis. — There's a serious buzz surrounding bees these days, and at least one Wisconsin retailer is seeking to build some business out of it.
Blain's Farm and Fleet, based in this city about 60 miles southwest of Milwaukee, is continuing to expand its bee business, selling the critters themselves as well as all the equipment needed to keep them happy and healthy.
The strategy is born from the movement nationally toward knowing more about how our food is produced and what that food contains, a Blain's spokeswoman and beekeeping experts said.
About one-third of all the food Americans eat is directly or indirectly derived from honey bee pollination, according to the American Beekeeping Federation, an Atlanta-based association that represents the interests of beekeepers.
For Blain's, the decision to jump into the bee business is as much about connecting with customers as it is generating sales.
"A lot of people are starting to take notice of how important it is to know where your food comes from," said Kristin Mickelson, PR and events manager for Blain's. "It's not just a trend, it's a way of life for a lot of people."
The company introduced the beekeeping category to its stores three years ago.
"It's been growing," Mickelson said. "It was one of those things where we said, 'Well, we'll give it a shot. We don't know how we'll do.'"
The company started off with a small beekeeping supplies space in a handful of stores. The response was fairly strong and, "We decided to up our game last year," with expanded store areas containing beekeeping supplies and equipment, Mickelson said.
The decision also was spurred in part by the plight of the honeybee, which has been battling population declines for years.
"Obviously, as a company and a business, we want this to continue to grow and we want this to be successful," Mickelson said. "But right now, our main focus is just to get it out in front of the public and have them aware of what it's all about and how important it is."
The company will establish a hive of its own at its corporate headquarters later this year, she said.
Clearly, there is heightened interest in bees these days.
"People want to save the bees," said Linda Reynolds, who helps oversee the beekeeping program for the University of Wisconsin Extension in Milwaukee County. "That's what it comes down to."
But taking care of bees is far from simple.
A commitment of time and money is needed to be a beekeeper.
"It's one of those activities where, if you didn't grow up or know someone that did it, it can potentially be a rather intimidating hobby to get into," said P.J. Liesch, a Madison-based entomologist for the University of Wisconsin Extension.
Still, every hive that is established, even by backyard hobbyists, potentially helps bee populations.
"Every little bit helps," Liesch said. "Overall, I think it's great that folks are getting interested in it."
Bees need to be cared for and provided with surroundings in which they can thrive. If they don't like their surroundings, they might just leave. And, oh yeah, they can sting.
"There's a lot to learn," Reynolds said. "Beekeeping is not simple. It's not like growing a tomato."
Once someone masters the basics of beekeeping, the rewards can be great.
"There's a lot to be gained from it," Reynolds said. "It's very gratifying when you can get a hive to survive over winter and come into spring strong. It's not easy, but that's what makes it more gratifying."
Along the way, you also can harvest some of your own honey.
"It's a healthful hobby," said Gene Brandi, president of the American Beekeeping Federation. "If you have a bee hive in the backyard that happens to make some honey, you get a pretty nice reward at the end of the season if everything goes well."
Brandi is a bee wrangler of sorts who operates 2,000 hives in California's Central Valley. His bees are rented out to pollinate some of the 1 million acres of almond trees in California, the largest honeybee pollination event in the world.
Once his bees are finished with the almond trees, they move on to pollinate other crops in the Central Valley.
The bees leave for work in the morning and return to their hive each evening. They don't go out when the weather is bad. "They will fly all day long and 2, 3, 4 miles if they have to," Brandi said. "Once the sun's down, everybody's home."
Brandi also has seen a resurgence of interest in bees.
"I'm sure the local food movement has also helped increase the number of small-scale bee keepers, not only from the aspect of having local honey from a local beehive, but also from people who have small farms or big gardens who want their plants that require pollination to be successful," Brandi said. "That's all the more reason to have your own pollinators."
For its part, Blain's has beekeeping experts available for its customers who are interested in taking up the hobby, Mickelson said.
"When you first hear about harvesting your own beehive, it maybe sounds a little overwhelming or maybe even a little scary to some people. 'Oh, I don't want to deal with bees,'" she said. "But once you start to learn about this — what a very intricate and delicate, exciting kind of project that this is — you really feel like you are doing something good for the bees and for everyone else."