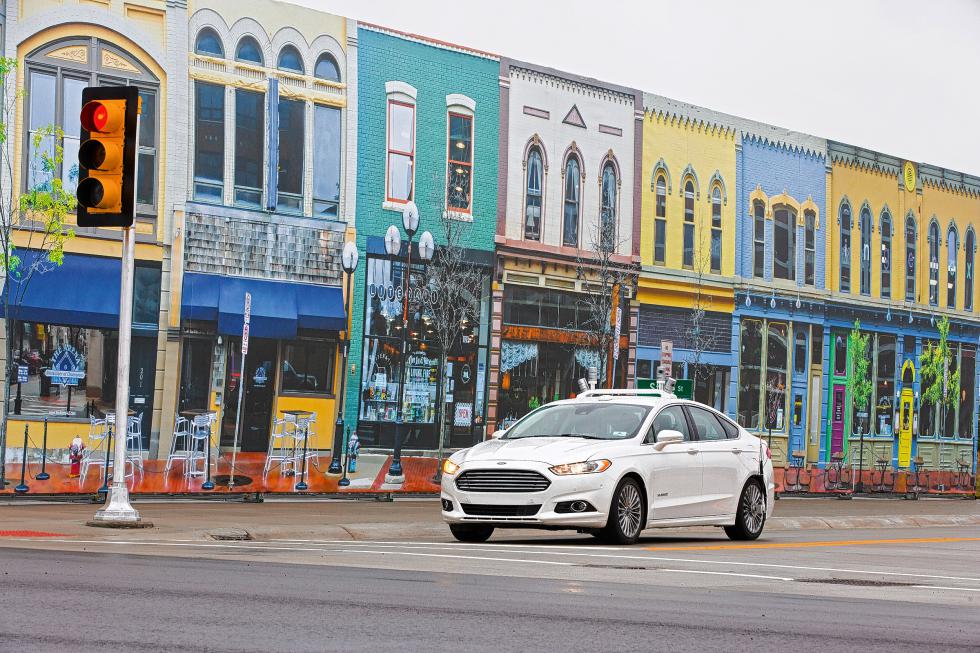 Detroit — With technologists racing to get autonomous-driven vehicles on the road in 10 years or less, America's urban planners need to resolve a host of questions about how cities will respond to the future of transportation.
A new report from the National League of Cities finds only 6 percent of U.S. cities have devoted planning resources to figuring out changes needed to accommodate self-driving vehicles. And only 3 percent have studied the impact of ride-hailing services like Uber and Lyft, which function as alternatives to traditional taxi services.
Yet 50 percent of cities' plans include explicit recommendations for new highway construction — dealing with auto congestion in the traditional way of adding more roads, more lanes and more parking garages to the urban landscape.
In Detroit, the changes wrought by autonomous vehicles could be especially profound as Detroiters cope with a rapidly redeveloping downtown and the coming of new mass transit options.
The report, titled City of the Future: Technology and Mobility, is meant to help city leaders understand, imagine and plan for the coming changes in the urban environment due to autonomous vehicles and other new transportation options.
Among the questions that cities need to consider:
∎ Will the advent of autonomous vehicles require dedicated lanes for them? Technology that keeps autonomous vehicles from straying outside their lane may solve many safety-related problems. But regulators might decide separating traditional cars from autonomous vehicles in different lanes or zones may work best, especially in crowded downtown areas.
∎Will autonomous vehicles lessen the need for downtown parking garages? One possible future would see most autonomous vehicles as part of large fleets operated by services like Uber and Lyft. In that scenario, because fewer private owners would be looking for parking downtown, urban sites could be used for something other than parking decks.
∎ Will the spread of autonomous vehicles go hand-in-hand with more bicycle commuting and other "green" forms of alternative transportation? And should cities spend more on public transportation as part of an overall strategy to lessen dependence on privately owned cars?
These issues are starting to get a look as the technology of autonomous vehicles advances with unexpected speed, said Brooks Rainwater, an author of the new report and director of the Center for City Solutions and Applied Research at the National League of Cities in Washington, D.C.
"The rate of change is definitely happening much faster," Rainwater said. "Cities are getting up to speed and they're looking at what they can do, but the planning perspective oftentimes hasn't been aligning with how quickly technology has been changing."
Besides the rush toward autonomous vehicles, the report found that 13 cities now have new streetcar lines coming, more than 20 have so-called bus rapid transit systems under consideration, and 49 cities are building or planning new bicycle-sharing systems to be in place by 2020. Some cities are doing all three.
And in addition to the on-demand services like Uber and Lyft, a company called Bridj operates on-demand bus system that currently operates in Washington, D.C., and Boston.
All these changes will lessen the need of cities to accommodate private automobiles, although to what extent won't be known for years.
Todd Scott, executive director of the nonprofit Detroit Greenways Coalition, said he'd like to see more planners recognize the importance of road design in building livable, vibrant and safe communities.
So-called "complete streets" would reduce lanes for vehicles to provide lanes for bicycles, wider sidewalks for outdoor seating, medians to make it easier for pedestrians to cross, and more. All those options become more likely if there are fewer privately owned cars and trucks clogging up the roadways.
"Complete streets policies are more often aspirational than reality, and planners can lead on changing that," Scott told the Detroit Free Press. "We also should focus transportation funding in more dense communities where biking, walking and transit can be viable transportation options."