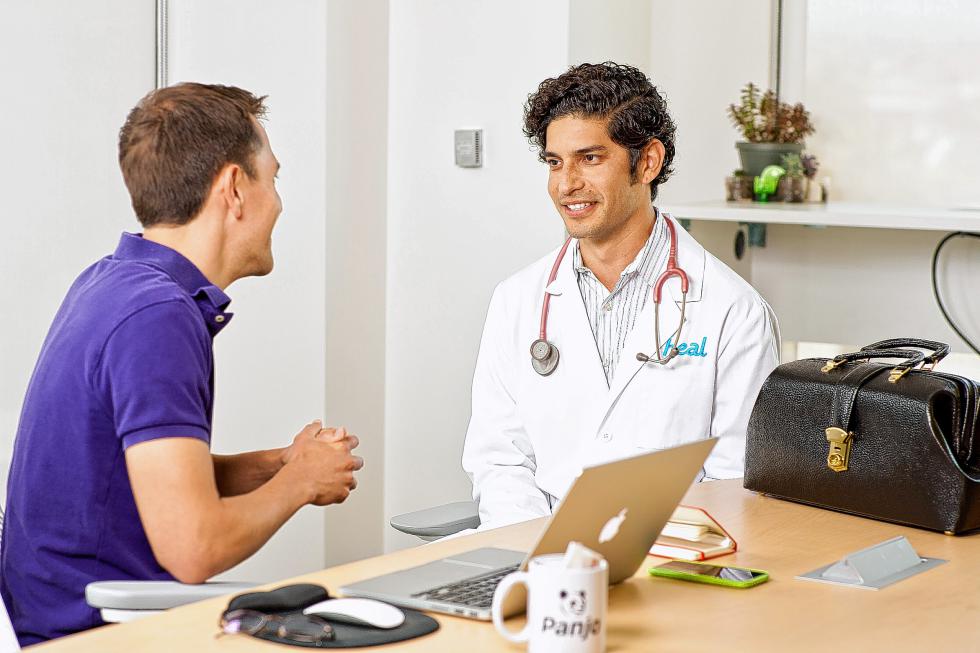 San Diego — The doctor will see you now. But not where you think.
Thanks to on-demand health care app Heal, your next doctor's visit could take place on your turf — home, office, hotel, even coffee shop — and on your terms.
The web and mobile app offers the equivalent of the modern-day house call. Push a button and a licensed physician will show up to provide you or your child care on par with what you'd receive at a typical doctor's office.
In that sense, Heal is similar to the popular ride-hail app Uber. Instead of a driver, the company dispatches a pediatrician or family practice doctor (along with a medical assistant) at your request, and sends notifications of your approaching physician.
"Everything your primary care doctor can do, we can do," said Dr. Renee Dua, who specializes in kidney care and who co-founded Heal with her entrepreneurial husband, Nick Desai.
The couple was inspired to create the service after struggling to secure a timely pediatrician appointment for an ill, infant son. They ultimately found themselves stranded at an emergency room, enduring an hourslong wait to receive care for their kid's not-too-urgent ailment.
"On the way home, we thought about how we could fix a broken operation," said Dua.
Now, less than a year and a half later, Heal is meant to be a viable alternative for scenarios when scheduling a doctor's visit feels impossible but a trip to the ER is definitely not the best option. The app, which the co-founders hope turns into an acceptable stand-in for primary care, can also come in handy for oft put-off preventive care or flu shots.
With Heal, doctors are available for on-demand attention daily between 8 a.m. and 8 p.m. The company is also in-network with a couple of insurance providers, including Anthem Blue Cross of California and Blue Shield of California, meaning the in-home convenience could cost no more than your standard co-pay.
Otherwise, Heal charges a fixed cost of $99 per visit, which covers the entire session save for any tests that require additional processing, such as lab work.
"I think it's the start of something that's going to be really important as we go forward in health care," said Dr. Andrew Eads, 35, an ER doctor who will also provide part-time care to Heal users in San Diego. "A lot of people have chronic illness or something that can be managed a couple of days earlier than when the patient does come into the ER."
Eads said 20 percent to 30 percent of the ER patients he sees don't actually need urgent care. He hopes Heal can help people avoid the exorbitant costs and extra trouble associated with an emergency room visit, and, longer term, views the app as a replacement for primary care.
The company, based in the Los Angeles area, has seen more than 2,000 patients since its launch one year ago. The company also operates in Orange County, San Francisco and Silicon Valley.
Heal finds doctors who work either as contractors or employees, with the latter receiving a salary so as to emphasize quality of patient care over quantity of visits. The company insists it pays its doctors competitively, but would not share specifics.
Some of Heal's earliest physicians, including Eads, were incentivized with stock options.
All doctors on the platform are personally vetted by Dua. And they're gravitating to Heal after hearing about the app because they want to spend more time with patients, Dua said.
"Heal is retro, to the point where (years ago) the doctor would go to the house and get to know the family," said Dr. Eric Topol, author of the book The Patient Will See You Now and head of the Scripps Translational Science Institute. "I think there are a lot of positives to that."
Topol, who believes mobile devices are resetting everything in health care, views Heal and apps like it as a promising way to ease the bottleneck of demand from people who want to see a doctor. In San Diego, the average time to get a primary care appointment is two-and-half weeks, he said.
Nationally, the company competes with a handful of similarly purposed apps, including Pager, an on-demand health care app that provides push-button urgent care services in San Francisco and New York.
Pager also conducted a test run locally, delivering free flu shots to San Diegans during National Influenza Vaccination Week in December.
Heal, which is backed by $7 million in financing, has early believers in Qualcomm Chairman Paul Jacobs, musician Lionel Richie and former Dodgers co-owner Jamie McCourt, all of whom have a financial stake.
The young startup's roster of celebrity investors may prove powerless, however, to address symptoms of a potential latent threat to Heal's long-term health.
The company could soon find itself in competition with on-demand giant Uber, which has signaled interest in applying its logistics engine to the health-care industry.
But whether Heal lives or dies, the future of health care appears to be at your finger tips.
"It's an exciting time when technology and medicine are converging," Topol said.
"Do you want to a have video conference call with a doctor . or do you want to have a doctor come to your house? That will start to become the choice here."