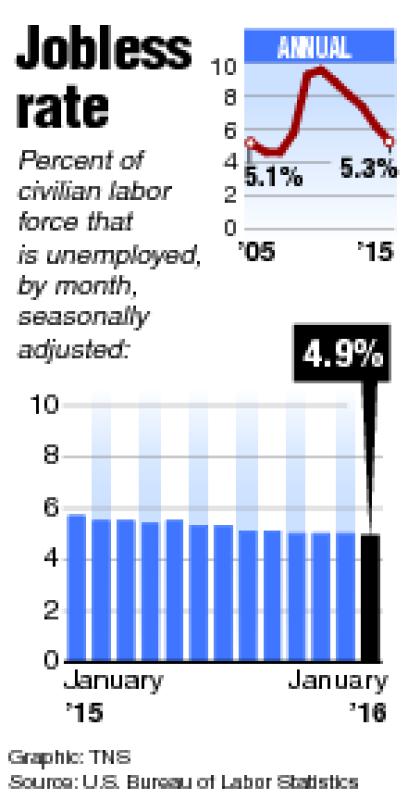 New York — Stocks posted steep losses Friday, ending the week with broad declines, as investors fretted over a report showing that U.S. job creation slowed last month.
Technology stocks fell especially hard, and shares of LinkedIn had their worst day in history.
Energy and consumer discretionary stocks fell as oil prices declined and investors continued to worry that the risk of the U.S. economy slipping into recession, while low, is growing.
The Dow Jones industrial average fell 211.61 points, or 1.3 percent, to 16,204.97.
The Standard & Poor's 500 index lost 35.40 points, or 1.9 percent, to 1,880.05 and the Nasdaq composite dropped 146.41 points, or 3.3 percent, to 4,363.14.
Stocks were mostly lower throughout day, but losses accelerated as the end of trading approached.
With Friday's losses, the Dow was down 1.6 percent for the week, the S&P 500 fell 3.1 percent and Nasdaq lost 5.4 percent.
Investors were discouraged by a report that showed U.S. employers added 151,000 jobs last month, a sharp deceleration from recent months as companies shed education, transportation and temporary workers. That was below economists' forecasts of 185,000 new jobs, according to data from FactSet.
The report included some positive signs, however. The unemployment rate fell to 4.9 percent from 5 percent, the lowest level since February 2008.
Average wages jumped 2.5 percent over the past year to $25.39 an hour, evidence that the past years of job growth are helping to generate larger pay raises.
"It's a rather difficult report to interpret. It confirms there has been some deceleration in the U.S. economy. We're not falling off the cliff, but it clearly shows the U.S. economy is not immune to the global slowdown," said Russ Koesterich, global market strategist with asset manager BlackRock.
The jobs report, while less than what economists were looking for, still showed that the U.S. economy is growing, albeit slowly. The report caused the dollar to strengthen against other currencies, reversing some earlier declines.
The report also raised a new worry about Federal Reserve interest rate policy.
Investors had been betting in recent weeks that a slowing U.S. economy might prompt the Federal Reserve to delay plans to raise interest rates.
But the Fed could see the data showing the growth in hourly wages as an early sign of inflation, which in turn might cause them to keep raising rates even in a slowing economy, Koesterich said.
"You have the possibility of soft growth and monetary tightening, and that's not a great place to be as an investor," he said.
Technology stocks were hit hard by disappointing results from professional social network company LinkedIn and data analysis company Tableau Software. LinkedIn shares dropped $83.90, or 44 percent, to $108.38, its worst single-day performance in the company's history.
The company provided a weak outlook for 2016 and announced it was winding down an advertising platform that was supposed to be a new venture.
Tableau Software plunged $40.40, or 49 percent, to $41.33 after the data analytics company reported a wider-than-expected loss and its software license revenue missed analysts' predictions. Tableau's dismal results spread to other software companies, like Salesforce.com, which fell 13 percent, and Adobe Systems, which fell 8 percent.
U.S. government bond prices were mostly unchanged. The yield on the benchmark 10-year Treasury note remained at 1.84 percent.
The dollar rose to 116.89 yen from 116.71 yen. The euro fell to $1.1164 from $1.1214, inching back from its highest level in more than three months.
In the energy markets, U.S. crude fell 83 cents to $30.89 a barrel on the New York Mercantile Exchange. Brent crude, the international benchmark, fell 40 cents to $34.06 a barrel in London.
Heating oil fell 2 cents to $1.059 a gallon, wholesale gasoline fell 3.6 cents to 99.27 cents and natural gas rose 9 cents to $2.063 per thousand cubic feet.
In precious and industrial metals trading, gold edged up 20 cents to $1,157.70 an ounce, silver fell 7 cents to $14.78 an ounce and copper fell 3 cents to $2.10 a pound.