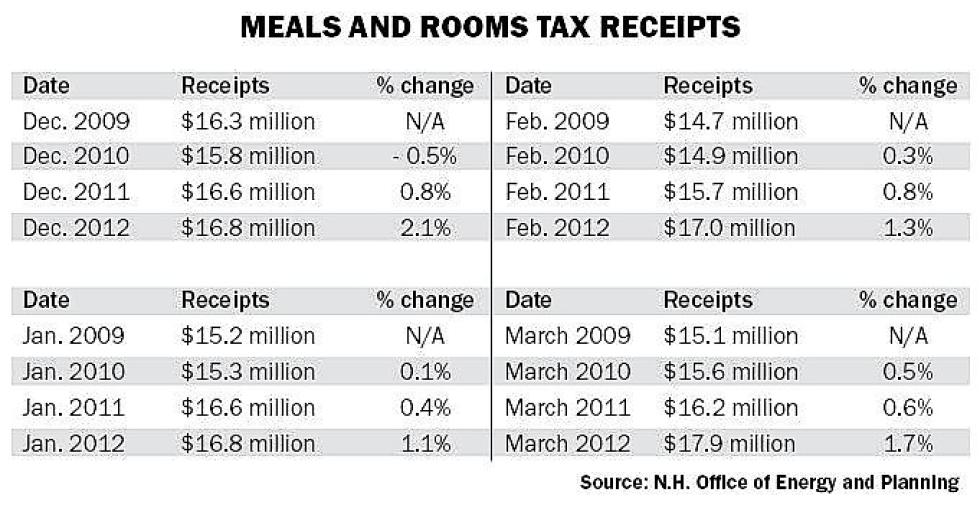 Concord — If there's any place where spending attributable to the presidential primary will show up, it's in the revenue reports used to calculate the state's meals and rooms tax.
The Monitor checked the revenue reported by hotels, motels and eateries throughout Merrimack County for the months surrounding the 2012 and 2008 primaries. Not enough data is available yet to analyze this year's primary, as you might expect.
Specifically, the newspaper took the county totals for each month from October through March surrounding the two primaries, and compared them to the same months for the three previous years, which lacked presidential primaries.
The result: Receipts went up for every single month in both primary seasons.
Case closed, right? Well, no.
Why not? Because receipts also went up for virtually every month in non-primary seasons, thanks to inflation and the slow return of the economy after the financial collapse of 2008.
Determining how much of the meals and rooms boost in 2011-12 and in 2007-08 was due to the primary requires a more detailed analysis. It takes comparisons among lots of other data to tease out effects of other economic, legal and regulatory changes.
And that, in turn, helps explain why nobody has done a deep dive analyzing the primary's economic impact since 2000: It's not as easy as it looks.
To give you a taste of the complexity, here are the month-to-month comparisons of Meals and Rooms Tax receipts reported to the state around the 2012 primary.
As you can see, months in the primary year saw roughly twice as much of a percentage-point increase in receipts as had been seen in the non-primary years, which seems significant and roughly in line with the 0.6 percent increase in state GDP that was found in the 2000 economic study.
But there's one problem: The month of March saw a similarly large boost in 2012, even though the spendthrift media and campaign folks were long gone.
So maybe the month-to-month increase was just a reflection of the overall economy.
— David Brooks