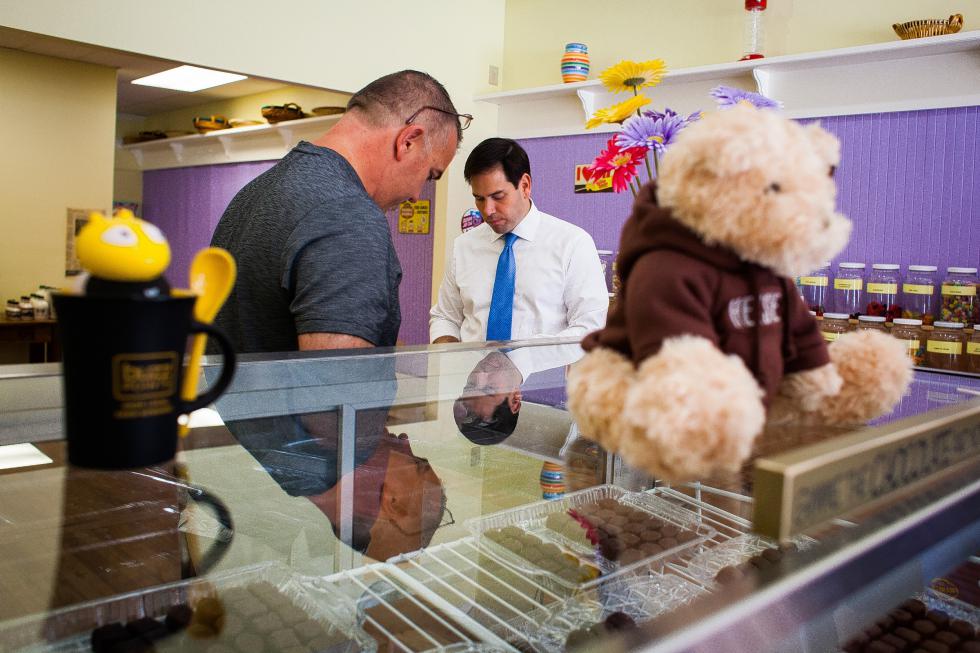 Concord — The attention that New Hampshire gets from standing at the front of the presidential primary line is nice, but there's another reason to put up with the endless pollster telephone calls and traffic blocked by campaign events:
Money.
"Usually the first quarter of the year is the slower time for us. You come off of the holiday party madness and it almost comes to a screeching halt after New Year's Day," said Sue O'Donnell, general manager of the Centennial Hotel in Concord, shortly before primary day.
"But even back in November, we started to see an increase of rooms because of Secret Service. … This week it's campaign folks. … We're completely sold out right up until the 10th."
The business, which includes reservations for conference rooms, is particularly welcome because the warm winter has dampened the usual winter hotel mainstay of ski travelers, she said.
The story at the independent Centennial Hotel is echoed by hotels and Airbnb rentals, as well as restaurants, car rental agencies and other businesses that peddle to all of those reporters and campaign staffers and political fans flocking to New Hampshire.
But as much noise as this makes, how much of an economic boost does the primary really give the state?
"Less than 1 percent of the economy," said Ross Gittell, who oversaw the definitive study of the primary's economic impact as a UNH professor in 2000.
The study factored in obvious hotel and meal expenditures, plus the "multiplier effect," in which some of the extra money earned by a waiter gets spent on other businesses, and some vaguer benefits.
"We also talked the value of the national and international media exposure," Gittell said. "If somebody sees news about New Hampshire and then decides, I want to go visit there, the media coverage adds to tourism promotion." So the study included the estimated cost of national ads that New Hampshire would have to buy to equal media exposure.
The 2000 primary, like this year's primary, saw hotly contested races for both major parties, which explains why it had about 50 percent more economic impact than the 1996 primary, when Bill Clinton was running for re-election.
Even so, the result of the study was not overwhelming: From March 1999 to February 2000, campaign spending generated a total economic benefit of $231 million, along with $32 million in free news media exposure, plus estimated extra business development from attention and a few other estimates giving a total economic impact of $306 million.
That's just six-tenths of 1 percent of the state's annual GDP back then. That's not bad — it's about how much the lottery gives to the state education system annually — but it's not Earth-shaking.
"Hugh Gregg was surprised at the low level of economic impact," said Gittell, referring to the former governor and father of former Sen. Judd Gregg.
The study estimated that the equivalent of almost 1,200 jobs in the lodging and restaurant industries were created by the primary, which is good news for those people. The U.S. Travel Association once estimated that 33 reporters spending one week in the state supports about one job in the Granite State.
At the 32-room Centennial Hotel, O'Donnell said the business hadn't led to new jobs but had certainly led to more hours being worked.
"My part-timers are working full-time. All hands on deck, we call it," she said.
There's one other factor in the financial impact: It's not spread out.
"It is concentrated, so you get more of that impact in some places. You definitely get it in Manchester, in Nashua and Concord, the Seacoast. It depends on where campaigns do their overnights, and where the campaigns are headquartered," Gittell said.
Gittell, who is now the chancellor of the state's community college system, realizes that a lot of benefits from the primary are hard to put on a spreadsheet.
For example, it helps this small state punch above our weight in federal affairs — although New Hampshire's $1,136 in federal contracts per person in 2014 lagged the figure for Massachusetts ($1,868) and even Maine ($1,170), which shows that translating impact into dollars isn't easy.
"It's having the influence, real politically, and real psychologically. There's no way you could quantify this," Gittell said. "I think our young people, having the opportunity to meet candidates, be more politically engaged, more informed about public policies than the average American … that has to have value."