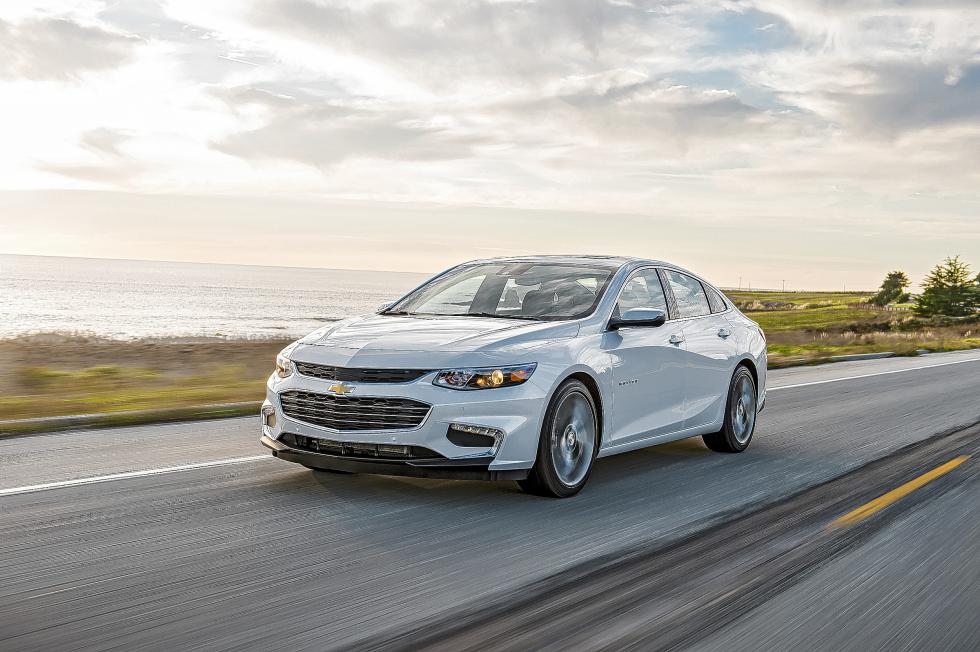 No one who has driven a BMW or Audi would mistake a Chevrolet or Buick for a BMW or Audi. For that matter, no one who has driven a 2016 Honda Accord or Civic sedan would confuse a Chevrolet or Buick with one of those cars.
It is not that the foreign-based companies are inarguably superior manufacturers of cars and trucks. Their products are good, yes. But so are those made by their U.S.-based rivals.
The difference is attitude.
For example, have you ever seen a BMW or Audi TV commercial suggesting that potential buyers might happily mistake one of their cars for a Chevrolet?
Yet here is a Chevrolet marketing spot suggesting — through the observations of "real people, not actors" — that an unmarked version of a 2016 Chevrolet Malibu sedan could really be something from BMW.
It is not, of course. It is a Chevrolet Malibu, redesigned for 2016, and a darn good car in its own right. It needs no patina-by-association with supposedly better brands. It just needs truth. And here it is:
Chevrolet is, once again in its 105-year history, taking the middle class seriously. It is offering as proof the 2016 Malibu, available in three trim levels — LS, LT and Premier.
As you might expect, LS is base, meaning it offers the lowest price ($22,000 range) and the least equipment. LT is popularly equipped, meaning it is the one most of us can afford (the $28,000-plus range). Then there is the white model you see on TV, stripped of identifying badges and prompting the flattering-for-Chevrolet but erroneous BMW-Audi comparisons: the Malibu Premier ($36,000-plus).
At that price, any Chevrolet, or anything else, ought to compare to something BMW or Audi. The Malibu Premier competes well with any midsize car in that price category. But here's saying that the 2016 Malibu 2LT driven for this column is a valuable entry, too.
The "2" in the LT version of its name represents General Motors' new turbocharged (forced air), 2-liter four-cylinder gasoline engine (250 horsepower, 258 pound-feet of torque). It is linked to an eight-speed automatic transmission that also can be operated manually. It is GM's first eight-speed automatic transmission, designed to help lower fuel consumption, in a front-wheel-drive car. GM is the maker of all things Chevrolet.
I drove the Malibu 2LT in the melting, squishy aftermath of the blizzard that recently blanketed much of the Mid-Atlantic and Northeast regions. The car behaved enjoyably well, even when it encountered one of many mush-water-covered potholes. A similar meeting with one of those road disasters in a 2016 Audi A7 3.0T Quattro sedan shod with low-aspect ratio performance tires cost me four hours and nearly $500. Please put that in a TV commercial.
In all, my time in the 2016 Malibu 2LT was quite likable — comfortable ride, responsive acceleration, good fuel economy — 22 miles per gallon in the city and a real-world vetted 32 miles per gallon on the highway. And that was using regular-grade gasoline.
GM's marketing people need to get real. Stop all the "That's a Malibu?!" junk. Yeah, that's a Malibu, damn it. And it handled the same roads, under many of the same conditions, on which I drove considerably more expensive cars. And the Malibu did all that without costing me an extra $500. That's a Malibu — a good middle-class car for middle-class people that makes perfect sense. Put that in one of your commercials.
Nuts and Bolts
Chevrolet Malibu 2LT
Bottom line: The 2016 Malibu 2LT rates as a "must-see" for middle-income families seeking comfortable, enjoyable, safe, economical, reasonably affordable transportation. You want lower cost? Check out the LS. You want to feel closer to something BMW or Audi? Look at the Premier.
Ride, acceleration and handling: The 2LT gets good marks in all three.
Head-turning quotient: It looks like a Chevrolet, and that is a very good thing.
Body style, layout: The 2016 Chevrolet Malibu is a front-engine, front-wheel-drive midsize family sedan available in LS, LT and Premier trims.
Note to parents: This one can be technically equipped to monitor teen driving speeds and habits. Check with your dealership and insurer.
Engine/transmission: The 2016 Malibu 2LT comes with a direct-injection, turbocharged 2-liter, 16-valve gasoline engine with variable valve timing (250 horsepower, 258 pound-feet of torque). The engine is linked to an eight-speed automatic transmission that can also be operated manually.
Capacities: Seating is for five people. Cargo capacity is 15.8 cubic feet. The fuel tank holds 15.8 gallons of gasoline (regular grade is fine).
Mileage: I averaged 32 miles per gallon in highway driving.
Safety: Standard equipment includes four-wheel disc brakes (ventilated front, solid rear) four-wheel anti-lock brake protection, emergency braking assistance, front automatic braking (new to Malibu), stability and traction control, dusk-sensing headlamps, air-bag deployment notification, daytime running lights, fog lights, and side and head air bags.
Recommended safety options: All advanced electronic safety features.
Pricing: The popularly equipped 2016 Chevrolet Malibu 2LT is offered at $28,620, with a dealer's invoice price of $27,477. Price as tested is $29,495, including an $875 factory-to-dealer shipment charge. (Note: Many regional dealers are offering discounts.)