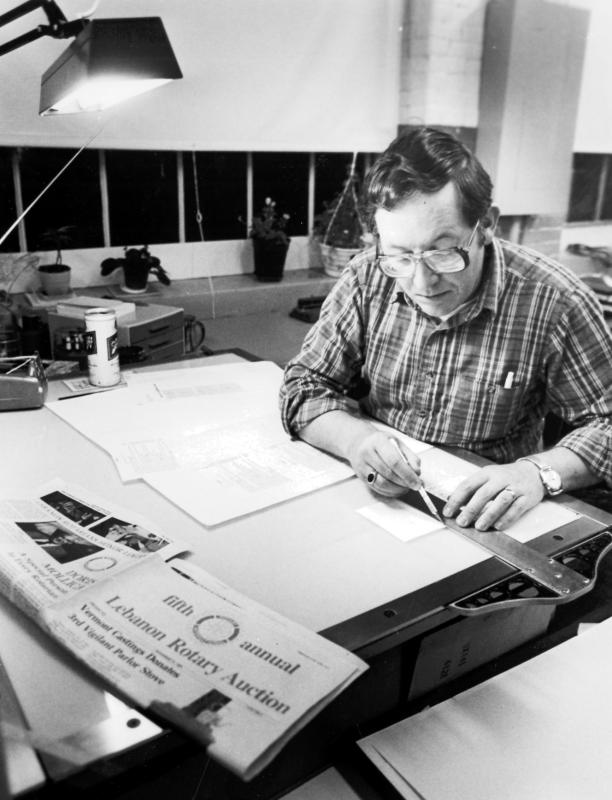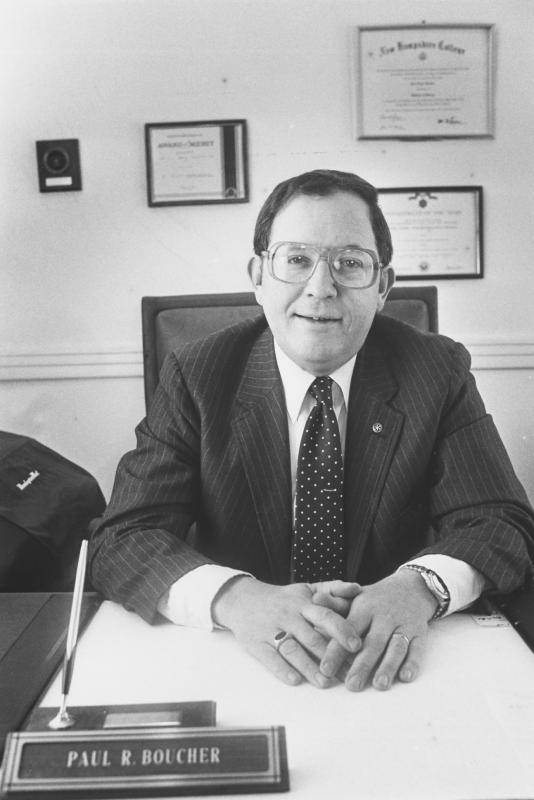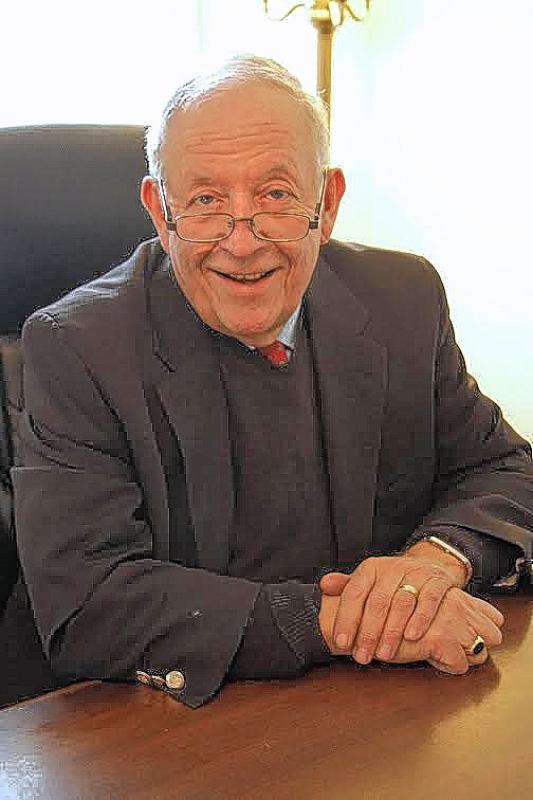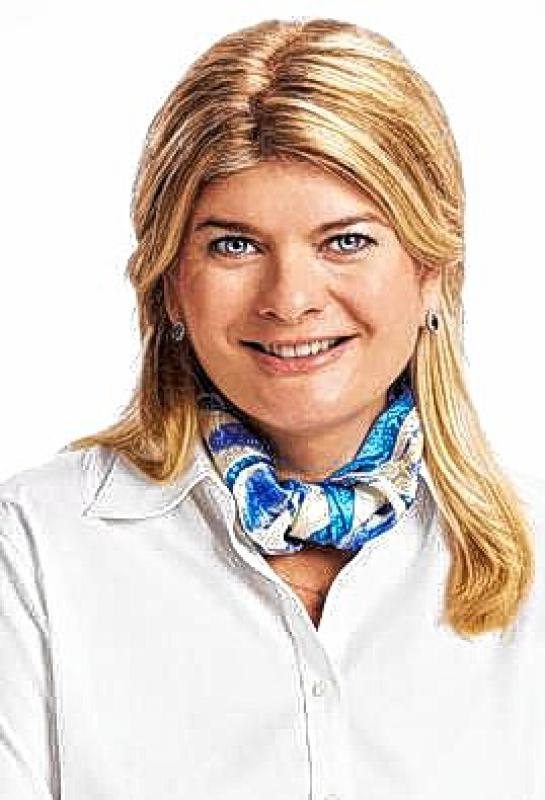 On Friday, Feb. 11, 1916, the Granite State Free Press reported on the goings-on among the roughly 6,000 residents of Lebanon. The items included news of one Helen Campbell, who went to visit a friend in Etna for a few days; plans for a Valentine Leap Year dancing party at Town Hall; and a report that Rudolph White had returned to his job at Plamondon Brothers grocery after a six-week absence due to illness.
The last entry gave an account of a public meeting the previous Wednesday to organize the town's Chamber of Commerce, where 11 directors were chosen.
One hundred years later, the Chamber still is going strong and working to fulfill its mission "to advance economic vitality by providing advocacy, information and services to our members and the Upper Valley." (A celebration is scheduled for March 4. See this issue's Agenda, page 21.)
It also is on the cusp of a major transition as Paul Boucher, 71, prepares to step down in June after nearly 42 years of service to the Chamber, the past 16 as its president and CEO. A search is underway for his successor.
Promote, Represent, Educate
Since the Chamber's inception, Lebanon and the surrounding area have grown exponentially. The city now has a population of about 13,500, and the Chamber — which today serves the towns of Enfield, Canaan and Plainfield, along with the village of West Lebanon — has 352 members, about 30 percent of area businesses.
"We do three things," Boucher said. "We promote, we represent and we educate." Members are promoted through the Chamber's website and its office, which is staffed five days a week. Its Business After Hours program provides networking opportunities for members at monthly gatherings hosted by member businesses on a rotating basis. "We also promote economic development in the area, and when a business is having issues trying to get to the right places, to get things approved by the city, we go and speak on their behalf," Boucher said. "I spend a lot of time at City Council meetings and Planning Board meetings."
A good example of a project the Chamber supported is the building of the new Lebanon Middle School, which was completed in 2012. Boucher said the Chamber wouldn't go to bat if someone wanted to build a manufacturing plant in the center of town, for example, but projects like the middle school can enhance the community and make it more attractive to new businesses. He said the quality of the schools is the first thing people ask about when they make initial inquiries about locating their businesses in Lebanon.
Boucher said he receives these inquiries because, while the city does have an Economic Vitality Exchange Committee and its Planning Department is engaged in an ongoing study of the city's downtown, among other economic development efforts, there is no one economic development person to call. "They call here," Boucher said, "and oftentimes I will take them for a ride. I'll show them what's available. We have a lot of vacant commercial property in West Lebanon, for instance."
The third component of the Chamber's mission is education, and Boucher cites the establishment of the Leadership Upper Valley program in 2006 as one of the initiatives of which he's most proud.
"We're excellent crooks," Boucher said with a laugh. "Chamber directors steal each other's ideas."
The Concord Chamber of Commerce had a leadership program, he said, "so at the urging of my chair at the time, we started a program here."
The idea was to take up-and-coming managers, executives, business owners and others and teach them about their community. Program participants meet regularly over the course of 10 months, attending sessions in subjects such as economic development, the arts, education, and health and human services.
"The end goal of all of this is that they become active — in a social service agency, city council, city planning, a gallery, that type of thing — really, just to get involved in their community," Boucher said.
The Chamber ran the program for three years and then handed it off to Vital Communities, which today runs Leadership Upper Valley. (See related story, page 8 .) That first class had nine participants. Today, the program includes 30 participants a year.
Growing New Businesses
In addition to leading the Lebanon Chamber, Boucher sits on numerous boards and is a member of the Grafton County Economic Development Council, which was instrumental in establishing Dartmouth Regional Technology Center in 2004. The nonprofit DRTC provides incubator space for new ventures that are being formed and are in the process of growing. Other members include Dartmouth College, the North County Council, and the New Hampshire Department of Resources and Economic Development.
Located at Centerra Resource Park in Lebanon, DRTC is home to about 20 predominantly life-science and biotech ventures, all of which share resources and lab space at the 60,000-square-foot facility.
One of the benefits of working out of DRTC is the sense of community and camaraderie that is built among its shared residents, according to Jamie Coughlin, the facility's director.
"A majority of our ventures mature and graduate, and upon graduation they need to be advised about where to go," Coughlin said. "Having a partner like Paul and the Chamber has helped with that navigation over the years. That's an important aspect, because in the process of new business development, you want to limit the transitional variables and mitigate the risk of new ventures."
Boucher showed obvious pride when talking about the Chamber's affiliation with DRTC. He named the biofuels company Mascoma Corp., which began at the incubator and graduated after three years, as one success story.
"They built a beautiful building (on Route 120), put it on the tax rolls and hired locally. That's what we're looking to do," Boucher said. "It's been a win-win situation."
As he nears the end of 42 years at the Chamber, including stints as president from 1984 to 1986 and president and CEO since 1999, Boucher looks forward to focusing on his work in the Catholic Church. He has a master's degree in theology and has been an ordained minister for the past 13 years. He preaches every other week at St. Mary's in Claremont.
"It's a different focus altogether from my work here. It's a different realm," Boucher said.
Boucher said he wished he had more time to get out and talk to Chamber members to find out how the Chamber can better serve them. Still, citing initiatives such as the twice-yearly golf tournament that raises money for adult education scholarships, Boucher said he is gratified with the work he's done.
"I hope I leave Lebanon and the area a better place than I found it," he said.