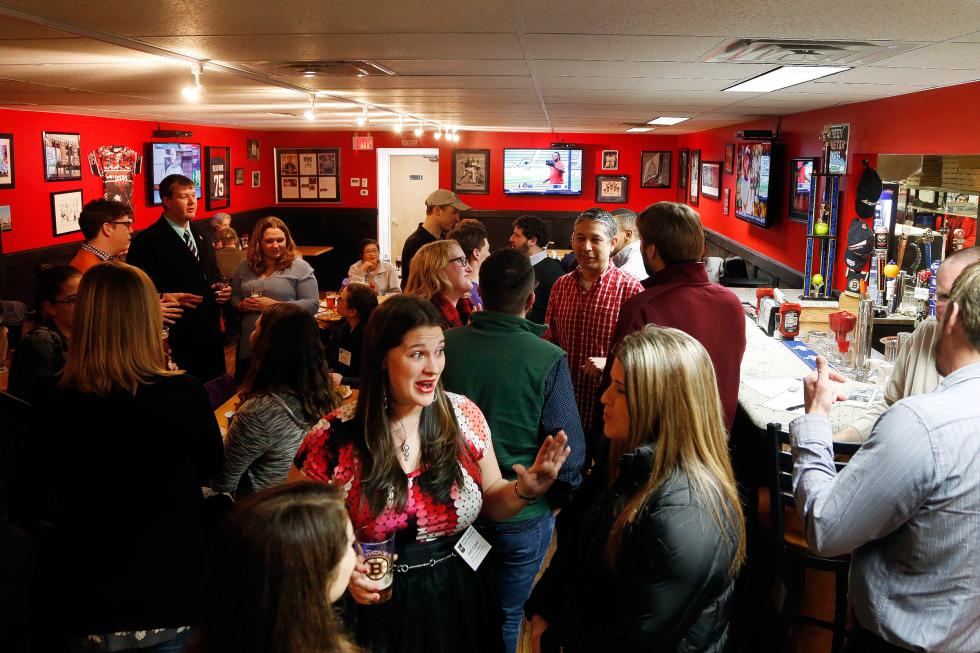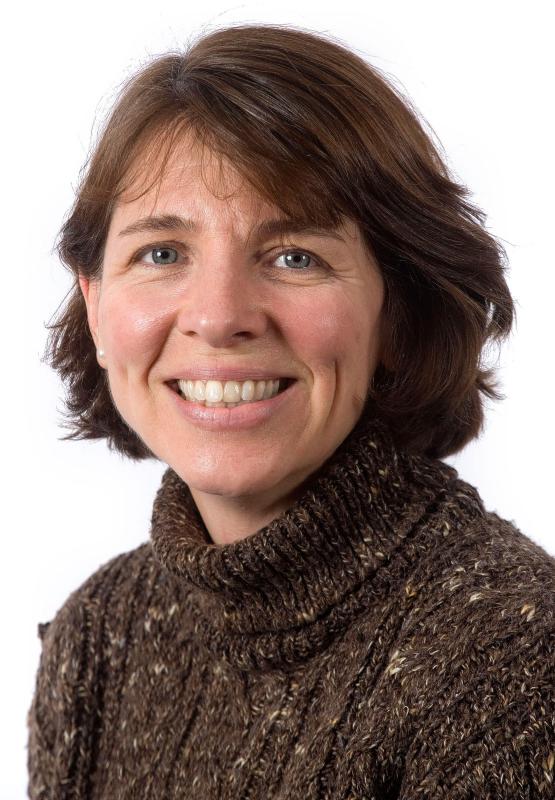 Two 20-somethings walk into a pub, and notice everyone there is over 60.
A setup for a joke? No, just a snapshot of Andrea and Matt Denhart's first night out in the Upper Valley.
"What did we do?" wondered Andrea, now 27.
Ohio natives, the couple moved to the area two years ago from New York City for Matt's job.
"It's a beautiful area," Andrea remembers thinking. "There's got to be something out there."
Well, of course there was, and a key factor in helping the couple connect with other people — both socially and professionally — was their joining a relatively new association, the Upper Valley Young Professionals. As it turns out, the organization has provided a convenient way not just for younger people to explore social and professional opportunities: it's also given local employers an easy way to reach that demographic.
Being part of the welcoming, tight-knit bunch has made the area feel more like home, Andrea Denhart said.
"It's really cool that my husband has his own little group, so he has his guys that he can go do stuff with, and I have girls," said Denhart, a communications specialist who commutes to Manchester from West Lebanon for work. "People buy new houses and you can go to their housewarming. It just makes it a little special, where you feel like a little piece of you is here."
'A Different Stage of Life'
While Facebook and listservs have helped, moving to a new area still isn't easy, and it can be especially tough for young people arriving in the Upper Valley, group members say. Geography plays a part.
People live and work in different areas and don't all converge on a city center like they would in Boston, for example, said Markell Ripps, the group's co-chairwoman and a law partner at Grossman & Ripps in Norwich. "We really wanted to centralize a community for young people so they have the opportunity to … connect the fabric."
A good number of their members work for small organizations, so they have older colleagues who are in a "different stage of life," said Alessandra LaFiandra, a speech-language pathologist who lives in White River Junction. Without a built-in social group, "you really have to work hard to try to find that elsewhere."
"Elsewhere" has its own hurdles. People often make friends through their spouses or children, yet many of the group's members have neither.
This makes them especially vulnerable to feeling lonely, Ripps said. "That's why I think it's so important for us to focus on that specific, young demographic, to make them feel more welcome."
The Twin States' demographics don't help. According to 2014 U.S. Census estimates, New Hampshire and Vermont are tied for the second-oldest populations in the country, with a median age of 42.6.
Northern New England's age distribution is so out of balance that an organization that calls itself Stay Work Play New Hampshire has taken on the challenge of attracting and keeping young people in the state. Its role includes acting as an umbrella organization for the 14 young professionals networks across New Hampshire, sponsoring an annual summit for the groups' leaders and a monthly conference call, where they discuss issues, activity ideas and best practices.
The young professionals organizations are "absolutely critical to the work we are doing," said Kate Luczko, president and CEO of Stay Work Play. "We refer to them as 'the boots on the ground.' "
Growth Spurt
The seed for the Upper Valley group was planted when a few dozen people gathered to look for ways to create a sense of community and keep talent in the area, said Matt Young, a founding member of the group and a content specialist with the New Hampshire Bar Association. Along the way, they received help from Stay Work Play.
The nonprofit partnered with the early organizers and New Hampshire Public Radio to hold a kickoff at Lebanon's AVA Gallery and Art Center in 2012.
The event drew about 100 people, Luczko said. Hypertherm supplied the food and, like other businesses, encouraged its employees to attend.
Such support is key, Luczko said.
Though networking is important for young people, they're often in the early stages of their careers and may not have the flexibility to leave the office right at 5 p.m., she said. "If you get the buy-in from other folks at your company, it makes it so much better."
After the initial burst of enthusiasm, finding members with time to continue building the group was tough, Young said. But they pushed on, writing bylaws, deciding how they wanted to operate, lining up events. And they've been growing ever since.
In 2013, they had about 100 members. Now they're up to 186, and their Facebook posts are seen by hundreds more. F inding event sites that can accommodate as many as 50 people for drinks and mingling can be a challenge, said Beth Culver, the group's network and marketing chairwoman.
Next up is a full-capacity affair on March 1 at Simon Pearce in Quechee, which recently installed a new bar. After 50 free tickets were snatched up in a matter of hours, the group scheduled an encore for March 8.
"I think our name is getting out there," said Culver, who is creative director at the Human Capital Institute in White River Junction.
The 4- year-old organization promotes professional development, volunteerism and networking. Membership is free.
And don't let the name fool you — the group is more open than it sounds. Yes, its members include lawyers, doctors and engineers, but a white-collar job is not a prerequisite.
"Are you employed or looking for employment? Yes? Then you're a professional," Culver said. "Whether that is blue or white collar, we all have something to give and take from our community and our peers."
Nor must participants be terribly young.
While the target group is people under 40, everyone is encouraged to attend the group's events, the 34-year-old Culver said. "You're never too old to network and meet new people and establish new relationships within the community."
'Can I Be Your Friend?'
From cooking up a pasta dinner at David's House to helping the U pper Valley Vixens roller derby team, t o planting flowers with a local garden club, volunteer work is a big part of the Upper Valley Young Professionals' mission.
Staffing a water station during the CHaD Hero Half Marathon has become a cherished annual tradition.
Between the music, face painting and matching T-shirts, "we're famous," joked Denhart who, as the group's "impact" chairwoman, organizes the events. "It's a lot of fun."
Working toward a goal that makes a difference in the community "feels good," Ripps said. And volunteering gives them a chance to learn about local organizations and get to know one another better.
Several members, including Ripps, said they met their best friends through the group. And she and her comrades hope to make life easier for the next wave.
"It can be intimidating going out there, meeting new people, and asking, 'Hey, can I be your friend?' " said Ripps , a Massachusetts native. "You just know when you come to our events that everyone is here because they want to meet other people."
While the group helps newcomers break into the area, its membership isn't exclusive to new arrivals.
Lebanon High School graduate Nicole LaBombard earned a degree from Dartmouth College and spent several years working outside the area before returning for a job.
"Even though I grew up here, I'm sort of putting down my adult roots in the community, and this group has helped me do that," said LaBombard, program coordinator for Dartmouth-Hitchcock's Partners for Community Wellness .
Should I Stay?
The need for such networks isn't limited to rural areas. A web search found a half-dozen young professional networks in Vermont, including groups in Burlington and Rutland. And the Manchester (N.H.) Young Professionals Network boasts nearly 4,000 members.
The Manchester organization provides an important service to what previously was an underserved demographic, said its chairwoman, Samantha Maltais. And that can make the difference between settling in or moving on.
Going home after work and cooking dinner alone is "not really a happy life. You're not going to want to stay," said Maltais, a strategist and marketing manager at a Manchester company. Being able to engage with other young people on a personal and professional level "keeps people up here."
In the Upper Valley, more needs to be done to attract and keep young people, said Caleb Wolfe, a retired teacher and businessman who helped organize the local young professionals network. He sees the group as one of the central players in that effort.
In addition to its "very important" social component, the group can help prevent career isolation by connecting people with similar work interests, which sparks creativity, Wolfe said.
Ultimately, such collaboration could contribute to the sort of agglomeration that's made places such as Silicon Valley, Boston and New York thrive, he said. But as local employers know, that's not so easy in the sparsely populated Upper Valley region.
Young people bring a "whole new, fresh look," particularly in the realms of social media and inbound marketing, said Janet Hutchens, creative director and principal of Hutchens Media in Lebanon. They also can show the "more transparent, human side" of a business and provide a valuable perspective on what day-to-day life, perhaps, should be like, including "more connecting" and a better work-life balance.
But despite this area's many benefits, the slightly younger feel of cities like Boston or Burlington can be enough of a draw that young people "don't want to come up to the country," said Hutchens, who led a seminar for the group last fall on creating a professional online presence. Upper Valley Young Professionals "could definitely attract more talent to the area."
Mutually Beneficial
In addition to making the Upper Valley a more attractive area to the young people who employers often find in short supply, the existence of Upper Valley Young Professionals works to the advantage of employers in other, more subtle ways.
The rural nature of the Upper Valley has persuaded the group that its members would benefit from a focus on professional development. A lot of the group's members work for small companies that might not offer workforce development and advancement, Ripps said.
To that end, they offer workshops on subjects such as social media and management.
One presenter outlined interviewing skills from both sides of the desk, an especially useful topic for younger people who often have not been trained to take that on, said Ripps, 30.
The group also has organized seminars on topics such as resume building, financial planning, entrepreneurship and buying a home for the first time.
"We want to give tips to help make young people (more prepared) for adulthood," said Young, the group's membership chair man.
Through their socials, members make personal and business connections, winning new clients or even jobs. The monthly events are held at local companies and restaurants that members are interested in checking out. As it turns out, the feeling is mutual.
A lot of companies reach out to the organization, Ripps said. "They really want us to come see their business … or they want to give us a special tour."
Last fall, they organized a talk by interviewing guru Mark Efinger at Courtyard by Marriott Hotel in Lebanon. Participants received free appetizers and a tour of Element, a new Lebanon hotel . A raffle winner received a free stay in the new digs.
"They wanted us to be thinking of them, maybe, (when) we had family visiting," Ripps said. "I think it's beneficial for both parties."
Employers have posted job openings on Upper Valley Young Professionals' Facebook page, and the group has been recruited to weigh in on some of the region's most pressing issues.
Members gave feedback on a developer's plan to build apartments and condos in Lebanon and provided input for the city's downtown visioning study. When Hanover was mulling a change to its subdivision laws, they served as a focus group. And Ripps represented the group at the Upper Valley Housing Coalition's business leaders' breakfast, describing what young people look for in housing.
Irene Green, director of sales and marketing at Northern Stage, said having an organization like Upper Valley Young Professionals is really valuable to the local business community. It provides a way for young people to connect across various fields, and recruiters can tell prospective hires about the group, which provides a source of support outside of the company itself, Green said.
And as a nonprofit, Northern Stage appreciates the group's focus on community service, she said.
"We really benefit from that and see the value in that," Green said.
Culver, the network and marketing chairwoman, said she's glad the group has been able to establish such connections, which will help its members to improve the community.
"We are the future," she said, "so we'd really like to have a hand in building it."