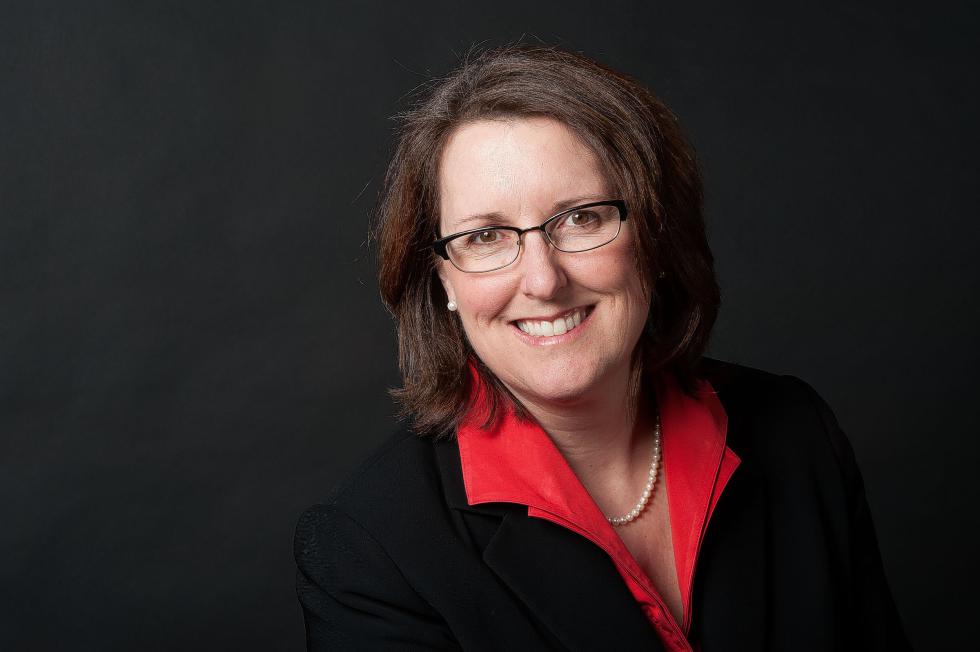 Over a cup of hot coffee in Vermont Public Radio's Colchester studios, CEO Robin Turnau talks about the station's ongoing expansion project, its transition into the digital age and how VPR used Legos t o explain the Iowa caucus.
Vermont Public Radio must have been the only NPR affiliate in the country that pulled out a Lego set as the recent Iowa caucuses got into high gear. But it wasn't because the staff at VPR was bored.
"We just figured out that was the most effective way to explain the Iowa caucuses," the radio station's president and CEO, Robin Turnau, told me as we settled down for a steaming cup of coffee at the VPR studios in Colchester.
VPR had asked its audience members what they most wanted to know about the event — the first vote in which candidates could win delegates for party nominating conventions. "Over a hundred people responded, and what they most wanted to know was: Just how do those caucuses work anyway?" Turnau said.
Two of VPR's digital staff, Angela Evancie and Taylor Dobbs, came up with the idea of using Legos to explain the process. "They moved the little people around and produced this brilliant two-minute Lego-people video to explain how the caucus works. That video received over 350,000 views, nationally," Turnau said.
"It is a perfect example of how the Internet has exploded our traditional thinking of how to serve our listeners," she said.
Innovation has been a VPR hallmark since its founding almost 40 years ago. Back then, when the Corporation for Public Broadcasting began to fund public radio startups across America, there were doubts whether a public radio station could survive in Vermont, with its reputation for having more cows than people.
"Well, we proved them wrong!" Turnau said.
"So we have cows that listen to VPR?" I ask mischievously.
"We do have people who play VPR in their barns to their cows," Turnau said with her infectious laugh.
That innovative streak is needed now more than ever, as the Internet and broadband are merging print, audio and video journalism. The Iowa Lego story illustrates how VPR is changing to respond to this new media landscape.
Turnau had just taken me on a guided tour of the construction that will almost double the size of VPR's studio space. The long-overdue expansion — the original building was designed to house around 27 employees, and now houses more than 50 — is an inspired, environmentally friendly design with open spaces, large glass walls looking out over woods and wetlands, and high-tech wizardry to support VPR's expansion into digital media.
"And we will have a newsroom for all our journalists for the first time," Turnau said. "We have these great reporters, who produce prize-winning stories, but they've never had a shared newsroom. Now they will."
Turnau is an impressive executive. She is focused, speaks in short declarative sentences, and exudes pride in her highly regarded staff. Under her leadership, VPR came through the recent recession and smartly has picked up its growth in audience and underwriting. She is proud of VPR's supporters and points to the $10 million capital campaign to expand the headquarters. "We are almost there," she said. "Just $2 million more to go."
There's no doubt in her mind, she said, that VPR will make its goal and open the new facilities, on schedule and on budget, in the fall.
Turnau went to the University of Vermont, studied anthropology and did field work before realizing that a career in anthropology would require years of additional study, and she wanted to go to work. But her only marketable skill was selling — while attending UVM, she worked as the director of advertising at the Vermont Cynic newspaper — and that experience landed her a short-lived job at a commercial radio station.
"I did not enjoy selling ads for a rock 'n' roll station, but now I also had radio sales on my resume, which got me hired at VPR 27 years ago," she said.
Her first position at VPR was as membership drive coordinator, and she served as director of development and vice president for development before becoming president in 2009. Under her stewardship, the audience for VPR News and VPR Classical has climbed from about 170,000 in 2008 to more than 200,000 today.
Public radio lives through the generosity of its listeners. At VPR, about 1 in 6 of them contribute to the station, and I assumed increasing this ratio would be key to Turnau's fundraising strategy. It is not.
"Even though I'd absolutely love to see the numbers of supporters go up, our focus is on increasing our sustaining members. That's where we see the greatest potential for VPR, with the least interruptions for fundraising," she said.
Even in an increasingly digital world, radio still is a very commanding medium. I ask Turnau to explain why. "Listening to radio is an intimate, one-on-one experience," she said. "Think about yourself in a car listening to VPR. It is one person talking to one person. It's asking you to stretch a little bit and to imagine the scene as the reporter speaks to you. You are using your mind, without the television images that sometimes distract from the conversation."
VPR's move into the digital age intrigues me, and I ask if that will mean a new breed of staff. "People here have grown up with radio and they do it really, really well," Turnau said. "I am so thrilled they are here because the quality, the richness of the sound and the stories is what they bring to VPR. At the same time, we have hired and will continue to hire digital natives who have grown up in the smartphone world, who live and breathe social media and can, well, move straight to a Lego solution."
So might Vermont Public Radio one day become Vermont Public Media?
"I don't think so. Too many of those VPR bumper stickers around," Turnau said with a smile. "We are and will always be VPR. Though, you know, we might someday downplay the use of the phrase 'Vermont Public Radio' in our branding and emphasize just 'VPR.' "
Something like the way National Public Radio morphed to NPR?
"Exactly."