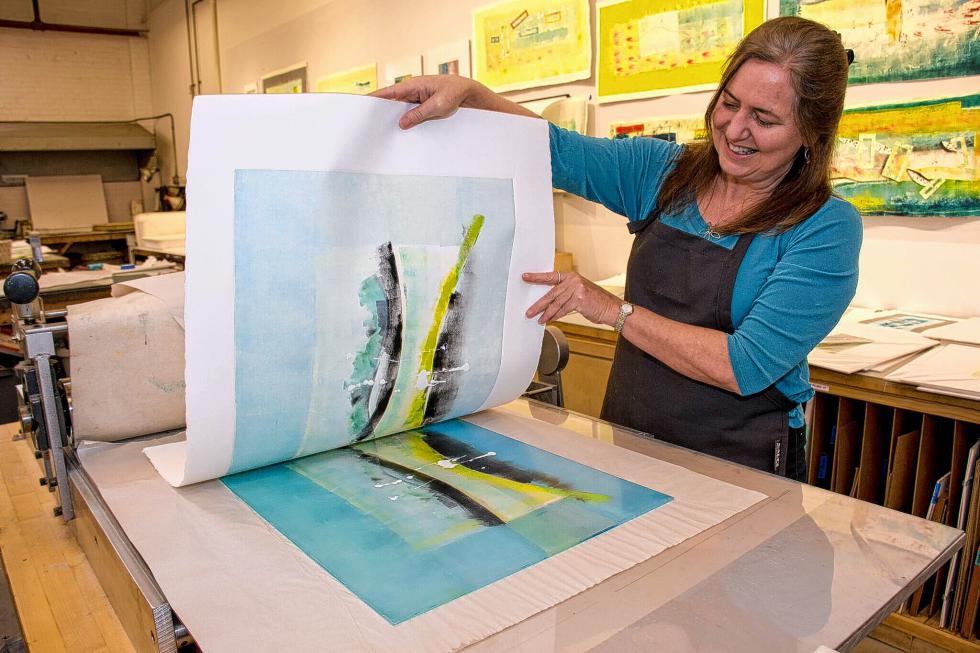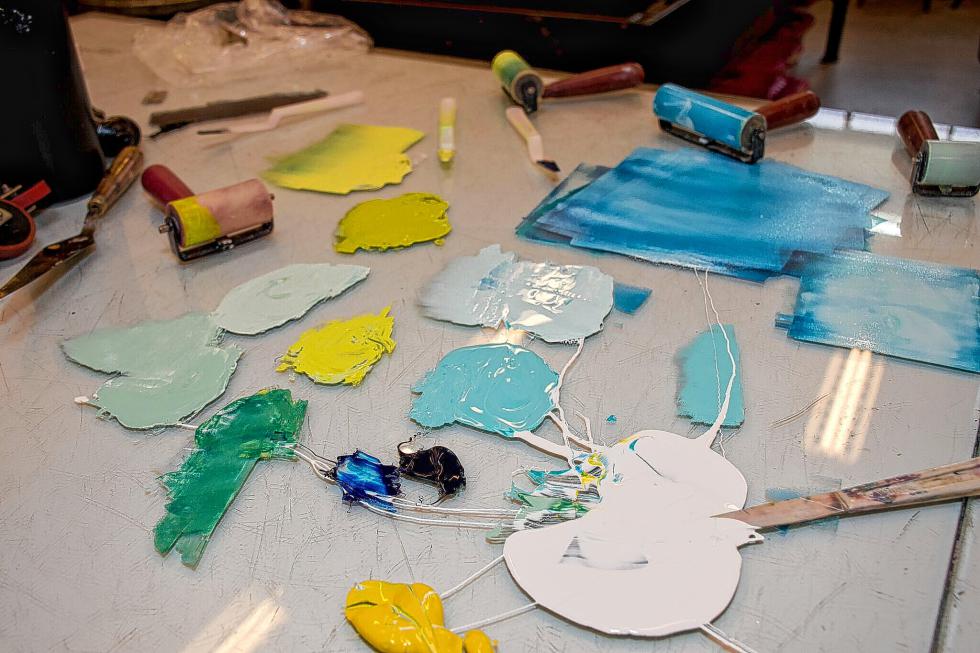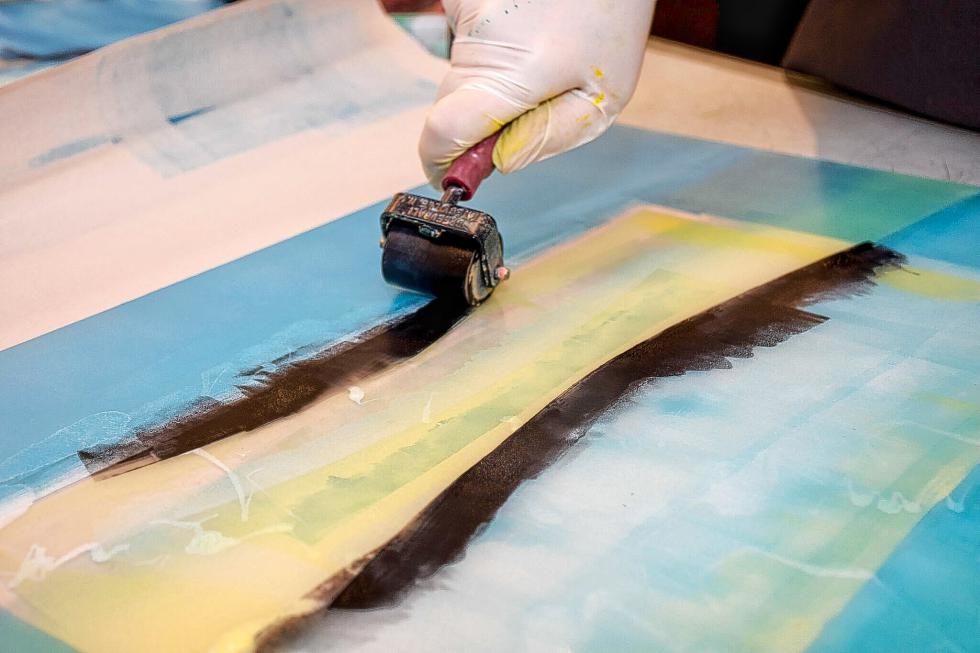 Patty Castellini was born to be an artist. The road has not been easy, but thanks to her tenacity, talent and SCORE counselors, she is well on her way to success.
Castellini was raised in Lancaster, N.H., right near the Canadian border. After graduating from the regional high school, uncertain about what she wanted to do, she moved to Lebanon with friends, where together they considered joining the Peace Corps. Instead, one of her friends got married and the other joined the Navy, ending her thoughts of expanding her world.
Castellini said she has known she wanted to be an artist since she was in the fourth grade. At that time, she had a friend whose mother was an artist. The woman was a warm and loving person who seemed very happy. This impressed Castellini, who then associated happiness with being an artist. Although she now realizes that she may have been glamorizing the profession, the image always was there for her.
While living in Lebanon and working various jobs to support herself, she took an art class and realized that art was something she truly loved. She found a commercial design program available at a Manchester vocational school and moved back home to save money for enrollment.
Shortly after, she began taking courses at the Manchester vocational college and fell in love with two of her art classes: color and design, and drawing on the right side of the brain. The latter class involved creative exercises that taught her how to draw. Discovering she could draw was a huge thing for her, Castellini said.
At the same time, she worked through the computer and typography courses that were necessary for a career in commercial art.
After her first year in Manchester, she decided she instead wanted a career in fine arts. She met and married her husband, a musician. When she became pregnant, she put art on the back burner to be a full-time mother to her two daughters, Camille and Ali.
But it seems art was meant to be for her. Castellini recalls walking to the library with Ali, who was 3 at the time. Her daughter insisted she did not want to go to the library; she pointed at a big building and said she wanted to go there instead. The big building turned out to be the AVA Gallery and Art Center.
Fascinated, the pair looked around the studios and learned the gallery offered children's art classes. Her daughter immediately asked if she could sign up, and Castellini offered to volunteer in exchange for the classes. Her volunteer job turned into a job as an art assistant, then a teacher's assistant, and finally a teaching position. She has worked part time at AVA for 25 years.
Castellini also decided to take advantage of the center's art classes and signed up for as many as she could. Her first AVA class was monotype printmaking. She fell in love with the process — a combination of printmaking, painting and drawing — and quickly realized it was her calling.
Known as the most painterly of the printmaking techniques, a monotype essentially is a printed painting. The characteristic of this method is that no two prints are alike; although images can be similar, each print is one of a kind, hence the term "monotype." The process is complex, and Castellini constantly is experimenting with working without a press, using different papers and using different types of ink so the ink can stay on top of the paper, rather than soak in.
She quickly learned how to work efficiently, which is essential to monotype printing, and realized she was good at what she was doing. Like a true artist, she didn't care what people thought of her works — she just loved the process.
"I work spontaneously," she said, which is the hallmark of monotypes.
Soon after she began making prints at AVA, people started asking if her pieces were for sale. The executive director of AVA, Bente Torjusen, encouraged her to exhibit her work as part of the gallery's holiday show. When some pieces sold, the gallery set up another exhibit of her work, where she sold more pieces.
"I suddenly realized I could do this!" Castellini said.
After a Lyme library exhibit sold seven pieces, Castellini began exhibiting regionally, reaching as a far as a Cape Cod gallery. She was doing no marketing at the time — people came to her.
When she realized she could earn more money making art than teaching it, she reached out to SCORE for business help in 2010. "I got very good advice," she said.
She was urged to visit galleries, learn about their owners and leave a business card. Multiple visits were encouraged.
Being an artist and not a salesperson, Castellini said, the process initially was hard for her. But her SCORE counselor encouraged her to make the visits and connections. Her efforts paid off in 2010 when the owner of the Woodstock Gallery staged a private showing of her work, which it continues to show today.
In addition to the Woodstock Gallery, her work also is displayed at Two Rivers Printmaking Studio in White River Junction and, of course, the AVA Gallery. She has created a website, http://www.pattycastellini.com, where many of her prints can be seen.
At the suggestion of her SCORE counselor, she began exploring the process for exhibiting at juried art shows. This was a big step that allowed her to reach a wider, more select audience.
She now exhibits regularly and sells her work at the biannual Paradise City Arts Festivals in Northampton and Marlboro, Mass., considered among the top five art shows on the East Coast, and at the Berkshires Arts Festival in Great Barrington, Mass. She recently was accepted to the 46th annual Scottsdale Arts Festival, held this month in Scottsdale, Ariz., which is among the top 25 art shows nationwide and considered among premier art shows worldwide. Her success at these venues has encouraged her to apply for four art shows set for this summer in Connecticut, and is planning her art festival calendar through 2017.
A great example of SCORE's mission, Castellini is living her dream of being an artist and is able to provide for herself and her family. She considers herself lucky to have the "inspirational" support of her children, and is grateful that SCORE continues to stay by her side and help her grow her business.
Editor's note: For more information about the Upper Valley chapter of SCORE, visit http://www.uppervalley.score.org, email score@valley.net or call 603-448-3491.