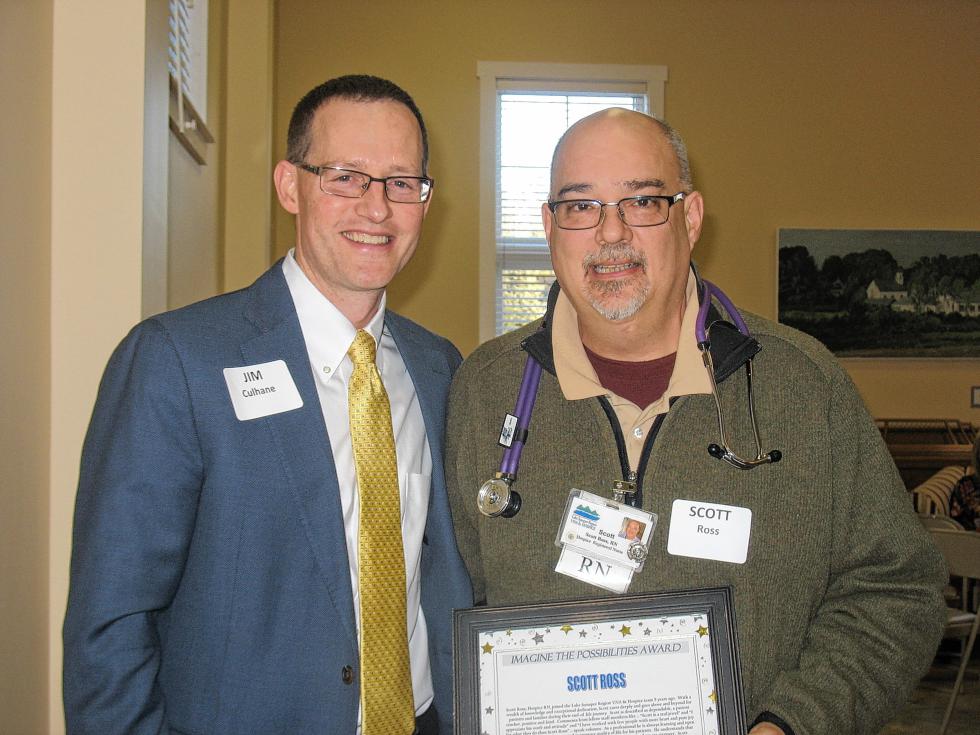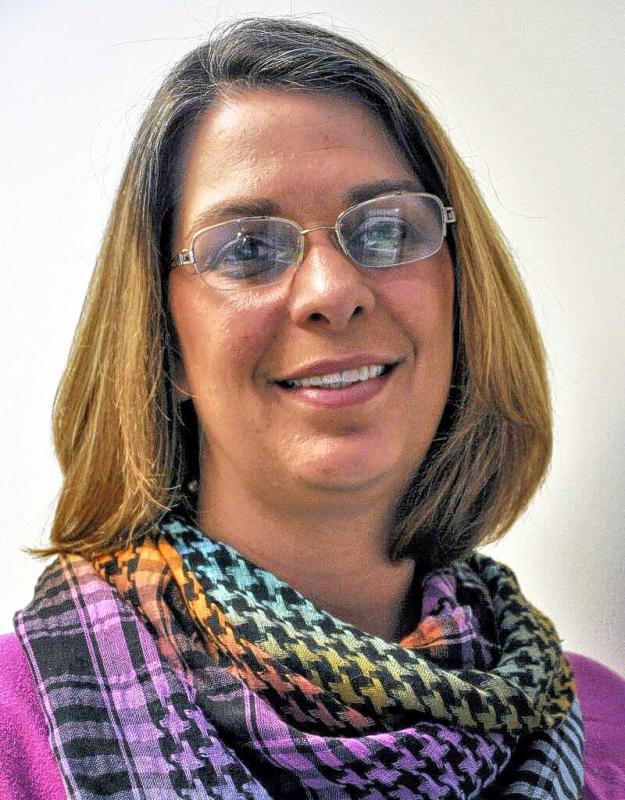 Registered Nurse Receives Lake Sunapee VNA and Hospice Award
New London — Scott Ross , a hospice registered nurse and case manager, received the Lake Sunapee Region VNA & Hospice "Imagine the Possibilities" award at the nonprofit's annual meeting on Feb. 18.
The annual award is given to a staff member who has a "positive impact throughout the agency" and is willing to look at situations from all perspectives in order to achieve shared goals, the VNA said in a news release.
Ross joined the organization five years ago.
"With a wealth of knowledge and exceptional dedication, Scott cares deeply and goes above and beyond for patients and families during their end-of-life journey," the VNA said. "He is described as dependable, compassionate, a patient teacher, positive and kind. As a professional he is always learning and open to new approaches, with a core goal to improve quality of life for his patients."
Ross lives in New London.
Registered Nurse Is Employee of the Month
Windsor — Vickie Day, a registered nurse, has been named employee of the month for February at Mt. Ascutney Hospital and Health Center.
Day is a staff nurse on the Acute Medical-Surgical unit and provides care for acute, swing and same-day surgery services, the hospital said in a news release. She has also worked in Mt. Ascutney Hospital and Health Center's oncology and rehabilitation departments.
In addition to her nursing responsibilities, Day is a preceptor for new staff members and has been recognized for her abilities as a teacher and role model, the hospital said.
Day "has eagerly taken on new challenges and responsibilities and is one of the pioneers in the hospital's Clinical Advancement Program," said nurse manager Kim Ambrose, Day's supervisor . "She is dedicated to best-practice nursing and always attentive to her patient's needs. On the unit, her high morale and positive attitude make a difference for everyone, including her colleagues."
A Chester, Vt., resident, Day joined the hospital in 1993.
Alice Peck Day Events Promote Heart Health
Lebanon — Alice Peck Day Memorial Hospital is promoting heart health during February, American Heart Month.
It's among 16 New Hampshire hospitals participating in Little Hats, Big Hearts, a national campaign that promotes heart health from "day one" by giving information and tiny red hats to the parents of newborns, APD said in a news release. The American Heart Association of New Hampshire and Vermont worked with 75 volunteers to make the hats and deliver them to birthing centers throughout the states.
On Feb. 12, 85 APD employees turned out for a hospital event highlighting the dangers of heart disease. Staff members had their blood pressure taken, answered heart trivia questions, learned the salt content of everyday foods and received a heart healthy snack, APD said.
The hospital also co-sponsored the annual Upper Valley/Lake Sunapee Go Red for Women Luncheon, held Feb. 5 at the Hanover Inn.
The fundraiser for the American Heart Association was part of a national initiative designed to inform women about the risks of heart disease and stroke, and tools for prevention.
During the event, Peggy Cooper, community and volunteer coordinator services at APD, discussed the hospital's efforts in the past year to promote heart health in employees and patients.
One of three women in the United States dies of heart disease or stroke, according to the American Heart Association. But with education and lifestyle changes, 80 percent of "cardiac events" can be prevented.
— Compiled by Aimee Caruso