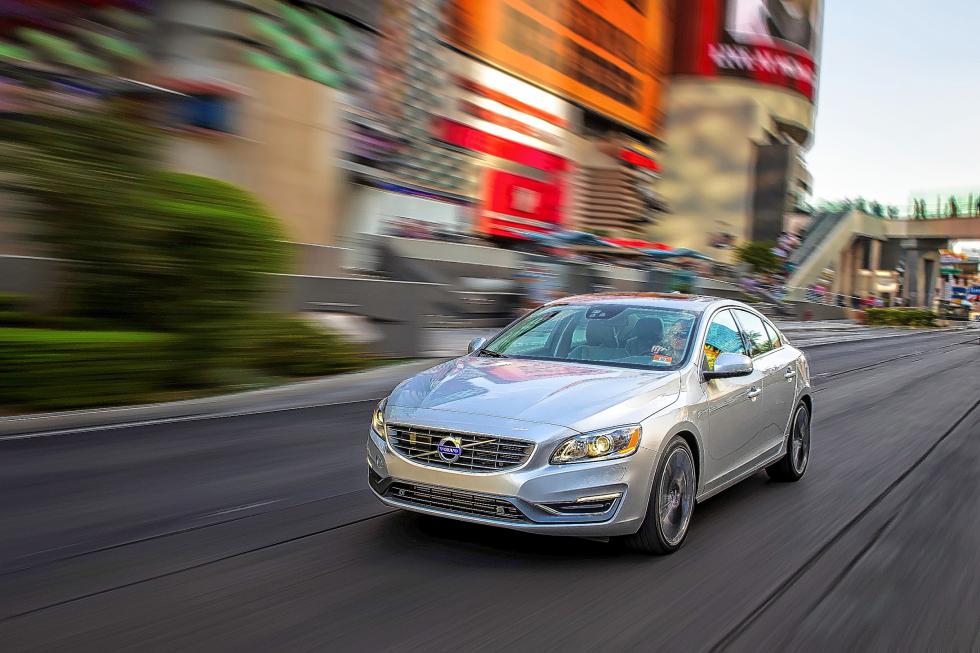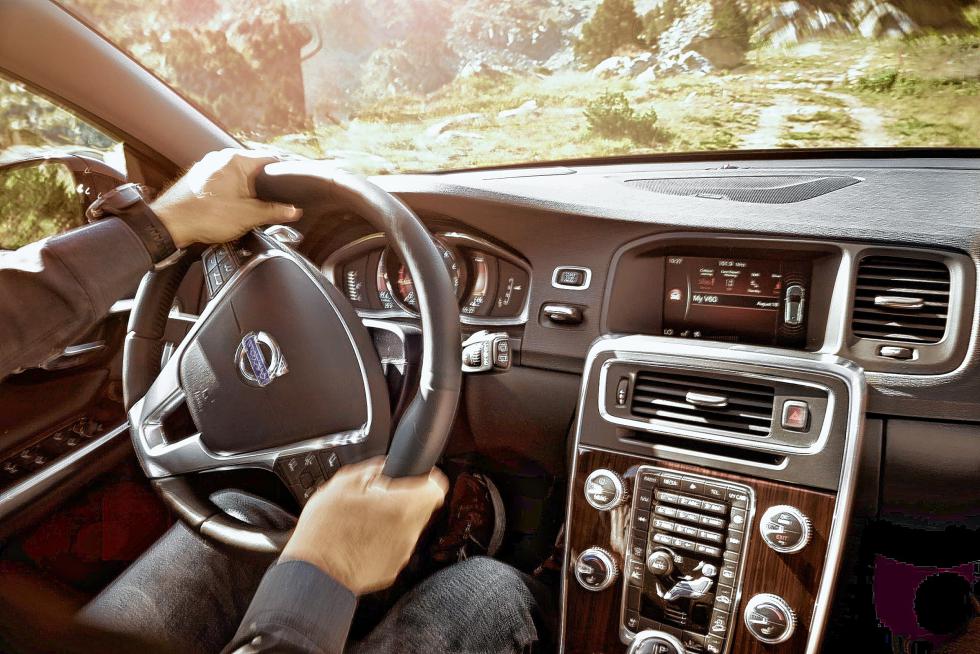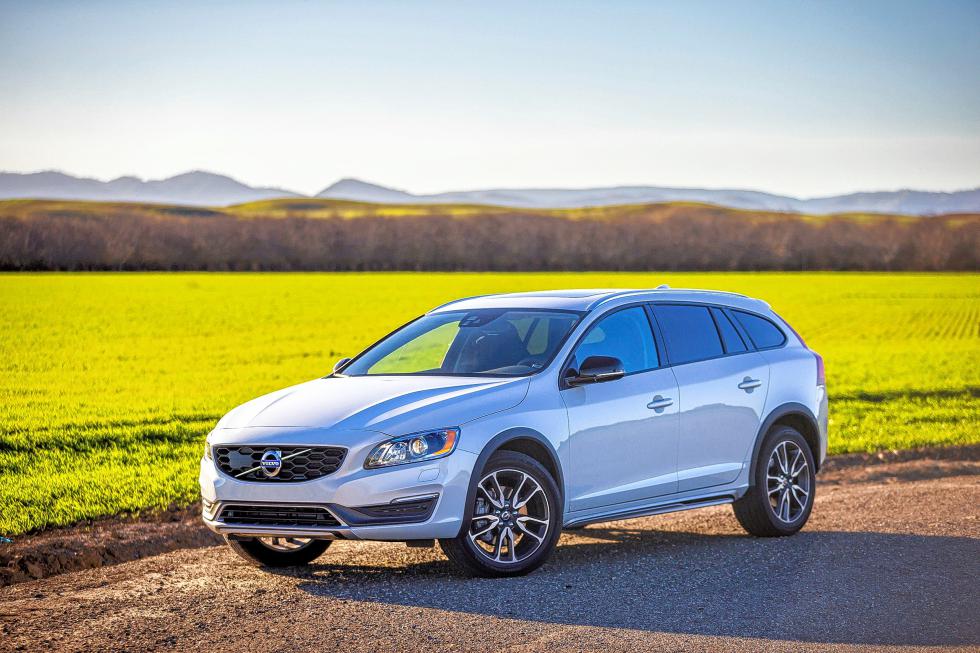 Back in the day, Volvo built wagons shaped like a brick but powered by turbo.
It seems appropriate that the automaker fortifies its heritage with a jacked up turbo wagon that seems sculpted for the wind as much for the road.
Channeling the larger XC70, the midsize V60 Cross Country wagon flaunts 19-inch alloys, plastic wheel-well extensions and aluminum trimming the ground affects and lower facias.
Colors were apparently chosen from a pallet of the four seasons. Our metallic white wagon only needed skis on its roof to fill the frame.
The Cross Country's raised ride height of 2.6 inches over the standard wagon makes it easier to enter and no less comfortable. You could justify buying a Volvo just for the plush and huggy heated leather seats, but would also appreciate the heated steering wheel and thin center control stack with storage behind.
By Swedish tradition, the cabin feels precisely crafted, but nothing is flashy. Dark zebra wood grain and aluminum trim add warmth. Plug in your iThing, crank the Harman/Kardon audio system, open the moon roof, and make all of the Bluetooth calls you want.
Take a look at the beautiful dashboards of the new XC90 and upcoming S90 to know the V60 is ready for an overhaul. It uses an old-school screen mounted high in the dash, controlled by knobs and buttons below, for navigation, climate, and audio.
It works, but can be a little confusing and less than elegant. At least there are proper knobs for volume and tuning.
A few minutes into my drive, I had it mostly mastered.
Under the hood, a turbocharged 2.5-liter five-cylinder delivers 250 horsepower and 266 pound-feet of torque. It connects to a six-speed automatic transmission and Haldex all-wheel-drive system.
The turbo-five is plenty peppy, able to shove the wagon from 0 to 60 mph in 7 seconds and on the way to 130 mph.
A light morning dusting proved no challenge as the AWD system is sure-footed through snow and rain.
But the V60 doesn't get the S60's efficient turbocharged and supercharged four-cylinder engines — a shame because fuel economy would improve about 7 mpg highway. It could also use Volvo's new eight-speed transmission.
On a three-hour trip to see my parents, I kicked the left lane with baby softly snoozing in the rear. The car was quiet with the suspension balancing sporty firmness and long-distance comfort.
It felt planted with the AWD system and turbo reassuring. But our admittedly journalist-thrashed test car had some squeaky-creaky coming from the driver's door panels. And refrain from using too much bass if you don't want to hear those doors vibrate like your picture window when the neighbor kid rolls his thumpin' Civic into the driveway.
With an array of safety technology like pedestrian and cyclist detection systems that can completely halt the car if you don't, Volvo's focus on safety remains unquestioned.
By 2020, the automaker aims to have nobody killed by its cars. That's a lofty goal, underlined by features such as Lane Departure Warning, Forward Collision Warning with auto stop, Front and Rear Park Assist, rear camera, and rear cross traffic alert systems.
In case you're really deep in a daydream, the forward collision alert system makes red lights appear as ever-brightening embers at the base of the windshield.
Want another reason to check out the V60 Cross Country? Tap into the "Volvo On Call Smartphone App" that's available on every model.
Available for iOS, Android, and Windows Phone, the app gives owners status updates on their vehicle. It can show the car's current location, position of windows/door locks, recount trips, and detail fuel usage. It can even provide remote starting, request roadside assistance, and send locations to the car's navigation system.
An antidote to the commonplace crossover, the V60 offers all of the traditional Volvoness you expect in a sleek package with all-road capability.
Improved fuel economy, silenced squeaks, and simplified controls would make it even better. A base price of $41,200 puts it against the Subaru Outback, Audi Allroad, and BMW X1.
At a Glance
2016 Volvo V60 Cross Country
Vehicle type: Five-passenger wagon
Base price: $41,200
As tested: $45,165
Mpg: 20 city, 28 highway
Engine: 2.5-liter turbo five-cylinder T5
Transmission: 6-speed automatic in all-wheel drive
Parting shot: Safe and comfortable, the V60 Cross Country challenges all roads.