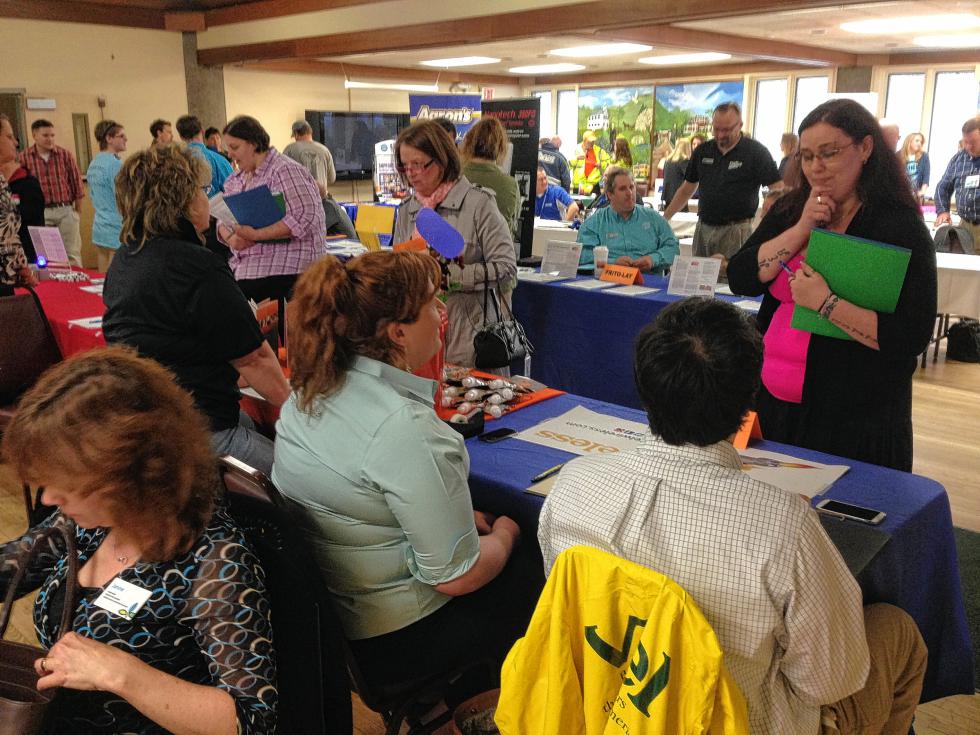 Springfield, Vt. — The River Valley Workforce Investment Board will host the fifth annual River Valley Employment Fair on April 27, from 2-5 p.m., at Riverside Middle School, 13 Fairground Road, Springfield, Vt.
The fair is aimed at connecting local job seekers with seasonal and permanent jobs in the area and to showcase resources and training programs designed to help job seekers, a news release from the Workforce Investment Board said.
It is a joint effort of the Workforce Investment Board, the Vermont Department of Labor, Creative Workforce Solutions, the Springfield Regional Development Corp. and River Valley Technical Center.
Fair organizers are looking for local employers with job opportunities, especially those that gear up in the spring and summer. Fair sponsors are also wanted.
The board's mission is to "link business and education communities to bridge the gap between the workforce of today and the one we need tomorrow." It serves the Upper Valley towns of Weathersfield, West Windsor and Windsor, along with Andover, Baltimore, Cavendish, Chester, Grafton, Landgrove, Londonderry, Ludlow, Plymouth, Reading, Rockingham, Springfield, Weston and Windham, plus surrounding communities.
There is no fee for job seekers to participate in the fair. Employers or organizations that are interested in participating should contact Suzanne Groenewold at 802-885-8310 or at sgroenewold@rvt.org.
Company News
Farm-Way, the family owned-and-operated clothing, outdoor equipment and housewares store on Route 25 in Bradford, Vt., has been named Retailer of the Year by the Boston Shoe Travelers Association. The award places the company at the top of more than 350 retailers from throughout New England.
"We are very happy to be recognized for all the improvements we are making to our footwear showroom and warehouse," Farm-Way President Carol Metayer said in a news release.
The award was presented to the footwear showroom team at the Boston Shoe Travelers Association convention last month at the Manchester Radisson Convention Center. The Boston Shoe Travelers Association dates from 1901, when shoe sales representatives traveled dirt roads in horse-drawn buggies, the first automobiles, and steam trains. The organization brings together footwear sales people to create trade shows that showcase the latest in products for independent, catalog, and Internet retailers.
Farm-Way opened in 1983 at the former Purina Mills site on the Waits River. It recently completed a 19,500-square-foot, $1.5 million expansion for warehouse and retail floor space and last year added a 73-kilowatt solar array to the 58-kW array it installed in 2009. The business is now 100 percent powered by solar energy.

Andrew Welch, of Thetford, and Michael Lewis, of Hanover, had announced the formation of a consulting firm, WLL Consulting, which advises people who are thinking about or who are applying for admission to medical school. Welch is the former director of admissions at Dartmouth's Geisel School of Medicine. Lewis, a physician, is a professor at Geisel and also the associate director of Dartmouth's MD/MBA joint degree program. They are both former members of the Geisel admissions committee. William Brown, of Hanover, a graduate of the Naval Academy and Dartmouth's Tuck School of Business, is a consulting member of the company. Brown has prior experience in the admissions offices of Tuck and Geisel. For more information, visit http://medicalschoolconsulting.com.
Upcoming Events
A Jobs and Opportunity Fair is scheduled for Tuesday, at 10 a.m., at River Valley Community College's Lebanon location at 15 Hanover St. The free event will feature employers from the health care, manufacturing and financial industries, among others. The fair also will include representatives from workforce development organizations, including WorkReadyNH and the Community College System of New Hampshire. Register at http://1.usa.gov/1LHOqoh.

Upper Valley chapter of SCORE is offering a workshop, Business Bookkeeping, on Thursday, from 6-9 p.m., at 20 W. Park St., Lebanon, Suite 316, in the Citizens Bank Building. This "Accounting 101" overview is designed to help those starting or running a small business understand basic accounting concepts and will provide guidance on keeping track of the numbers to find out how the business is doing. Ann Hargraves and Susan Davidson will be co-presenters. Hargraves is a SCORE counselor and CPA, and holds an MBA from the Tuck School of Business at Dartmouth College. Davidson is a SCORE counselor with 20 years of experience in commercial banking and 14 years in sales and marketing, along with experience in data licensing for a digital map provider. Cost is $30, two for $45. Veterans free. For more information or to reserve a spot, visit http://www.uppervalley.score.org, email score@valley.net or call 603-448-3491.

A meeting and discussion about the Thetford Strafford Community Solar array, a 150 kilowatt array to be built on private land in Post Mills, is scheduled for Thursday, from 6:30-8 p.m., at the Thetford Center Community Center. The Thetford and Strafford energy committees are teaming up with Wolfe Energy LLC and a local solar installer for a 10-week campaign this spring to enlist local residences to become owner-members of the 150 kilowatt array. Organizers noted that this is not the project proposed for the former Post Mills landfill, which they said has been put on hold. For more information contact Bob Walker, chair of the Thetford Energy Committee, at 802-785-4126 or by email at bobwalkervt@gmail.com.

Items of interest to the local business community are published every Sunday. Submissions may be mailed to: Business Notes, c/o Sunday Valley News, P.O. Box 877, White River Junction, Vt. 05001. You may also send your items by fax to 603-298-0212, or by e-mail to biznotes@vnews.com. All items are subject to editing for clarity or space.