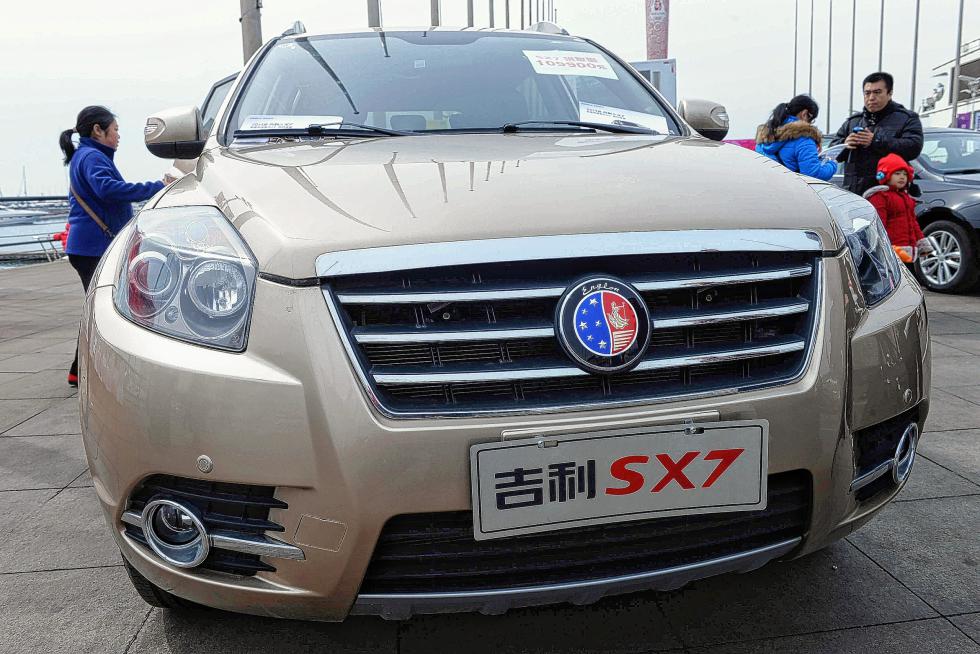 Ten years ago, as new-vehicle sales were slipping and incentives were rising, auto manufacturers faced a potentially greater issue: Chinese brands were gearing up to sell low-cost vehicles in the U.S. that threatened to undercut the established brands.
The first Chinese vehicles were due to arrive as early as 2007, and industry analysts said it was almost certain they would be here by 2010.
Fast forward to 2016, and the only Chinese car or light truck you can buy in the U.S. is the Volvo S60 Inscription, a stretched, luxury version of Volvo's midsize sedan. Volvo is now owned by Chinese manufacturer Zhejiang Geely.
The number of Chinese models available in the U.S. is due to double this summer, when the Buick Envision, a compact crossover SUV built by SAIC, will go on sale. Shanghai-based SAIC is a joint venture with General Motors, one of several such partnerships between Chinese and well-known international manufacturers.
What happened to all those plans, and will Chinese manufacturers ever get here?
"They came to the realization that their product wasn't ready for the U.S. Consumers here are very, very discerning, and if they launched cars with subpar quality that would really hurt them. Frankly, it would jeopardize any future plans to be successful in this market," John Humphrey, senior vice president of global automotive operations at J.D. Power and Associates, said in a telephone interview.
Chinese manufacturers also had their hands full satisfying a rapidly growing domestic market, now the world's largest with annual sales of around 24 million new vehicles, some 6 million more than in the U.S.
Now, though, China has excess production capacity to supply the home market, so car companies and the Chinese government are looking again at overseas markets.
Setting up a dealer network for vehicle and parts distribution, plus meeting stringent U.S. safety, emissions and fuel economy regulations could take years.
"I think the earliest that you would see them on the road would be 2020 in any kind of meaningful volumes. They're going to have to overcome a lot of dealer skepticism and a lot of consumer skepticism," Humphrey said. "It's not like turning a switch and shipping a bunch of vehicles over here in 2017. It's going to be a multiyear process."
Michelle Krebs, senior analyst for AutoTrader.com, agreed, saying, "I don't see it happening anywhere in the next four years, at least not in any volume."
After a record year in 2015, she and other analysts expect U.S. sales to peak this year and then fall off. That isn't the best time to launch a new brand, she added.
"That is no easy task, especially in the U.S., which is so competitive. We're moving towards our peak in the current (sales) cycle, and it's very expensive to establish new brands," Krebs said in a phone interview. "Average transaction prices are still going up, but not at the rate that incentives are, and inventories are climbing, so we're already seeing a more competitive situation."
She also is skeptical that Chinese brands can succeed on price alone because American consumers prize quality, reliability and safety even more. Moreover, millennials — the biggest chunk of the auto market for the next 30 years — also value brand equity and may reject unknown brands.
"What we see with millennial buyers is that they're very brand conscious and very aspirational. They don't care (where products are built), but they want the best products and very strong brands. Audi is a favorite brand among millennials, as well as luxury brands in general, and they like strong brands like Honda and Toyota," Krebs said.
With record numbers of off-lease vehicles flooding the used-car market, Humphrey said new Chinese vehicles with many unknowns will compete with like-new used cars from established brands.
"Do I want to take a chance on someone I've never heard of, like Great Wall or some other Chinese brand, or do I want to go with something that I know has strong quality, like an off-lease Accord or Camry or a Civic?" he said. "Any company from China is going to face a very uphill road."
Several Chinese companies have announced plans over the past 10 years to supply or sell vehicles in the U.S., but none has followed through.
Chery Automobile Co. was supposed to supply cars starting in 2007 to Visionary Vehicles, an enterprise created by the late Malcolm Bricklin, who co-founded Subaru of America and created the Bricklin sports car. After that fell through, Chery signed an agreement with DaimlerChrysler to build a small car in China that was to be sold in the U.S. as early as 2008 under the Dodge brand. That agreement ended in 2008 as Chrysler prepared to enter bankruptcy.
Geely said in 2006 that it would launch a car in the U.S. in 2008 that started at $10,000. Over the next two years, Changfeng Group Co., BYD Auto and Hebei Zhongxing Automobile, known as ZX Auto, also said they would begin selling in the U.S. in 2010 or earlier.
More recently, Guangzhou Automobile Group Motor Co., or GAC, said last year it plans to sell an SUV in the U.S. at a 30 percent discount compared with rival vehicles starting in 2017.
Based on all those unfulfilled promises, neither Humphrey nor Krebs would predict which company is likely to be the first in the U.S.
Humphrey said he thinks the early ones will be state owned, either by the central Chinese government or a regional government, because they receive state subsidies and can absorb losses for longer periods than privately-owned companies. Beijing Auto, or BAIC, Chery and FAW are among the many government-owned manufacturers.
Krebs said she expects it will be a company that has had joint ventures with an international brand, such as SAIC (which partners with GM and Volkswagen), GAC (Fiat-Chrysler, Honda and Toyota) or Dongfeng (Honda and Nissan). Those brands have acquired more production expertise and a better idea of consumer quality expectations through their joint ventures, she said.