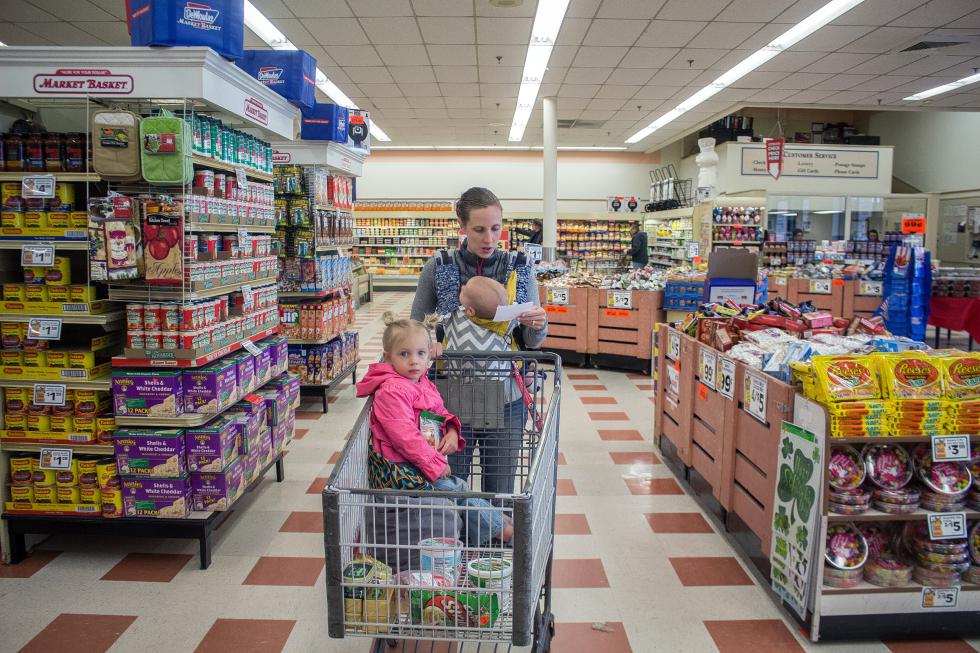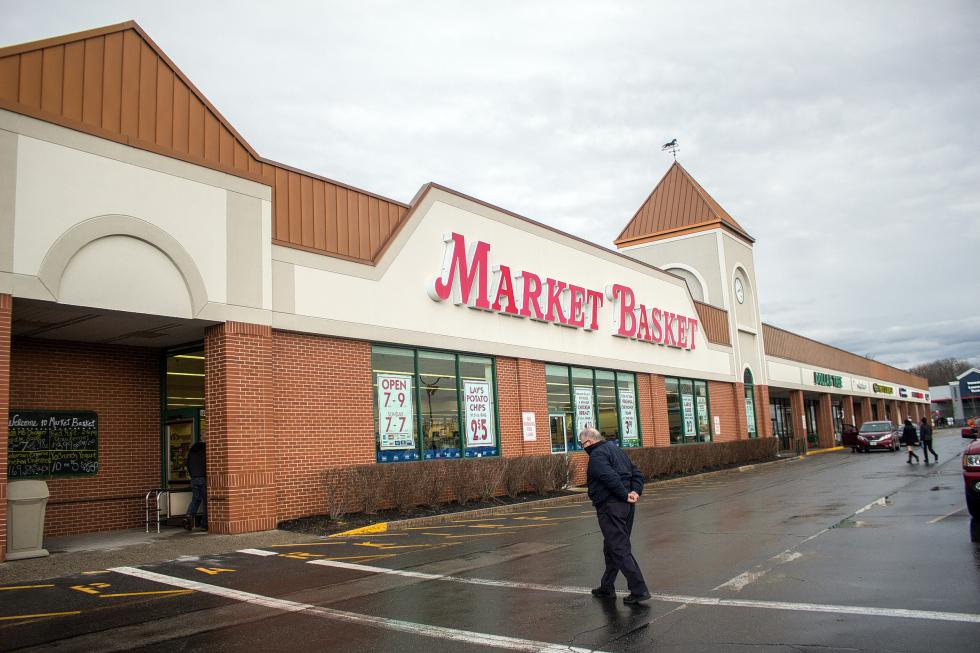 Concord — There was an air of pleasant routine amid the hustle and bustle at the Fort Eddy Road Market Basket in Concord on Monday.
Just as the sun poked through some rain clouds, 85-year-old Kay Helms exited through the store's automatic door, her cart pushed and eventually emptied by employee Daniel Beldin. The two had just met that day.
"I just had a big order," said Helms, who lives in Bow, N.H.
Moments later, 88-year-old Fred Pilch, a resident of the Havenwood-Heritage Heights retirement community, crossed the parking lot to enter the supermarket he's been shopping at for 20 years. He crisscrossed the aisles alongside people like Alton, N.H., mother Jenn Carter, who pushed her cart and scanned the aisles with her two young kids, and 51-year-old Mourad Lakhdarr, a Concord resident loading up on onions and zucchini in the produce section.
The everyday scene was a far cry from the chaos and uncertainty that followed what is considered the largest non-unionized labor walkout in U.S. history after Market Basket CEO Arthur T. DeMoulas was ousted by his cousin, Arthur S. DeMoulas, on June 23, 2014.
The summerlong saga full of employee walkouts, customer boycotts, empty store shelves, and the philosophical argument for customer-friendly business practice is coming back to life with the release of Exeter, N.H., filmmaker Jay Childs's documentary Food Fight: Inside the Battle for Market Basket.
Food Fight, which was mostly crowdfunded, was played for two audiences at The Music Hall in Portsmouth last weekend. Childs expects more local releases following the film's debut in the Independent Film Festival Boston in April. And snippets can be viewed at foodfightfilm.com.
But what made the saga so interesting then — and keeps it so riveting today — is the connection customers felt with a grocery store and how workers protested in order to get their boss back, Childs said.
"They were not looking to advocate for any global message at all," Childs said. "They were just trying to preserve their jobs, preserve their customers and get their boss back."
Family Feud
While Childs's film focuses on the action, he said his interest in Market Basket was sparked by the paradox of a family-friendly store and the longstanding tensions he understood were between DeMoulas family members, even before Arthur T.'s ousting.
"I had kind of grown up knowing there was all this tension with this family," Childs said.
Once tensions erupted in June 2014, when Arthur T. lost control of the board, Childs and his small crew got to work, spending much of their time at the Tewksbury, Mass., Market Basket headquarters, filming the walkouts, rallies and waiting as the DeMoulas family fought for the future of the grocery chain.
This fight was not only a personal one between opposing family members — it was a seeming battle over fundamentally different visions for the $4 billion company. Arthur T. had a reputation for emphasizing low prices for customers, benefits for employees and a family-like environment. Arthur S. reportedly wanted to sell company shares to private equity firms that could maximize profits and minimize benefits.
Childs thought he might be onto something big, and potentially historic, even if the employees didn't necessarily see it that way.
"What was funny is you had this group of people who would admit that they were ill-prepared," Childs said.
Customers were doing their part by boycotting the stores, supporting the employees and promising their loyalty. "All the customers were saying, 'We'll be back,' " Childs said.
Those efforts — although not universal — were successful after a long couple of months. Shareholders agreed to let Arthur T. and his side of the family buy the entire company for $1.6 billion on Aug. 27, 2014, and the deal was closed in December of that year.
After the deal was struck, Arthur T. addressed a crowd of supporters at the company's headquarters with a message of gratitude and unity.
"Words cannot express how much I appreciate each and every one of you," he said. "You have demonstrated that in this organization, here at Market Basket, everyone is special. … Whether you're a sacker or a cashier or a grocery clerk or a truck driver or a warehouse selector, a store manager, a supervisor, a customer, a vendor or a CEO, we are all equal. By working together, and only together, do we succeed."
Customer-Store Loyalty
The following day, Aug. 28, 2014, Childs said he filmed the employees returning to work and the customers "tiptoeing" into their grocery stores.
"There were very few perishable items but they just seemed to want to grab a couple things and walk the aisles," he said.
Why people were so eager to return that day, Childs said, seems to be the result of customer loyalty built up over Market Basket's years of having low prices, providing a good workplace for employees and creating a family-like shopping experience.
"They know their market," Childs said. "It's a gathering place."
Helms said Monday she — and many of her family members — like shopping at Market Basket because people, both employees and customers, are always willing to help, whether it's loading groceries into her car or getting an item off the top shelf.
"It's just always seemed like the place to go," she said. "Coming here is where shopping is a pleasure."
And the real business lesson is how those efforts can be financially beneficial.
"They don't just do those things because it's the right thing to do," Childs said. "It's profitable."
But cost and volume are factors, too.
"Price — that's it," Pilch said. "I'm very unsentimental."
New Hampshire Grocers Association President and CEO John Dumais said the company has famously done well because it's willing to exchange lower prices for higher volume sales.
"It's always customer-driven," Dumais said.
The good business practices at Market Basket attract customers, and now, they're catching the eye of other retailers, Dumais said.
"It has become a real learning curve to remind all retailers, you need to treat your employees right as well as your customers," Dumais said. "If you do that, you will succeed."
And that's the reason Childs said he made Food Fight — to get the word out to other people and places how this smaller, family-operated grocer won a big fight.
"The hope is, the need is, to spread some of the ideas from here to business schools," Childs said. "I hope this film is a tool by which this conversation can go further. Maybe there will be some change."

Elodie Reed can be reached at 603-369-3306, ereed@cmonitor.com or on Twitter @elodie_reed.