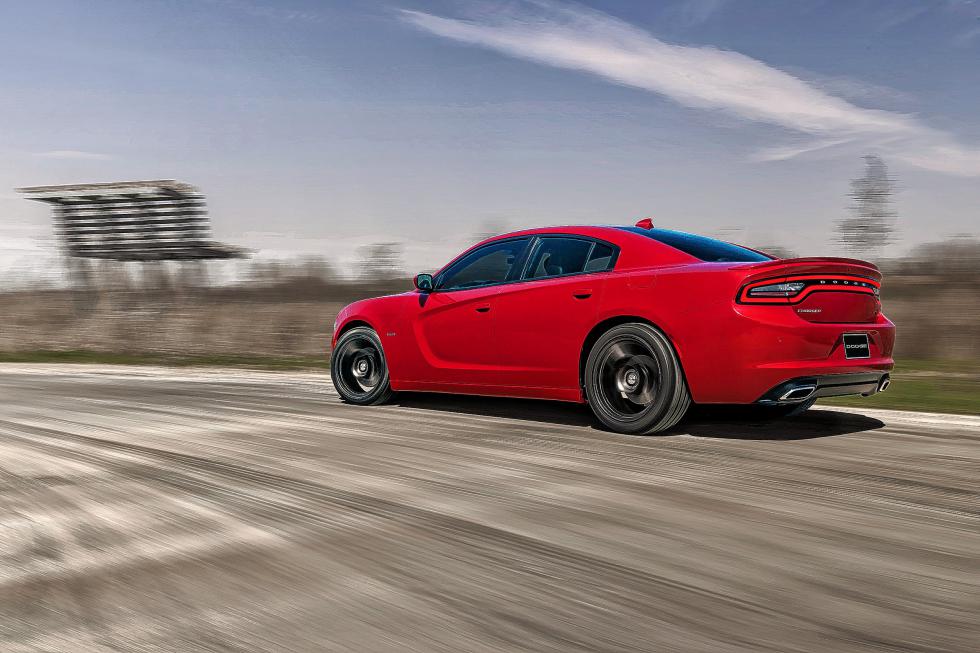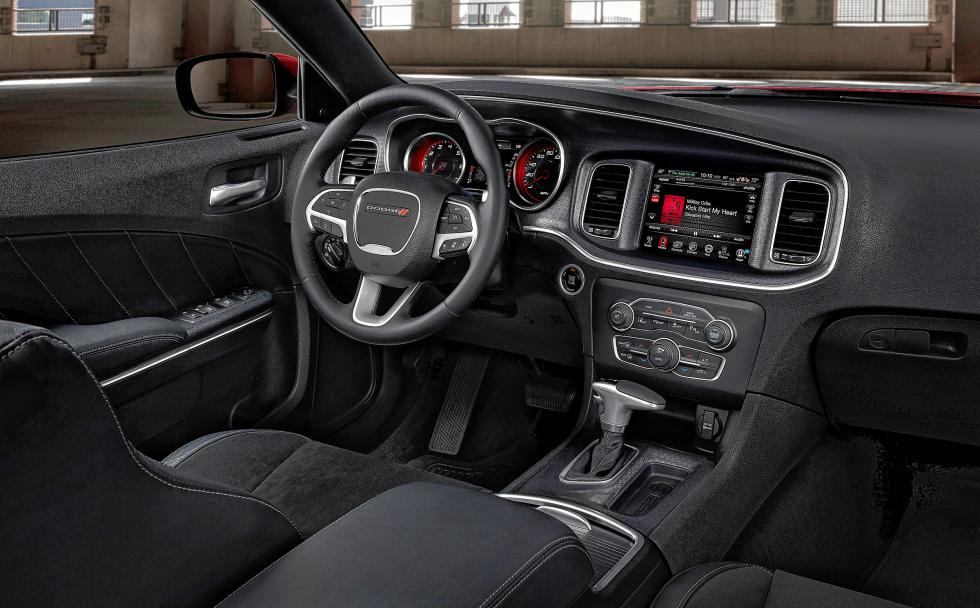 Say "Dodge Charger" to most motorists, and no doubt they'll think of a police cruiser staked out in the weeds alongside a freeway. The car's use by law enforcement is appropriate; subtly is not in its DNA.
The Charger debuted in 1966 as a two-door version of the mid-sized Coronet sedan. It was soon transformed into a burly muscle car, but those glory days were short-lived. Escalating fuel prices and insurance rates emasculated powerful mid-sized coupes and, by 1983, the Charger was a wimpy, two-door compact powered by a four-cylinder engine.
Thankfully, any notions of four-cylinder Chargers have dissipated in a haze of tire smoke.
For 2016, the Charger is offered in six ascending trim levels: SE, SXT, R/T, R/T Scat Pack, SRT 392 and SRT Hellcat. That may seem hard to remember, but actually, it's not.
The SE is a rental car special, the one dealers will advertise at a low, low price. The SXT is the one you'll want, as it has a longer options list, including some important creature comforts. Both come with a 292-horsepower, V-6 engine and eight-speed automatic transmission. All the other trims come with V-8 engines. As you'd expect, the more you pay, the more charge in your Charger.
So, if you'd like a more powerful V-6 Charger, opt for the SXT and order the Rallye Group appearance package (starting at $595), which boosts horsepower to 300 and adds performance tires, steering-wheel mounted paddle shifters, a different front fascia and a rear spoiler.
Stepping up to the R/T trim nets a 5.7-liter Hemi V-8 engine rated at 370 horsepower and 395 pound-feet of torque. It's good for a 0-60 mph run of less than 6 seconds.
Next is the R/T Scat Pack, which sports a power-bulge aluminum hood with a NACA duct, wider tires, specific exterior trim and, most importantly, a larger 6.4-liter Hemi V-8 rated at 485 horsepower and 475 pound-feet of torque that produces mid-4-second 0-60 mph times. Performance upgrades include red Brembo four-piston front brakes, high-performance suspension, all-season performance tires and standard launch control.
If that's not enough, the SRT 392 gilds the lily with larger tires, huge, 15.4-inch front brakes, Brembo six-piston calipers with two-piece slotted and vented rotors, and SRT-tuned high-performance adaptive damping suspension.
The big cat is the SRT Hellcat, with its 707-horsepower supercharged 6.2-liter Hemi.
And if that paragraph doesn't start you salivating, check your pulse.
Sure, not everyone has the wallet for an all-wheel drive Charger, but that's what makes this car so alluring.
Yes, it has the image of a bold, brash bruiser, but it's the car's refined nature and comfortable cabin that make it so rewarding. So while you can get a crazy, hairy-chested Charger, you can also opt for one like the test car, an all-wheel-drive SXT. While it lacked a bit of the more brutal tendencies the more expensive trims offer, its price is very much in line with smaller high-end midsized cars, and this is a full-size car.
But it doesn't handle like one. Turn the wheel, and the car reacts with cat-like reflexes and ridiculous amounts of grip. Cornering behavior is exemplary, with little body lean and a firm-yet-absorbent ride.
Throwing it around allows it to dance like a smaller car and it communicates its intentions clearly. The steering is nicely weighted and makes exercising your worst intentions easy to do. Pushing it to its limit brings out some understeer and enough body roll to tell you that you're at this car's extreme. But it's easy to handle.
Of course, if you get in over your head, there's a boatload of optional safety gear, including forward collision warning, adaptive cruise control, lane departure warning with lane keep assist, and a rear backup camera.
Although it doesn't have the necessary G-force to press your major organs against your backbone, the V-6 has more than enough oomph to bring a smile to your lips. Most buyers will find the V-6 a perfect balance of power and fuel economy. And unlike the V-8, which requires midgrade, 89-octane fuel, the V-6 runs on regular unleaded.
And even though you may not have ordered the most fancy Charger, you do get a decent amount of gear, including automatic climate control, a 7-inch infotainment touchscreen, SD, USB and auxiliary plugs, integrated garage door opener, and heated front seats.
The test car added a Premium Group package (starting at $5,995), which is a must-have for any hedonist, with rear-heated seats, front ventilated seats, heated steering wheel, 552-watt Beats premium audio with HD Radio, leather seats, automatic high beam, rain-sensing windshield wipers, memory seats and way more.
It's all stuffed into a cabin that offers expansive seating for four, or five if they're friendly. It's quiet, adding an admirable solidity to this car's feel. Credit should go to the Charger's aging Mercedes-Benz platform.
The seats are very comfortable and accommodating for most physiques with just enough side support to hold you in place. Padding lacks the unyielding character increasingly common to all vehicles these days.
Of course, few competitors offer so much swagger, style and size, not to mention performance, in an affordable full-size sedan.
Its intoxicating combination of performance, refinement, style and size is too good and too much to be left for only police officers and their perps to enjoy.
At a Glance
2016 Dodge Charger (Figures reflect the test car, an all-wheel-drive SXT with Premium Group appearance package.)
Base price: $31,995 (test car included Premium Group appearance package, an extra starting at $5,995)
Engine: 3.6-liter V-6
Horsepower: 300
Torque: 264 pound-feet
Wheelbase: 120.2 inches
Length: 198.4 inches
Curb weight: 4,220 pounds
Cargo capacity: 16.5 cubic feet
Environmental Protection Agency fuel economy (city/highway): 18/27mpg
National Highway Traffic Safety Administration safety rating: 5 stars