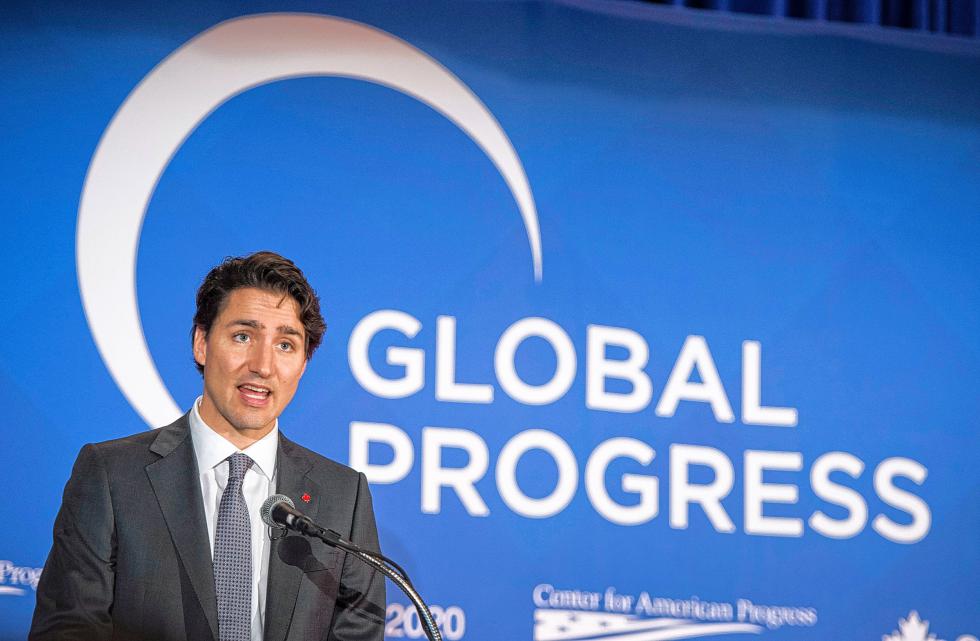 Ottawa — Fiscal stimulus may be what the doctor ordered for the world economy, but Prime Minister Justin Trudeau will have a tough time persuading his peers to swallow the medicine.
Canada's new Liberal government is expected to post a shortfall of about $22.5 billion in its debut budget, representing one of biggest expansionary swings in fiscal policy in the nation's history. It's the sort of activism increasingly touted within global policy circles, including at the International Monetary Fund, as central banks begin to run low on tools.
With Canada's shift, the Group of Seven is now almost evenly split between deficit-spending advocates and austerity hawks, like Germany and the United Kingdom, whose Chancellor of the Exchequer George Osborne released a budget Wednesday that stays the course on fiscal tightening. The onus is on Trudeau to prove the skeptics wrong.
"It's incredible to be sitting here watching them refuse to do fiscal stimulus," said Adam Posen, president of the Peterson Institute for International Economics in Washington and a former member of the Bank of England's monetary policy committee, referring to countries that favor reducing deficits. "So if Canada wants to lead on this, frankly, bully for them."
Trudeau is taking advantage of a unique confluence of conditions unavailable to most: the fiscal room to experiment given Canada's low debt levels, a parliamentary majority that allows him to execute without legislative obstacles, a clear mandate from the electorate to dip into the red and a prolonged political honeymoon at home.
Canada, like most other industrialized countries, is also benefiting from historically low borrowing costs, with 10-year government bonds yielding about 1.34 percent, close to the record low yield of 1 percent reached last month.
"All the stars are aligned for Canada to be the litmus test," said Mark Chandler, head of fixed income research at Royal Bank of Canada in Toronto. "The others simply can't, or won't, or don't want to do it."
It's hard to understate the sea change taking place in Canada, which is willingly running deficits for the first time in three decades. For more than a decade, the country was a leading member of the permanent surplus club that included countries such as Australia, Sweden, Finland and New Zealand.
Trudeau's Conservative predecessor, Stephen Harper, successfully lobbied his Group of 20 counterparts to agree to strict deficit reduction rules at a 2010 summit in Toronto. Even as the G-20 watered down those commitments in the following years, Harper kept to his part of the bargain and balanced Canada's budget, a fiscal record that had been cited by German Chancellor Angela Merkel as a model for Europe.
While his deficit-cutting efforts were blamed for slowing the economy, Harper always said the debate about austerity versus growth was a "false dichotomy." He told the British Parliament in a 2013 speech that "countries that do not bring their finances under control" risk losing their global power.
Trudeau's economic policy borrows more heavily from the wing of President Obama's Democratic Party that champions the need to reduce income inequality and promote inclusiveness, question the merits of accelerated fiscal consolidation, and call for more active government involvement in the economy.
To make the transformation, Trudeau is relying on his flair and dynamism — he has enjoyed rock-star coverage from global media — to attract attention to his agenda. Honeymoons, however, can be short-lived – and past decades have seen the initial glow around center-left leaders fade, sometimes very quickly.
"There is appetite in the world for someone new on the left that could be an icon," said Darrell Bricker, a pollster for Ipsos Reid in Toronto. At the same time, inspirational leaders almost always "run smack into reality."
Trudeau is already coming up against the limits of style and personal persuasion. He made his G-20 debut in Antalya, Turkey last fall arguing that an economic case could be made for accepting refugees from Syria, with little success as recent developments in Europe have shown. On fiscal issues, the old balanced-budget front remains powerful. Even the U.S., with all its caution about cutting deficits too quickly, can't follow Canada's lead toward more expansionary fiscal policy given the two-year bipartisan budget plan agreed to by Obama last year.
Even though the conditions were right for Trudeau in Antalya "he wasn't able to shift the consensus," said John Kirton, co-director and founder of the G-20 Research Group at the University of Toronto. "It's a good start but it may take more sustained effort to tip the balance."
Ahead of a G-20 summit in Shanghai last month, the IMF encouraged countries with manageable debt levels to increase public spending. Still, finance ministers and central bankers in their communique stopped short of the aggressive fiscal stimulus that investors such as Ray Dalio have said is necessary, even as they acknowledged the limits of monetary policy and promised to use fiscal policy and structural reforms to drive growth.
The next test of whether Canada's fiscal shift has tilted the global consensus comes at a G-7 summit in Japan at the end of May, when Prime Minister Shinzo Abe will try to win backing for coordinated fiscal action.
One way to bolster the case for fiscal stimulus is to make smart spending decisions that will pay off in the long-run by boosting Canada's productive capacity. Trudeau's budget, to be released March 22 by Finance Minister Bill Morneau, will outline in detail estimates of how their spending will trickle through the economy and boost growth.
There are also potential pitfalls: wasted money on pet projects, corruption and inflated bureaucracy that does little to boost growth. It can also be tricky to turn the ship around.
"When you increase the budget deficit, it's difficult to go back," said Domenico Lombardi, director of the global economy program at the Centre for International Governance Innovation in Waterloo, Ontario. "You create a whole set of vested interests that put consistent pressure on you to keep policy expansionary."
The Canadian prime minister's biggest asset may be that he has time on his side. The squeeze on fiscal policy comes when interest rates start rising, a situation that boosts borrowing costs and implies government spending is crowding out other levels of spending.
While that makes the case for deficits more challenging, there are no signs such a scenario is in the offing.
"Trudeau has at least a year to do the persuasion," Kirton said.