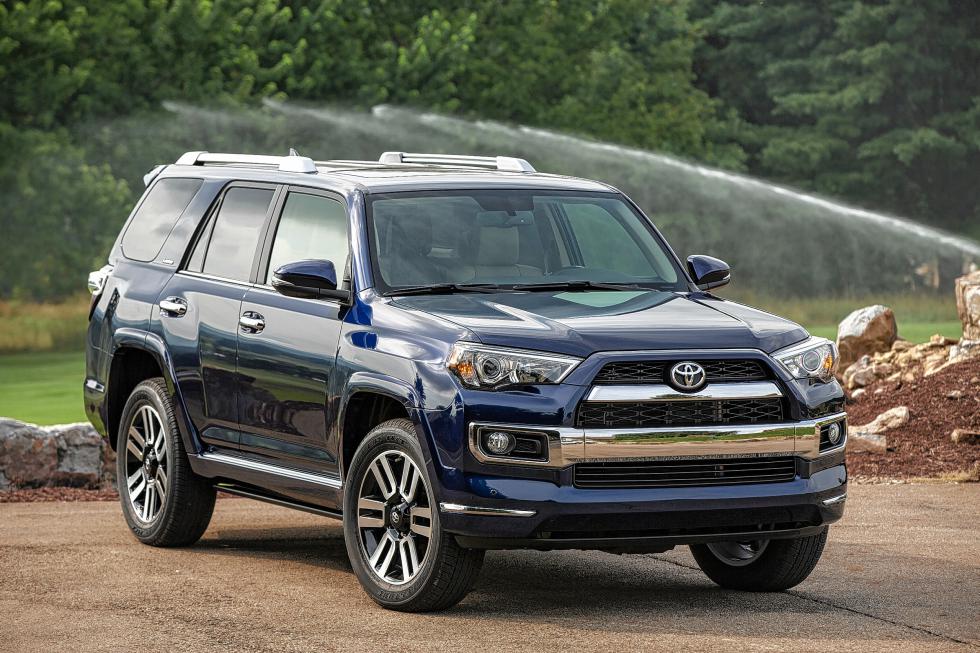 It is the house as vehicle, or the vehicle as house. Put it this way: When you are going on a long, sometimes rough road trip in a fully equipped 2016 Toyota 4Runner Limited sport-utility vehicle, you aren't leaving home without any of the things that make a home a home.
Everything is there, or certainly there with the aid of easily portable electronic equipment.
For 2016, that includes fully integrated cellphone navigation, which is sort of redundant inasmuch as the 4Runner Limited is fitted with an excellent navigation system that gives turn-by-turn directions while traffic and weather reports are delivered from a 6.1-inch high-resolution touch screen.
Let's say you want to stop and watch a little CNN to see whether businessman Donald Trump is still Trumping. You can do that with a small portable TV, which can be plugged into the 4Runner Limited's rear 120-volt AC power outlet. You can use that same service to charge your cellphone or anything else.
Many car manufacturers have outfitted their vehicles with mobile WiFi systems. I was surprised to learn that Toyota's otherwise excellent and helpful Etune App Suite did not include this service in the 4Runner Limited I drove for this column. No matter. There are portable WiFi systems you can bring with you. I brought one, plugged it in. It worked perfectly.
Ah, yes, driving impressions: Let's be real. The 4Runner Limited is a body-on-frame, truck-based sport-utility vehicle. It is reasonably smooth on well-maintained roads. Equipped with skid plates and other off-road items, it will get you through the rough. But, although classified as a midsize SUV, it is too big for easy maneuvering through tight city traffic, and urban potholes can be more brutal and shocking to its ride than off-road obstacles.
This is a long-distance highway and off-road vehicle. It is built for that kind of use. It is not an urban-suburban commuter.
For one thing, gasoline prices will not stay low forever. The four-wheel-drive 4Runner Limited, also available with rear-wheel drive, uses lots of gasoline. The model driven for this column supposedly averages 17 miles per gallon in the city and 21 mpg on the highway. The actual mileage was 15 mpg in the city and an average of 19 on the highway.
Thank God for low prices for regular unleaded fuel!
But there is so much to like about this thing. It reminds me of an old, comfortable house filled with modern appliances. The third-row seats easily and completely fold flat for perfect loading. There is lots of space for people and a big chocolate Labrador dog who will let you know in a second that she wants her own territory.
Peace is what you want on a long journey. You want a vehicle that provides convenience and big demilitarized zones. The Toyota 4Runner Limited gives those things to you.
The 4Runner has been around since 1984, through gasoline prices high and low. I expect it to be around much longer. It is hard to put a price on peace.
At a Glance
Bottom line: The 4Runner really is a truck built for hard-running and off-road use. If you need something of a kinder, gentler sort, consider any number of available kinder, gentler crossover-utility vehicles. The 4Runner is rough-and-tumble body-on-frame old-school.
Ride: The ride is decent to likable on well-maintained highways. It is confident and competent off-road. That sounds contradictory, but it's true. Avoid urban potholes in this one.
Acceleration and handling? This is a heavy (4,400 pounds) vehicle, not a race car. It has competent highway acceleration. It handles well at the proper highway and off-road speeds.
Head-turning quotient: It looks like a traditional SUV.
Engine/transmission: All 4Runners come with a 4-liter, 24-valve V-6 gasoline engine with variable valve timing (270 horsepower, 278 pound-feet of torque). The engine is linked to a five-speed automatic transmission that can be operated manually.
Capacities: Seating is for up to seven people, with the two smallest people in the rear. Cargo capacity with all seats in place is 47.2 cubic feet. With rear seats collapsed, it is 89.7 cubic feet. The 4Runner can handle a payload up to 1,700 pounds and be equipped to tow 5,000 pounds. Fuel capacity is 23 gallons (regular unleaded is fine).
Actual mileage: Carrying an average 600 pounds, I averaged 15 miles per gallon in the city, 19 on the highway.
Safety: Standard equipment includes front and rear ventilated disc brakes with four-wheel anti-lock protection, emergency braking assistance, stability and traction control, rear child-safety locks, and side and head air bags.
Recommended: Advanced electronic safety equipment (blind-side monitoring, rear cross-traffic alert).
Pricing: The 2016 4Runner Limited with four-wheel drive starts at $44,160, with a dealer invoice price of $40,626. Price as tested is $48,887, including $5,827 in options and a $900 factory-to-dealer shipment charge. Look for available discounts on this one.