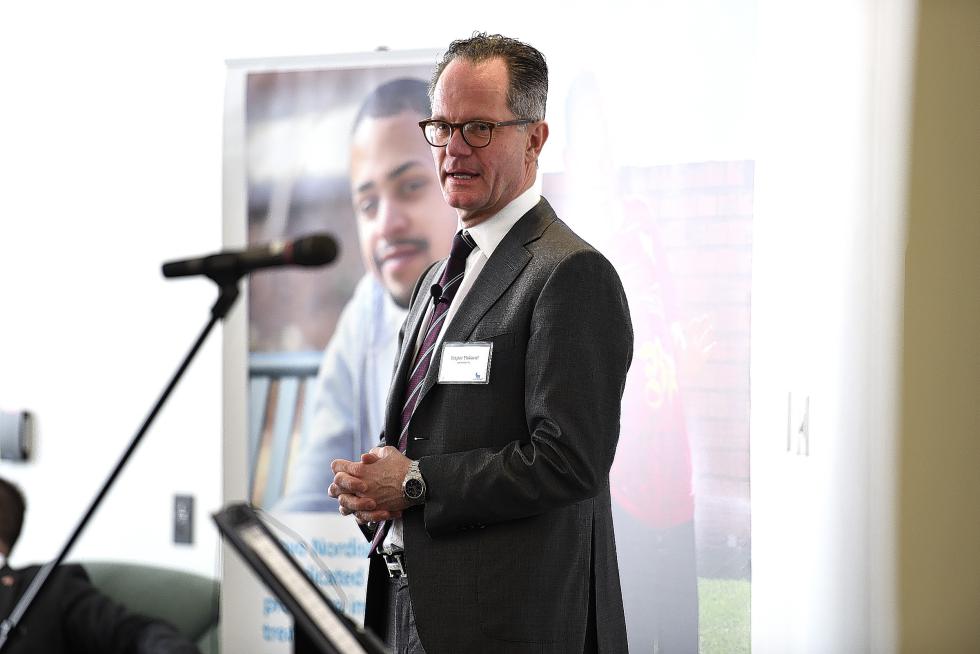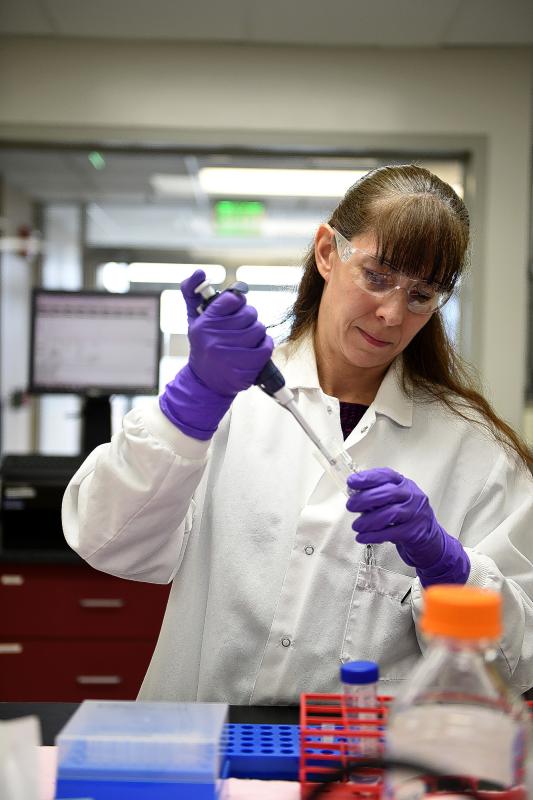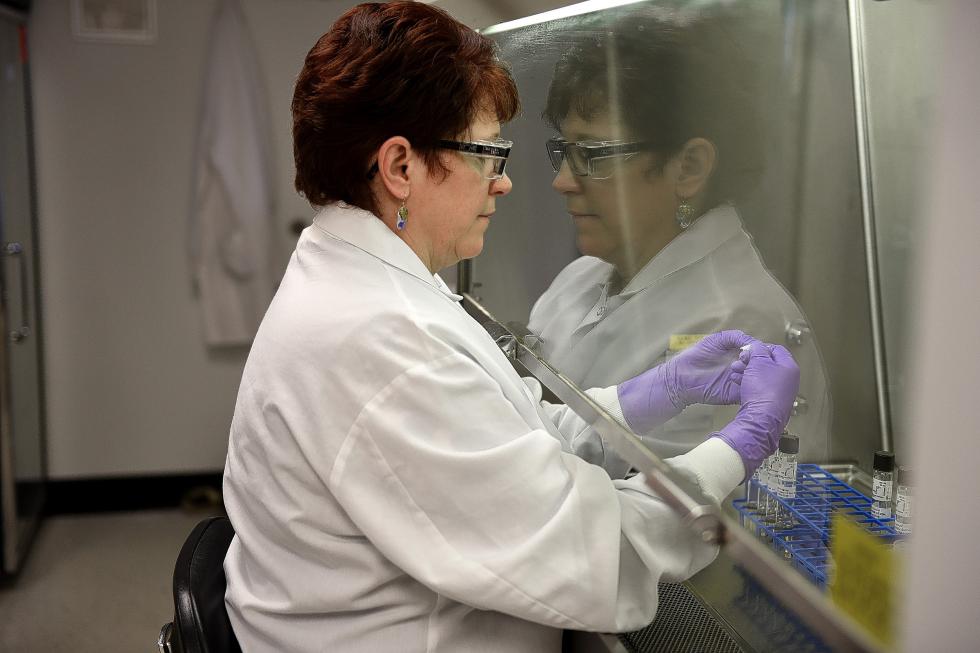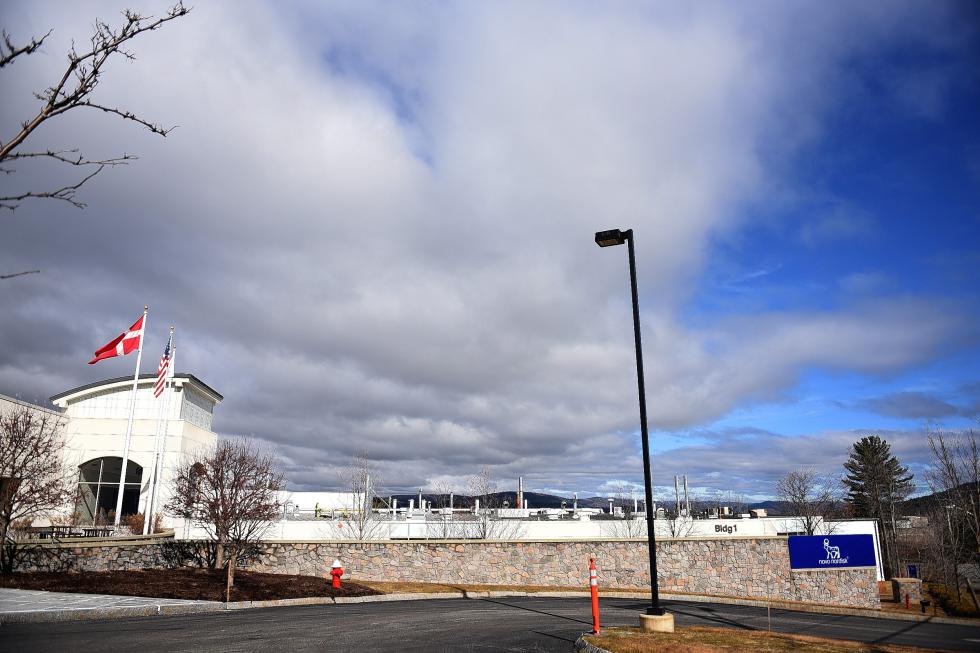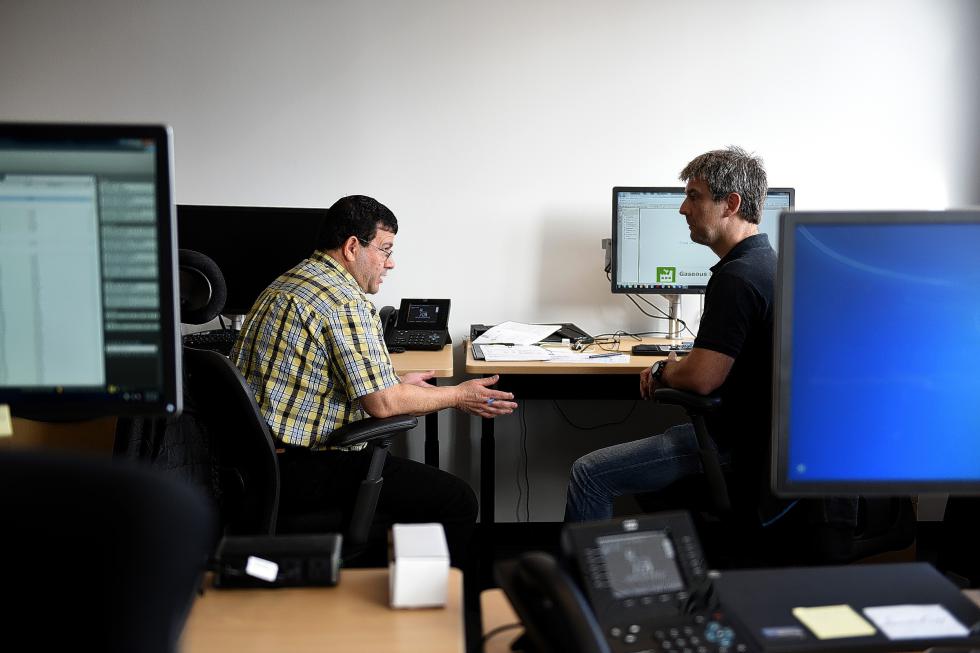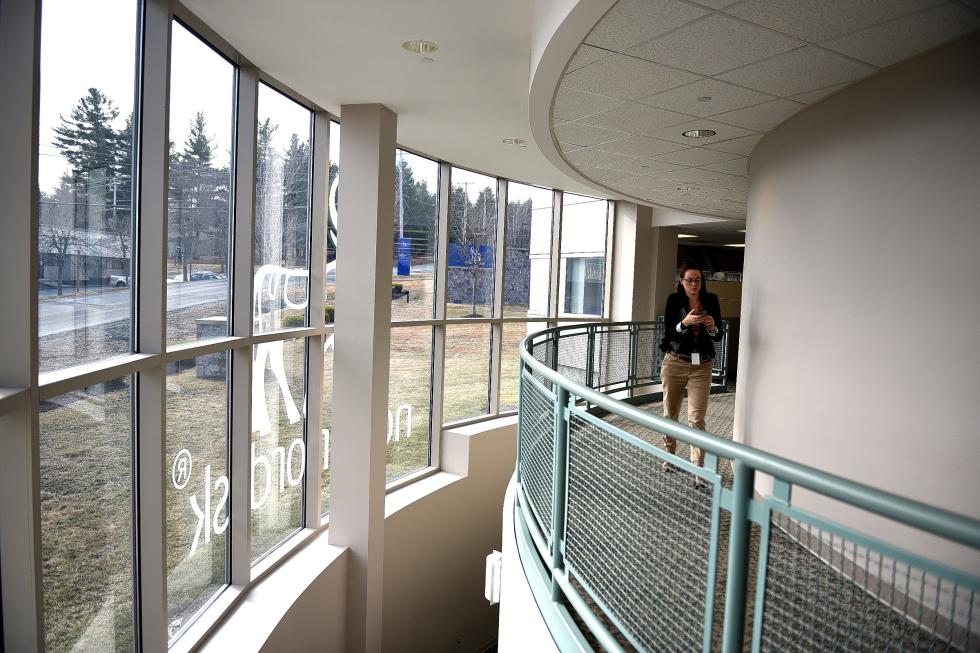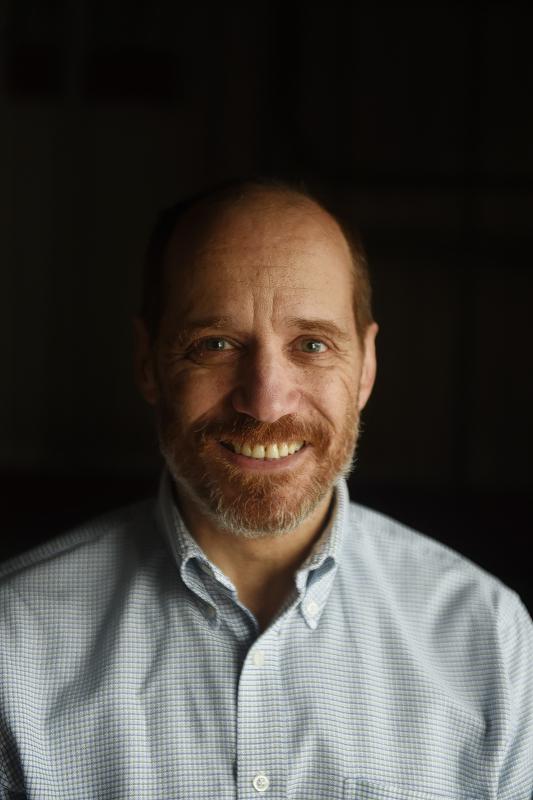 Dennis Clancy remembers June 30, 2014, very well.
9:35 a.m., to be exact.
That's when Clancy, a manufacturing technician at former Olympus Biotech in West Lebanon, got word that he was being laid off after 11 years with the company. Its Japanese owner, beset by an unrelated financial scandal, was exiting biotech to refocus on its core camera and microscope businesses.
"I told my wife I was going to be home early that day," Clancy recalled.
But today Clancy, of Springfield, Vt., is back working at the pharmaceutical manufacturing plant adjacent to the Lebanon Municipal Airport. The facility now is owned and operated by Danish biotech giant Novo Nordisk. Clancy is among 70 former Olympus Biotech workers who have been rehired by Novo Nordisk, which bought the facility to manufacture a new drug to treat hemophilia.
"To be honest, the day I got laid off, somewhere deep inside me I knew I'd be back. You can't have a facility like this, a culture like (this), and just shut it down. There's a lot here to offer," Clancy said.
The 170,000-square-foot complex, which Novo Nordisk acquired in 2014 for $28.8 million, is under its fifth owner since Verax Corp. built it in 1990. Since that time, a series of drugmakers have moved in and out — Creative Biomolecules in 1993, Stryker Biotech in 1998 and Olympus Biotech in 2011 — before Novo Nordisk arrived about 20 months ago.
Novo Nordisk is investing another $30 million into making the plant ready for commercial production of N8-GP, a genetically engineered preventive medicine for people with Type A hemophilia. The company also is adapting 16,400 square feet of the West Lebanon facility's current space, as well as building a 5,500-square-foot addition, in preparation for the future production of a human growth hormone, and has purchased a neighboring building.
Type A hemophilia, the most common form of hemophilia, is a genetic disorder caused by missing or defective factor VIII, a protein that facilitates blood clotting. About 80 percent, or 336,000, of the estimated 420,000 people worldwide who have hemophilia fall into the Type A category.
N8-GP is in Phase III of its U.S. clinical trials, and the company hopes the Food and Drug Administration will approve it for commercial use by 2017 or 2018. If approved, N8-GP would join 10 other "recombinant factor concentrates" — drugs developed through genetic engineering — for hemophilia already on the market, according to the Hemophilia Federation of America. But N8-GP is designed to be long-acting, requiring less frequent doses for users.
Really Clean Manufacturing
The state-of-the-art facility, where Denmark's red Dannebrog with the white Scandinavian cross waves atop the flagpole outside, is one of only three biopharmaceutical manufacturing plants of its kind in the region outside of Massachusetts.
Indeed, the West Lebanon Novo Nordisk, like all biopharmaceutical plants, represents "manufacturing" in its cleanest and most sophisticated form — the rooms in the manufacturing area have 10 times to 100 times fewer particulates in the air than normal work areas. Water has to be purified through multiple filtration systems and reverse osmosis to remove unwanted organics, ions and molecules. Technicians staffing the bioreactors wear white operating-room scrubs, hairnets and booties in an environment that requires entry through an airlock. The "product," when it finally is packaged and shipped, appears as a clear liquid in thumb-size vials or injection pens.
By the end of this year, as Novo Nordisk moves closer to commercial production of its hemophilia medicine, the company anticipates hiring 25 more employees in addition to the 124 who already are working at the site. Peter Gariepy, vice president of operations, said the company is looking to have about 200 people on payroll at the plant by 2017. That would top the 175 people who worked there at its previous peak under Stryker, and is about 75 percent more than worked under Olympus.
That is in stark contrast to the situation Gariepy was facing in the summer of 2014 as he was preparing to shut down the facility with a skeleton crew. Then one morning, after arriving at work, Gariepy got a call with exceedingly good news: Novo Nordisk was in the hunt for its first manufacturing plant outside of Denmark and was interested in sending a team to inspect the West Lebanon facility.
Having spent his entire career in the biopharmaceutical industry — Gariepy began working at the West Lebanon facility in 1990 as a lab assistant when it was owned by Verax — he was well aware of Novo Nordisk's resources and reputation.
"This was a company you would love to have in the Upper Valley," Gariepy said.
It is easy to understand why: With 42,000 employees and $16 billion in annual revenues, Novo Nordisk regularly is ranked as one of the top 100 companies in the world to work for by Fortune magazine. And unlike other pharmaceutical giants, Novo Nordisk — the name is a combination of two Danish companies that merged in 1989 — focuses on a small number of medications, particularly those for the treatment of diabetes, which account for 70 percent of the company's revenues.
Treatment of hemophilia, however, is a relatively new thrust for Novo Nordisk — it entered the market in 1996. The company's recombinant factor VIII therapy, Novoeight, was approved by European regulators in 2013 and by the FDA for sale in the U.S. only last year. Sales of hemophilia treatments now represent about $1.5 billion, or 9.3 percent, of the company's total revenues.
Where's West Lebanon?
Novo Nordisk's plan is to shift the company's manufacture of both Novoeight and its long-acting version currently in Phase III trials, N8-GP, to West Lebanon from Denmark. While the medicines are manufactured here, they still are shipped back in bulk to Denmark to be packaged for the retail market. Eventually the plan calls for entire process to be done out of West Lebanon.
The heart of the plant is a series of "bioreactors" in which mammalian cells that have been genetically engineered are harnessed to produce the missing protein to coagulate blood in hemophiliacs. The cells are fed nutrients and in turn eject the protein into a surrounding solution. The protein is then extracted and isolated from the solution and forms the basis of N8-GP.
The company in recent years has been expanding its footprint in the U.S., where North American sales make up about half of its revenues. Research and production facilities now exist in Clayton, N.C., Seattle and Indiana, in addition to corporate offices near Princeton, N.J. New Hampshire was not considered a possibility until the former Olympus Biotech plant was brought to the company's attention.
"When I first heard 'West Lebanon,' I thought, 'Where's that?' " said Jesper Hoiland, the New Jersey-based head of Novo Nordisk's North American operations. But after the company dispatched a team to scout the facility — and discovered that it not only had the necessary manufacturing equipment installed but many of its highly trained former workers were available to be rehired — Novo Nordisk quickly struck a deal to buy the facility from Olympus Biotech for what it termed "nominal value."
Hoiland realizes that, given the facility's history of revolving-door owners, the arrival of another overseas owner might make some workers skeptical about Novo Nordisk's commitment in West Lebanon. But he emphasizes that the Danish company, which says it operates according to a "triple bottom line" of "social impact, environmental responsibility and financial performance," is not looking for a short-term payoff and is committed for the long haul.
"We're here to stay," he said.
Reaching Out to Former Workers
One of the first things Gariepy did after Novo Nordisk firmed its intent to buy the West Lebanon plant was to enlist Sarah Robbins, his former human resources manager at Olympus Biotech, to reach out to former employees about returning to work at the facility — this time under a new owner.
On Sept. 1, 2014, the day after the sale closed, Gariepy only had 14 employees with which to "restart" the plant and begin retrofitting it for the production of N8-GP. Under Olympus Biotech, the plant manufactured OP-1, a protein-based putty used to regenerate bone for treating spinal, hip and knee conditions. Still, much of the pharmaceutical manufacturing process under Olympus Biotech carried over to Novo Nordisk.
"There are similarities in manufacturing proteins," Gariepy said.
Robbins organized a "job fair" for former Olympus Biotech employees in September 2014, at which about 40 people showed up to listen to a team from the Danish company explain what it would be doing in West Lebanon and why it wanted employees to return.
Rhonda Curtis, a quality assurance technician who had worked for both Stryker and Olympus Biotech, acknowledges she was a bit cautious when her former supervisor called her to sound out her interest in returning to the plant to work for Novo Nordisk. Curtis had taken a job in Bedford, N.H., and didn't need to try her luck with a third owner. But after familiarizing herself through online research about Novo Nordisk and attending the job fair, Curtis was sold on the opportunity to rejoin many of her former colleagues.
"It was like coming home," she said. "It was coming back to work with people you really enjoy working with."
Because so much of quality assurance work is adhering to regulated practices that similarly are applied throughout the industry, Curtis said, the transition has been relatively seamless. "I was familiar with all the processes and procedures," although as the facility moves toward expected commercial production, "there will be some integration that will require retraining," she said.
Gariepy declined to divulge pay scales for the various positions that Novo Nordisk will be seeking to fill over the coming year. Although a technical background is preferred, he said, the company is open to hiring people from non-technical backgrounds and train them, providing they can demonstrate aptitude, interest and initiative. It is not uncommon for people to commute from an hour away to work at the plant. He points out that the on-site retrofitting and construction is generating 300 more jobs among contractors.
"For us, this is an unbelievably exciting time," he said.