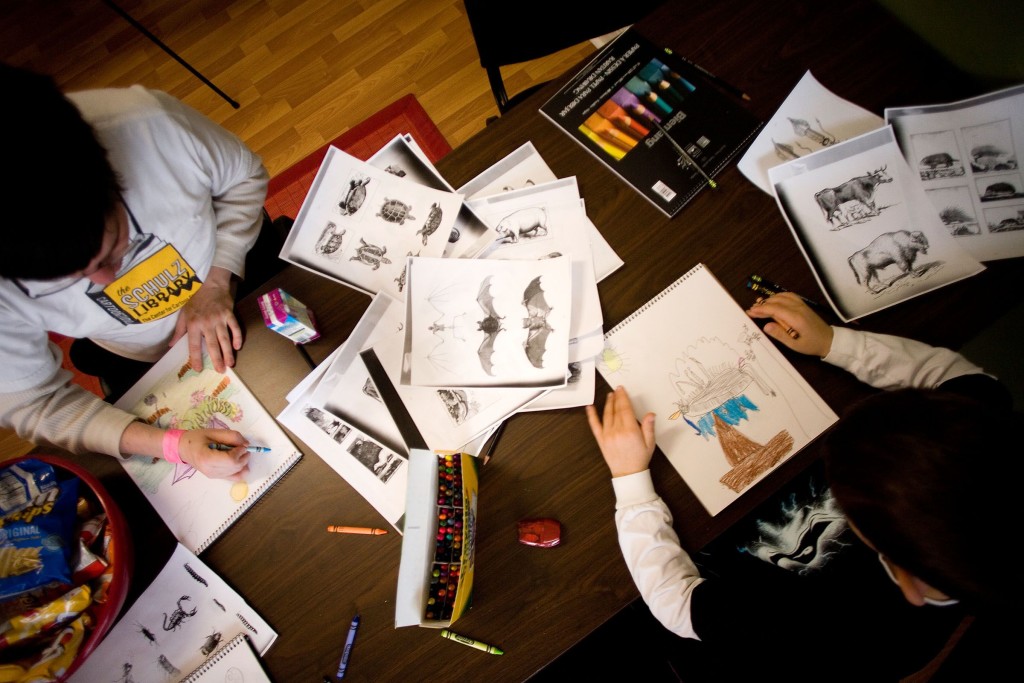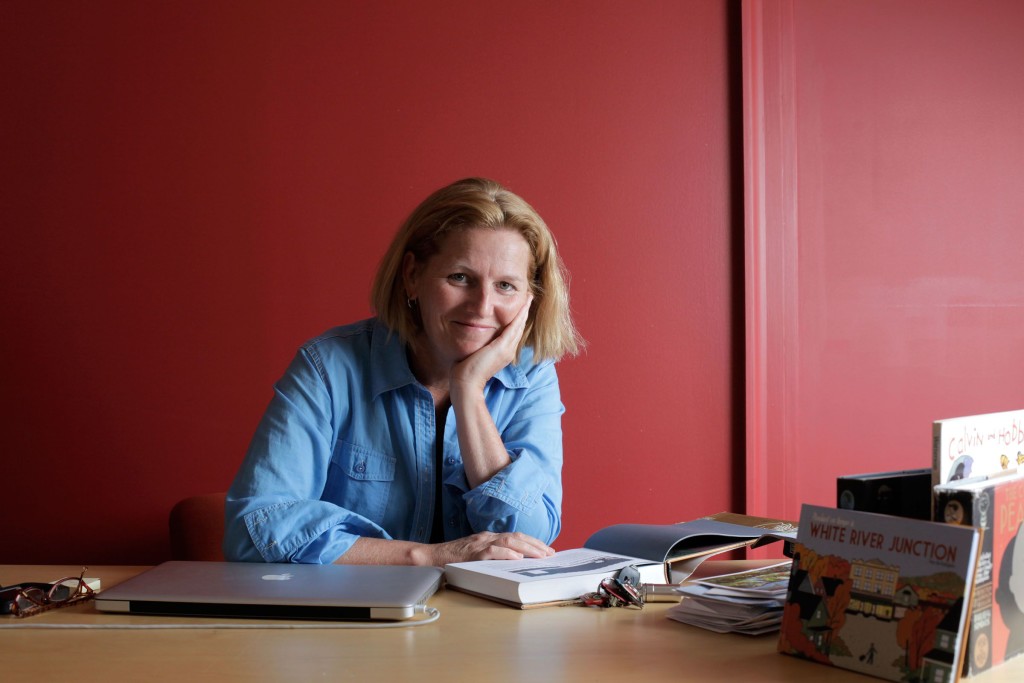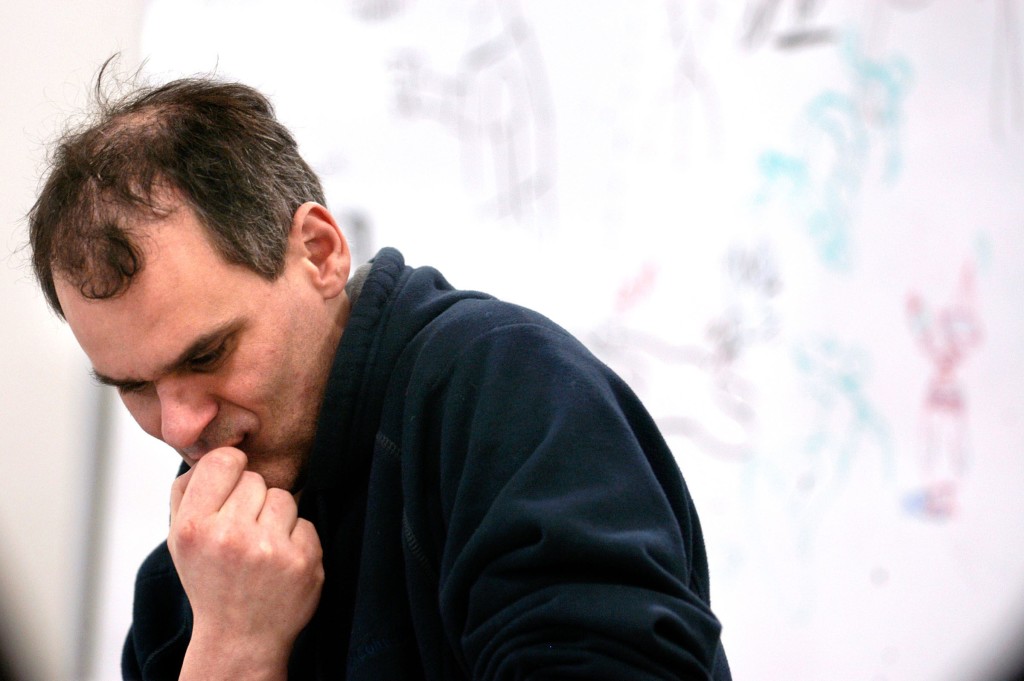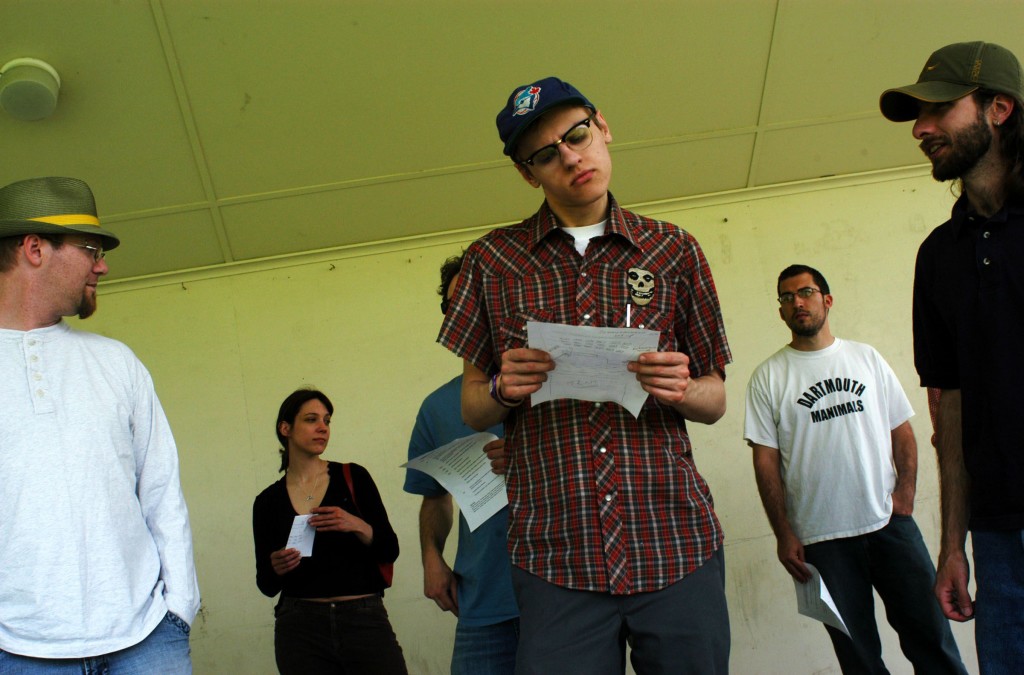 Astaire and Rogers, Simon and Garfunkel, Ben & Jerry.
Ollie and Sturm.
Each duo represents a successful partnership in their respective fields — as dancers, musicians, ice cream entrepreneurs and, here in the Upper Valley, founders of The Center for Cartoon Studies, which is celebrating its 10th anniversary this month.
Common interests brought Michelle Ollie and James Sturm together. Their creativity, lifetime experiences and entrepreneurial spirit inspired them to start The Center for Cartoon Studies, the first and only standalone school in the nation to offer a two-year Master of Fine Arts in cartooning. They met in 2002 while she was a director at the Minneapolis College of Art and Design and he was an award-winning cartoonist and graphic novelist. He had taught at art schools and was well aware of cartooning's limited curricular attention in academia. He believed he could create a better program with a more focused practical education.
Sturm, working out of a studio in White River Junction, felt the pulse of the sleepy village start to quicken as more artists converged and more businesses opened downtown.
The Minneapolis College of Art and Design tried to recruit Sturm to teach, but in the end it was Ollie who moved to Vermont to help start The Center for Cartoon Studies. In addition to her experience in academia, Ollie had a background in graphic design, a master's degree in business administration, and had spent time in the printing and publishing industries.
Ollie and Sturm began drawing a blueprint for the school even before she came to Vermont. When she first visited White River Junction, in 2003, she knew she'd come home.
"The school never would have taken off so quickly or be where we are today without Michelle," Sturm said. "Her business acumen is off the charts. She is one of those rare people who can dive into any area and excel. She is instrumental in so many aspects of (the school's) operation — from building websites and managing social media to working with the local community. Most of all, I am in awe of her generosity and patience. She is truly invested in the students and the community."
The Center for Cartoon Studies began like many small businesses: Its founders received a small grant to get the skeleton of a business plan together. Then, in 2004, they contacted Upper Valley SCORE, a nonprofit association dedicated to educating entrepreneurs and helping small businesses start, grow and succeed.
Once they met with the chapter's then-president, Fred Thomas, and counselor Ann Hargraves, the big-picture issues quickly were addressed. What would the tuition rates be? Where would people live? Where would faculty and students come from?
"I started meeting with SCORE before Michelle came on board. Partnering with SCORE made me aware of how much I didn't know," Sturm said. "I was a cartoonist and focused and dedicated to my art. When it came to managing people and running a business, I had a lot to learn. The idea of starting a cartoon college seemed like a joke to many people, but everyone at SCORE took us seriously."
The SCORE brain trust of Thomas, a former vice president at Citibank and principal at McKinsey & Co. Inc. Management Consultants, and Hargraves, a retired certified public accountant and Dartmouth College Tuck School of Business graduate who held senior financial positions in banking and higher education, worked with Ollie and Sturm to evaluate startup costs and develop ideas as to where funding might come from. They also reviewed development and forecasting plans and discussed operational issues.
"We rolled up our sleeves and identified available resources and how we could scrounge from places obvious and unknown to develop a budget for year one," Hargraves said.
A SCORE counselor for more than 30 years, Hargraves has remained a steady adviser and friend of The Center for Cartoon Studies over the past decade. She now is serving her fifth year on the school's board of directors.
"To have SCORE in our presence has been helpful," Ollie said. "They, like many of our community resources here in the Upper Valley, have made this a collegial venture and it's comfortable and less formal where we can run ideas by each other."
SCORE made introductions and identified potential collaborators for the school's vision. Over the years, SCORE members also have provided insights on leasing and real estate acquisitions.
"What I admire about (the school's) leadership is both Michelle and James are financially sensible. They are a financial person's dream. Everything they do and have done is rational," Hargraves said. "They have been a fun, obviously creative client and can squeeze a buck four ways to get four dollars from it. Their vision, resourcefulness and financial astuteness are the impetus for their success."
Ollie and Sturm have engaged with fellow artists, entrepreneurs and businesses leaders because they believe it is just as important to find innovative ways to improve the local cultural and economic quality of life. A number of downtown colleagues and local leaders throughout the Upper Valley, including Lori Hirshfield, Hartford's director of planning and development, provided guidance, and a Vermont Community Development Program grant helped launch the Inky Solomon Center, a state-of-the-art industry center for school alumni to create projects, launch ideas and incubate startup projects. The school's partnerships with a variety of businesses and organizations have provided students access to work on studio projects — including an award-winning graphic biography series from Disney and a line of greeting cards for Hallmark, among others.
Students leave the school with a variety of ideas for future collaborative projects and work, in addition to their own visual narrative projects for print and digital platforms.
In addition to serving students from around the globe, The Center for Cartoon Studies also has played an integral role in the renaissance of White River Junction's creative economy.
The school today occupies three historic downtown properties: the former Colodny's Surprise Department Store building; the landmark post office building, which the school purchased in 2011 with the support of a board member, Bayle Drubel; and the New England Telephone building, a property provided by FairPoint Communications.
With more than 170 alumni and more than 1,000 students participating in its summer workshops, the school each year hosts more than 30 visiting artists who deliver lectures and lead workshops. Cartooning celebrities such as Doonesbury creator Garry Trudeau, Art Spiegelman, author of the graphic novel Maus, and comic artist and author Alison Bechdel, have visited and presented to students while also becoming patrons of the school.
But when it comes to the pinnacle of cartooning credibility, The Center for Cartoon Studies forever will be linked to world-renowned cartoonist and Peanuts creator Charles M. Schulz, whose widow, Jean, supported the school from its inception. Schulz's contributions enabled the school to get off the ground with an amazing library named for the famed creator of Charlie Brown and company.
"Peanuts is the first comic strip I ever loved and Charles Schulz is one of my greatest influences. I'm thrilled the CCS library is named after him," Sturm said.
Still, what's most remarkable and meaningful to the school's co-founders is the storied and respectful partnership they have.
"Industry friends and colleagues often remind us what we share is rare," Ollie said. "We really do complement each other's strengths yet have similar personalities and interests. We have a lot of collegial support and believe in each other."
To recognize its 10th anniversary, The Center for Cartoon Studies will host a block party from 10 a.m. to 2 p.m. on May 7 in downtown White River Junction.
For more information about that event, and about the school's 2016 commencement, scheduled for May 6, visit http://www.cartoonstudies.org.