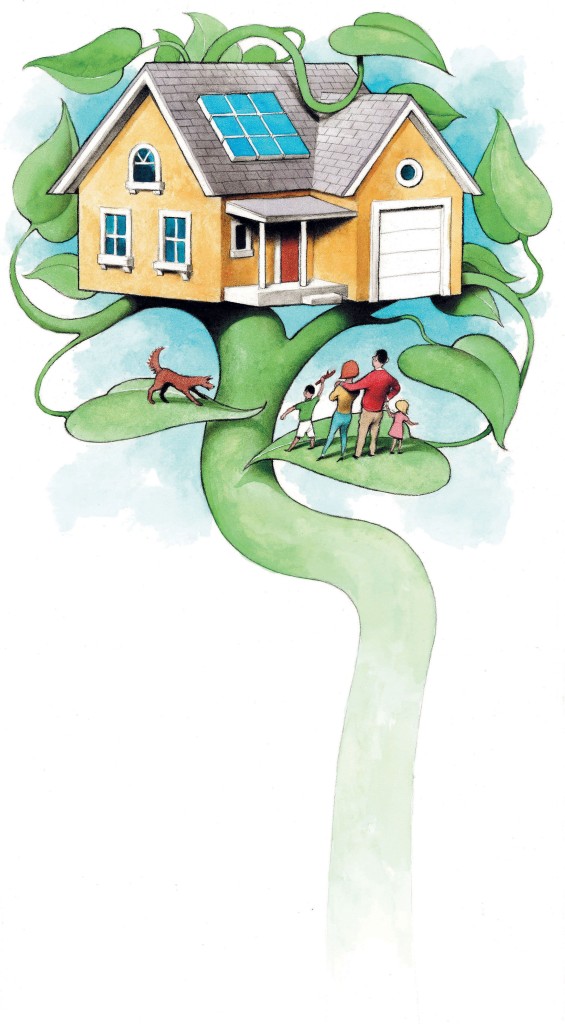 Many people will buy a house at least once in their lifetime. Some will ask about energy use and seek to purchase an energy-efficient home. Few will invest in home energy improvements at the time of the sale.
Leadership Upper Valley alumni Bob Walker (Class of 2010) and Sarah Simonds (Class of 2014) are setting out to change that. Their effort kicks off this spring with help from a diverse group of partners including nonprofits, real estate professionals, lenders and state programs. The project is one of many efforts led by Leadership Upper Valley alumni who use skills and connections formed through the program to effect positive change in our region.
Leadership Upper Valley, a leadership development program coordinated by the White River Junction-based nonprofit Vital Communities, now boasts a network of more than 200 alumni who have developed a deeper view of the bistate Upper Valley and how it functions as a cultural, economic, political and social ecosystem.
A new collaboration organized by Walker and Simonds exemplifies the spirit of what the program hopes to catalyze. They're bringing together a group of Upper Valley real estate agents, lenders, home inspectors and appraisers to develop a new approach to home energy performance: "green loans" that allow homebuyers to finance energy improvements through their mortgage at the time of purchase and reduce their total cost of ownership from day one.
Walker and Simonds have experience bringing energy innovation to the Upper Valley. Walker has been an energy leader in the region — and beyond — since founding the Sustainable Energy Resource Group, known as SERG, in 2001. SERG created the first town energy committees in Vermont and New Hampshire right here in the Upper Valley, and for 14 years led weatherization and energy-efficiency projects and educational efforts with significant positive results. In Walker's hometown of Thetford, for example, SERG helped triple the town's number of weatherized homes in just one year and reduce electric usage for street lighting by 85 percent — efforts that other communities have emulated.
In January, SERG merged into Vital Communities, where Simonds manages the energy program. She recently led the two-year Solarize Upper Valley effort that resulted in more than 370 homes going solar in 24 communities.
Last fall, a presentation on total cost of ownership at the Green Real Estate Symposium in Fairlee caught their attention, Simonds said. According to the presenters, she said, it is possible to finance home energy upgrades as part of a mortgage and actually lower monthly costs as a result. Borrowing extra money to finance energy upgrades may increase the monthly mortgage payment, but the monthly energy savings are more than enough to offset the difference.
"It seemed really obvious," recalled Simonds. "If you're buying a house and you can reduce your overall monthly costs through energy improvements at time of sale, you do it."
So why doesn't every homebuyer invest in energy improvements?
"As it turns out, energy efficiency is a relatively new concept in the world of real estate and mortgage lending," Simonds said. "The industry is only just starting to look at energy efficiency as something that might add value to a home or something that a buyer might be interested in improving at time of sale."
And while many lenders now offer discounted home equity and personal loans for energy improvements, she said, the idea of wrapping that up in a "green mortgage" at the time of sale still is very new.
There is at least one green mortgage currently available on the market through the Federal Housing Administration, and other lenders are working on creative alternatives for interested buyers.
But a variety of regulatory complexities and nuances in how banks and real estate professionals operate combine to limit the availability of such mortgages. For example, while a buyer may need to borrow more than 100 percent of the home's appraised value to do the energy work, the bank usually can't lend that much because of insurance caps.
At the same time, there are no standardized, broadly accepted measures for rating the value of a home's energy efficiency or proposed energy improvements.
Sellers and buyers are both caught in the middle of this information and finance gap.
And where there's a gap around energy issues of local concern, Simonds and Walker seek to help bridge it.
One of the tenets of the Leadership Upper Valley program is that building strong personal and professional networks in the region increases leaders' capacity to make positive change around issues that matter: When you know the right people to bring together to move an idea forward, you can make a lot more progress.
It's a lesson Simonds and Walker have experienced firsthand through the many local and regional energy initiatives they've each worked on.
As a result, they've started recruiting a team of Upper Valley professionals to identify and test creative, immediate solutions for buyers and sellers who care about home energy performance.
They're also working with partners in Vermont and New Hampshire to pilot the Home Energy Score, a low-cost, standardized assessment of home energy performance developed by the U.S. Department of Energy.
This isn't Walker's first foray into the world of monetizing home energy performance. In 2014, as director of SERG, he began conducting workshops for real estate agents in Vermont and New Hampshire on understanding the value of energy efficiency and incorporating that information into real estate appraisals and listings. In all, about 270 real estate agents in the region have attended one of Walker's trainings over the past two years.
During the same period of time, Simonds spearheaded the Solarize Upper Valley program, which added 2.2 megawatts of residential solar energy to the region. The program required extensive collaboration with members of the area business community, including lenders.
As interest in green lending grows, their new project is an exciting way to build on the groundwork they've been laying and help develop new possibilities for local businesses and consumers.
In the coming months, Simonds and Walker will convene meetings with their initial group of real estate agents, appraisers and lenders to begin exploring possibilities, devising a strategy, and launching a pilot program to test their ideas.
"We're really excited about the potential for this work to make it easier to value — and afford — home energy improvements," Simonds said. "We've pulled together an enthusiastic group of stakeholders, and we're confident our work together will yield insights with the power to change 'green' mortgage lending within and well beyond the Upper Valley."
Simonds and Walker actively are seeking partners to help move this project forward. Interested real estate professionals, lenders, and even interested buyers and sellers are encouraged to contact Vital Communities for more information and ways to get involved.