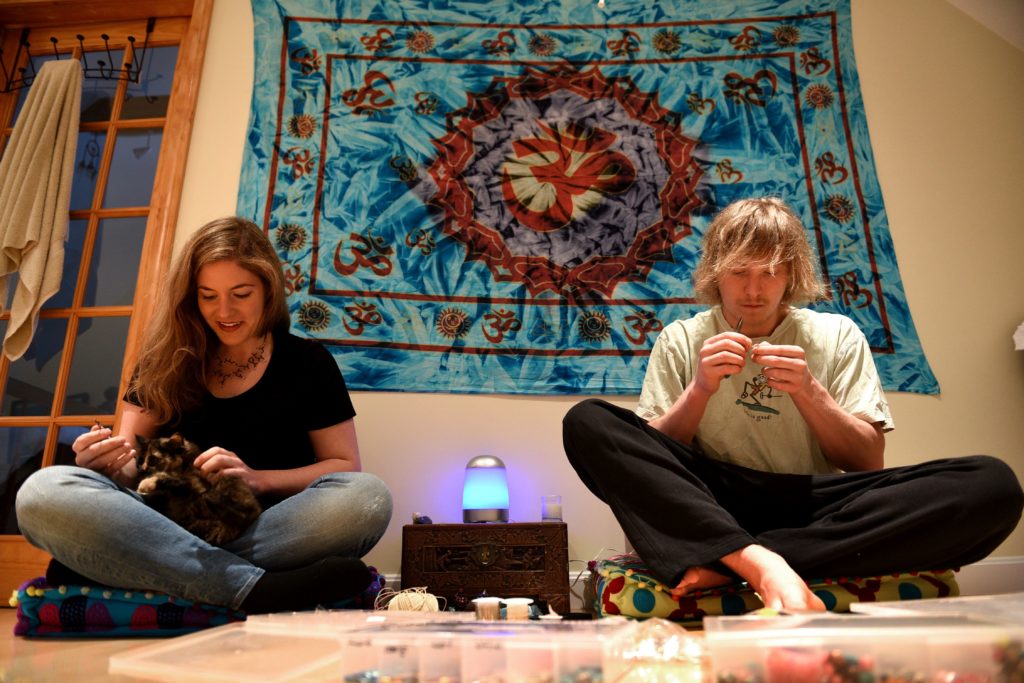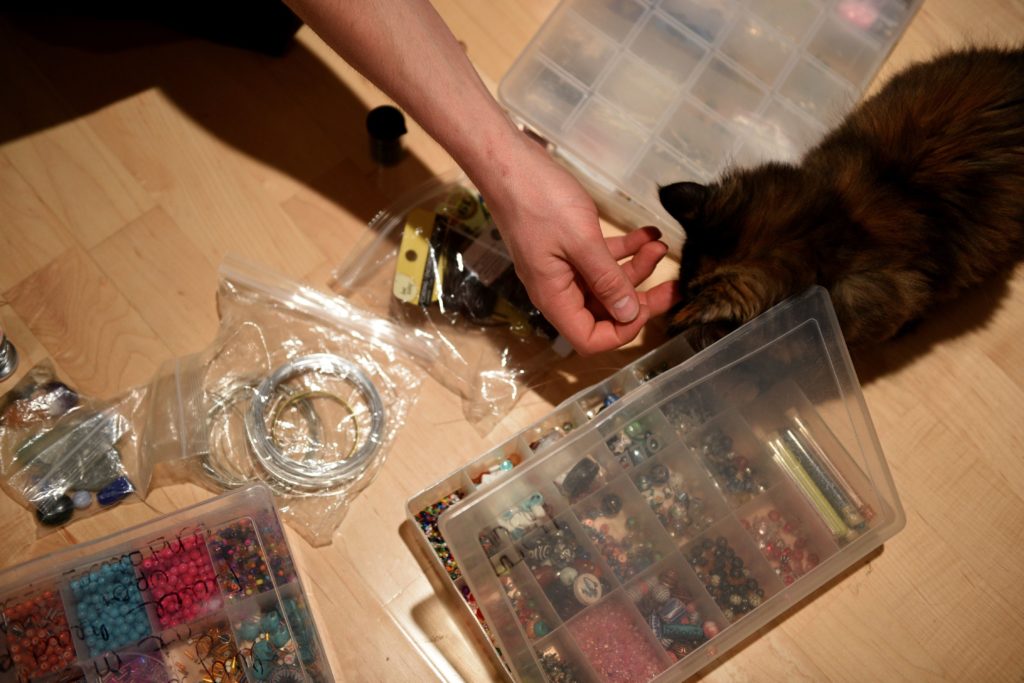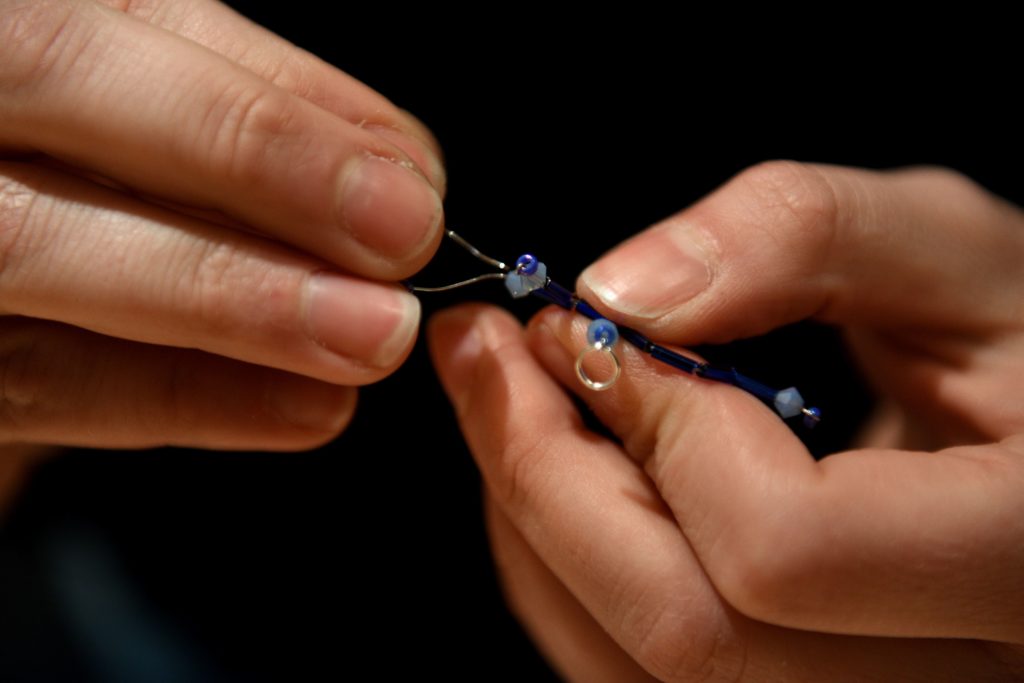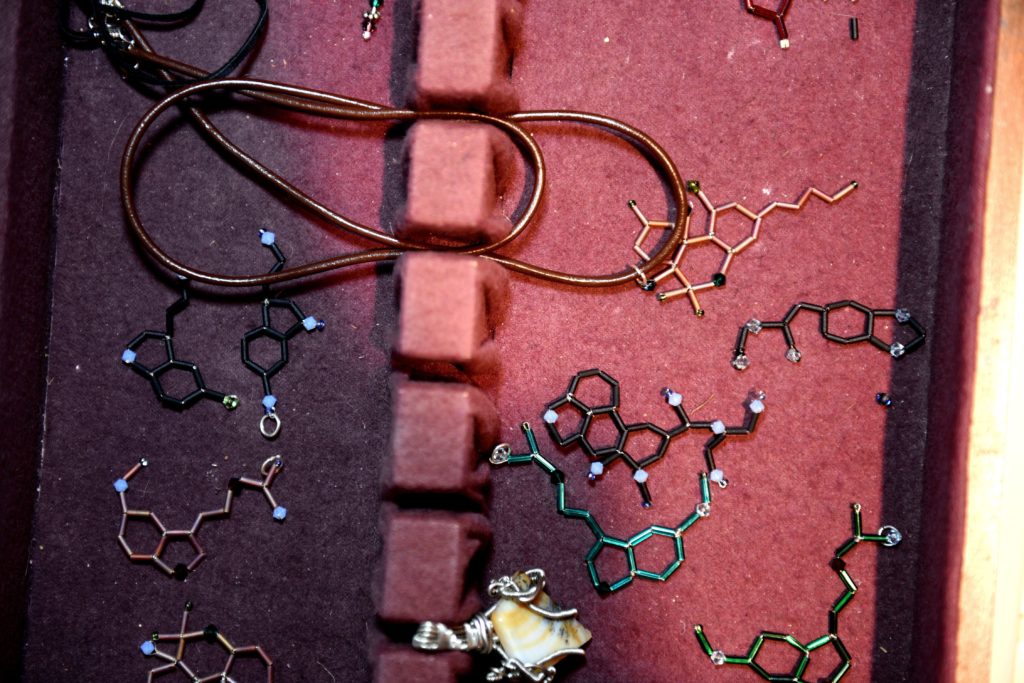 What started as an entertaining way for two college kids from Connecticut to support their music festival habit has morphed into a source of extra cash for the couple, now young professionals living in Vermont.
Rachael Henne and Andrew Switz, the owners of Molecule Jewelry, were studying molecular genetics and horticulture, respectively, when they began hawking their creations at shows in New England.
It was fun and exciting to be a part of the festival culture, which includes people selling jewelry, clothes and "whatnot," said Henne, a lab technician at Dartmouth-Hitchcock Medical Center.
Wandering through the crowds, their vintage silverware chest brimming with beaded pendants shaped like molecules, she and Switz became a fixture. "There are those people with that box," concertgoers would say.
It was a good way to meet people, said Switz, 25. And it wasn't uncommon for them to do $300 worth of business or more at a show, enough to cover the cost of tickets, food and camping.
The couple graduated from college last year and moved to Quechee in January. In March, they added an online component to their business.
Together, they bought a domain name (www.moleculejewelry.net), which costs just a few dollars a year, and have an online store hosted by Shopify.
The site is easy to use and offers various payment plans based on sales; between the domain name and hosting, they pay about $36 a month, said Switz, who recently found a job as an assistant grower with a medical marijuana company.
Shopify also provides "tons of metrics," showing which products attract the most views and where in cyberspace visitors are coming from.
But there is a catch.
"If you're going to do the online thing," marketing is the hardest part, he said. "You definitely have to keep up with it."
They've promoted the site on listservs, Instagram and Facebook through postings recognizable for their thoughtful, upbeat tone.
"We hope that through our jewelry people will appreciate a little more the complexity of life, since we all live through chemistry constantly happening in our bodies," a recent message read.
"Positivity is contagious, so be positive!" another said.
A new post might prompt 50 or more page visits a day, but when he stops posting, the result is "zero traffic," Switz said.
Busy with their new jobs, the couple hasn't promoted the website much lately. And strategies such as search engine optimization — which he said can "trick people" into going to a site — just don't appeal.
Instead, he's opting for "organic outreach," said Switz, who's begun handing out business cards locally.
Nonetheless, they've made about $100 through their website, which features bracelets, wire-wrapped crystals and beaded molecules, including serotonin, dopamine and melatonin.
Molecules are in the popular culture right now, said Henne, who's spotted caffeine on T-shirts, and people sporting tattoos of various neurotransmitters.
Dopamine and seratonin "are the molecules that make you happy," the 24-year-old Henne said. "I think it's a geeky way of saying, 'Oh, I'm a happy person.'"
And the Vermont Legislature's recent vote against legalizing marijuana might give an already popular item an additional boost.
"I think a lot of people are attracted to the molecule jewelry, especially … the illicit kind, because it's almost showing it off, but incognito," Switz said. "The untrained eye is not going to know what that is, so you can wear it around thinking it's clever."
Recently they made a wholesale order to the Northeastern Institute of Cannabis in Natick, Mass., which bought a bunch of THC pendants, their top-selling molecule, Switz said.
And headbands featuring the LSD molecule "fly out of our box," Henne said.
Sales usually are the strongest in the summer, which is music festival season in the Northeast.
Sometimes people spend their vacation at a festival and want to commemorate it, Switz said. "Whether it be a poster or one of our pendants, they come home with something cool," he said.
The couple will continue to sell their jewelry at shows, preferably smaller ones, which charge vendors less than big venues do and "have more of a community feel," Switz said.
That includes the local event he and Henne credit for inspiring them to take their business up a notch.
To keep costs down, they usually just walk around selling their jewelry, but the organizers of Wild Woods Music and Arts Festival in Croydon let them set up a booth at a reasonable cost, Switz said. "That gave us huge motivation to make a lot more (jewelry) and just get ourselves out there."