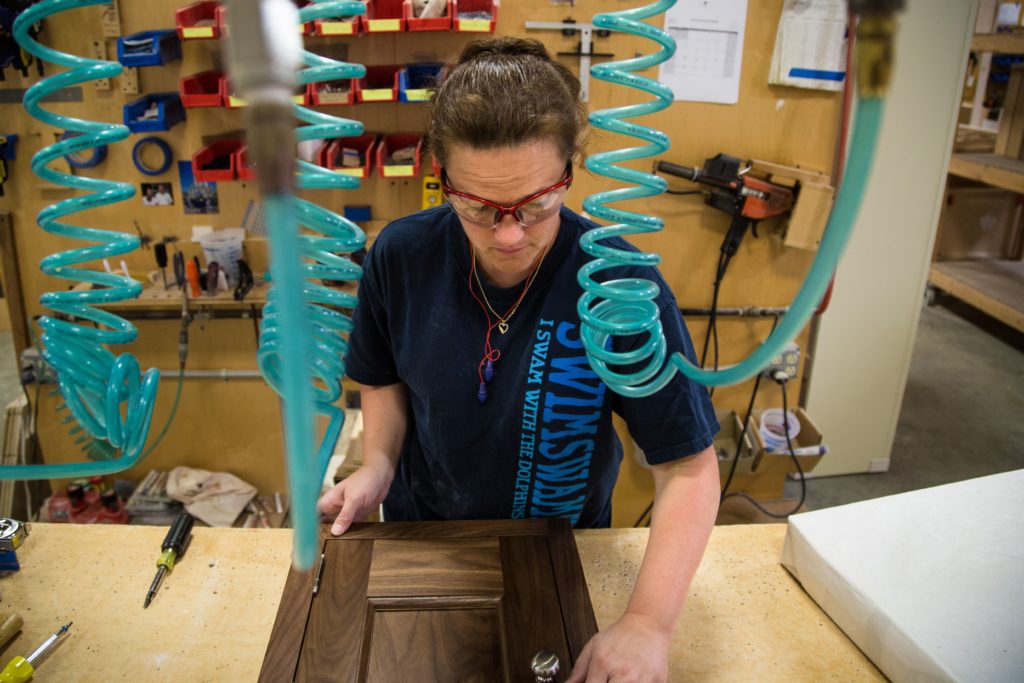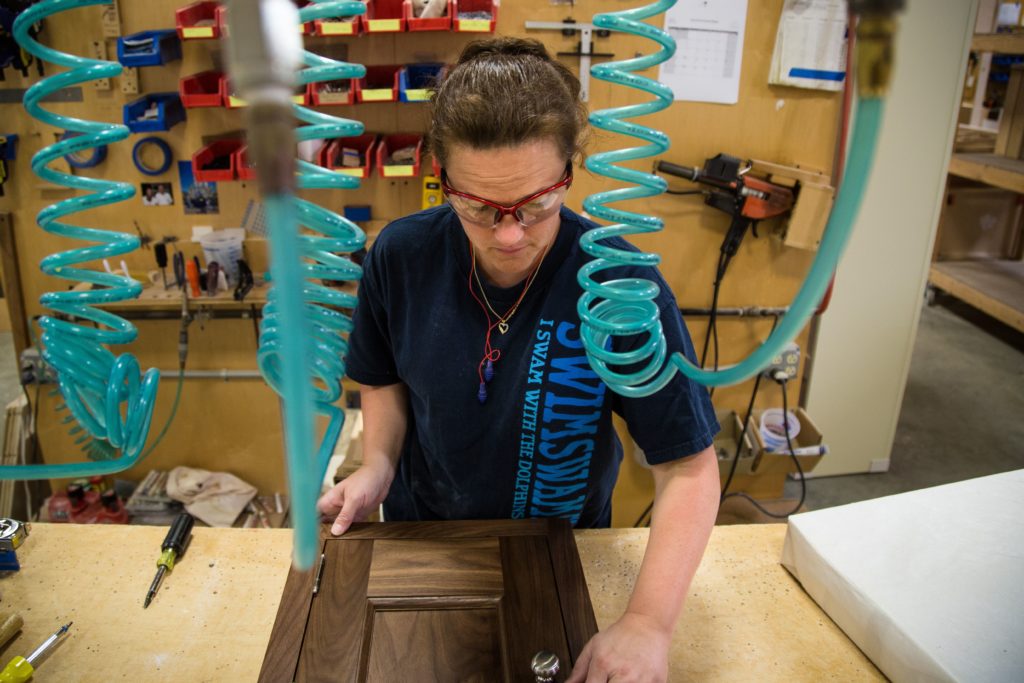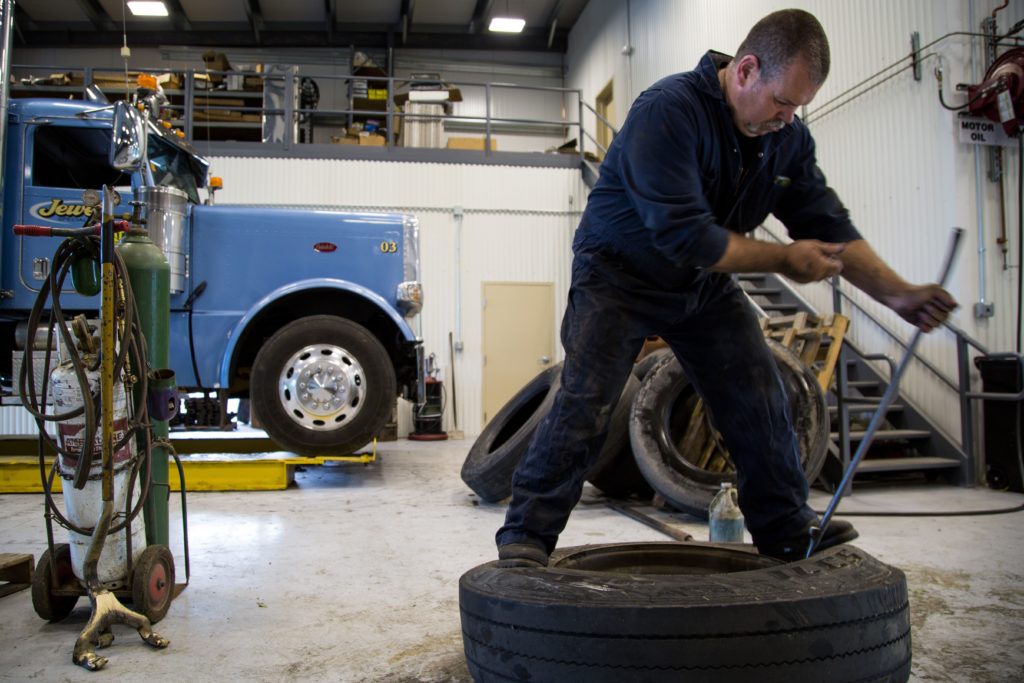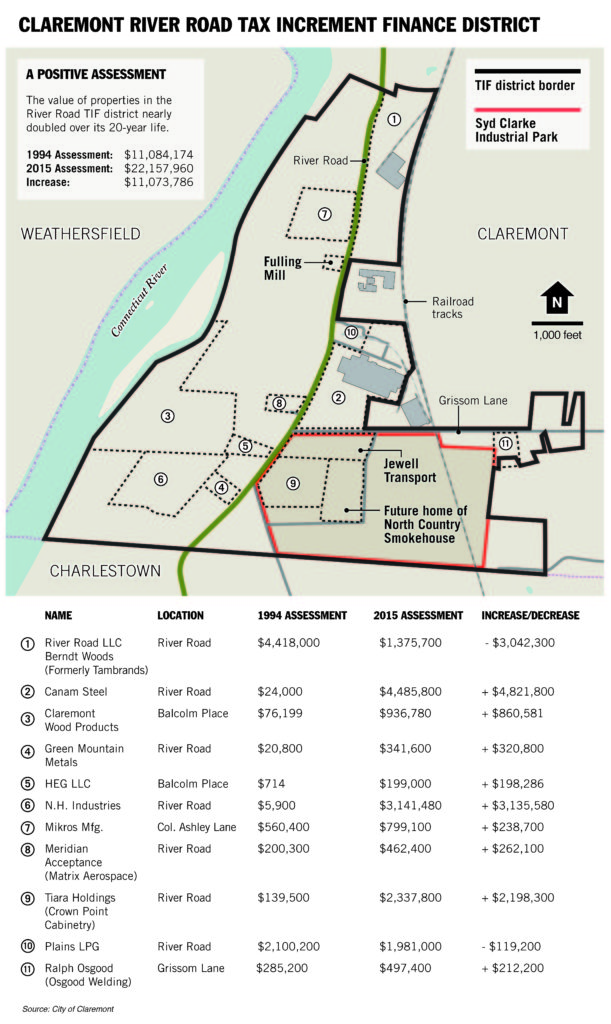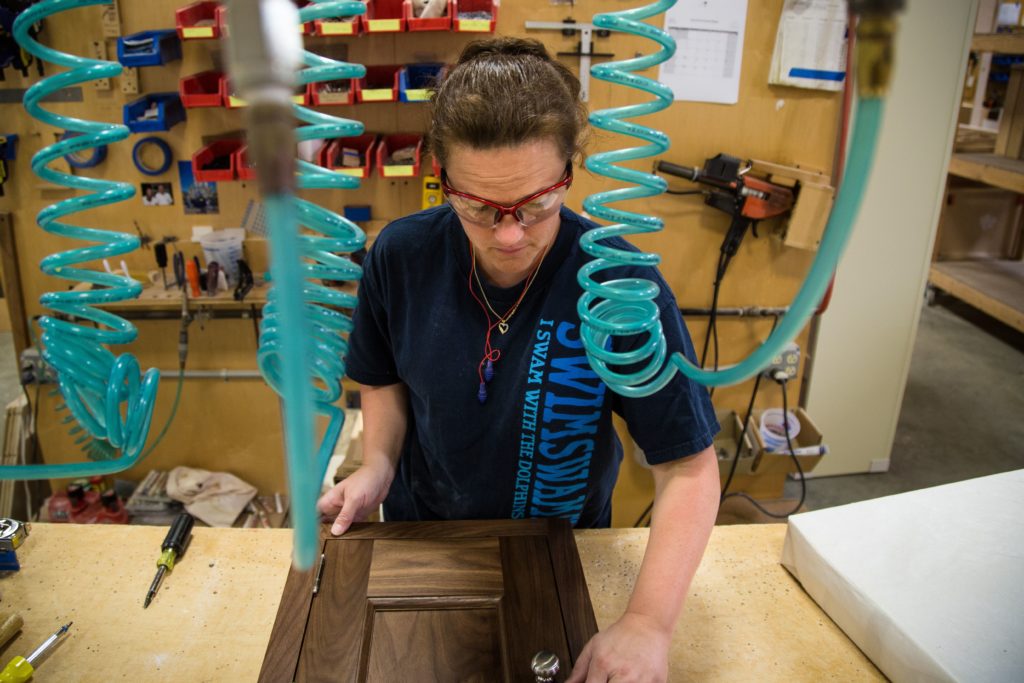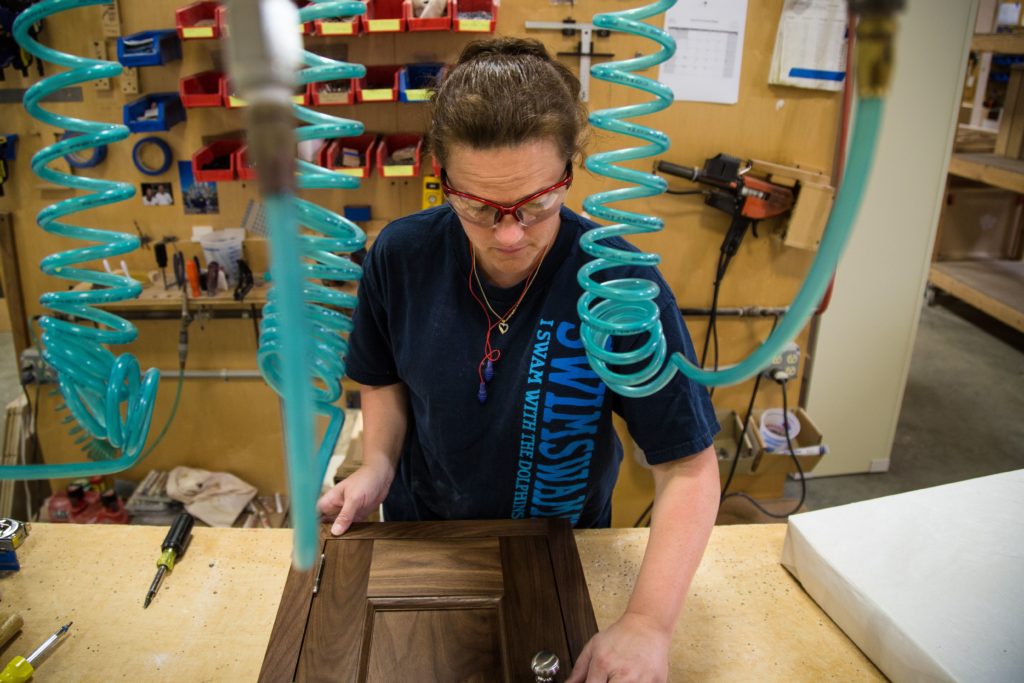 What a difference 20 years makes.
An aerial photograph from the early 1990s of a roughly triangular area in the southwestern corner of Claremont, bordered by the Connecticut River, the Boston and Maine rail line and the Charlestown town line and bisected by River Road, clearly shows the mostly vacant Joy Manufacturing building, the soon-to-be vacant Tambrands building, as well as several smaller operations.
A similar photograph of the same 560-acre area today would show new construction and new businesses from a variety of industries — Crown Point Cabinetry, Mikros Manufacturing, New Hampshire Industries, Davis Frame Co., Green Mountain Metals and Claremont Wood Products among them.
At the bottom of the triangle, in the Syd Clarke Industrial Park, is Jewell Transport's new trucking facility, soon to be joined by North Country Smokehouse, a processor of smoked meats and cheeses, which broke ground on its new plant there in June.
With these new businesses have come hundreds of good-paying jobs, an increase in the value of taxable property, and hundreds of thousands of dollars in new tax revenue — all of which were cited as goals more than 20 years ago when the Claremont City Council voted to buy land in the area and establish a Tax Increment Finance district, or TIF, along River Road.
"What is interesting about the River Road TIF and how it was built out is there is a lot of variety in the different businesses," Claremont Planning and Economic Development Director Nancy Merrill said. "We don't have all our eggs in one basket. There are office jobs, manufacturing, aerospace, precision engineering, wood products and technology. If one company slides, it doesn't mean everything slides."
When the city bought industrially zoned land in the early 1990s and created the TIF in March 1995, the council identified the goals of the effort: "The city's primary purpose in making this investment was the sale or lease of this land to development interests who would create industrial plants that would make significant contributions to the stabilization and enhancement of the economy via the creation of jobs, while broadening the tax base, and eventually reducing the current high tax burden."
The River Road TIF's 20-year run expired on June 30. The bond issues used by the city to buy the land and put in water, sewer, roads and other infrastructure, have been repaid. And even though the city's tax rate today is the highest in the state, due in part to a 20 percent decline in the value of single-family homes, having many smaller employers instead of one large one presents a healthier economic picture and has city officials declaring the River Road TIF district a success:
The district's assessed value has doubled, from $11 million 20 years ago to more than $22 million today.
Businesses in the district have added an estimated 300 new jobs.
It will add $450,000 in new revenue to the city's general tax rolls for next year.
The River Road TIF district finished with a $1.5 million surplus and generated sufficient annual operating revenues the last several years to cover the downtown TIF's annual revenue shortfall.
"This is a success story and I think there is going to be more," Merrill said, noting there still is city-owned property in the Syd Clarke Industrial Park and Colonel Ashley's Landing open for development, as well as private property.
"River Road is exactly what you want a TIF district to do. You put in the infrastructure, then add to the tax base."
A Lost Opportunity
The idea for the TIF came more than 25 years ago after the city lost a chance to attract a Fortune 500 company, business owner and former Mayor Allen Whipple recalls.
The city was still reeling from the loss of Joy Manufacturing when General Electric, the global manufacturing conglomerate, came to Claremont with a plan to build a new jet engine plant in the city, according to Whipple.
"In '89 or '90, GE was going to come to Claremont and build a new plant where Syd Clarke (Industrial Park) is now," Whipple said during an interview at his business, General Auto Salvage, on Old Newport Road. "GE was working on buying the (privately owned site) and building a plant. It took so long to buy the property that, during this time, a GE plant in the south became available. So they said, 'Forget this deal.' That bothered me, that we didn't have something that you could use right then."
When Whipple was elected to the City Council a couple of years later, and then became mayor in 1993, New England was mired in recession. On the heels of the Joy Manufacturing closing, the city was hit hard.
Whipple pushed to build consensus among like-minded councilors intent on pursuing the goals of a local anti-tax group that had sprung up, which included rebuilding city infrastructure, stabilizing the tax rate and reducing the city's bond debt.
"What had happened was, we really had not done any aggressive economic development in 30 years," he said. "The way we can do this is we've got to have economic development," Whipple recalled telling the council. "I said, 'Look, we have to get our own industrial park.'"
When the land GE had been eyeing went up for sale at auction, Whipple lobbied for the city to buy it, as well as an abutting parcel.
He wanted the city to take control of its economic destiny by playing a leading role in trying to land new industry — instead of getting caught on the sidelines the way it did with GE.
Mike Satzow, who recently sold his Claremont business, North Country Smokehouse, to a Canadian firm, agrees with Whipple's assessment of the GE situation.
"Many believed if we had in place the land with water and sewer, the transaction would have gone a lot quicker," said Satzow, who has been involved in the city's economic development scene for nearly 40 years. "So we took a position that we needed land so if somebody wanted to move here, they could build right away."
In March 1994, the council voted to borrow $400,000 to buy four lots bordering Grissom Lane, River Road and Calavant Hill Road at auction.
A little more than a year later, the council established the tax increment finance district along River Road and Grissom Lane, and in May 1995, the council voted, 9-0, to bond $600,000 over 10 years for the district.
"This is how we funded to buy the land," Whipple said.
Stuart Arnett, the city's planning and development director from 1991 to 1998, said Claremont took an unusual approach when creating the district.
"'Build it and hope they will come' is rare (with TIFs)," Arnett said.
The city bonded $600,000, but had only Claremont Flock Corp. committed to building in the Syd Clarke Industrial Park. "But Claremont had to do something, so it made sense."
Arnett, who was New Hampshire's economic development director for several years before starting Arnett Development Group, a consulting firm, in 2006, said the Flock commitment was a positive first step, even though the company moved to Massachusetts in 1997.
Then, that same year, when Hubbard Farms bought a lot in the Clarke park not far from Grissom Lane for a truck-washing facility, it presented the city the opportunity to "open more of the park," Arnett said.
The TIF bond was used to pay the city back the $400,000 for the four lots and to buy additional land, including the Robert Shoemaker property at the corner of River Road and Grissom Lane.
The five lots, a combined 120 acres, became the Syd Clarke Industrial Park. (Syd Clarke served on the City Council for 19 years, from the late 1960s to the early 1980s. He died in 1993, shortly before the industrial park was named for him.)
In 1995, the council used more of the TIF bond to buy the Tenney property, less than a mile south on River Road, that was in foreclosure and renamed it Colonel Ashley's Landing.
"It was a way to give local officials the ability to say we can do something versus we will try to do something," said Arnett, whose firm has worked with other municipalities in creating TIF districts.
A Mixed Bag
Despite the city's position that the River Road TIF district has been a success, its economic history does not show a steady upward trajectory.
In fact, there have been a number of setbacks. The abrupt departure of Claremont Flock Corp. was just one of them.
Tambrands, the tampon manufacturer owned by Procter & Gamble, left its 250,000-square-foot building on River Road in the late 1990s.
Customized Structures Inc., a modular home builder, bought the Tambrands building in 2003 and renovated it, only to shut down in December 2007, putting 120 people out of work. The plant had been assessed at more than $7 million, but after Customized Structures closed, the building sat idle for several years before being sold in 2012 for $600,000. Now home to Berndt Technical Woods, its current assessment is $1.37 million.
Ice River Springs, a water bottling company, constructed a building in 2008 but never occupied it.
A marketing effort to sell lots in the Syd Clarke Industrial Park about 10 years ago was a bust.
In 2005, after a 10-year run, the River Road TIF district was due to expire. Its assessed value had increased by $8.2 million, according to city records, with most of that due to the Crown Point, Canam Steel and Monadnock Forest Products properties, as well as an overall upward trend in the real estate market.
In 2006, City Manager Guy Santagate proposed a 10-year renewal of the TIF, along with a $1 million bond to extend the road in the Clarke industrial park, complete water and sewer lines and make lighting improvements.
Lot subdivisions in the park were done to "create smaller and more attractive lots," according to the amended TIF plan.
City officials believed road, water and sewer improvements and an offer to sell lots in the industrial park for a $1 to any company that put up a building, would increase interest.
"We thought it would boom," Santagate remembered. "But nothing happened. We had no takers. We couldn't give them away."
But now, with Jewell Transport there and North Country Smokehouse on the way, "we are in a much better position today. No doubt about it," he added.
Did the TIF Deliver?
Though not directly responsible for all the investments in the River Road TIF district, the creation by the city of an attractive industrial environment with infrastructure, the aggressive marketing of industrial properties, and the readiness of city officials to assist businesses in navigating the permitting and regulatory process at the local and state level, were key to the TIF's success, Merrill said.
"There are a lot of different reasons companies will chose a location," Merrill said in an interview in her office at the city's visitors' center on North Street.
"We have industrial land, which is an advantage, and three-phase power (which provides a constant supply of electricity, important for heavy industrial applications), and we have the infrastructure. It is very hard to find good, industrial real estate in the Upper Valley. We try to find companies that want to grow, but can't find the land."
Whipple, the former mayor, is emphatic about the River Road TIF's positive impact on the city and said the district's development over the last 20 years would not have been possible without the TIF.
"How would you have had it?" he asked. "It had been there for 30 years and you had nothing there. It worked because you are willing to front the money to do all this."
The buildings that have been constructed over the years as a direct result of the city's actions include Crown Point Cabinetry (1995, the former Flock building), Hubbard Farms (1997), Mikros Manufacturing (2002), Jewell Transport (2016), and North Country Smokehouse (construction underway).
Privately developed lots include Claremont Wood Products (1994, the former Monadnock Forest Products building), Davis Frame Co. (1996), Green Mountain Metals (1998), and New Hampshire Industries (2008, the former Ice River Springs building).
If you have the land and some new buildings, Santagate said, eventually good things will happen.
"It may not work the first time or the second, but it will," he said.
With 91 acres still available in the Syd Clarke Industrial Park, and more land in Colonel Ashley's Landing, as well as privately owned property primed for development, Merrill said, the city is confident of more growth.
"We still have places to build and the infrastructure to support it," Merrill said.
At an event last month to celebrate Jewell Transport's new 12,000-square-foot building, Tom Rock, a member of the Claremont Development Authority, which manages city-owned industrial and commercial property, said it has been a rough stretch the last several years with an economy going in the wrong direction.
But, he said, he believes the turnaround has arrived and he holds out hope the new construction in the Syd Clarke Industrial Park and other improvements in the district will fuel more development.
"With Canam, New Hampshire Industries, Mikros, Fulling Mill, between all that, maybe there are some feeder industries that want to be in the middle of this," Rock said.
"To have this (Jewell Transport) facility and with Smokehouse going in up there, it is bound to attract some interest."
Recalling the city's predicament in the early 1990s, Arnett, the city's former planning and development director, said buying industrial land and then creating the TIF with a $600,000 bond were bold moves.
"Claremont had to do something to get moving," he said. "It was a little gutsy, but as has been demonstrated, (it was) the right thing to do."