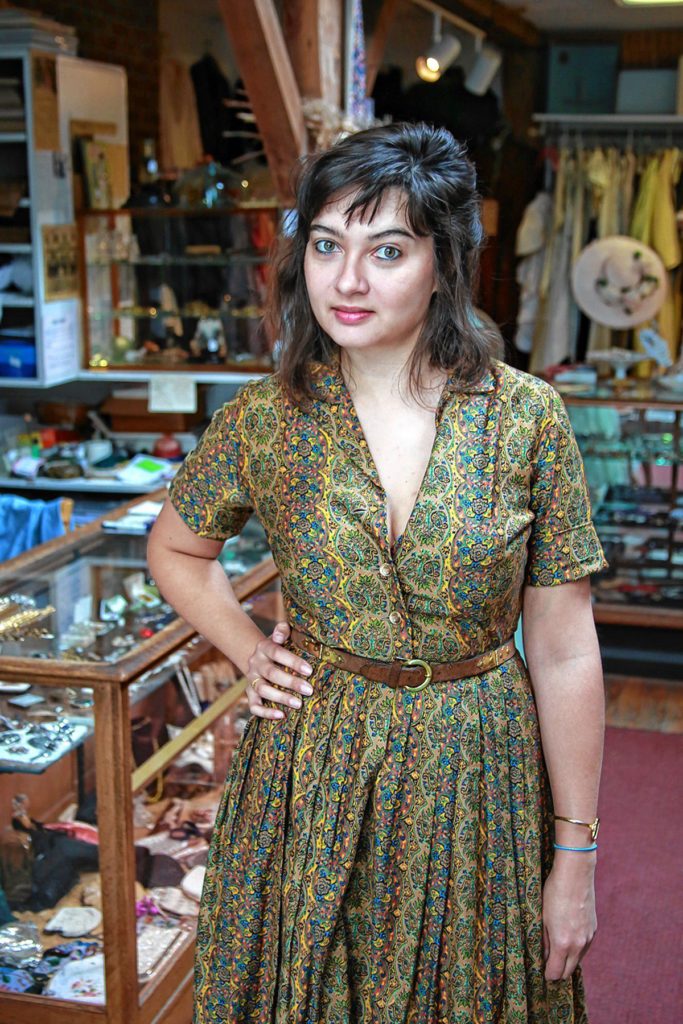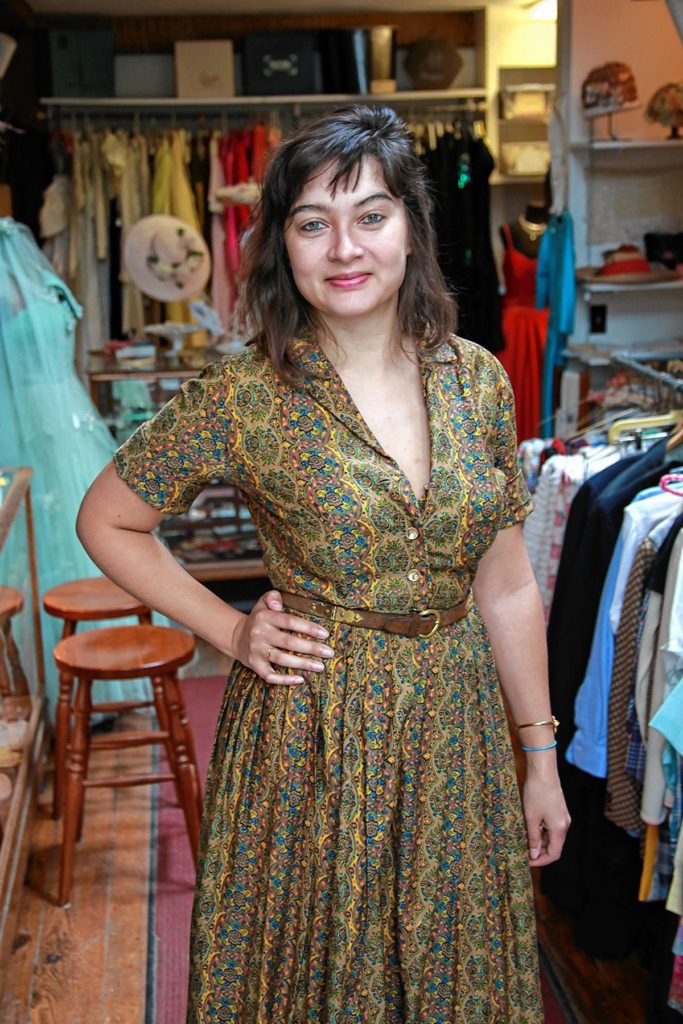 Jess Abston, the fourth owner of Who is Sylvia?, the well-established vintage clothing shop at 26 Central St. in Woodstock, inherited the name when she bought the business five years ago.
The name was only one of the intuitive connections she made that told her this was the right career move for her. The shop's name, an allusion to Silvia, a character in Shakespeare's Two Gentlemen of Verona, resonated with Abston, an English major who graduated summa cum laude from Colby College in Waterville, Maine.
After graduating in 2002, Abston tried several different jobs, searching for a fulfilling career. She worked as an editorial assistant at Countryman Press in Woodstock for three years before deciding that publishing was not for her.
She then worked at the Center for Cartoon Studies in White River Junction doing administrative tasks, bookkeeping and event planning.
During this time, she also worked at Revolution, a boutique clothing store, selling contemporary used and vintage apparel. With each position, Abston accumulated new skills that have been invaluable to her as a business owner.
It took her several years to realize she wanted something more satisfying and suitable to her unique talents and creative eye.
Abston loved vintage clothing, and had been collecting and wearing vintage since college. When offered a job to work with Who is Sylvia? owner Janet Eller in 2008, she jumped at the chance.
"I had always shopped at the store and loved the idea of working there," Abston said.
When the owner started talking about retirement, Abston began thinking about purchasing the store. "I fell in love with the idea of buying and selling vintage."
She knew that if she were to purchase the store, she would need expert advice and opinions. She contacted the Upper Valley chapter of SCORE and was assigned a counselor who guided her through her eventual purchase.
Although passionate about vintage clothing, after meeting with her counselor, she realized there were many questions she would need to answer before committing to buy the shop.
The most valuable asset would be the inventory. If she were to buy the entire inventory at the store, how would she value it?
Should she price it at the value on the owner's financial statements?
Should she add up the retail value and then value it at a discounted rate?
What if there were items she didn't want?
Should she pay for the inventory outright or pay as it sold, sharing part of the sales price with the owner?
Could she pay on a monthly basis?
In addition to valuing the inventory, should the selling price include the value of goodwill? How is that valued?
Her SCORE counselor helped her answer those questions and provided her with a formula used in valuing inventory.
In talking to the owner, she learned that Eller had a price in mind. Eller had owned the store for 10 years, and was helpful in providing Abston with information. Woodstock is a small town, and Eller was interested in selling to someone local. The two women had a good relationship, and negotiated personally between themselves.
Abston was provided with tax returns and financial statements. Her SCORE counselor helped her understand them. He also helped her write a business plan, which is something she had never done before.
Abston did research on how other vintage stores valued their business and inventory. Using her counselor's formula as a guide, she realized that Eller's asking price, including fixtures, inventory and goodwill, was reasonable.
"I was nervous, excited, intimidated, but filled with a sense of pride and confidence," Abston said of buying the business.
She knew she was moving in the right direction. "It was a huge thing to say the job was fulfilling."
Abston relies heavily on Who is Sylvia?'s Facebook page and Instagram account @whoissylviavintage to promote her business. In addition to a loyal local clientele, she sells from her Facebook site, as well as to vintage dealers. Her prices are attractive to high-volume vintage industry buyers who can resell her merchandise at higher prices.
In the future, she would like to expand her reach by growing her online business. This would allow her to smooth her revenue, providing more sales during the slow season in Woodstock.
Editor's note: SCORE is a nonprofit SBA-associated organization. The Upper Valley SCORE chapter has more than 30 experienced volunteer mentors. In addition to free mentoring, the chapter provides workshops throughout the year. For more information, visit https://uppervalley.score.org, email uppervalleyscore@gmail.com or call 603-448-3491.