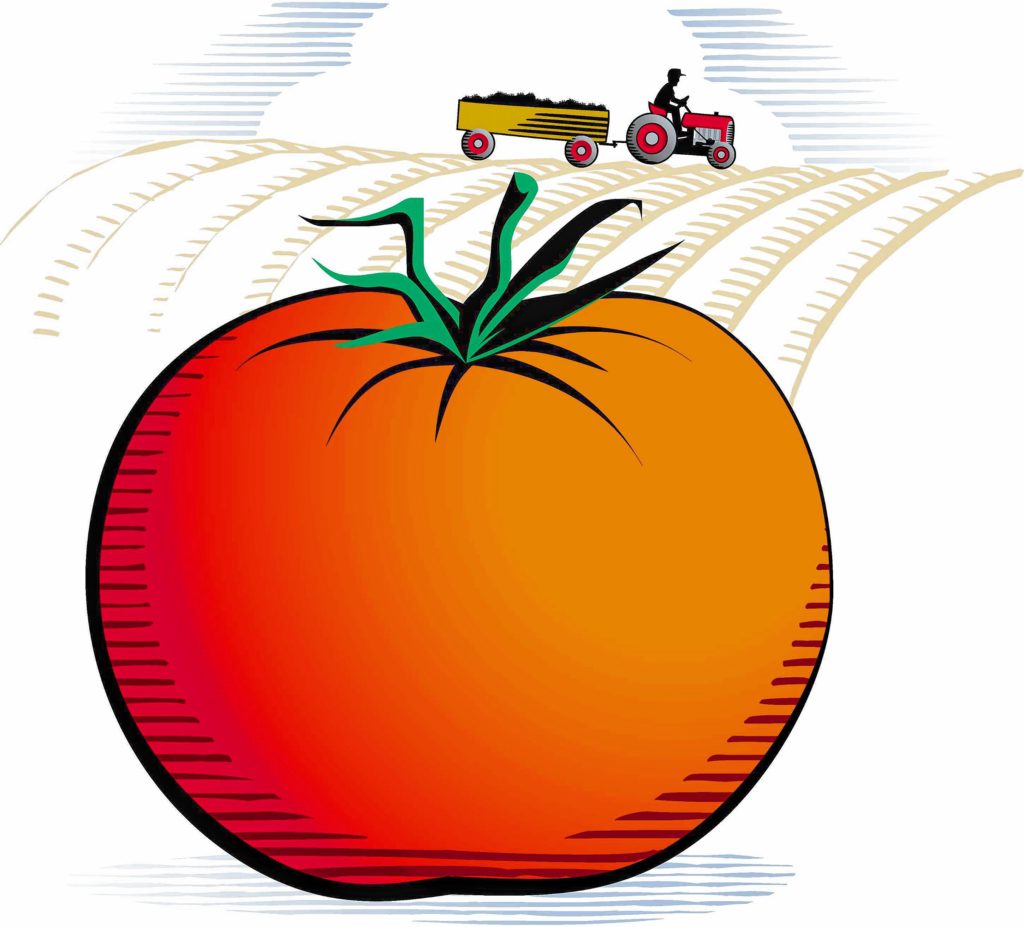 We have a large walk-in cooler on our farm where we store vegetables after they have been harvested. One day this summer, we're going to stand in the open door of the cooler, snap a photograph of the thermometer that hangs on the back wall, and email it off to the University of Vermont.
This isn't some new Instagram fad or post-modern photo collage. Rather, it's part of a new program called CAPS — which stands for Community Accreditation for Produce Safety — that's being put together by UVM Extension staff and the Vermont Vegetable and Berry Growers Association. It's local, it's voluntary and, as the photo project demonstrates, rather ingenious.
Officially, its purpose is "to promote a practical approach to reducing food safety risks while maintaining market integrity for Vermont's small- to medium-scale vegetable and berry farms," according to the program's website.
Food safety has been in the news in recent years, especially when it comes to vegetables.
The Food and Drug Administration recently finalized the Food Safety Modernization Act in response to recurring outbreaks of sickness traced to leafy greens coming from large farms in the West. Prior to this, vegetable farming had been loosely regulated.
When FDA representatives came to Hanover a few years ago, dozens of local farmers testified against the proposed regulations, which seemed designed by and for large farms in California, not the small holdings typical of Vermont and New Hampshire. Rules related to compost and irrigation alone could have led to the closing of many Twin State vegetables farms.
In the end, the compost and irrigation rules were adjusted in the final rule to recognize the unique circumstances of New England farms, and farms grossing less than $500,000 a year were exempted from oversight.
That happens to include most of the vegetable farms in the Twin States.
Amidst the celebration, though, the folks at UVM recognized a potential problem: Though local farms might be inherently safer because they are small, isolated from one another, serve a limited clientele, and though they might be exempted from the law, there still is a chance that something bad could happen nonetheless and people could become sick from eating local vegetables.
Farming is not risk free, and bad things can happen on good farms. What would it do to the local farm economy if public perception came to see small, local farms as unregulated and dangerous?
Enter the Community Accreditation for Produce Safety program.
It's a bunch of Vermont and New Hampshire farmers working together to create a voluntary, easy-to-implement set of guidelines and practices for improving food safety, and then sharing these practices with one another.
Take the photo of our walk-in cooler, for example.
If you start with the assumption that small farmers know their customers personally and take their health seriously, then making sure that the cooler's thermometer is easily visible from the cooler's front door is the perfect level of technology.
I open our cooler door dozens of times a day, and every time I do, I'm looking straight at the thermometer. If it goes out of range, I'll know about it immediately and be able to correct the problem on the spot.
Under the CAPS program, we post a photo to the CAPS website that demonstrates our clear line of sight to an accurate thermometer.
If we were regulated under the Food Safety Modernization Act, we'd probably have to have a computer data logger recording temperatures continuously and storing them for later regulatory review, which would be fine if we had a computer technician sitting at corporate headquarters somewhere. Which we don't.
As CAPS expands, photos like ours will be available for other farmers to see so that best practices can be shared among the group's members. Customers and wholesale buyers also will be able to look up a farm and understand what practices it is using to promote food safety.
In the end, we'll have a self-improving community that's overseen by our customers and fellow farmers, not distant regulators.
Last year was the pilot year for CAPS, and 24 farms were accredited, including such well-known Upper Valley farms as Crossroads, Luna Bleu, Killdeer, Edgewater and Deep Meadow.
This year, 67 farms officially are in the program, with dozens more across the state getting ready for next year.
There are 18 separate standards for farms to focus on when seeking CAPS accreditation.
Many have to do with planning in the offseason and designing systems to make the safest practice the easiest practice. You don't want to design a harvest system, for example, that requires you to wash your leafy greens downhill from your chicken coop.
Better to figure out how to separate those two activities before the season begins.
Then there are more specific practices, such as having your wash water and irrigation water tested on a regular basis; posting photos of your harvesting equipment showing how you keep everything clean; and verifying that you've discussed food safety with your employees and trained them on the key details of keeping food safe on your farm.
CAPS is customized by each farm that participates. You don't need a specific cooler design or a specific thermometer brand or even a standard approach to how vegetables are stored in the cooler. You just need to demonstrate that, every time you open the door, you're going to know whether or not it's working. You can look online to see how other farmers addressed the issue if you're looking for ideas.
The Food Safety Modernization Act still is going to be a burden, especially for farms that gross just over the $500,000 exemption and those that are smaller but still want to sell to wholesale markets.
But the CAPS program — locally based, innovative and tailored to the real-world conditions of small farmers — is an effective response that will strengthen the local farming community instead of wiping it out.
Sort of like making lemonade out of lemons, though that metaphor doesn't feel regionally appropriate.
Making pie out of rhubarb, anyone?