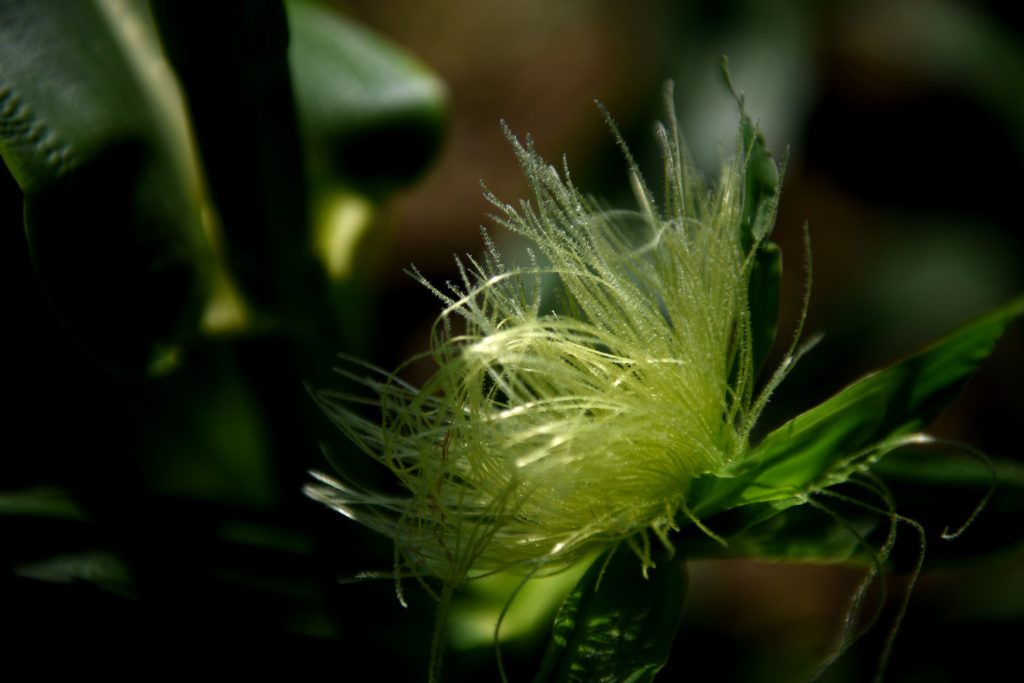 There's an old New England maxim about sweet corn that says if you went to the corn patch, plucked some ears and tripped and fell on your way back to the kitchen, you should toss them away and go pick some new ones because the delay caused by your mishap would have diminished some of the sweetness in the first ears you harvested.
Even today, there are plenty of folks around the Upper Valley who wouldn't think of cooking up a batch of sweet corn for dinner if the ears didn't come from the stalk within just a few hours. In other words, no supermarket "fresh" corn for them — it's got to be corn that's been picked, shucked and boiled in short order.
There was a measure of validity to those beliefs for a long while. Traditional sweet corn varieties had limited amounts of sugar, and it faded rapidly after harvest, making it comparable in the view of many to their close cousins in the "dent" category of corn, the kind used for animal feed.
The Science of Sweet
But the development of new strains of sweet corn by land grant university scientists and commercial seed researchers in recent years has changed that paradigm dramatically — first by greatly increasing the available sugar within the kernel, and then slowing down the sugar's conversion to starch, thus preserving the desired flavor characteristics for seven to 10 days.
Contemporary strains of sweet corn offer the grower an array of options, and farmers in New England, whether they're selling at farmers markets or running a small neighborhood farm stand or supplying supermarket chains from hundreds of acres, have plenty of ways to capture the consumer's dollar.
The development of these new strains is the result of many years of intensive study of the DNA of the sweet corn plant and the application of modern knowledge of plant genetics and reproductive biology. The varieties of sweet corn are categorized by their genotype, with the common types being normal sugary, sugar enhanced and supersweet, based on their genetic makeup.
More recently, new categories have emerged, drawing on a mix of genes from the major genotypes and bearing such mind-bending names as "homozygous sugary enhanced," "synergistic sweet breed" and "augmented shrunken."
Sweet corn traditionally has been a relatively easy crop to grow in New England. It adapts to a wide variety of soil types and is favored by the region's fairly abundant natural rainfall. Weed control typically is the biggest challenge, and for generations it was accomplished by hand labor or mechanical cultivators drawn by horses or tractors, chores now replaced on many conventional growing operations with chemical herbicides. Insect pests have always been a problem as well. Organic producers have their own protocols for weed and insect control, but these problems are costly to manage whether they occur in conventional or organic operations.
Stretching the Season
The scientific advances in plant breeding and production strategies have changed the structure of the sweet corn business radically — both nationally and here in the Upper Valley — over the past two decades or so. The changes wrought in sweet corn are the same as those that have affected other highly perishable crops such as strawberries.
Breeding sweet corn to have higher levels of sugar and then keeping that sugar from fading into starch for several days has enabled sweet corn to be harvested and hauled great distances to markets, offering consumers a product that generally meets their expectations for flavor. A shipment of corn harvested in Georgia on a Monday in April can ride in a refrigerated tractor-trailer unit and arrive on Wednesday to a New England supermarket distribution center, be broken down and reloaded onto trucks and into retail store displays by Thursday and then have two or three days of shelf life and spend a day or two in the consumer's refrigerator and still have decent flavor.
That has upended the traditional model of having distinct seasons for various crops being presented to retail customers in the Northeast. Strawberries used to be a late-spring or early summer item, but now they're available year-round thanks to advances in plant breeding that allow berries to be grown and shipped from California, Mexico or South America to the cold regions of North America in any month and hold their flavor and appearance throughout. Same with sweet corn, which had long been a late-summer crop much anticipated for eating on the cob. But it's now possible to find ears of sweet corn in food stores virtually every month of the year.
Worth the Effort
That has led some farm stand and market garden operators in the Upper Valley to call sweet corn a diminishing market not worth a flat-out production effort. Consumers have come to expect to find it whenever they want it, and to believe that Southern-grown corn is good enough whatever season it is. And they tend to buy just two or three ears at a time, not the standard dozen that was long the norm for local corn sales.
But other growers are hanging on. They'll say there's still a large bloc of shoppers who figure an ear of corn grown at a nearby farm will taste better than the one from the big-box supermarket in town, and they'll go out of their way to get it, and maybe even pay a premium.
One grower who feels this way is West Claremont resident Ellsworth Putnam, who plants upward of 30 acres of sweet corn on rich soils next to the Connecticut River in Cornish and Claremont. He works with five different varieties, and he plants every 10 days so that he has ears ripening continuously from mid-July all the way to late October's killing frosts. About three-quarters of his corn is sold at a tiny stand in his front yard along busy Route 12A, and the rest is wholesaled to farm stands up and down the valley.
He is in the cornfields before daybreak along with a handful of family and neighbor helpers and says he's certain his business is strong and growing because his customers know the flavor difference between his corn and that hauled from hundreds of miles away.
For years, regulatory agencies in the New England states have waged war on sellers of sweet corn who claim their ears are "local" or "native" or "nearby" when it's quite probable they have sourced their ears from the Chelsea produce market outside Boston. All the states have laws laying out the meaning of such terms in attempts to protect their producers from unfair and misleading claims. Another variant is the use of "our own" to make the buyer think the corn was produced right next door when all it really means is the seller bought it from a wholesaler someplace and now "owns" it.