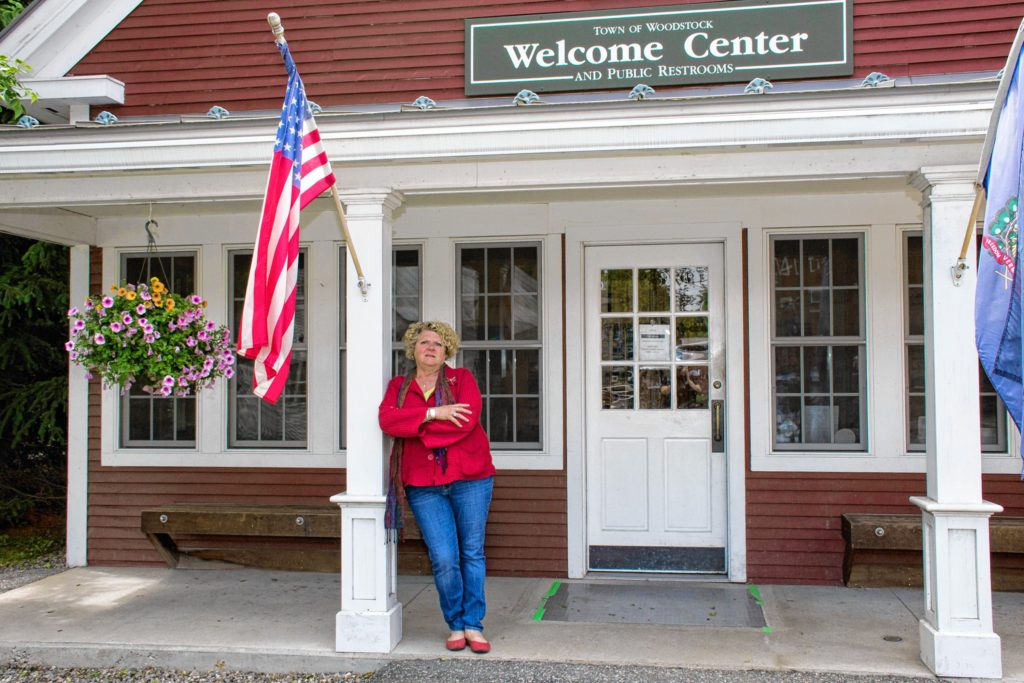 Beth Finlayson was contributing to the community long before she became director of the Woodstock Area Chamber of Commerce.
Finlayson and her husband moved to Barnard in the 1970s, and she became an advocate for older adults at the White River Council on Aging. From there she developed the Woodstock Area Council on Aging, and eventually spearheaded a million-dollar capital campaign to fund the Thompson Senior Center, which opened in 1991 with Finlayson as executive director.
"I was there for 18 years and it was my third child. I had two children in the middle of that process, but the Senior Center has always been my baby," Finlayson said from her office on Mechanic Street, just weeks after her husband of nearly 39 years, Ron Brown, passed away in May.
Down the road at the welcome center, construction workers were putting the finishing touches on a $100,000 renovation that includes new office space for the chamber. The center, which was built by the town in 2006, is the hub of the chamber's activities. Members can leave brochures, and visitors can use the town's only public restroom.
About 41,000 people visit the center annually, and on one day during foliage season last year, 1,200 people walked through its doors.
After a 12-year stint in Maine, Finlayson returned to Barnard and ran one of the Red Cross chapters in Vermont from 2004 to 2007, the year the position at the chamber opened up.
"The Red Cross was a huge job, and it took me places in the middle of the night," Finlayson said. "When I saw the (chamber job opening), I thought, we moved here because it was beautiful, we moved here because of the lifestyle, and I just knew that I could take some of my executive ability and promote the area."
When Finlayson took over in 2007, the chamber had only one fundraising event to speak of: the Covered Bridges Half Marathon Pasta Dinner. It sponsored the annual Wassail Weekend in December, a hugely popular and top-10 event in the state, which nevertheless made no money. The event now has sponsorship opportunities and is becoming profitable.
During her tenure, Finlayson has created Taste of Woodstock and the Woodstock Arts Festival; the chamber also sponsors the Market on the Green, a weekly farmers market, from June through October. All the events now are revenue-producing and the money raised is used to promote the area.
Some of that funding goes toward the chamber's social media outreach efforts, which is a vital part of Finlayson's marketing strategy.
In 2015, the chamber overhauled its website, investing in a calendar widget that links local events to the state's website. Last year, the site had about 1,200 visitors a day, and Finlayson is working to regain ground lost as a result of the overhaul.
"We also have a Facebook page and a Twitter account, and a weekly online newsletter that goes to about 5,000 individuals," Finlayson said. "We use social media quite a lot."
The Woodstock Area Chamber of Commerce, which serves Woodstock, Bridgewater, Barnard, Pomfret, Windsor, Reading and parts of Quechee, has about 230 members. Like other chambers in Vermont, the Woodstock chamber lost membership in 2012 when members were able to purchase insurance through the Affordable Care Act. Finlayson is working to increase membership and get it "back on track."
Beginning this year, the chamber has held focus groups to identify member needs and ways to attract new participants. One resulting initiative is outreach to the area's second-home owners. This summer, the chamber is hosting a welcoming event to discuss ways for them to become more a part of the community, including volunteering opportunities.
"What's in Woodstock beyond their piece of property? Sometimes I'm sure they may not feel as much a part of the community as we would like them to," Finlayson said.
Other initiatives undertaken by Finlayson include beautification of downtown Woodstock, extending shop hours from Memorial Day to Columbus Day and a parking ticket validation program, sure to make visitors happy.
While all of these efforts benefit the town of Woodstock, Finlayson's goal at the chamber is to promote the entire area.
"We have such fabulous artisans, this whole artisan corridor — from Simon Pearce, to Farmhouse Pottery, to Shackleton Thomas, plus great galleries right in Woodstock. To the south we have Hall Art Foundation."
"She's the epitome of a real chamber executive," said PJ Skehan, executive director of the Hartford Area Chamber of Commerce. "She really cares about her members and she's very dedicated," he said. "Beth runs a lot of very successful events throughout the year, and we are finding that non-dues revenue is the way forward."
One of Finlayson's goals is to make Woodstock a year-round destination, and she is particularly focused on the "shoulder seasons." In 2014 she created the Maple Madness event to promote sugarmakers during a traditionally slow period. The event has many activities, including free sugar-on-snow on the town green. Due to a lack of snow this past winter, a snow cone machine had to be brought in.
"We had a lot of millennials this year," Finlayson said. "It's amazing how many people have never had sugar-on-snow."
"When I took this position, I really wanted to help make Woodstock relevant in this day and age and maintain the character and beauty of times gone by," Finlayson said. "That's really our philosophy."