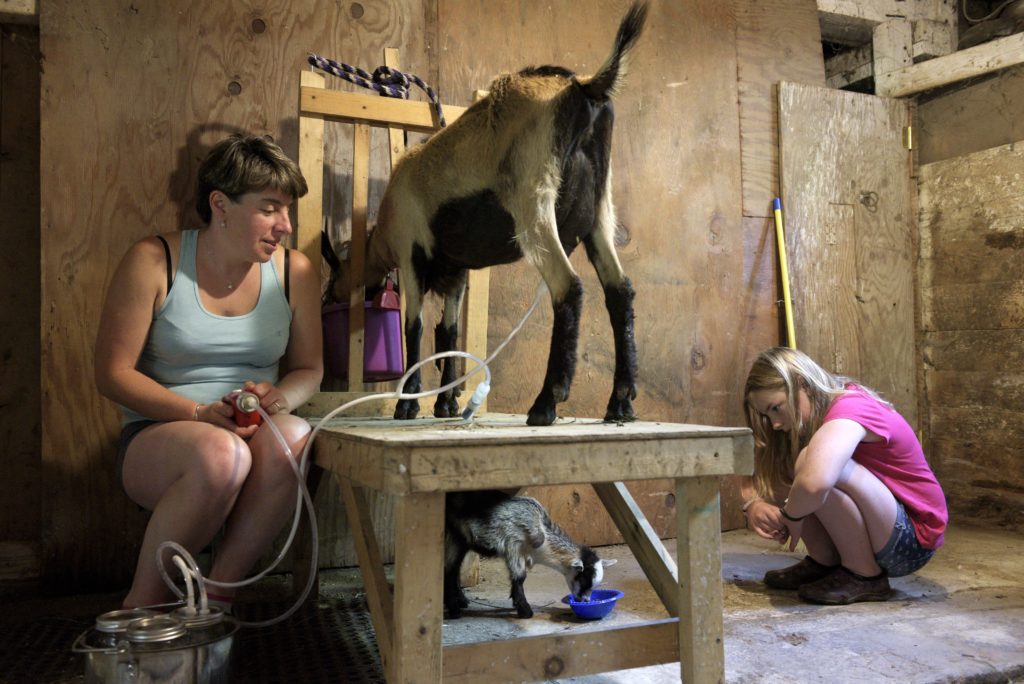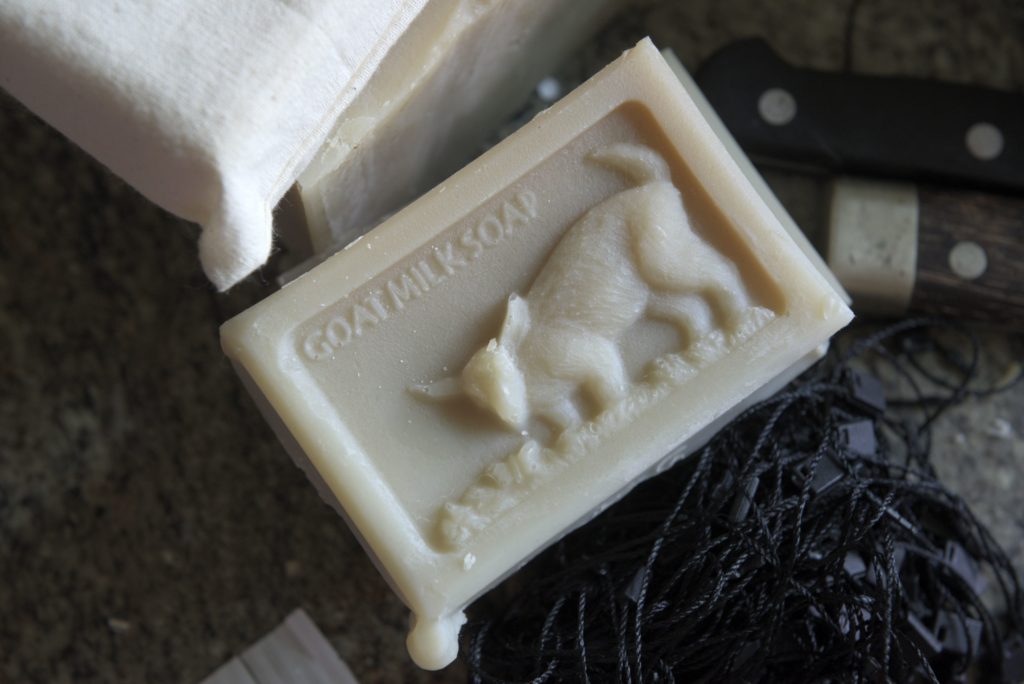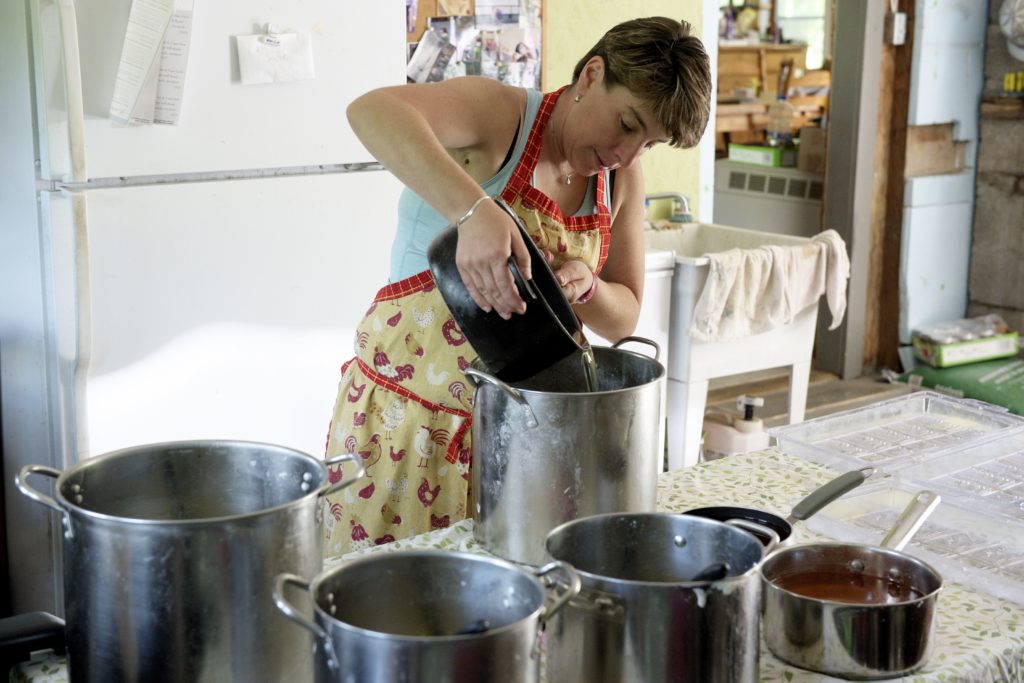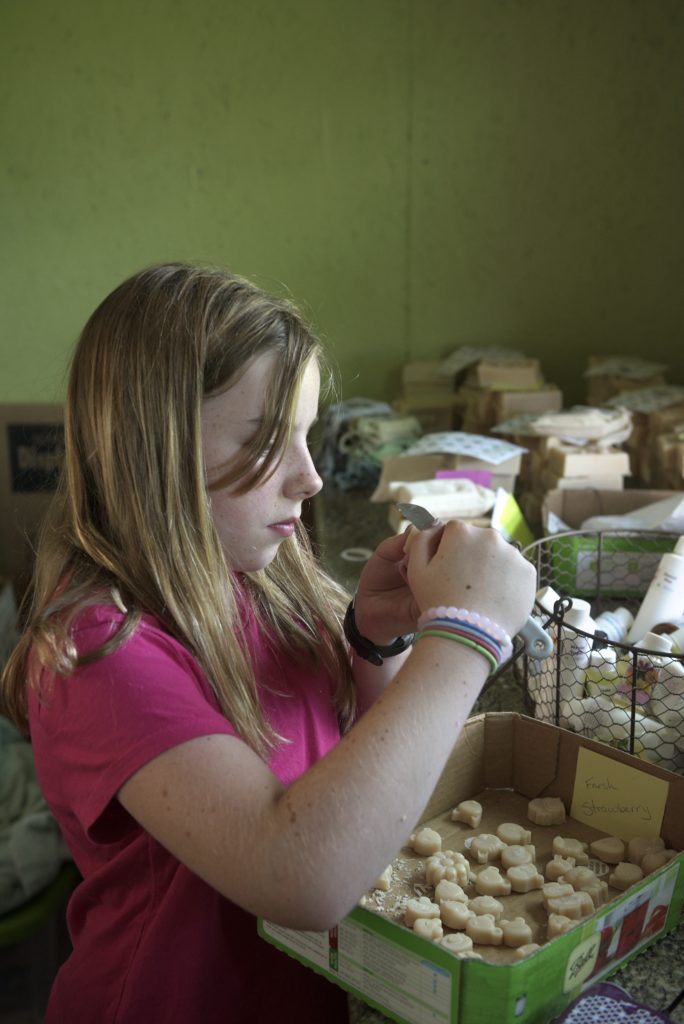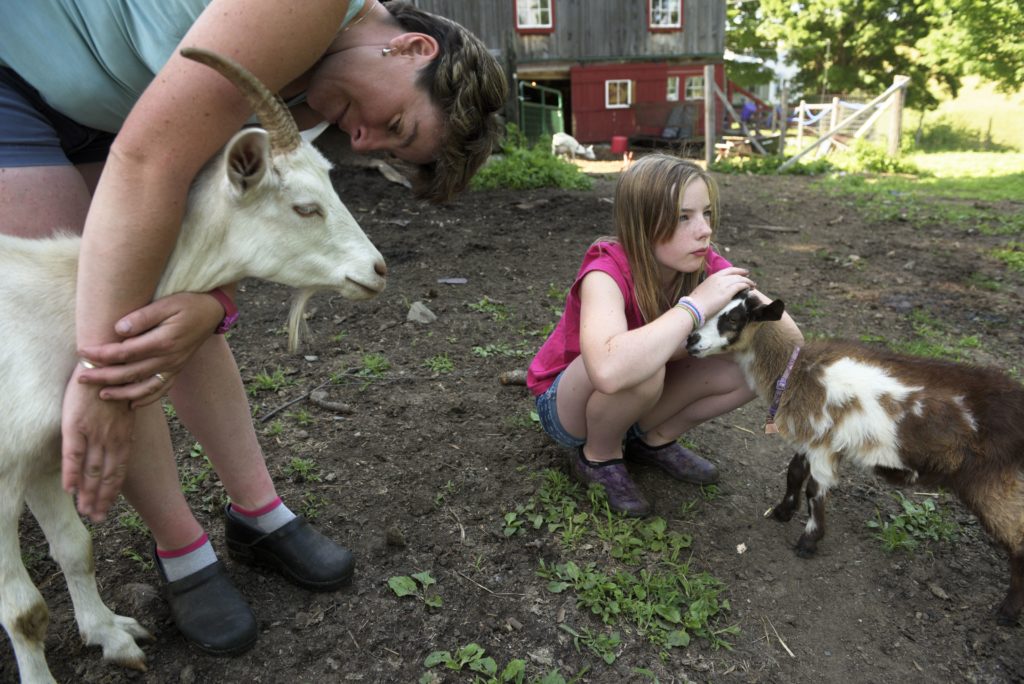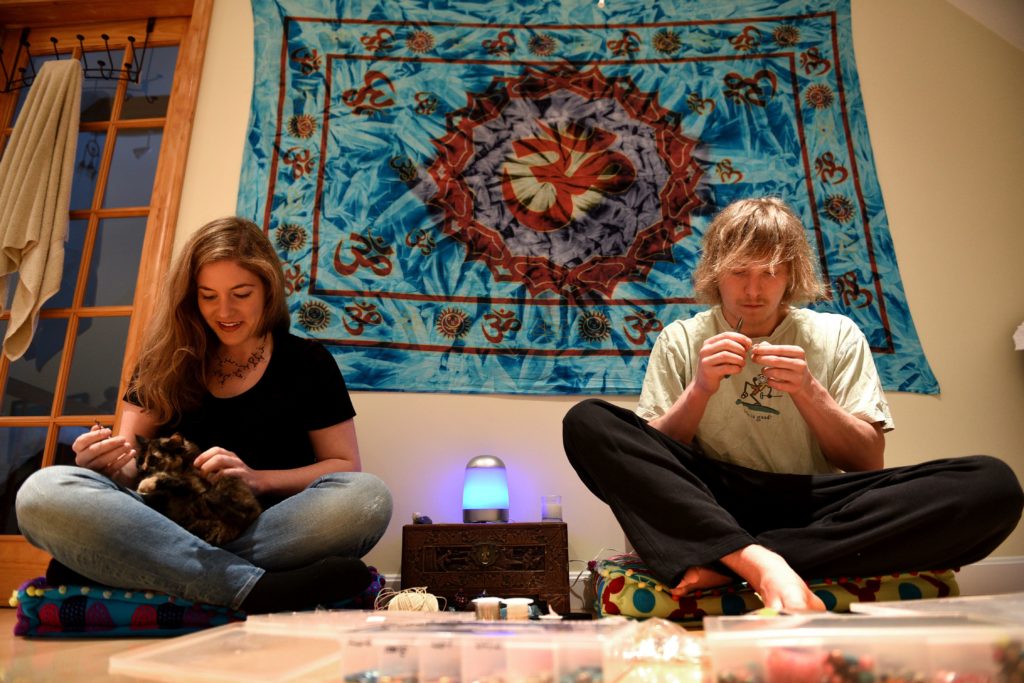 A recent summer morning found Tina Tuckerman doing a sort of goat milk-centered dance, gliding from kitchen to workshop, tending to yogurt, cheese and soap, all the while talking with her daughters and sidestepping two furry rescue dogs.
"We don't sit still around here," said Tuckerman, 40, who with her husband, Brad, owns One Chicken At A Time Farm, based at the 135-acre Barr Farm in South Woodstock. Tuckerman and her family live in the farmhouse that had been her grandparents' home, and her parents live on another part of the property.
The family sells everything from vegetables to Christmas trees to knitted items, but the "essential product" is made from milk from the farm's herd of 40 goats, all of whom are named.
Sales of the soap, which usually retails at $4.50 a bar, helps allay expenses, including the $15,000-a-year tax bill on the property, which is in current use. The Vermont program provides tax breaks on farmland and forests.
"It's covering the essentials so we can keep the farm," said Tuckerman, whose family has farmed the land since 1909.
Tuckerman has farmed for years, but she waded into soapmaking only after her daughter Lillie, now 13, got a pony for her fourth birthday.
"It was very lonely, so I was on the hunt for a little goat," Tuckerman said. Thye buck she found was "just awesome," and not long after, she bought a doe that happened to be pregnant.
Then, people started giving them goats.
"At that point, my husband says to me, 'You have eight goats. What are you going to do with them?' "
She looked into selling the milk, but was put off by the paperwork and expenses. By then, Lillie had started to develop skin allergies, so Tuckerman decided to make goat milk soap, which is gentler than other soaps.
The first few batches were a struggle, but by the fifth try, she "kind of got it down."
These days she's tweaking her recipe to make it more consistent: Too much sunflower or coconut oil makes the soap too oily; too much soy, and it's waxy, she said. "It's a perfect science."
Tuckerman, a former special education teacher, has multiple sclerosis, which saps her energy every few days. In 2010, she left teaching to farm full time. It's been a good fit.
On a bad day, "I can start a batch of soap and go sit and knit or do bookwork or do something very quiet," she said. But the highlight is spending time with her daughters.
From packaging soap to milking the goats, "they help me do it all," she said. "They're often my shepherd(s). They go out and play with them."
That's her favorite job, said Lillie, who's taken top prizes for showing goats at regional and New England 4-H competitions. "I'm an animal person."
On a recent morning, 11-year-old Violet poured scents into the warm soap mixtures, which have the consistency of pudding. Tuckerman finished the job with an immersion blender. While she sells some unscented soap, her best-sellers are "Lavender," "Vermont Red Clover" and "Busy Bee."
She sells the soaps and other products at a farm stand on their property and at the South Woodstock Country Store. Kiss the Cow Farm in Barnard also carries her soap.
After years of being a fixture at local farmers markets, Tuckerman recently stepped away to focus on her farm stand and getting her soaps into more stores. The change is due, in part, to regulations. Many venues limit the sale of items in which less than 60 percent of the ingredients are grown locally or by the seller. Meeting that mark won't be easy, said Tuckerman, who's up to 40 percent. But using herbs from her garden helps, and she's looking to grow and press sunflowers for oil.
Advertising is another challenge. "I'm so busy farming, I don't have time to say, 'Hey, look at me,' " said Tuckerman, who also leads 4-H activities.
Even so, she's been posting on local email lists and elsewhere online.
"We help her with websites, like Instagram," Violet said. "She mostly does Facebook."
Recently, Tuckerman was invited to promote her farm and farm products in New York City's Union Square as part of an Amtrak initiative for farms that offer agritourism, and a New York-based company with products in several big cities has taken an interest in her soaps. But Tuckerman said she'll have to see how much they'd want.
"I'm not going to put in a factory," she said. "When (my family does) a product, we do it from scratch. We do it by hand."
Tuckerman also works about 20 hours a week for other local farms, but her goal is to grow the soap business big enough that she and her father and husband, both of whom work in property management, can leave their outside jobs behind. They'd work the farm full time as a family and "do it all."
"We could expand on (the Christmas trees) and the logging and sugaring," she said. "Everything that now is minimal will become a bigger part."
She's looking to her "girls" — the four-legged ones — to help take them there.