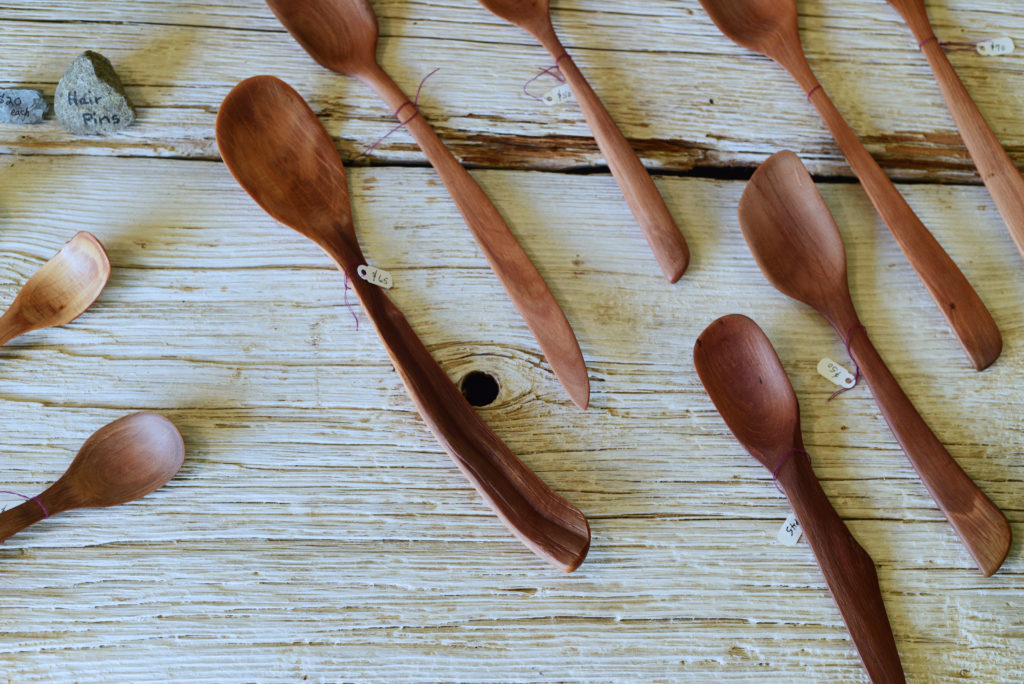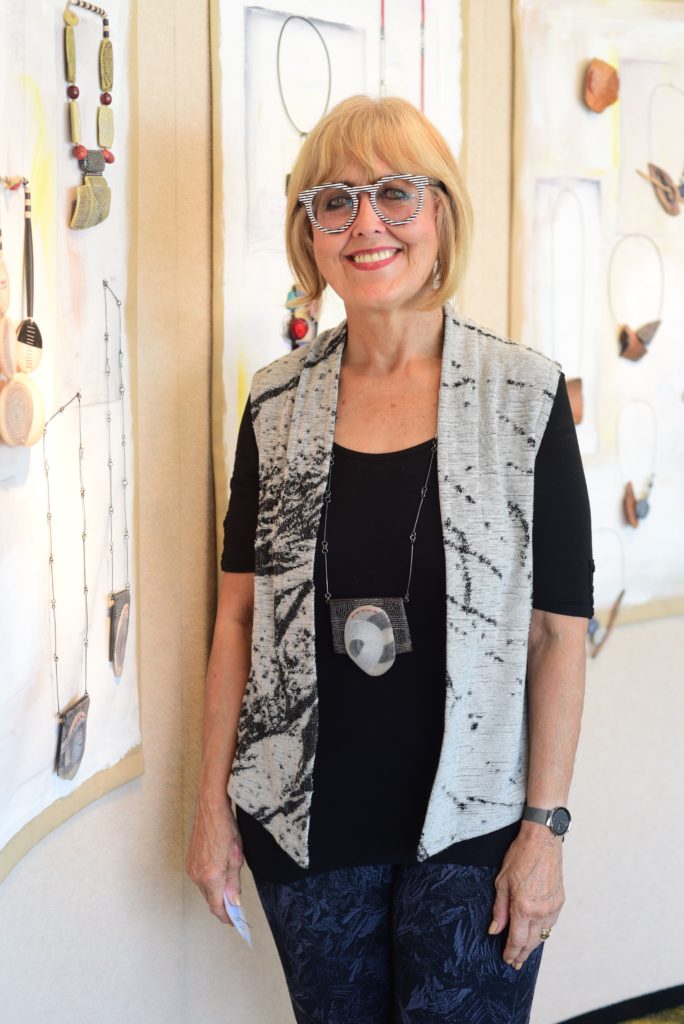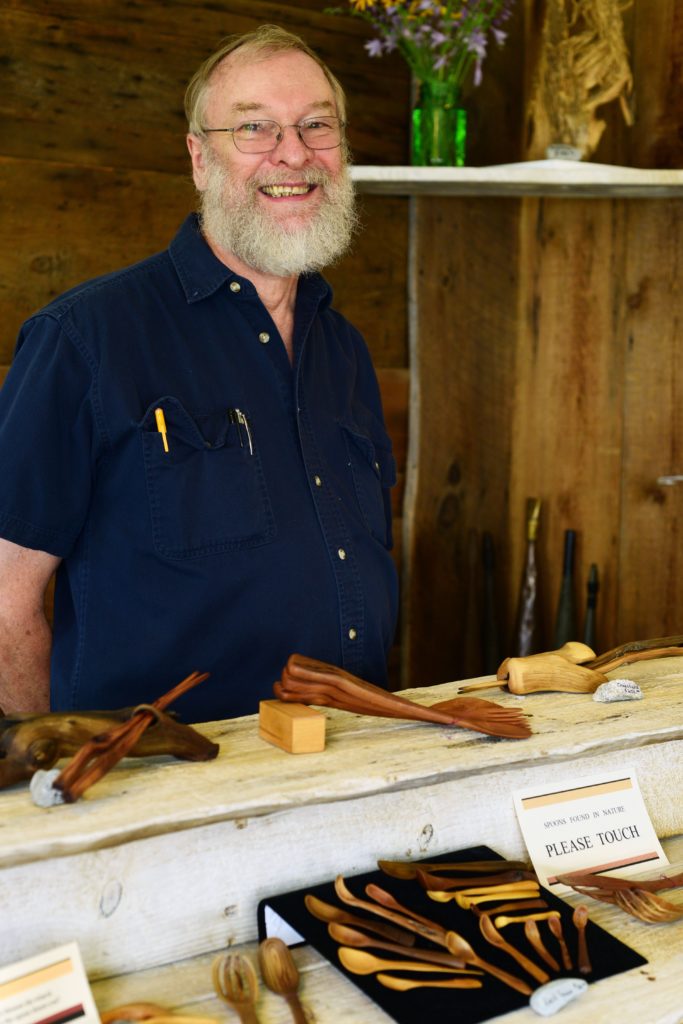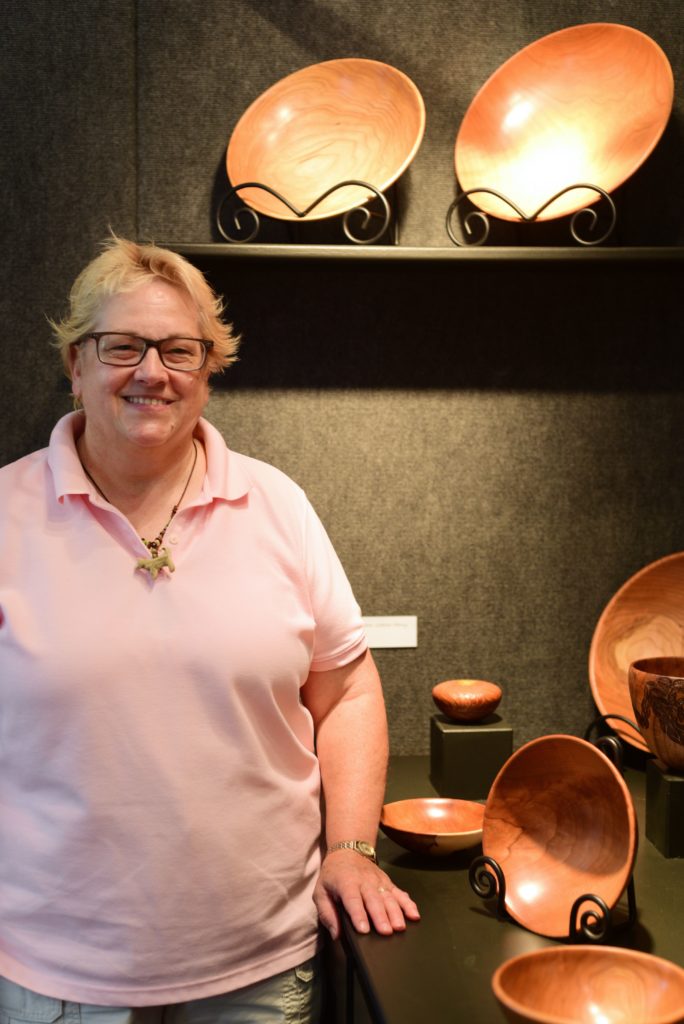 As summer rolls on, a spike in temperatures is a given, but for participants in the League of New Hampshire Craftsmen's Fair, the heat is really on. For many, the 83-year-old event provides a good chunk of their annual income.
It's not for the faint of heart, said Jane Oneail, the league's executive director. "For nine days your family and friends help you load in and out, or take care of everything at home while you're here. Everyone kind of puts life on hold," she said.
Yet most are regulars. A New Hampshire tradition, "when you become a part of it, you want to (keep coming back)," Oneail said.
Hundreds of league members make the annual pilgrimage to the base of Mount Sunapee for the event, which attracts more than 20,000 visitors. It's not uncommon for artists to work year-round to prepare.
Crafters are expected to have full booths throughout the fair, so people who can't get there on opening weekend still have a good selection, said Donna Zils Banfield, a woodturner from Derry, N.H. "It takes a lot of time to accumulate enough inventory."
In fact, just setting up the booths, which are juried, is time intensive.
An extension of the league's high standards of excellence, the displays complement the work, Oneail said. "Everything looks elegant, as if you're walking into a mini pop-up gallery."
Booth scores determine a craftsman's placement at the fair the following year. Banfield's — a tastefully lit exhibit of her wooden servers, spoons and bowls — received an honorable mention this year.
Enterprise talked with a number of artists during and after the fair, held Aug. 6-14 at Mount Sunapee Resort in Newbury, N.H. Many sell their creations in the league's eight fine-craft galleries. Some have shown their work internationally. Others teach or serve as jurors. But they all share the experience of the annual gathering. (A directory of league artists is available at http://www.nhcrafts.org.)
Christopher Morse, Oculus Press, Grafton
As a full-time artist, Morse did 35 shows a year, all over the country. Now an art teacher at Mascoma Valley Regional High School, he may do a few a year, but the league event, consistently among his "big providers," is a must.
"It is a real gem we have here," said Morse, a 29-year veteran of the fair whose work includes color etchings. The quality of the handmade work is excellent, and the new director is making it "more of a craftsmen's fair," a change he's all for.
"The real collector finds meaning in the level of craftsmanship and the story of the particular craftspeople," he said. And new league programs help connect the crafters with the larger community.
His sales at the fair have "had a peak," said Morse, who figures his customers come from positions in life similar to his own, "teachers, not CEOs."
But he hopes that as the economy shifts, the middle class finds the disposable income they "so enjoyed at the beginning of the millennium, before we went to war in Iraq," he said. And there's more to the fair than finances.
"If you've done it for a while, you have customers who come and check on you every year," Morse said. "You literally have grown up with some of them and watched some of them grow up, too."
Catherine Green, printmaker, Stratham
Green's art takes her to shows in Massachusetts three times a year, and, for 30 years running, to the League of New Hampshire Craftsmen's Fair. For Green, the league's standards and gallery manager, there are all sorts of reasons to return.
The fair is financially rewarding, which she attributes in part to its length and number of visitors, Green said in an email. "It's the equivalent of doing three back-to-back shows without the requisite taking down and putting up every three days."
It's also a good time to catch up with the others in the league, a juried membership organization whose members work hard to maintain high standards for their work, she said. "I have been a juried member since 1983, and some of my friendships began then."
But being with her customers, many of whom have become friends, tops her list. "They bring me photos of my work in their homes, and I am touched by and grateful for their support of my efforts."
They share their poetry with her, send her Christmas gifts, and invite her to their homes, Green said. "It is these connections that makes the hours in my studio really matter."
Sam Wild, Wild Pottery, Wilmot
For 45 years, Wild has been a fixture at the fair, which accounts for about half of his annual income. He's also done a lot of business with a fish and game club near his studio. But the league event is the only fair he takes part in. He'd likely do more, if it weren't for his display setup. The black wooden units, which he had made by a cabinetmaker who is no longer around, are heavy and time-consuming to put together.
"I'll be the last one leaving on Sunday," Wild said on Aug. 13, the last Saturday of the fair.
But his efforts didn't go unrewarded: His booth received an honorable mention this year.
Kathleen Dustin, polymer clay artist, Contoocook
Dustin has been making her living as an artist for three decades. She shows her wearable art, purses and jewelry at about six national shows a year, occasionally exhibits in galleries, and teaches master class workshops around the country. She's been a regular participant at juried fine-craft events around the country, including the Philadelphia Museum of Art Contemporary Craft show, the Smithsonian Craft Show, CraftBoston and the American Craft Exposition. She's been exhibiting at the league's fair ever since she moved to New Hampshire 16 years ago.
"I make a living making and selling my work, and it is worthwhile for me to do it," Dustin said in an email. The fair provides about 10 percent to 15 percent of her annual income.
Cousins by marriage, she and spoonmaker Dan Dustin (see below) collaborate on a series of neckpieces.
Donna Zils Banfield, woodturner and carver, Derry
Preparing for the fair, which accounts for more than half of Banfield's annual woodturning income, requires thinking ahead. Salad bowls, her staple item at the fair, can take up to three years to finish, said Banfield, because of the drying time for freshly cut logs.
Banfield, a former lawyer who also teaches part time at the University of Massachusetts at Lowell, had been a regular customer at the fair well before she delved into woodturning. Impressed by the artisans' level of craftsmanship, she decided to try woodturning herself and eventually became juried into the league.
In the process, she honed techniques such as pyroengraving, or wood burning, something no one in the league was doing then, she said. "I didn't want to be just another woodturner."
Brita Ek, Swedish wool embroidery, New London
Ek was in her late 40s or early 50s, taking care of her mother in Sweden, when she picked up the 19th-century embroidery technique, using wool yarn on wool fabric. Since then, the hobby has provided extra pocket money, something to do and a way to meet people, said Ek, a native of Sweden who started taking part in the fair a few years ago.
Ek, now 76, sells her work in some of the league's stores, including the one in Hanover, and sometimes at a little church Christmas show, she said. But the League of New Hampshire Craftsmen's Fair is her big annual event.
She embroiders every day, making bolsters and other items, but the winter months are dedicated to making the 9-inch square folk art cushions featured at her booth.
A small soft, item, they're easy for people to carry, she said. "It's a nice little souvenir."
Thanks to her habit of flying a small Swedish flag at her booth, she meets a lot of people with Scandinavian backgrounds, she said. "I find it very interesting, all the people I meet."
Dan Dustin, hand spoonmaker, Contoocook
After 42 years at the fair, Dustin knows what he needs to do to prepare: Start in December.
His most important event of the year, the fair accounts for probably close to half of his income, said Dustin, who also hand hews barn beams and gives flute lessons. And part of its allure is the chance to see old friends, such as Wild, whom he's known for decades.
The second to last day of the fair found Dustin talking and laughing with customers at his booth, which received an honorable mention. Handing a spoon to a customer, Dustin thanked him for buying it.
"Thank you for making it," the man replied.
Valley News staff writer Aimee Caruso can be reached at acaruso@vnews.com or 603-727-3210.
The Business of Art
Fair sales in 2015: $2.2 million
Percentage of the league's 700 juried members who participate in the fair: 50 (either they have a booth or work in the The Shop at the Fair, a co-op run by the craftsmen.)
Visitors to the 2016 fair: more than 22,000
Annual sales through the league's eight fine-craft galleries: $2 million
Average amount an attendee spends per arts event (not including admission fees), according to Americans for the Arts: $24.60
Source: League of New Hampshire Craftsmen, Americans for the Arts