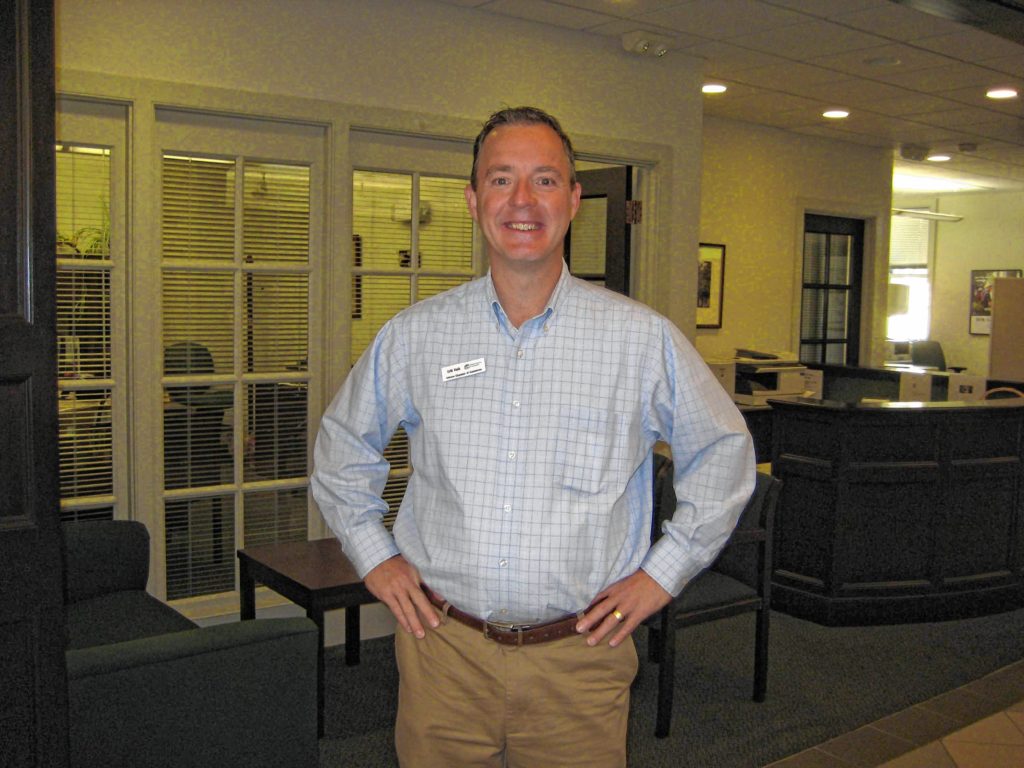 When Erik Volk and his partner of 29 years purchased their property in Groton, Vt., in 2012, they were thinking about early retirement. At the time they were living in Attleboro, Mass., and came up to Vermont nearly every weekend. Then they made a life-altering decision.
"I wanted to get out of the corporate world and do things we'd always wanted to do, like consulting and be more involved in community work," the 49-year-old said over coffee at Bliss Village Store in Bradford, Vt. "We got rid of all of our furniture and most of our possessions to simplify our lives."
They moved to Groton permanently in spring 2014. Volk is on the town library's board of trustees and the historical society, but wanted to do more.
When he saw last year's advertisement for a new executive director of the Cohase Chamber of Commerce, it seemed like a perfect fit.
"I saw this opportunity and thought I would love to do that. I can help the businesses and the economics of the nearby communities that I frequent," he said.
The fact the job was part time meant that Volk could continue pursuing his corporate consulting and teaching at Vermont Technical College.
Since taking over the position in August 2015, Volk has increased membership to 147 from 117 and also is developing a number of fresh initiatives. The chamber has a newly revamped website, and Volk is active on social media.
One of the few chambers in the country to have members from two different states, the Cohase Chamber encompasses the Vermont towns of Newbury (including Newbury Village, Wells River Village and West Newbury Village), Bradford, and Fairlee; and on the New Hampshire side, Orford, Piermont, and Haverhill and its villages.
About 64 percent of its members come from the Vermont towns, and about 34 percent from New Hampshire, with 2 percent from other towns or states. Just over 40 percent of the chamber's for-profit members are businesses with five or fewer employees.
In discussing the members, Volk emphasizes their devotion to the communities in which they live and work.
"I'm constantly astonished. I feel like I'm busy, but some of these business owners are just so involved in so many things and running their business and sponsoring events, not just for the chamber but for all sorts of charities. The people amaze me," Volk said.
He stresses that when he talks about business, it's important to remember agriculture and related businesses. The chamber recently sponsored a farm tour so community members could get to know their local farmers.
"Some of these folks who run farms are just some of the most hardworking, salt-of-the-earth people. We want to make sure that people know about all the resources readily available to them in the area," he said.
Another segment Volk is passionate about is what he refers to as the creative economy, comprised of artisan and craft-related businesses.
He noted the plethora of creative individuals who live and work in the region, and how their contributions make the area a great place to live, too.
In September, the chamber hosted the seventh annual Film Slam, where teams have 48 hours to make a film, which are screened at the end of the weekend.
"One of the reasons we do the Film Slam is to showcase the talent we have here," Volk said, "and to foster that economy and people who are involved in films or want to be involved in films."
Volk also is focused on finding solutions to challenges faced by local businesses through the economic development and workforce development committees. One challenge businesses face is attracting workers, both for highly skilled and lower-paid positions. The chamber has partnered with educational organizations, including River Bend Technical Center in Bradford, to try to establish programs that will connect employers and students.
"Of special interest to me is vocational training. I think that sometimes gets overlooked. People think (they) need to have their children go to college and get a specific degree, when in fact there's lots of opportunities in vocational areas. Not to denigrate the college path, but there's more than one path," Volk said.
On the economic development side, the chamber hosts an annual economic summit where elected officials are invited to listen to reports and concerns from community leaders from the towns and villages under the chamber's umbrella.
"It's one of the few times I'm aware that New Hampshire and Vermont legislators and various types of town officials come together to hear community leaders, to talk to people who are in another state but in the same region," Volk said.
The list of events and education forums the chamber sponsors is impressive, especially considering that Volk officially works part time.
He's a fireball of energy who peppers his conversation with bursts of laughter, and though born in Warwick, R.I., he is the quintessential Vermonter. When he's not attending to chamber business, consulting or teaching, Volk can be found kayaking, hiking, cross country skiing, mushrooming (a new passion) and roaming graveyards.
"I'm a big graveyard buff, and spend time photographing gravesites so they can be archived online for people to access when doing genealogical research. We have a lot of historic graves in Vermont, and it's important before they disintegrate that we capture the information on them," he said.
Volk's plan for early retirement might have to be put on hold for now, and that's OK with him. He's too busy enjoying and promoting his adopted home to contemplate putting his feet up.
But it's a safe bet that when he does, he'll be looking out on the green hills of Vermont.