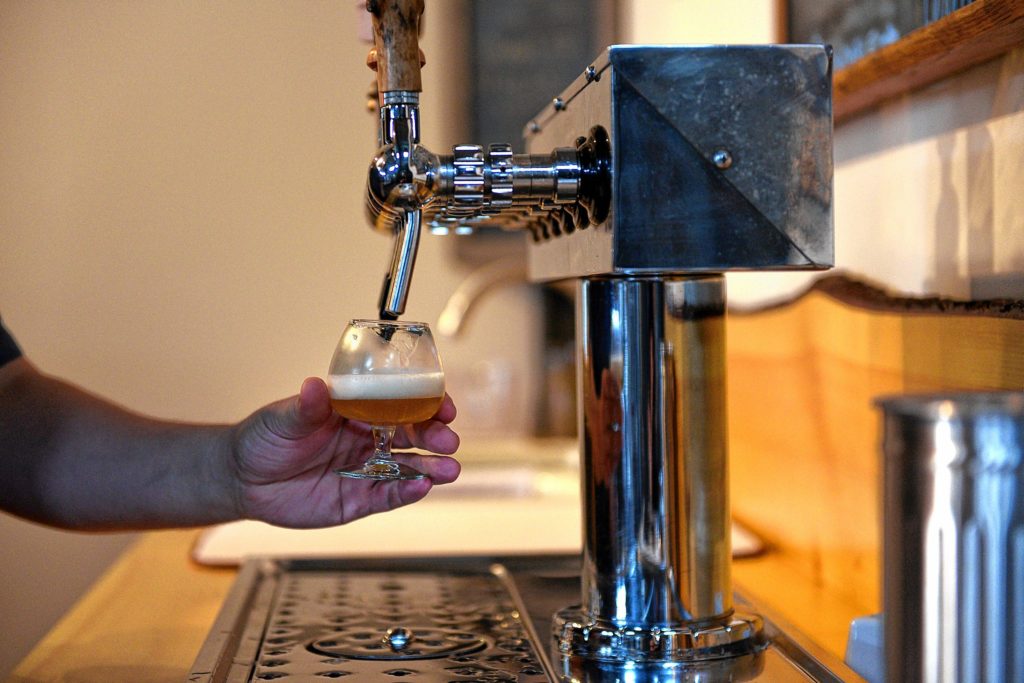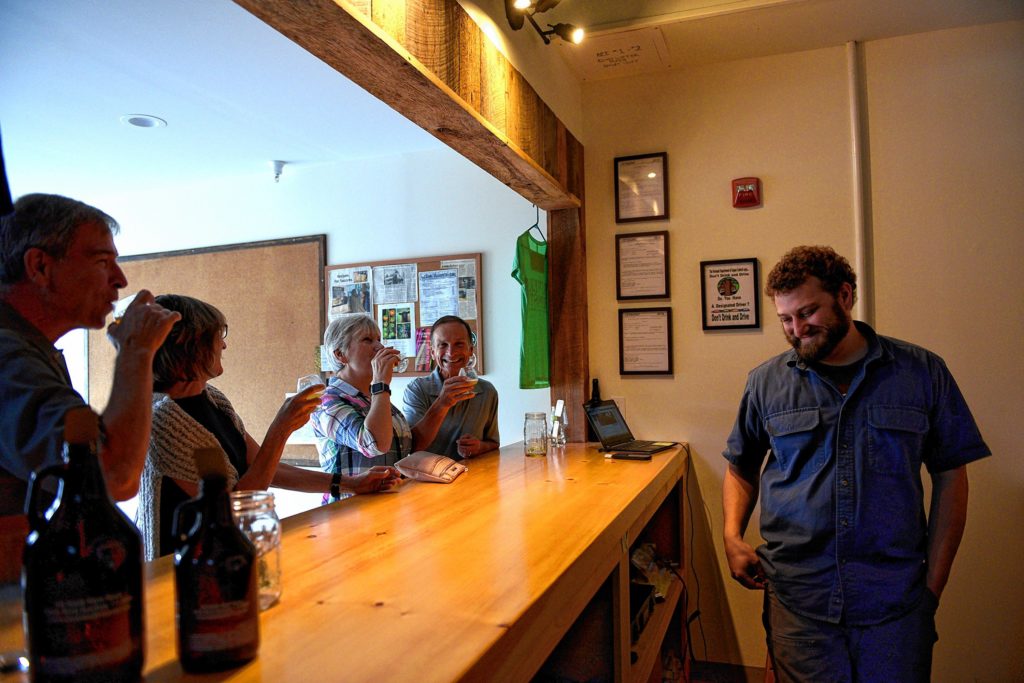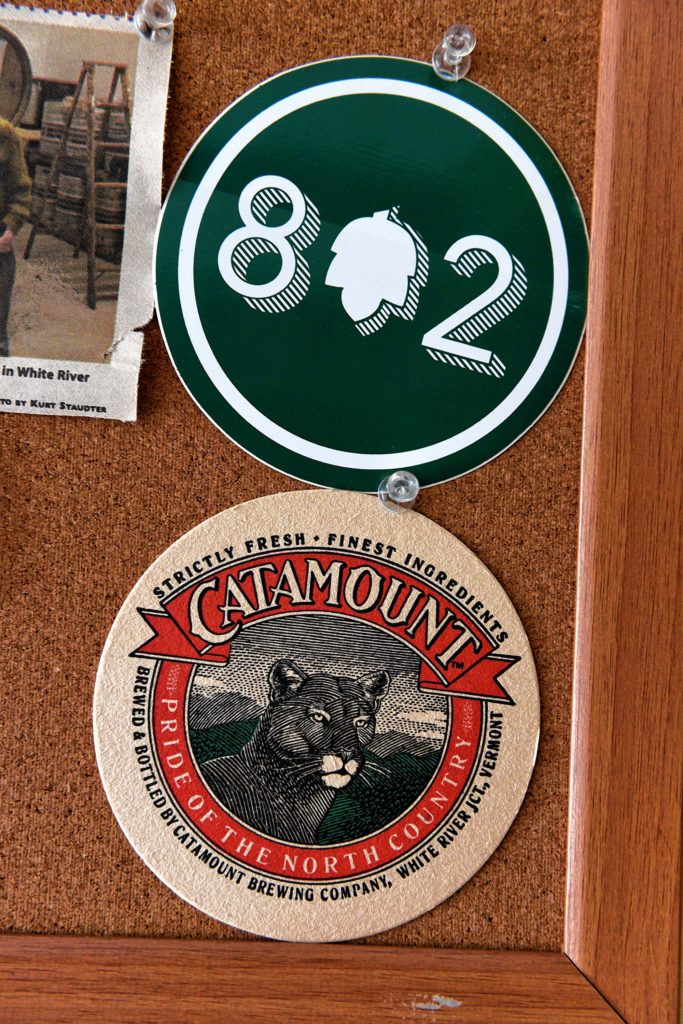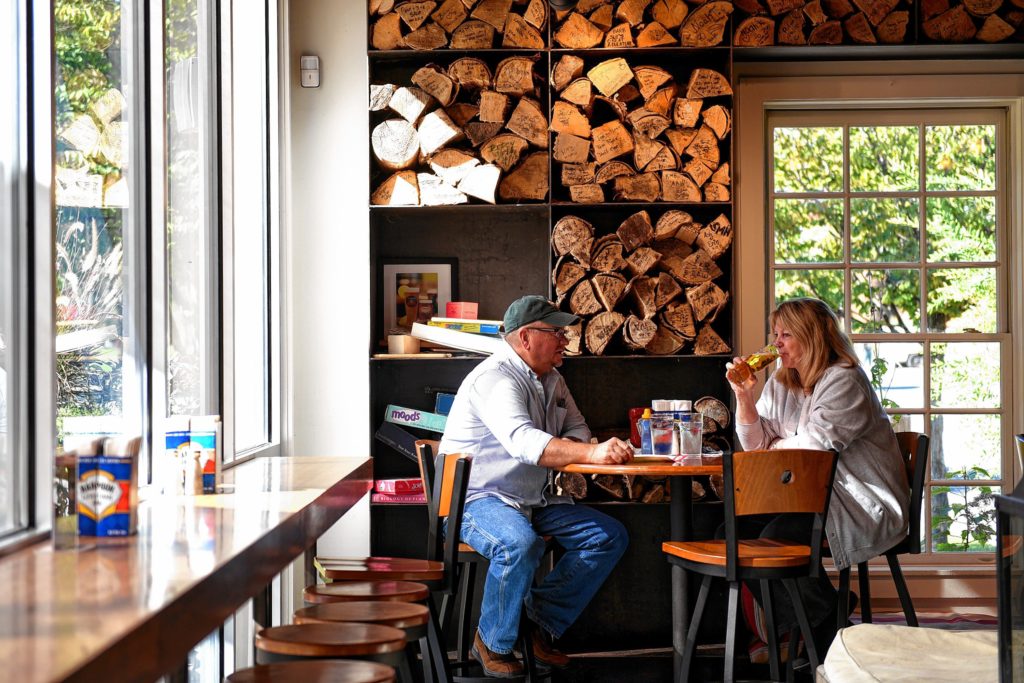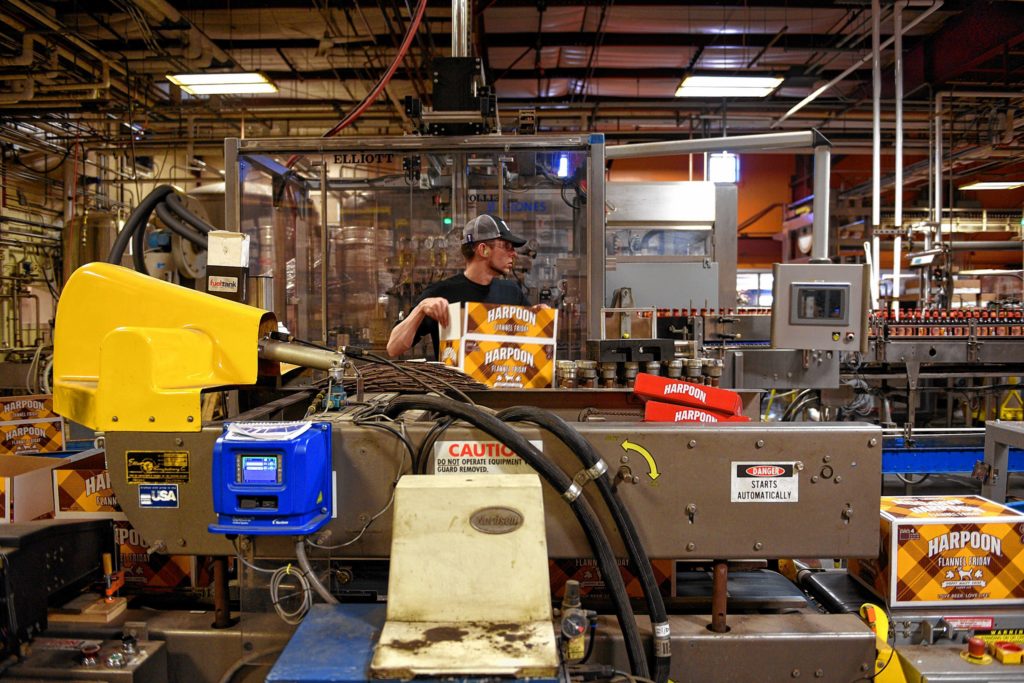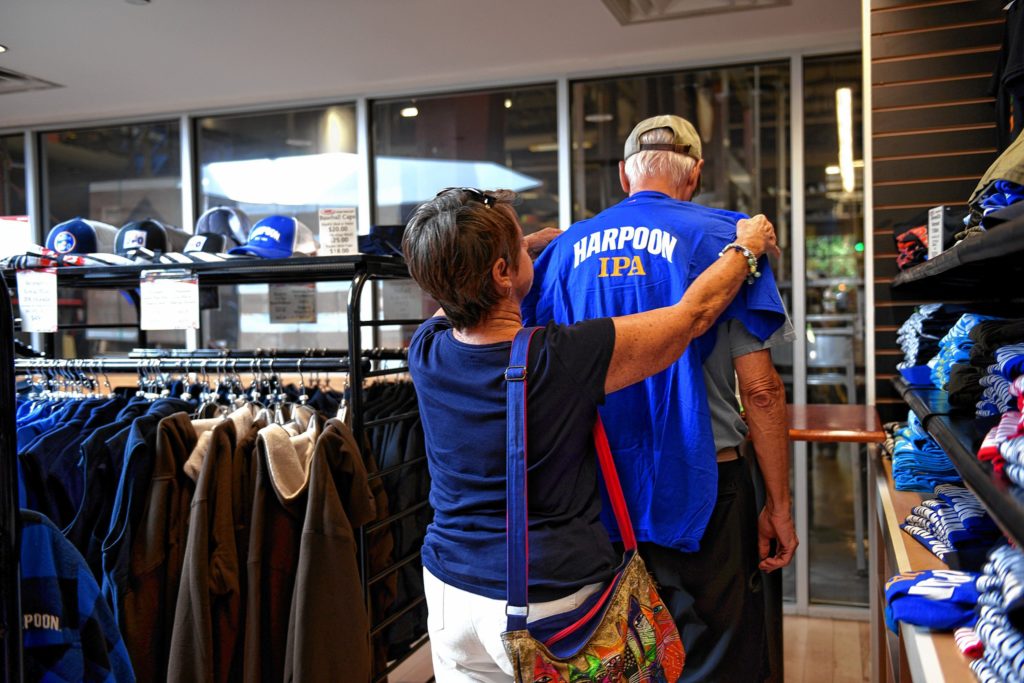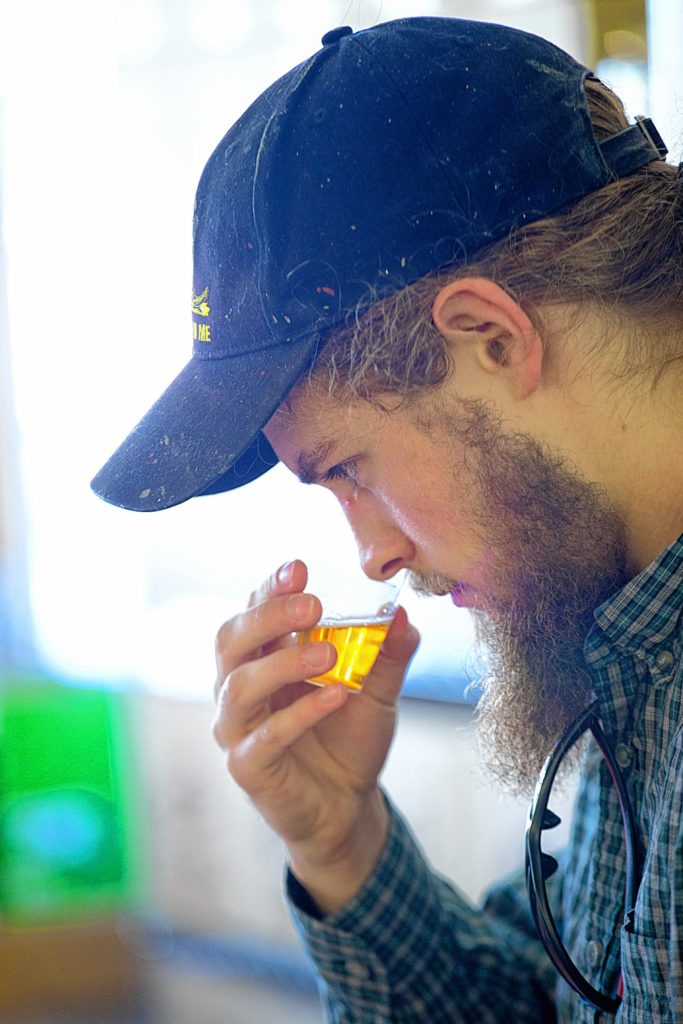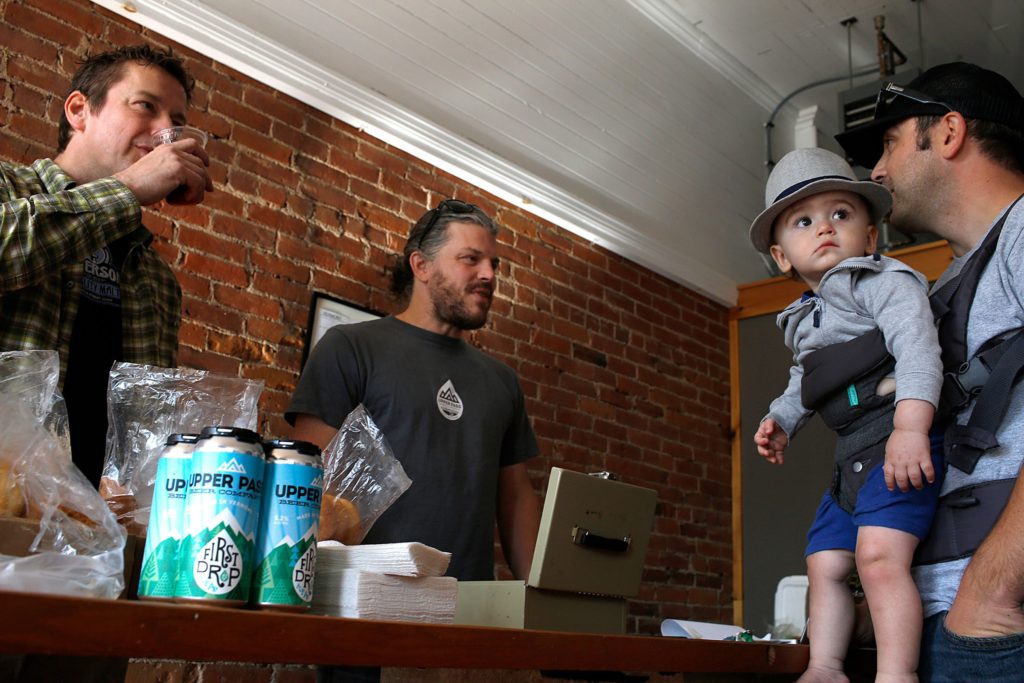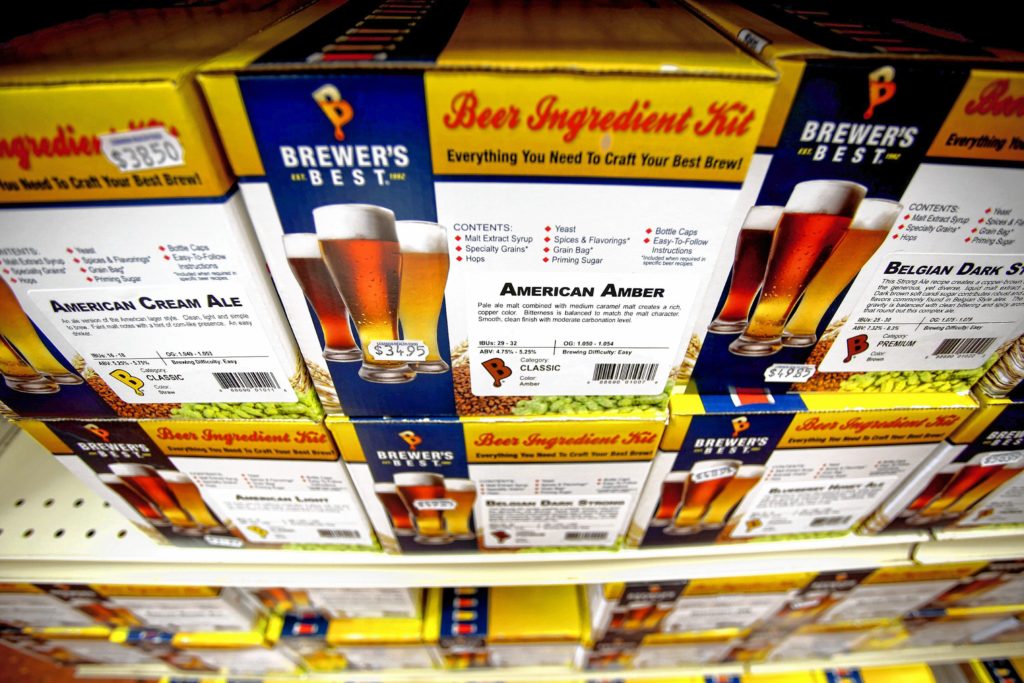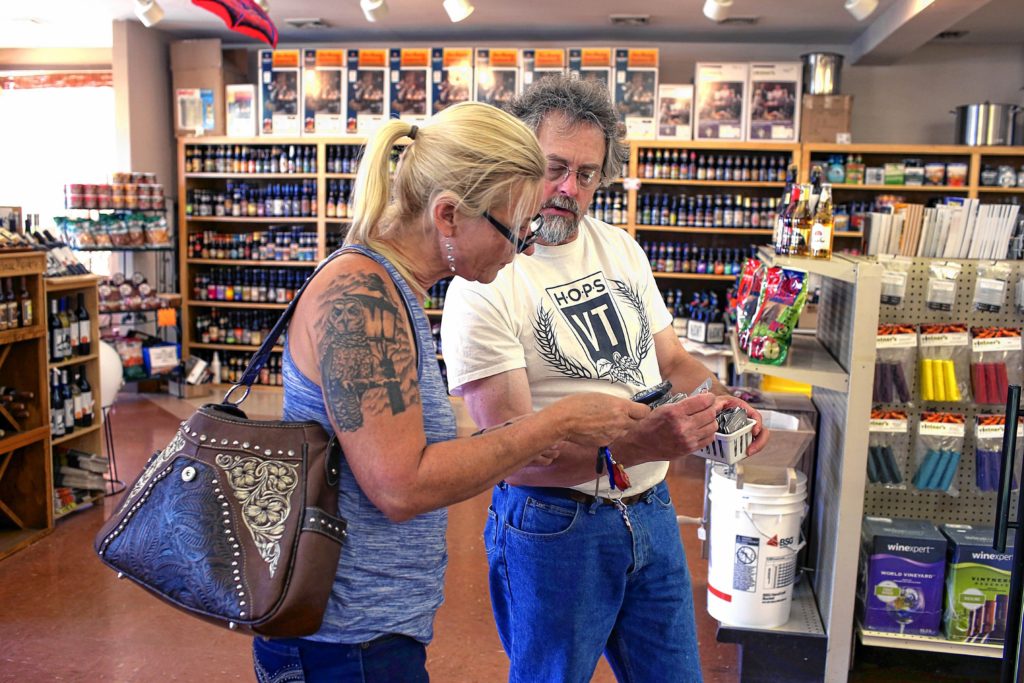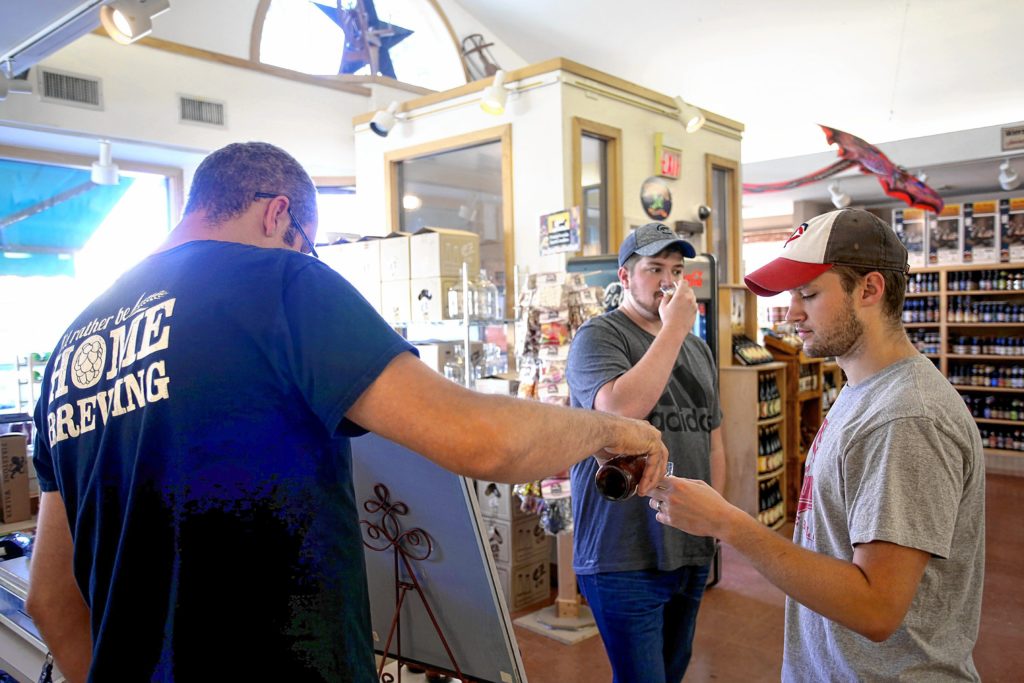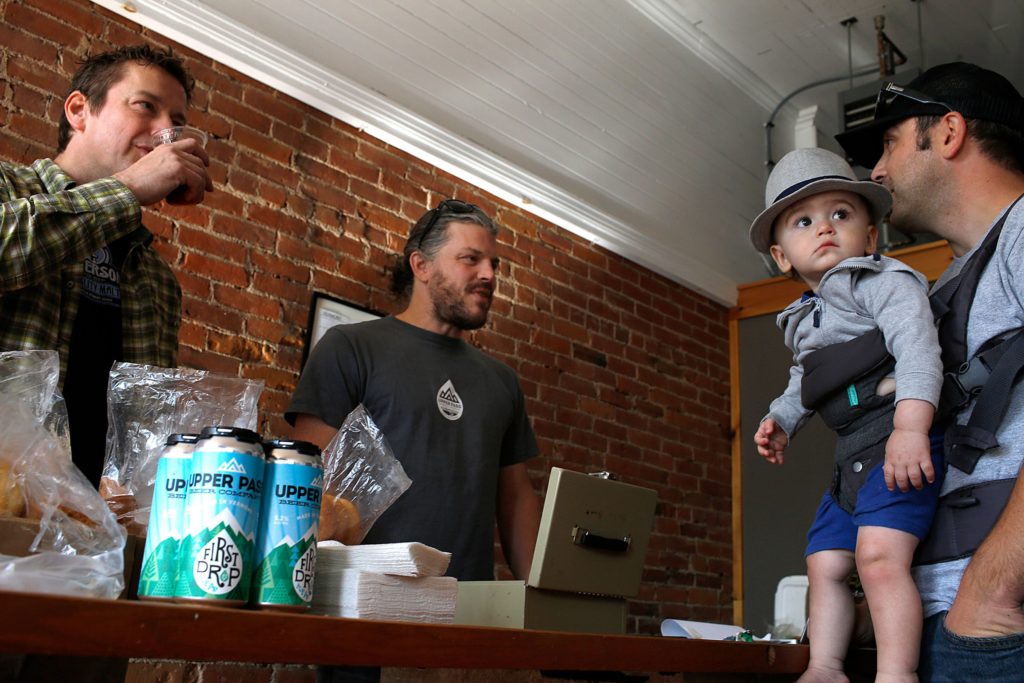 On a warm, humid Saturday morning in September, people arrive at an empty storefront facing the South Royalton town green. Inside is a door-size wooden board resting on cinder blocks with a small metal cash box placed on top of it.
"So, how much?" one customer asks, wallet in hand, nodding toward the cases of beer stacked on the floor off to the side.
Chris Perry, sitting behind the makeshift table, says, "$14 a four-pack, $75 a case."
"OK, give me a case," the customer says, opening his wallet and fishing out several bills.
"Sure thing," Perry responds. He takes the cash, quickly checking to make sure it's the correct amount before dropping the bills into the cash box.
The customer grabs a case and walks out the door — only to be followed by dozens of other customers who started arriving at 10 that morning for Upper Pass Beer Co.'s "first canning," at which the brewer's First Drop pale ale — a "hop-forward ale with some citrus tones" — was being sold in cans for the first time.
"We made just about 300 cases," Perry explains in between greeting and chatting with customers. "We sold a few to Big Fatty's BBQ and Hops N' Barley to generate a little buzz. Whatever we'll have left over after today we'll distribute around the state."
A year ago, during the Tunbridge World's Fair, Perry and his partners, Andy Puchalik and Ivan Tomek, opened Upper Pass brewery — the first among a quartet of new microbreweries (or nanobreweries, pick your qualifier), three new and one relocated — that have begun operating in the Upper Valley over the past year.
Along with Tunbridge's Brocklebank Craft Brewing, which opened in February, River Roost Brewery in White River Junction, which also opened in February, and Trout River Brewing Co., which relocated to Springfield, Vt., from Lyndonville, Vt., and began operations in March, the four breweries represent the latest entrants into the region's burgeoning craft beer market. And these startups don't include two breweries just outside the Upper Valley — the recently opened Belgian Mare Brewery in Alstead, N.H., southeast of Charlestown, and the 2-year-old Bent Hill Brewery in Braintree, Vt., northwest of Randolph.
Beer: The New Frontier
A cousin of the localvore movement, which promotes local farming for a community's food needs over giant agribusiness products channeled through supermarket chains, craft beer is steadily making inroads into the broader market: It now accounts for about 12.8 percent of national beer sales, according to the craft beer industry trade group Brewers Association, which also found that craft breweries are playing a role in the Twin States' economies. New Hampshire's craft breweries, for example, contributed $359 million to the state's economy in 2015, while Vermont's craft breweries added $271 million to the Green Mountain State economy.
The independent Vermont beer information website VtBeer.org counts 52 breweries in the state and nine more breweries or brew pubs that are "in planning." By comparison, there are 53 Dunkin' Donuts in Vermont. Brew NH, a craft beer promotional group comprised of craft brewers in New Hampshire, tallies 59 breweries there.
Only a few years ago, there were half the number of breweries in each state; a generation ago, there were none.
Today's craft beer landscape is dramatically different compared to 1986, when Dan Kenary and two partners launched Boston-based Harpoon Brewery, one of the first craft brewers in the East. It now distributes in 23 states.
Harpoon went on to acquire the former Catamount Brewing Co. plant in Windsor in 2000. Yet 25 years ago, Kenary recalls, "when we started, people had no idea what we were doing. Breweries had been in decline since Prohibition. We wanted to make better quality beer and had a great challenge explaining to people what we were doing."
Today, with craft brands crowding the beer aisle of any supermarket, the challenge to win backing to start a brewery is much easier. "People are throwing money at the industry. Venture capital, private equity, family offices, banks — everyone is piling in," Kenary said.
Craft beer has become so popular in Vermont that the state ranks No. 1 nationally in per-capita consumption, according to the Brewers Association. New Hampshire ranks 15th.
The age of the new-wave brewers, perhaps not surprisingly, also tends to skew young.
Kelen Beardsley, Gabe Streeter and Trevor Billings, three friends from Springfield, Vt., who went to high school together before scattering across the country to attend college and begin working, opened their own brewery in March by acquiring the assets and recipes of Lyndonville, Vt.'s Trout River Brewing Co., loading the brewery's fermenters on flatbed trucks and hauling them to the former Fellows Gear Shaper building in Springfield.
Beardsley said he and Billings began homebrewing about five years ago and teamed up with Streeter, who had been doing it twice as long. The trio spent two years drafting a business plan, he said, and received a $45,000 loan from the town and another for an undisclosed amount from Claremont Savings Bank.
In February they brewed their first batch: 80 barrels of Rainbow Red Ale, a "malty, complex" ale developed by the brewery's former owner, Dan Gates, and distributed through Barre, Vt.-based Calmont Beverage Co. to about 50 bars, Beardsley said. They subsequently brewed an India pale ale and were working on a double IPA set to be released at the end of September.
"There's definitely a lot of competition within the state," Beardsley said. "But craft beer is getting more of the shelf space and as a whole is competing against the bigger brands of the world. … There's still room for all of us to succeed."
A Revolution
Although craft beer brewing evokes rustic images of men with scraggly beards working around fermentation tanks, their Carhartts held up by suspenders, the industry's expansion has been aided by the internet and mobile communications that connect equipment and ingredient suppliers with brewers, and brewers with customers — as well as a revolution in equipment-makers themselves, according to industry veterans.
"Beer is undergoing a similar phenomenon as the farm-to-table business in general," said Bill Herlicka, founder of White Birch Brewing in Hooksett, N.H., and president of the Granite State Brewers Association. "The internet has made it possible for sources like brewers and restaurants to link to the end consumer." Also, he said, "prior to 2010 you couldn't get equipment smaller than seven barrels and there were only a couple suppliers. Now you can get equipment down to half a barrel that's commercial grade from 20 different suppliers."
Although the craft beer phenomenon began in the Pacific Northwest, with brewers such as Redhook Brewing (now partially owned by global beer giant Anheuser-Busch InBev) and Bridgeport Brewing Co., in Northern New England, much of the credit goes to the late Greg Noonan, an early evangelist of craft beer and an authority on brewing who founded Seven Barrel Brewery in 1994 in West Lebanon.
But in the Upper Valley, Jasper Murdock's Alehouse at the Norwich Inn, which opened in 1993, holds the distinction of being older and in continuous business longer, if only by a year. The Flying Goose Brew Pub and Grille opened in 1997 in New London.
"In Vermont there are breweries coming online it seems like every week," said Jeremy Herbert, brewmaster since 2010 at the Norwich Inn, who brews 20-25 different styles of beer and a total of 210 to 250 barrels annually. "When I started six years ago there were under 20 breweries in the state. It's crazy, but cool."
Ask a brewer who recently has started his own licensed brewery to make and distribute beer to the public how he got started in the business, and the answer almost invariably is that it began as a hobby.
"Every homebrewer's dream is to have a real brewery, even from the first batch," said Ben Linehan, a Strafford resident who had been homebrewing for six years before opening Brocklebank Craft Brewing in Tunbridge. He and his partner, Quechee Club chef Josh Hoehl, spent about $40,000 to get the barrel-and-a-half brewery house, located in a former creamery on Dickerman Hill Road, up and running.
Linehan said he makes four or five different varieties of beer available for "growler" fills in the taproom, which is open on Friday and Saturday afternoons. (A typical growler holds about 64 ounces; "howlers," or half growlers, hold 32 ounces.)
He expects to produce about 100 barrels this year and sells kegs to 14 area restaurants and markets, including Cockadoodle Pizza Cafe in Bethel, One Main Tap and Grill in Randolph, and South Royalton Market.
Linehan works four days a week as a master plumber and puts in two 12-hour days at the brewery. Despite the substantial investment, he's not making any predictions about when Brocklebank will become a self-sustaining business.
"I'm always going to be a plumber," Linehan said. "Someday maybe it will grow on its own. It's more about the fun of it and seeing people enjoy drinking my beer."
Like many of the microbreweries, Cheshire County's Belgian Mare Brewery is open to the public only on the weekends — in owner and brewer Tim Roettiger's case, Sunday afternoons.
Before opening Belgian Mare in 2014, Roettiger, driven by a need to keep costs down, studied 18th- and 19th-century brewing manuals to learn how beer was brewed before the advent of modern technology. In a barn behind his home near Lake Warren, he built a high-roof 32-foot by 16-foot brew house with a wood-fired boiler. He employs a gravity-fed process like those used in medieval tower breweries and he specializes in Belgian-style ales, whose final fermentation occurs inside the bottle. He sells his brews on-site and distributes to about a dozen stores and restaurants across the southern half of the state.
Roettiger still works four days a week at his wife's optometry practice in Keene, N.H., and concedes he still has a ways to go before matching his former salary as a fisheries biologist. Last year his brewery generated $24,000 in income.
"I'm not relying on this to put food on the table," he laughs. "The nice thing about being self-financed is I don't have any investors screaming at me. … I can wait it out."
An Ideal Spot
The routine physical demands of the work — shouldering 100-pound sacks of ingredients, moving 5-gallon kegs — are likely to deter corporate types from getting involved anyway, said Mark Babson, a Williston, Vt., native and Newbury, Vt., resident who in February opened the 2,200-square-foot River Roost Brewery in White River Junction.
Babson spent several years working as a marine biologist before giving it up for an entry-level job "kegging" — cleaning and filling beer kegs — at Magic Hat Brewing Co. in South Burlington. He spent four years there, working his way up through the ranks (his science background came in handy when working in the brewery lab to measure yeast cell counts) before joining the Woodstock Inn Station & Brewery in North Woodstock, N.H.
Now Babson is River Roost's sole employee — "although you might find my wife or folks here from time to time" — at his 10-barrel operation on South Main Street that shares a parking lot with Big Fatty's BBQ and Elixir restaurants, both customers of his beer.
His current schedule calls for brewing between eight to 10 barrels every seven to 10 days — a barrel contains 31 gallons — that are distributed to area restaurants or available to purchase by the growler at his brewery.
On a recent afternoon, Babson had three brews on tap: My Darlin', which the blackboard behind the counter describes as a "hoppy wheat" at 5.4 percent alcohol; Elephant Dreams, an IPA at 6.2 percent alcohol; and Glimpse, a double IPA at 7.8 percent. My Darlin' sells for $8 for 32 ounces or $15 for 62 ounces; the other beers are priced at $10 or $18.
Babson declined to discuss his financing or how long he thinks it will take before River Roost becomes profitable, although he acknowledges startup costs easily passed the six-figure mark. But he considers his location in downtown White River Junction, with its mix of restaurants, cafes, artisan shops and the new Northern Stage theater, to be ideal.
During the afternoon, customers appear at Babson's storefront brewery, including a couple on bicycles. A researcher from the Cold Regions Research and Engineering Laboratory enters with a pressurized stainless steel growler to prevent the contents from turning flat. It becomes an instant conversation piece.
"The people interested in Vermont beer almost find you," Babson said, noting that he has done little in the way of marketing other than on social media and relying on the exposure his beers get at Worthy Burger, the Quechee Club and Windsor Station Restaurant and Barroom.
Indeed, the thirst for beer in Northern New England does not appear to be slackening. Big Fatty's BBQ opened in downtown White River Junction 2½ years ago with four taps of craft beer.
Within a year, it installed eight taps "and my sales doubled," said owner Brandon Fox, who was noticing how customers were asking for something other than commercial beer to wash down their smoked ribs or pulled pork. "I said, 'we need to get on top of this.' "
In May, Big Fatty's opened up a "crowler pit" that features 20 refrigerated lines of mostly regional craft beer feeding into an on-site canning machine that will, within 15 seconds, can 32 ounces of whichever beer the customer wants.
The machine, which cost $5,500, has been a hit with customers, who can watch the cans being sealed before their eyes.
"On our board right now we have 12 beers from Vermont, four from Massachusetts, two from Maine, one from New York and one from Missouri," Fox said.
Missouri?
"Bud Light, for those who want it," Fox said. But generally, he said, "we try different stuff to see what works and what doesn't. People like to see rotating lists so they can try different things."
Changing Customers
Fox isn't the only one to notice a change in consumer behavior.
Scott Russell, beer and brew manager of the Lebanon Brew Shop on Hanover Street, said the store's owners began noticing a couple years ago that sales of homebrewing supplies were doing much better than the deli and cafe side of the business.
"The one thing that seemed to be growing best was the beer side," Russell said. So they decided to phase out the food and turn the store into a homebrewing equipment and supply business, stocking everything from 300 different craft beers to 50-foot copper immersion chiller coils to dozens of different yeasts, hops and malts.
In March, "cafe" was dropped from the store's name to reflect its new focus. Russell isn't sure how many homebrewers there are in the Upper Valley, although he knows of at least two brewing clubs, the Homebrew Outreach and Preservation Society, centered around the Tunbridge area, and the Upper Valley Beer Society, based in the Lebanon-Hanover area.
Russell belongs to the former, which has about 15 members who meet every other month at members' homes to swap recipes and brewing tips and, of course, taste beer.
"Everybody brews the same style and we sample each other's beer," said Russell, who began homebrewing 25 years ago when his brother gave him a homebrewing kit — "back in the days when there weren't homebrewing shops and you couldn't buy supplies on the internet."
Russell likens the current boom in microbreweries in the Twin States and elsewhere to the tradition in Europe, "where there is a brewery in every village." There was even a time when that was common in the U.S., he said, before local breweries were bought up by national chains during much of the last century.
Still, with the number of breweries overflowing like the head of a frosty pint, the question becomes how many is too many? Many still remember the "beer bust" of the 1990s, when several regional craft brewers — including Catamount — went belly up because they expanded too quickly and took on too much debt.
"I get asked that question a lot," said Melissa Corbin, the executive director of the Springfield-based Vermont Brewers Association, a trade group comprised of 46 craft brewers in the state. "The answer is not simple because you cannot predict the future. But if you look at the European model, there is a brewery or brew pub in every town — and that market is not saturated."
Although some Vermont craft brewers argue there won't be enough breweries until each one of the state's 251 towns has its own brewery or brew pub, Harpoon's Kenary said he thinks things already might be getting a little crowded in the Twin States.
His advice to someone wanting to start their own craft beer brewery?
"Go west, young man," he said. "Try Hawaii."