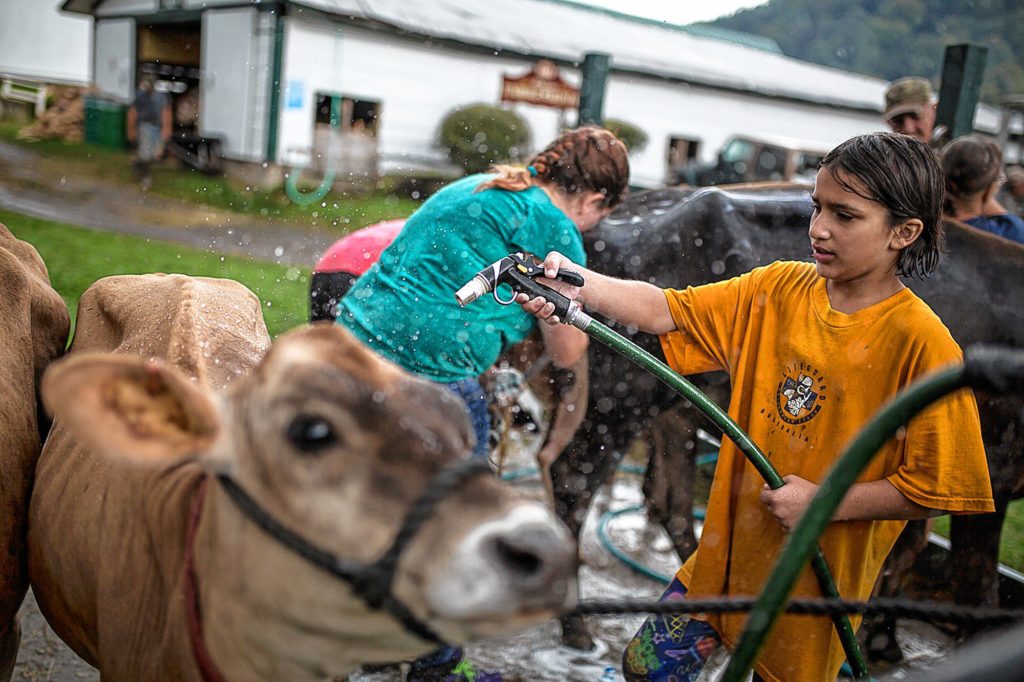 For centuries, agricultural fairs were conducted to showcase agriculture while entertainment was provided as a side benefit. Today, however, fairs are primarily in the entertainment business and the agricultural dimension is a lesser piece. But don't think for a minute that agriculture isn't an important part of fairs, for studies done in a number of states across the country have shown that fairgoers expect to find farm-related exhibits on the grounds and found that if they don't, they'll feel ripped off and won't return another year.
The hard truth is that agricultural fairs, be they in Vermont or New Hampshire or anywhere else in North America, all are competing for a share of consumers' disposable income, and that competition gets tougher every year. Attendance has flatlined or declined for many fairs in the past few years, and the vast majority of fairs in this era do well to break even or clear enough to reinvest in facilities.
Virtually all fairs in New England operate as not-for-profit entities with volunteer boards of directors and very limited, if any, support from state governments. Elsewhere around the country, most major fairs enjoy extensive state sponsorship as units of departments of agriculture or through public authorities controlled by the state, while smaller fairs more likely resemble their New England brethren. Pennsylvania has a vast complex in Harrisburg that's owned and operated by the state, while the New York State Fair at Syracuse is run by a state authority.
New England's largest fair, Eastern States Exposition in West Springfield, Mass. — more commonly known as "The Big E" — is the nation's seventh-largest agricultural fair, with attendance of 1.5 million. Yet it is governed by a volunteer board of directors and receives no support from any state government.
Fifty years ago, fairs had scant competition for the public's entertainment money compared with today. Nowadays, there are gambling casinos (with more on the way), major-league auto racing, concert venues, large amusement parks like Six Flags and a vast array of other places where consumers can spend their leisure time and money.
That requires fairs to be on a constant hunt for things that draw in crowds and satisfy the people's hunger for fun and entertainment — features such as racing pigs, Frisbee-catching sheepdogs, chainsaw sculptors, tribute bands and helicopter rides. But they still have to keep the standard attractions that fairgoers expect to find — the midway; the rides; fried dough and french fry stands; horse, ox and tractor pulls; and displays of old-time stuff.
And, of course, there's the agricultural aspect, without which an agricultural fair becomes a carnival. For the average fairgoer with no farm background, it's the cattle, sheep and poultry in the barns, the displays of corn and hay, tables and tables of vegetables and baked goods, arrays of maple syrup and honey and 4-H kids leading a calf that mean it's a real fair. But as the structure of agriculture changes and fewer people earn their living from the land, it's becoming more difficult for some fairs to keep the agricultural presence strong.
It costs a farm a lot of money to take a group of dairy cows, beef animals or sheep to a fair, and the prize money won't come close to covering the expense. Farmers who do participate are likely to be in the game for the excitement of competing in the show ring or for the memorable experiences it affords their youngsters. Similarly, it takes a measure of devotion to assemble an exhibit of tomatoes, fancy handiwork or brownies and haul it to a fair pavilion, all for a shot at a ribbon and a tiny cash premium.
Lately, some fairs have had to resort to hiring a farm to bring some animals to tether in nearly empty sheds just so there would be livestock to see. Bangor State Fair in Maine paid a farmer $1,200 this summer to bring a dozen heifers and calves to display for the fair's weeklong run, and other similar arrangements have been cropping up around New England in the last few years. Locally, Cornish Fair had a sow and her litter of piglets brought in just for the crowds to admire.
Agricultural fairs, be they relatively small like the Upper Valley's quartet at North Haverhill, Tunbridge, Bradford and Cornish or the mega-size operations like Eastern States Exposition, all have the same management challenges beyond preserving the agricultural dimension.
These begin with constantly rising costs. Insurance, security and entertainment acts top the list of items that go up in price nearly every year. Insurance carriers are always leery of fairs because of the multiple risks they present — insurers willing to write policies are few, and what they offer gets more expensive each year. Fair security typically is left to the local police chief, and coverage usually is handled by officers on a detail basis at overtime rates.
And music and stage acts have seen plenty of inflation lately, leading some fairs to use more local talent, which often can be as good as high-priced performers from far away.
Infrastructure also is a constant issue for fairs. Buildings that are used for just a few days each year still require paint, roof repairs and other maintenance to keep them presentable and serviceable. Electric services, buried water lines, fences, culverts and the like all require attention in order to be functional when the fair opens, and during the fair, things like trash removal, toilet facilities and parking management must be handled.
Fairs face an increasingly complicated regulatory environment. There are laws and government regulations covering water supply, access for handicapped visitors, fire safety, electric connections and food safety that have to be followed, along with ride inspections and surveillance of animals for disease, all driven by concerns of reducing liability exposure.
Yet another challenge is finding ways to keep the fair fresh, in the sense of giving fairgoers new things to see and experience. People stop coming if it's just the same old stuff year after year.
And finally, one of the most critical challenges is finding the talent and dedication that will sustain the governance and management of the fair. All too many fairs have been damaged or destroyed by failures of their boards of directors to work together, find consensus and move their organizations forward.