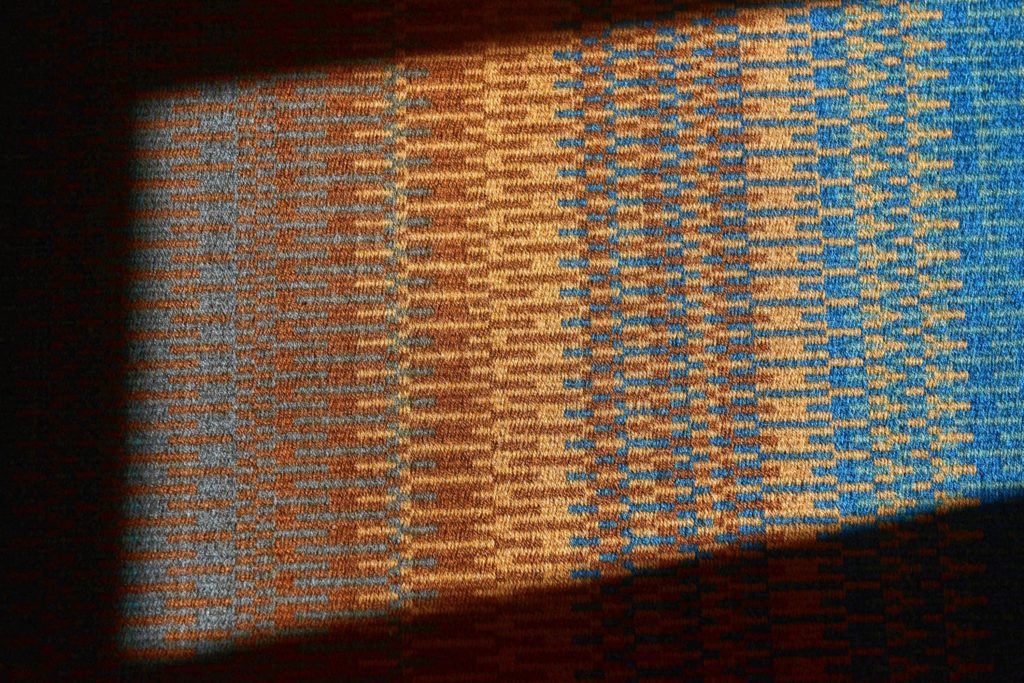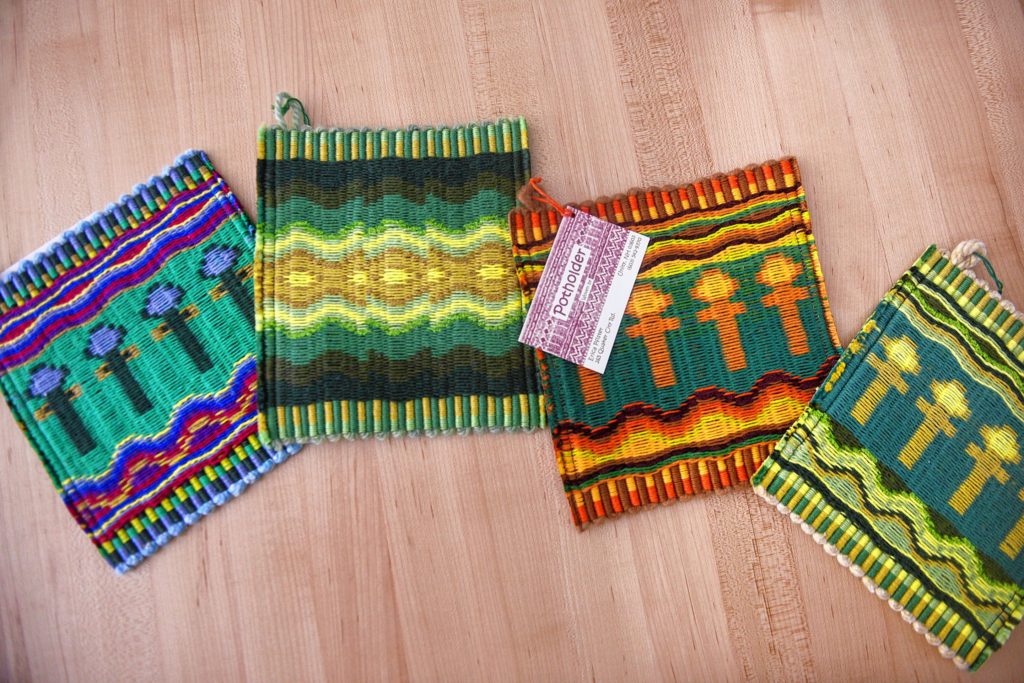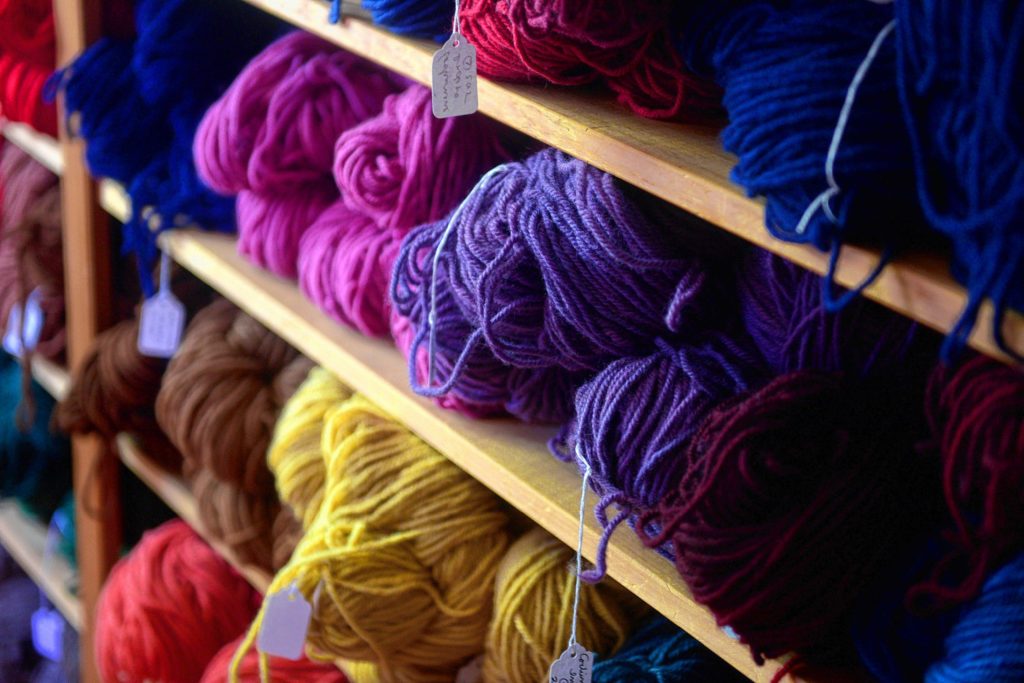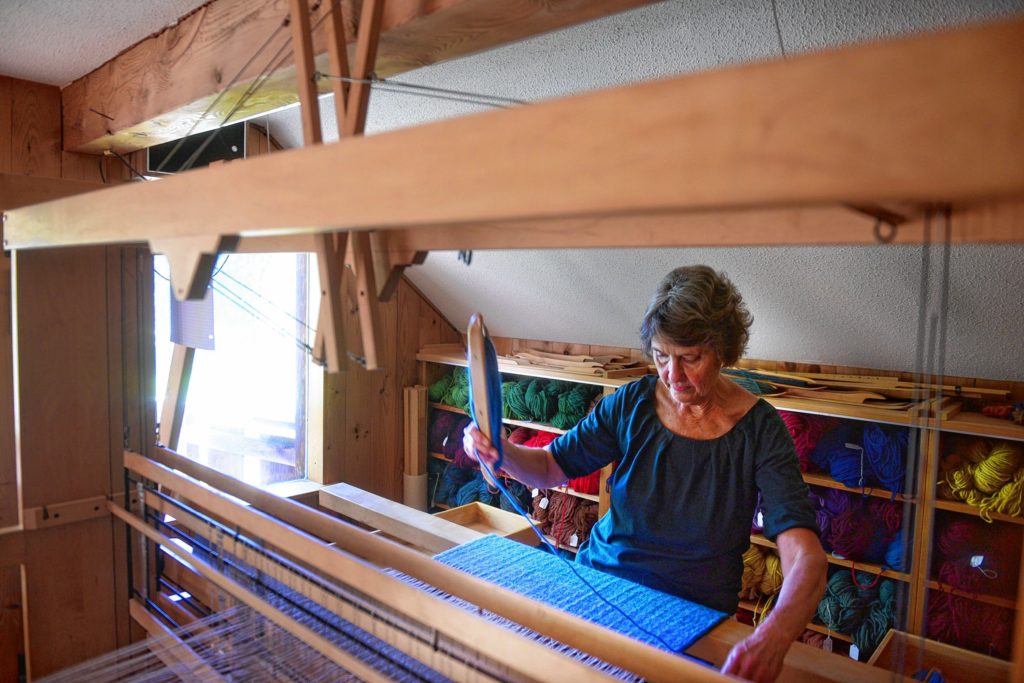 When she was growing up, Erica Pfister and her family lived in Quaker-based communities in British Columbia and across the United States, moving frequently. Along the way, she learned to weave. The art form has proven a pretty constant thread in her life, evolving over time from childhood pastime to home business.
A member of the League of New Hampshire Craftsmen, she sells her work at the nonprofit's annual fair in Newbury, N.H. She focused first on hats and scarves, and later turned to rugs.
"I like weaving rugs because within the simplicity of the form, I can create — with color and design — a beautiful, sturdy, useful product," said Pfister, 68, who shared her story in an interview at her Unity home and in emails.
The seeds for her life as an artist were planted in the intentional communities where her family lived, each of which was home to "a lot of very creative people."
Around age 7, her mother gave her a board with nails in it, which she used to weave little mats. A few years later, while living in Kansas, Pfister and her friends "got really into it," making patterned potholders they sold door to door for 10 cents apiece.
In a Pennsylvania community, a woman set up a loom and showed her how to use it. Then, in a remote part of British Columbia, her best friend's grandmother taught her to set up and weave on a large loom. In college, she took classes in pottery and weaving.
Recalling a question from her weaving teacher, Pfister laughed. "Why are you majoring in sociology? You're always in the art department."
As a young adult, she learned from master weaver Stan Zielinski and apprenticed with New Hampshire weaver Mary Bishop.
When she was in her mid-twenties, Pfister and her husband, Albert, moved to the Quaker City area of Unity, where her brother lived. Influenced by the many craftspeople living there, she was juried into the league and made her debut at the fair in 1974. There, she came across Krokbragd, or "crooked path," the ancient Norwegian weaving technique she now uses to set up her loom for rugs and pillows.
Pfister's taken part in the fair off and on, leaving when her children were young and again to earn a master's degree in counseling education. After working that field for a while, she hadn't found a job she really liked, so in 2007, she returned to the fair, where she's had a booth ever since. She's won a number of awards there, including best in weaving in the Living With Craft exhibition, an education award and best booth for fiber.
Her vivid wall hangings, pillows and rugs decorate the Pfister home, and her studio boasts scores of colorful skeins of wool yarn, which come from New Zealand by way of Georgia. She'd prefer to buy local, but it's too expensive, said Pfister, who pays about $6.50 a pound for the undyed yarn.
For her, weaving is "somewhat of a business," she said.
"I have a husband who's worked full time," she said. "I really couldn't have made a living doing this, but it's what I do because I love it."
In addition to dyeing yarn and weaving, she also takes care of shipping orders to customers. Albert Pfister tends to all things mechanical.
A trained machinist and toolmaker, he maintains and improves her looms, including a rusty mid-20th-century one he took apart and fixed up. "I couldn't do it without him," Pfister said.
A recent uptick in her sales meant less time to get ready for the nine-day August fair, where she generally sells eight or 10 rugs and picks up three or four big orders. In the past, she aimed to finish those by Christmas and then dig into fair preparations; now, she's relying more on her stockpile of rugs from previous years.
Along with rugs and pillows, visitors to her fair booth or website, pfisterrugs.com, also will find potholders, "something you can weave up pretty fast and something people buy," she said. Many bear ancient Egyptian card-weaving patterns, inspired by a friend who figured out how to make them on a loom.
They sell for $18, or two for $30 at the fair, "so people get a set," she said. "It's so nice to have a small item, because my rugs are expensive."
Her 16-inch square pillows are $80, and the 20-inch ones are $100. For rugs, which come in various sizes, she charges $55 per square foot.
Setting a price is very hard, she said. "I think most craftspeople, they love to do their craft, but selling is always the most difficult."
Weavers and dyers often say they can't believe she's charging such low prices "because they know the work that goes into it," she said. "But you have to think in terms of being able to sell it as well."