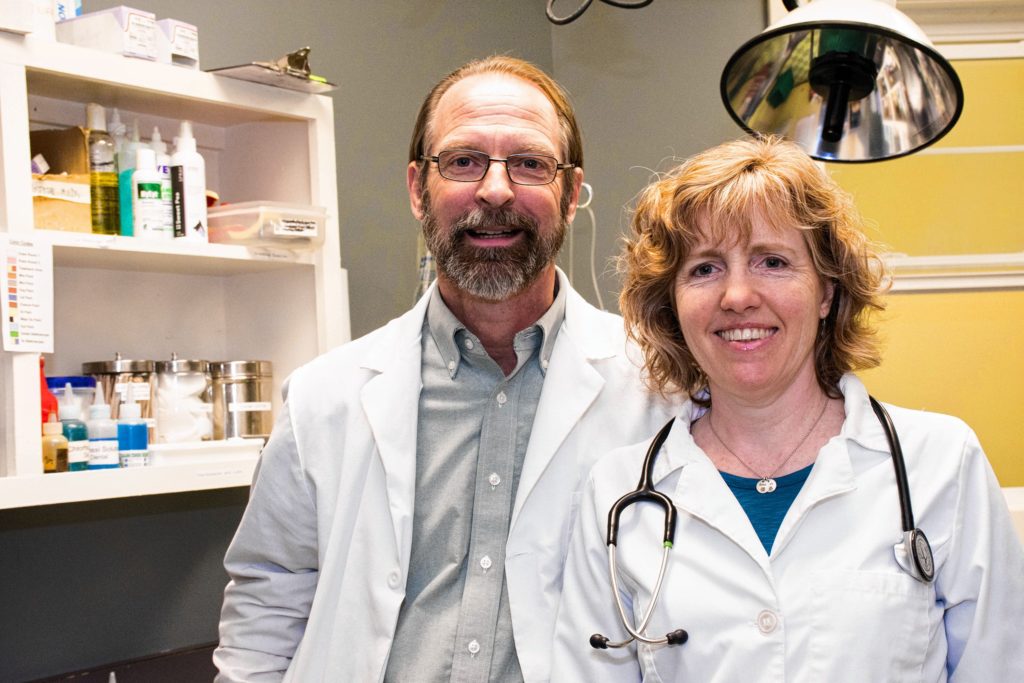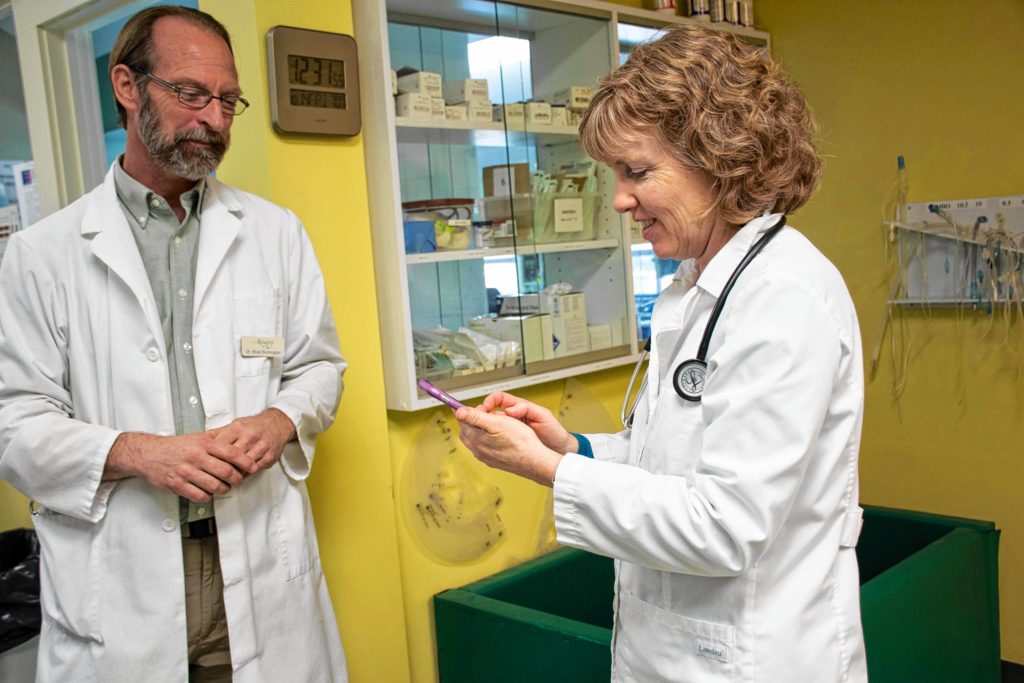 Veterinarians Brad Burrington and Angela Burrington came to the Upper Valley in 1989 after graduating from the Cornell University College of Veterinary Medicine — he in 1987 and she in 1989 — and at first they worked in different practices. In 1992, just a few years out of veterinary school and with no business experience, the Burringtons purchased an established Woodstock veterinary practice from the highly regarded Jim "Doc" Roberts and began to care for pets and their families from a small exam room in a large 1850s farmhouse on Route 12.
"We have always been committed to providing evidence-based medicine and the best care for pets," Brad Burrington said during a recent tour of Veremedy's 7,000-square-foot hospital on Hartford Avenue in White River Junction, which the couple renovated and expanded in 2010. "But early on I was consumed by trying to do it all and focused on building my own reputation versus building the brand of our practice."
"I made every single mistake laid out in E-Myth," he said, referring to Michael Gerber's best-selling business book, The E-Myth: Why Most Small Businesses Don't Work and What to Do About It.
In 2000, after years of 90-hour workweeks, a burned-out Burrington sold the Woodstock practice, signed a noncompete clause and took a sabbatical from veterinary medicine to invest in what was a robust stock market.
Then the dot-com bubble burst.
"I lost more money in the dot-com crash than some folks will ever see in a lifetime," acknowledged Burrington, who said he now lives by the motto, "Don't get bitter, get better."
So, in 2002, the Burringtons started from scratch.
The rebuilding began when Angela Burrington bought White River Animal Hospital. After waiting out his noncompete clause, Burrington joined his wife in the practice and together they transformed the old facility into a state-of-the-art veterinary hospital.
In 2008, they bought back the Woodstock practice, rebranded it with the Veremedy name, and moved it to the Gallery Place Building on Route 4. That site also was completely remodeled in 2010.
"Our passion is to make pets healthy and help their owners (and) families make difficult decisions," Angela Burrington said. "I love the medicine, the pets and the people and prefer to stay away from the spreadsheet aspect of the business. Brad loves to study the inner workings of how a business succeeds, so we complement each other."
In 2009, with the practice booming, they looked to expand. But first, Brad Burrington engaged with the Upper Valley chapter of SCORE, the nonprofit association whose volunteer counselors work to educate entrepreneurs and help small businesses start, grow and succeed.
"Brad is probably the most entrepreneurial client I've ever worked with in my 30 years with SCORE," said Fred Thomas, who in addition to being a SCORE counselor was a principal for 13 years at McKinsey & Co., a global management consulting firm. "He is extremely well-read and informed, not only about his industry sector but also about management in general. He consumes books, trade and business journals in large quantities."
For seven years now, Burrington and SCORE have had a wide range of business counseling interactions — from discussing cash flow issues and borrowing terms and rates to acquisition pricing and building fairly complex financial business models. The interactions continue today.
"I often call Fred and ask for a sit-down session to share my latest idea for growing the business," Burrington said. "He has an accomplished background and was a great listener and asked insightful questions and was invaluable to our business."
In 2010, during the worst economic crisis since the Great Depression, the Burringtons took another risk: expanding and renovating both their White River Junction and Woodstock locations. The projects, totaling about 9,300 square feet, included high-end finishes, a $100,000 ventilation system, a digitized medical records room, an in-house pharmacy, an X-ray room, an isolation chamber and offices for the doctors.
Burrington's attention to detail is reflected in the design of the exam rooms (a total of seven between the two locations), which mirror each other so doctors and technicians — whether they're working in Woodstock or White River Junction — will find the same instruments and materials in the same spot in the same drawer with the same lighting in each work area.
"I believe the Veremedy team we have assembled is second to none and my main job today is to ensure they have everything they need to do the things they are good at and love to do — practice medicine and treat our pets with the highest values and ethics in a prosperous environment," he said.
Today, Veremedy offers medical, diagnostic, surgical, dental and preventive care, from routine healthy pet visits to diagnostic imaging and blood analysis to intricate surgeries for thousands of dogs, cats and other pets (including rabbits, guinea pigs, hamsters, ferrets, chinchillas, rats, mice and gerbils) every year. Veremedy also provides volunteer time and services for the Lucy Mackenzie Humane Society and oversees care for the animals waiting to find their forever homes at Lucy Mac. Burrington also co-founded the New England Foundation for Animal Health, a nonprofit organization that raises money to help pet owners who have fallen on hard times or who have unexpected pet care bills.
"I want to make money telling people the truth. Values drive everything we do and that's important given the vet health care industry is under enormous pressure with large corporations acquiring hundreds of hospitals and changing the way veterinarians are compensated and how the businesses operate," Burrington said. "We have to challenge the status quo of veterinary medical practice because often procedures recommended for pets are designed to help the veterinary care industry more than the pet. If you choose a vet based solely on cost, you're asking the wrong questions."
—
Lynn Luckzkowski is the proud owner of a 9-year-old yellow Lab who has not visited Veremedy — yet. She also is president of L2 Communications, a full-service public relations, marketing communication and social media agency in Quechee. Reach her at Lynn@L2comm.biz.
—
Upcoming SCORE Workshops
The Upper Valley chapter of SCORE is offering several workshops this month. All are scheduled to run from 6-9 p.m., at 20 W. Park St., Lebanon, Suite 316, in the Citizens Bank Building.
Nov. 3: Quickbooks — This workshop focuses on using Quickbooks financial software to help you plan and run your business.
Nov. 10: Start Your Own Business — A primer on developing and managing any small business. This workshop critical materials and a step-by-step process for developing a workable business plan – important for all small businesses and essential when seeking financing.
Nov. 17: Build a Website with WordPress — Many modern websites are created using WordPress. Learn how to create you own using this tool.
Cost for each workshop is $40, two for $60. Veterans free. For more information or to reserve a spot, visit http://www.uppervalley.score.org, email score@valley.net or call 603-448-3491.