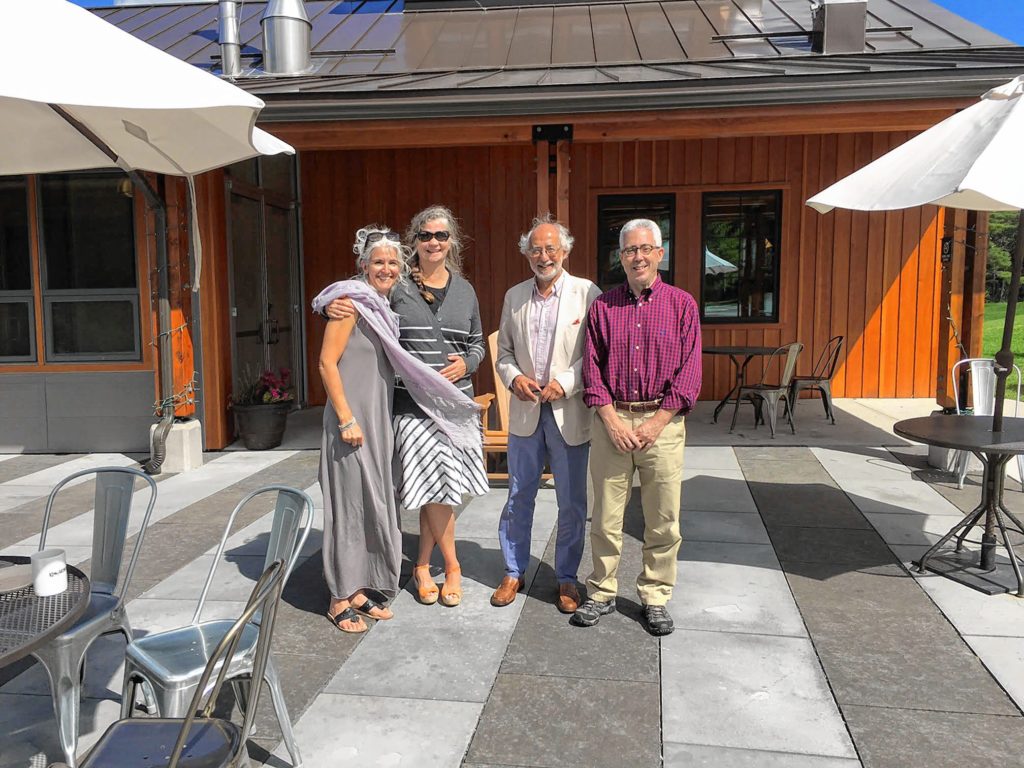 It is a warm, sunny Vermont day as I walk along the flagstone terrace toward the King Arthur Flour building in Norwich when a friendly greeting from Katie Walker, public relations manager for America's oldest flour company, pulls me off my path.
"I believe you are looking for these people," Walker says as she points to the three co-CEOs already gathered around a circular outdoor table. I smile and shake hands with Karen Colberg, co-CEO and chief marketing officer; Ralph Carlton, co-CEO and chief financial officer; and Suzanne McDowell, co-CEO and chief human resources officer. After getting me a coffee, Walker excuses herself and leaves me with my three interlocutors.
An open-air boardroom meeting! I'm warming to KAF's leadership style already.
A simple formula has governed the Enterprise Power Lunch column: The leader of an Upper Valley organization is selected, yours truly takes her or him out to lunch, we spend time discussing the organization's business and, more important, what makes said executive tick. It has been, however, a one-on-one conversation — until now.
At King Arthur Flour, this straightforward technique had to be reinvented because the 225-year-old company now has not one CEO, but three co-CEOs. Among the issues I knew would come up was how to persuade Enterprise's editors to foot the bill for three lunches instead of one. Fortunately, the three CEOs found it difficult to coordinate lunch schedules, so we compromised by meeting for breakfast at King Arthur Flour's retail store and corporate headquarters.
Which one of your numbers, I ask, does one dial to speak with the heads of the company?
"Literally any one of us," Colberg tells me, as the others nod in agreement. "We may not have the depth of expertise in each others' areas of responsibilities, but we can certainly speak for each other seamlessly, because we are so connected from a planning and communications standpoint. So, any one of us would feel equally comfortable taking that call and representing the company."
"That's another advantage to having three CEOs: When your call comes in, chances are at least one of us will be able to take it," Carlton says.
But did it really take three CEOs to replace Steve Voigt, who ran the company from 1999 until 2014?
Colberg, who has been at King Arthur Flour for 16 years, catches this ball, saying it is important for me to understand the background behind the unusual leadership structure.
"Under the previous CEO, we were all members of his strategy team. Steve led the company in a very collaborative manner: He had all of us around the table to make every important decision. So when he decided to move on, the board felt it made sense to leave a similar structure in place," Colberg says.
Carlton, who has been with the company for three years, underscores that the board had a variety of options available, but came to the conclusion that a three-person CEO office was what should be installed for the immediate future.
"It may appear unusual, but it's not really. Take one of the world's most successful investment banks, Goldman Sachs, where I worked for many, many years. It has had co-CEOs for the longest time," Carlton says.
All three CEOs share an office in which they are only 4 or 5 feet apart, so there is complete transparency. To get used to this unorthodox operating style, and to ensure no breakdown in decision-making, the three employed a coach to help manage the transition. "The co-CEO structure is now almost 2 years old, and our relationships and decision-making speed gets better all the time," Carlton adds.
It is evident the three enjoy one another's company. For instance, they often burst into collective gales of laughter and seem to read one another's thoughts. It also is obvious that they have enormous respect for Voigt, who ran the company for 15 years and transformed it from a regional enterprise to a nationally recognized, 100 percent employee-owned corporation with a staff of 350.
McDowell brings up another issue that had to be worked out early on in the three-CEO structure: communication between the trio and the rest of the staff. "The employees had to understand that the new structure meant continuity, but there was an understandable level of discomfort that had to be tackled," she says.
It helped that McDowell and Colberg were well-known to the employees because both had been there for more than a decade, and it didn't take long for employees to realize that the new management team shared the company's values and should be given a chance.
We switch to the business side of things.
More than 80 percent of the company's revenues come from wholesale: sales to retailers such as grocery chains. Much of the rest of the business' profits come from catalog sales and the remainder comes from sales made directly at the store. Online sales, though now just a small part of the company's total revenue, are a rapidly growing part of the business. Thanks to the Employee Stock Ownership Plan, or ESOP, which has been in place for 20 years, there is very low turnover. In fact, McDowell says, "We are hiring up a storm."
The biggest advantage of being employee owned? "There is a commitment from employee owners to a common good," Carlton says. "It may sound trite, but here, everyone behaves like an owner. Even owning a small part of the company leads to a cascade of positive behaviors, pride and satisfaction."
King Arthur Flour is a private company and does not release its financial information, but all three want to make sure I know the business is on solid financial footing. They point out that, for an ESOP to have credibility, the employees need to know their company's stock is worth something. Outside accountants value the stock each year and the company buys back the stock an employee has earned when he or she leaves.
King Arthur Flour was established in 1790, but that history is not a big business draw for its customers. "Millennials are not attracted to old, per se, as much as values that have built the brand, such as taking care of our employees and our environment," says Colberg, who also is responsible for managing the company's brand.
How about the location? Surely Vermont must add to the branding?
"Not really," Colberg tells me. "The world is now so porous and borderless that the Vermont label is not as compelling as we had thought."
Henry Kissinger, the former U.S. secretary of state, once famously asked who he should call if he wanted to call Europe, a reference to the multiple heads of state jockeying for power. The three co-CEOs at King Arthur Flour seem to have found the right formula: Any of their numbers is the right one.
—
Sarwar Kashmeri is an author in international affairs. He is a regular commentator for the Huffintgon Post, U.S. News and World Report, and Vermont Public Radio.