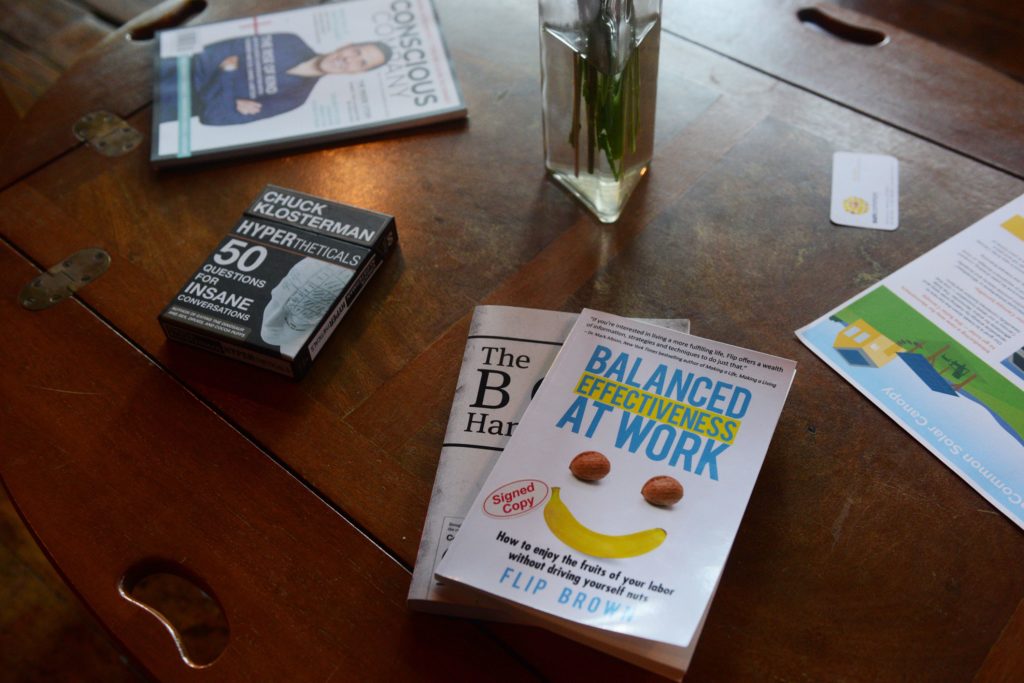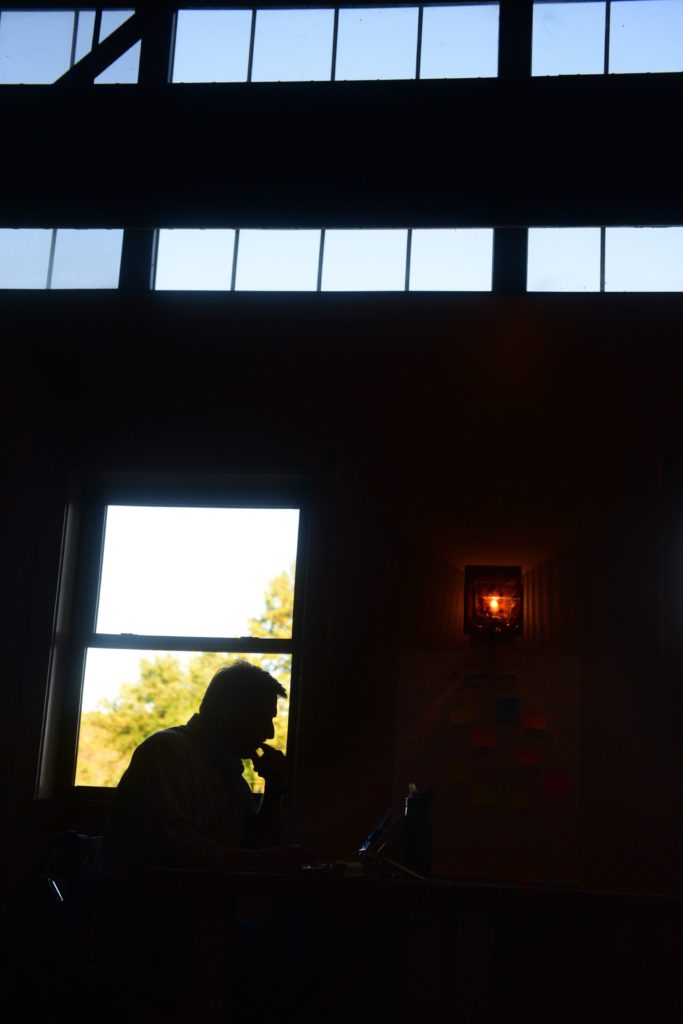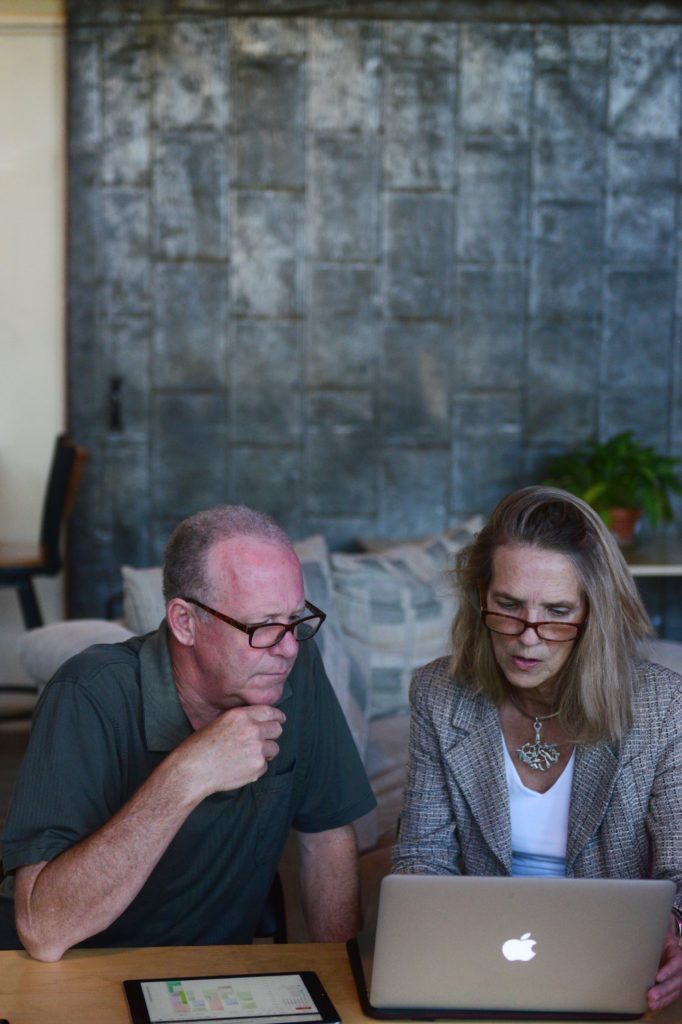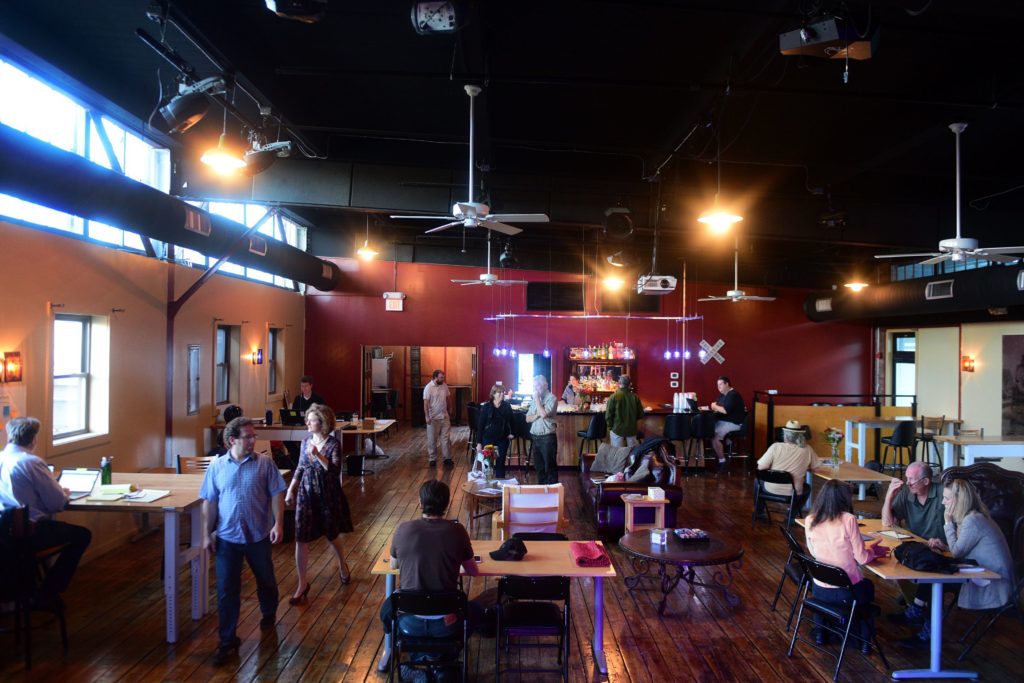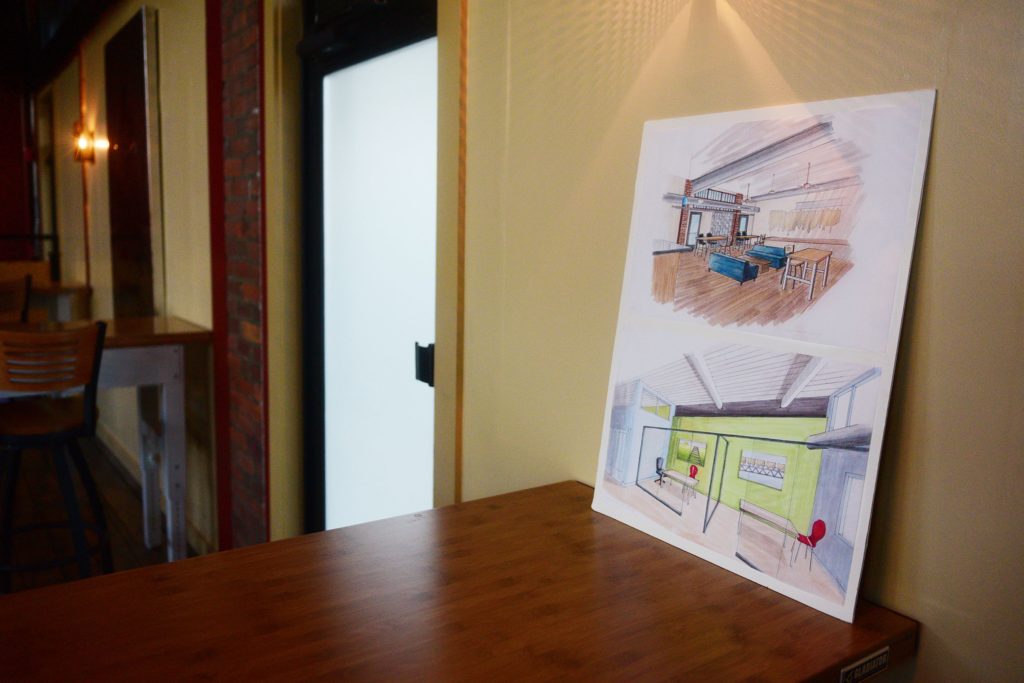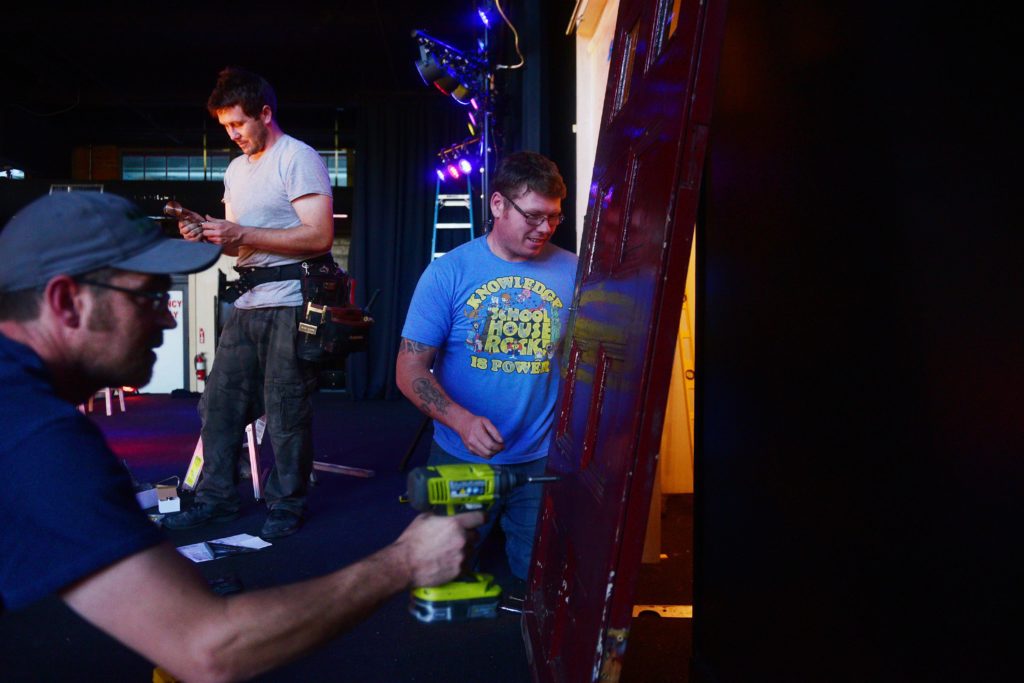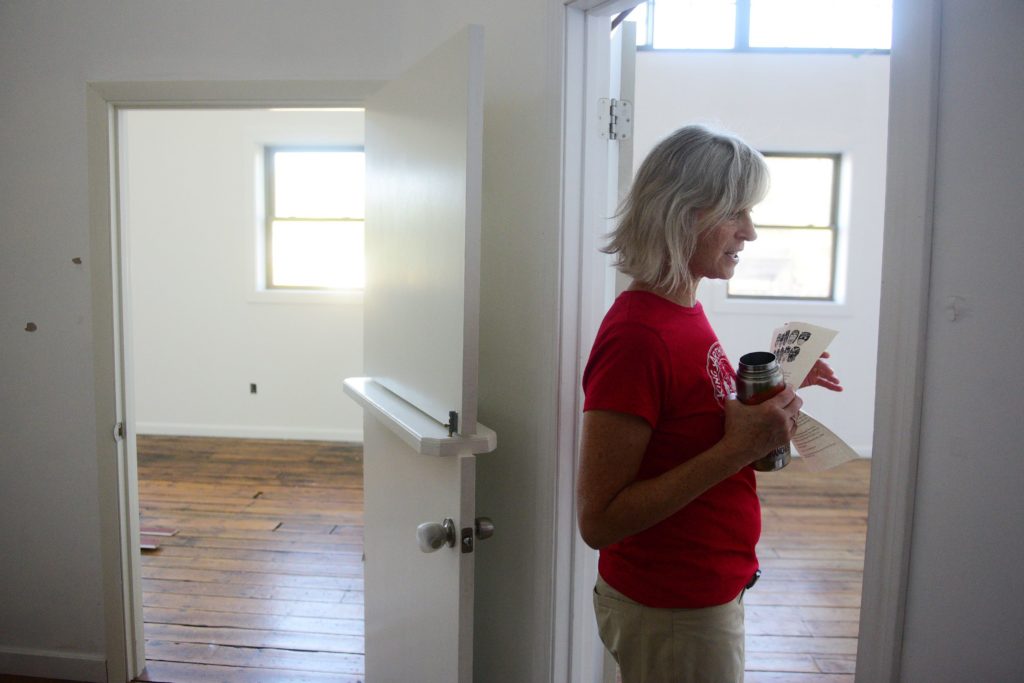 The new co-working space in White River Junction had barely opened its doors, but by early October members were already sharing their skills.
On Chip Brettell's first day at the site, in the former freight house downtown, fellow co-worker Bob Farnham helped him solve a computer problem that would have taken hours for Brettell to figure out by himself.
An engineer and former Thayer School of Engineering instructor, Brettell had been working for the past year at home in North Pomfret, struggling with "very unreliable internet," myriad distractions and the realization that, while he likes to sequester himself in his home office, meeting his goals would require networking.
"I was looking for the ability to throw ideas at people and get feedback," receive help, and give it, said Brettell, who for 17 years had his own business in White River Junction, designing and making tools, mainly for the automotive industry. "I really need a place to come and interact with people."
He and Farnham were among the first people to use The Engine Room, a partnership between Tip Top Pottery owner Amy Robb and local redeveloper Mike Davidson that rents space on a daily or monthly basis.
"It's a nice environment," said Brettell, one of five people working away at tables of varying heights in the newly renovated space on a Wednesday afternoon last month. And the internet speed, recently clocked at 178MB per second, is "incredible."
The new venture includes private offices and the open, more communal space in Freight House Hall, the 4,000-square-foot former home of Riverbank Church, within walking distance of restaurants, other businesses, a bus stop and the train station. With The Engine Room chugging along, and other spaces being considered in Woodstock and Springfield, Vt., the shared office model may finally be gaining traction in the Upper Valley.
Collegiality, Minus the Meetings
According to the online magazine Deskmag, co-working has its roots in "hackerspaces," where people with shared interests can gather to work on projects, often related to technology. The first official co-working space in the United States opened in 2005 in San Francisco. A computer programmer's response to "unsocial" business centers and the unproductive work life at a home office, its amenities included free Wi-Fi, shared lunches, meditation breaks and massages, the magazine noted.
A handful of co-working spaces, some of which are nonprofits, are sprinkled around the Twin States, including in Montpelier, Burlington and Brattleboro in Vermont, and Durham, Manchester, Keene and Portsmouth in New Hampshire. And recently, the Upper Valley has seen the gradual blossoming of co-working and "makerspaces," which co-working guru Lars Hasselblad Torres calls "work environments for independent creatives."
For better or for worse, more and more Vermonters have work situations that make them value low overhead, high networking and high skill-sharing environments, said Torres, founder of Local 64, a co-working hub in Montpelier, and executive director of Generator, a makerspace in Burlington.
They include those doing the "millennial side hustle," working perhaps as a developer for a particular company but also on a side project to, say, help pay for health care.
Freelancers are another cohort. The newest crop may look to co-working for collegiality, minus the team meetings. And as broadband access becomes critical, veteran freelancers, comfortable as they may be working solo in remote locations, are willing to try co-working in downtown areas, where broadband is usually available.
The third group is startups, which leverage co-working spaces as "that initial front office," a more professional alternative to holding meetings at their kitchen tables, Torres said. Establishing that presence is crucial, especially when it comes to trying to get loans, as tech businesses are seen as high risk over brick-and-mortar operations.
Also, most startups need talent, which is "not particularly well matched to loan money," Torres said. In a co-working environment, "you can find people who might be willing to go in with you" or barter, making up for a lack of capital.
Robb, The Engine Room's executive director, has seen at her pottery business, which is now for sale, how a shared space can foster creativity.
Her customers connect as they work side by side on art projects, and she wanted to start a co-working space where people also could create and have fun, said Robb, who considers herself a social entrepreneur. "I thrive on people coming together and creating energy and synergy and connecting and doing something with that," she said.
Commonly sited in repurposed buildings, co-working sites sometimes pop up as part of a larger wave of revitalization.
Springfield on the Move, a Vermont nonprofit working to enhance the downtown area, has hired Torres to help organizers explore the possibility of creating a co-working space.
The downtown's recently updated master plan showed that people want the arts, activities, dining, and services such as banking, accounting and legal support services, Carol Lighthall said in an interview last summer, when she was serving as the nonprofit's executive director. "What a lot of those aspects speak to is the creative economy."
Lighthall had a hunch "creative independents" were working in and around Springfield and would take to co-working. A subsequent survey turned up about 50 people who were interested in a shared downtown office with amenities. A mixer last summer drew more than two dozen prospective members working in fields such as telecommunications, banking, web development, radio and graphic design. Along the way, the organization began looking at possible locations, including the Odd Fellows building on Main Street.
In an interview a week after he joined the nonprofit, Lighthall's successor, Stephen Plunkard, said he thinks downtown would be a good location for a co-working space. It could serve as a "test kitchen" for getting companies to come to the area and offer a perch for "lone eagle" types who want to get work done while vacationing in the area.
If the data the nonprofit has collected supports it, it will move ahead with the idea, Plunkard said. "The one thing we do have in Springfield is space, so hopefully we will be able to tap into it."
A 'Community Toolshed'
Setups differ from place to place, but co-working sites often feature a large common area, with rooms available for meetings or longer telephone conversations, and access to various resources.
They're something like a "community toolshed" shared by neighbors, said Jenny Albee, an Engine Room member who serves as its events coordinator. "We don't all need a lawnmower or snowblower."
In addition to high-speed internet, Engine Room amenities include a kitchen, snacks, showers, lockers, breakout rooms, a conference room, a copier and printer, and mail service.
Yoga, meditation and tai chi classes also are in the hopper, with discounts for members, Robb said. "It's not just about working. It's about a holistic part of your life."
Farnham, one of the early Engine Room users, calls the co-working site his "treehouse."
"I show up when I want to show up, work when I want to work and take advantage of the service here," said Farnham, whose work as a digital marketer for renewable energy and energy-efficiency-related companies depends on connectivity.
Despite the fact that he has the fastest internet service available where he lives, a video that would have taken 19 hours to upload to YouTube at home in Thetford took 15 minutes to upload at the co-working site, he said. "My membership was paid for, right there."
Farnham also is excited about the prospect of collaboration between members, especially on the "virtual level."
Last month, he set up a Facebook group where members can post suggestions, share ideas and tap into the resource of "people who know people" without having to rely on crossing paths in person. "I can go, 'This is what I'm working on when I'm at The Engine Room. I need copy writers. Anybody know any copy writers?' "
Just down the street, in the Gates Briggs Building, owned by the Briggs family, a different co-working model has been in place for two years.
A former law office suite in the Main Street building has five offices that rent for $200 to $400 a month and a common room with a small refrigerator and K-Cup coffee.
Wi-Fi is provided, but in some cases "it isn't enough octane," so people get their own, "and that's fine, too," said David Briggs, who manages the building. While it's "not what you would call synergistic," renters do get to know one another, providing "a little exposure to their fellow man."
Tenants have included a video journalist, someone developing documentaries, an accountant, a lawyer and a group of writers.
There hasn't been a lot of turnover, and when a spot opens up, it goes fast, Briggs said. And the location works.
People like the spontaneity of a village, where they can take a break from work, step out onto the sidewalk for fresh air, and maybe bump into someone they know, he said.
In Woodstock, freelance editor Rachel Shields has teamed up with two other people to find a location, preferably in the village, where they can build a productive, supportive work community. Once it's established, the co-working site would be open to anyone who's interested. But that may take some time.
"There's not very much open office space with good light and that sort of thing in the heart of Woodstock," Shields said. "We want to have good amenities, but the sticking point is finding a place that feels inspiring."
In addition to amenities, co-working also offers a clear conscience for those who find themselves guilt-ridden over commandeering tables at local cafes for hours on end. And while membership isn't free, it may offset other expenses.
At a meeting in August for prospective members, Davidson, the redeveloper, said he knows firsthand the obstacles faced by people looking to take their work out of the house.
"Unfortunately, my bar tab got expensive," he deadpanned. Offering a local co-working space "totally makes sense."
A Matter of Membership
A big airy room filled with sleek modern desks and cozy couches makes for an attractive, practical and simple layout. But filling seats can prove a challenge.
Critical mass makes or breaks co-working spaces, said Torres, the author of Coworking in Vermont: A Starter Guide. Yet even assessing whether there's enough interest to merit a site is difficult.
Especially in Vermont, where the concept is relatively new, "you really have to attune people to the reality of a co-working environment," he said. And unlike in big cities, where residents have a certain level of comfort with busy spaces, finding the small number of people who have the "urban bug" and like the creative benefits of population density is a hurdle.
A previous effort in White River Junction folded when the space was slow to rent.
HUB White River Junction opened in 2014 at 35 Railroad Row and closed the following year, when a business offered to rent the entire space, according to Jill Michaels, whose company, Community Investments, marketed the venture for Railroad Row LLC.
The experience taught her something that she "should have remembered," Michaels said: Before a site is chosen, the project should be "jelled."
It may be a wonderful place with a wonderful landlord, "but you may then find out that it was not necessarily the best space … for what you are trying to do," she said. "There was a lot of demand until people realized that they weren't going to have their own space."
In laying the groundwork for what would become The Engine Room, Robb and Davidson used a survey created by Shields, who with a small group of people had been exploring the idea of a co-working-type setup in White River Junction. They talked with Torres, who shared his experiences, and held meetings to gauge interest in a co-working space. They also built a network of "founders" who, in exchange for discounted membership, spend about 10 hours a week helping with tasks such as greeting people as they come through the door, leading professional development workshops or working on the website. And they have talked continuously with members and prospective members about what they want the space to look like and offer, tweaking the design in response as they go along.
"It's not, 'if you build it, they will come,' " said Robb, whose recent graduate school thesis focuses on social innovation spaces. "You need ownership from the community."
That involves addressing needs and concerns as they arise.
At the August meeting, which drew about a dozen people, Libby Moyer said she was concerned that the survey referred to a "convivial space," yet she would need quiet in order to work. "I'm a professional," said Moyer, who works in entertainment and media services.
Someone else said she was looking for a workspace that's "quieter than a library."
That sort of feedback led to the construction of a "talk box," a small room built off the main area that can be used for phone calls.
The nuts and bolts of what's expected of Engine Room members is laid out in a terms-of-use agreement, which includes a confidentiality clause to prevent people from sharing information, such as trade secrets and marketing plans, they might run across while working there. A list of "co-working courtesies" covers neatness, guests and cellphone usage: indoor calls should be relatively brief and quiet, with longer calls taken in the talk box or outside.
People have been checking in with each other to ensure they aren't too loud, Robb said, and so far, noise hasn't been an issue.
'Another Revenue Stream'
As with any startup, getting and keeping co-working spaces running also is a challenge.
Organizers might have to sink $50,000 into a building and maybe not get it back until year two or three, Torres said. "Most of us who are interested in starting co-working sites aren't the deep-pocketed (venture capital) types. … We're talking about paying market rate on real estate and eking out a break-even scenario."
At the former music hall, co-working won't be the only gig. The Engine Room will host public events such as Tuesday night jam sessions, business after-hours on the third Thursday of every month, and a New Year's Eve party.
In order to sustain co-working and keep fees low, "there's got to be another revenue stream," Robb said.
At the August meeting, Davidson stressed variety. Events might include a hip-hop night or a night club, he said. "To have a place like this, you just can't have the same thing all the time. A co-working space can anchor this place," he said.
The space, which has a licensed bar, also is available for rentals outside of business hours. Bookings so far include a networking event, conference, workshop, holiday party and college semi-formal.
The Engine Room has six or eight founders and two fully paying members, who for $150 a month can access the space on weekdays, from 9 a.m. to 5 p.m. A $325 per month "rent-a-desk" option provides 24/7 access. A marketing company has taken five of those desks, situated in one of several separate rooms, and more are available. A day pass costs $20, and people can try the space for free from 9 a.m. to 5 p.m. on Fridays through Nov. 25.
Ultimately, she'd like to see 30 or 40 members join, said Robb, who's optimistic about the co-working space's future. The community interest is there, the energy is good and "it's something that we need."
—
Co–working vs. 'Makerspace'
While co–working and 'makerspaces' both promote shared resources, creativity and collaboration, the latter tend to be for work requiring tools beyond a desk and internet connection. Locally, the nonprofit TwinState MakerSpaces is renovating the former Sawtooth building on Claremont's Main Street to be the site of Claremont MakerSpace. It's expected to contain studios, classroom space, and co–working space for people who have startup and project ideas. According to TwinState's website, the space is geared toward makers of all kinds, "artists, artisans, entrepreneurs and weekend tinkerers."
A new makerspace in downtown Lebanon offers a free weekly open craft night, access to equipment, and workspace for printmaking, sewing and other endeavors. Hourly rates and memberships are available at Scratch, which is also an arts and crafts supply store.
Many people work on projects by themselves at home, and it's nice to add a social component, said Jessica Giordani, one of Scratch's three owners." We wanted to have a space surrounded by things we love doing and … where there is a community around this type of crafting."
—
Valley News staff writer Aimee Caruso can be reached at acaruso@vnews.com or 603-727-3210.