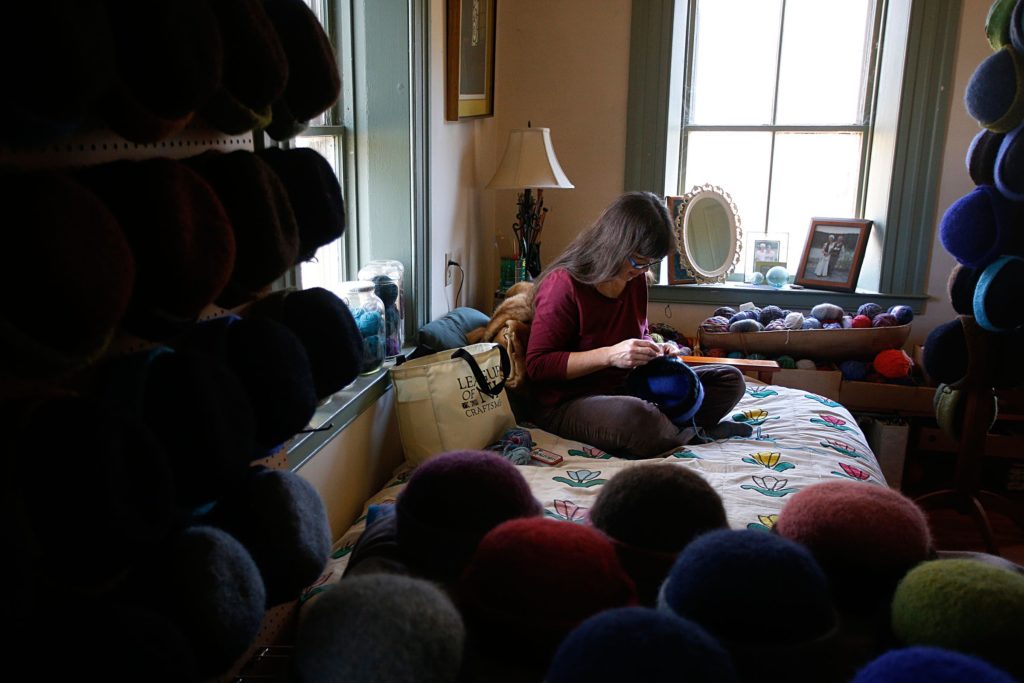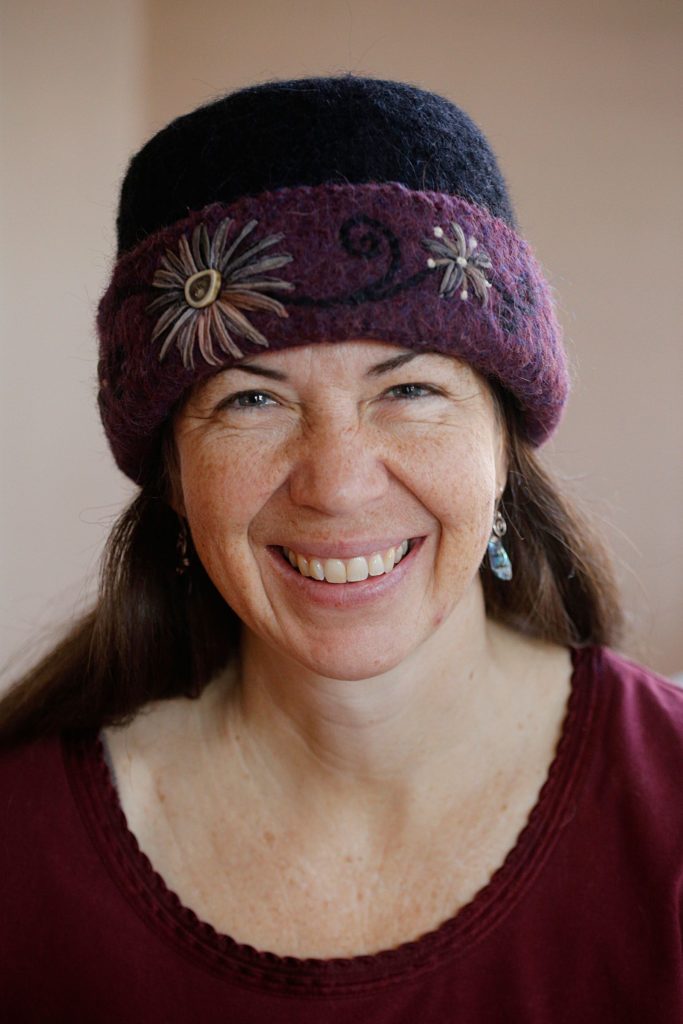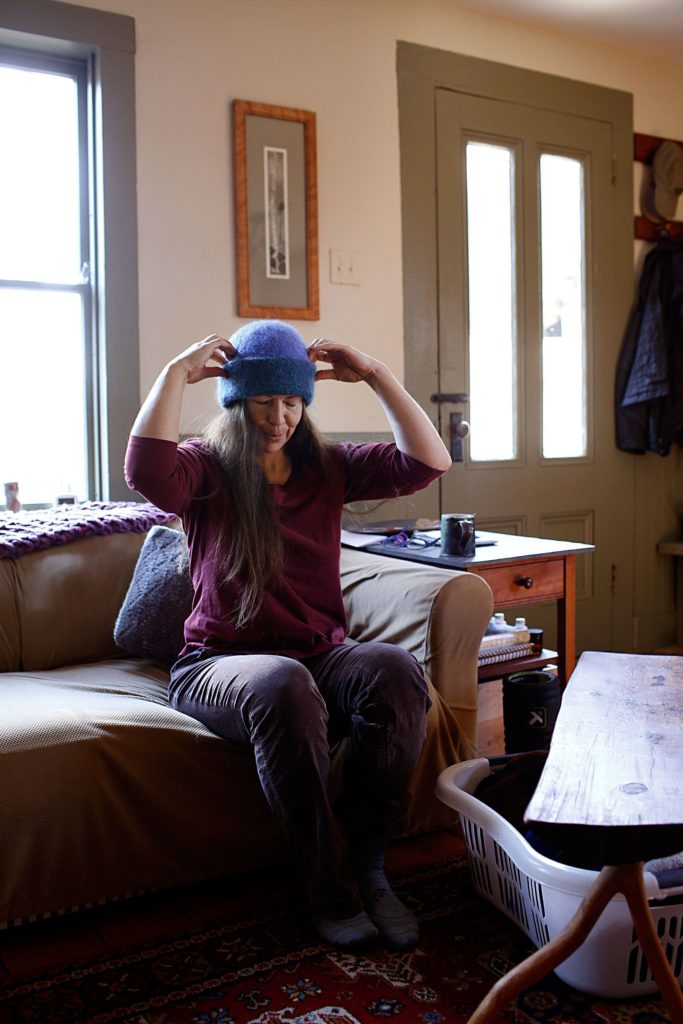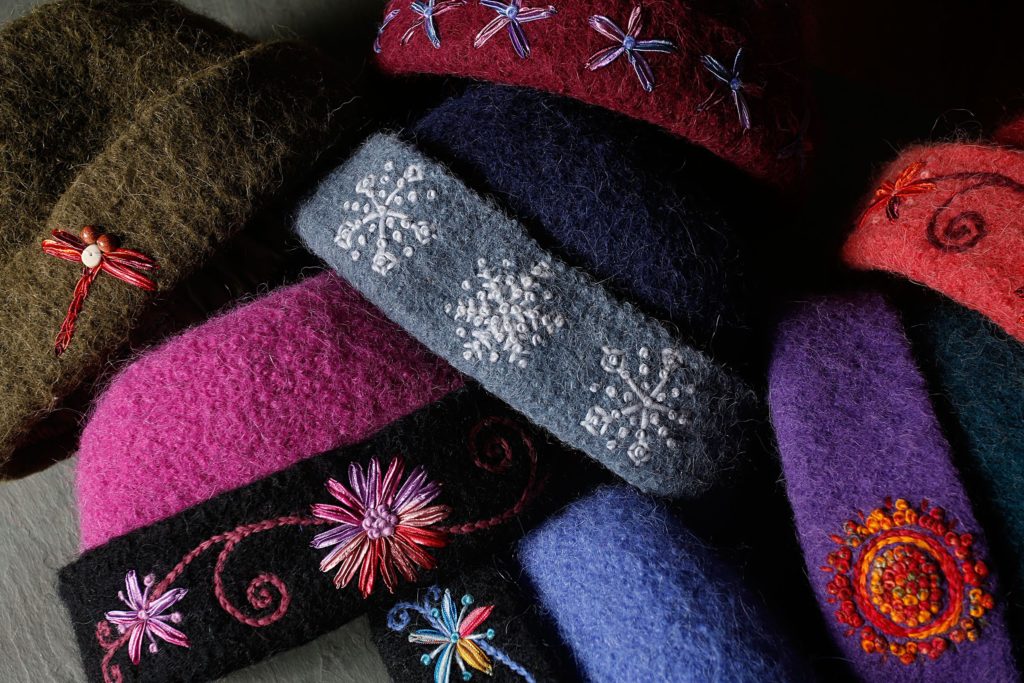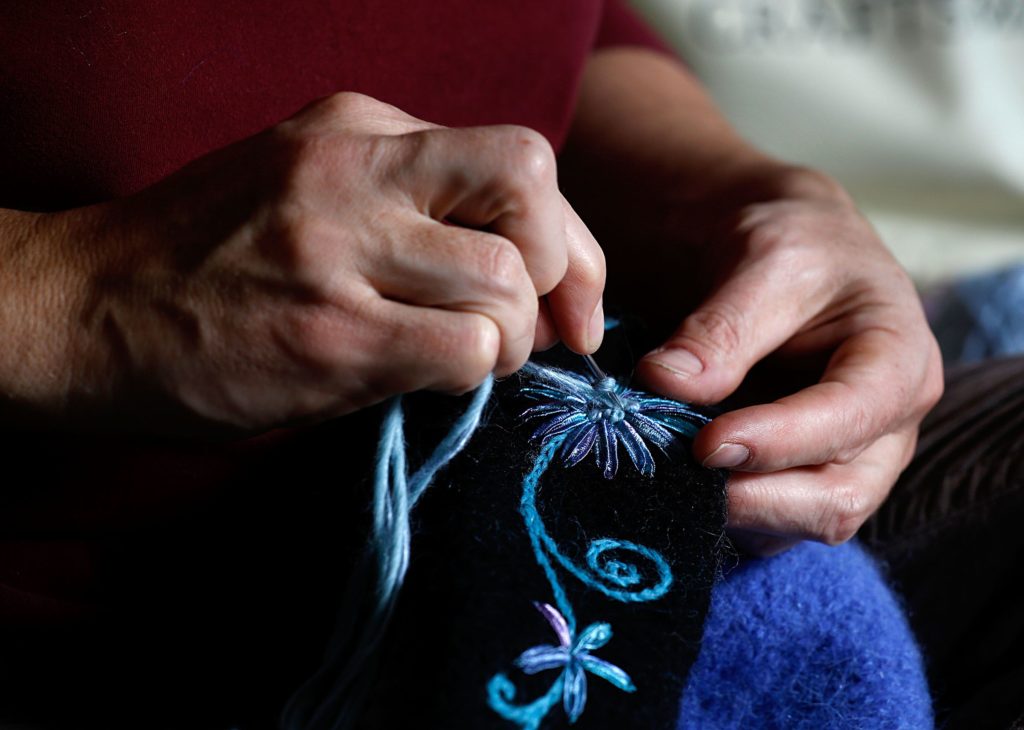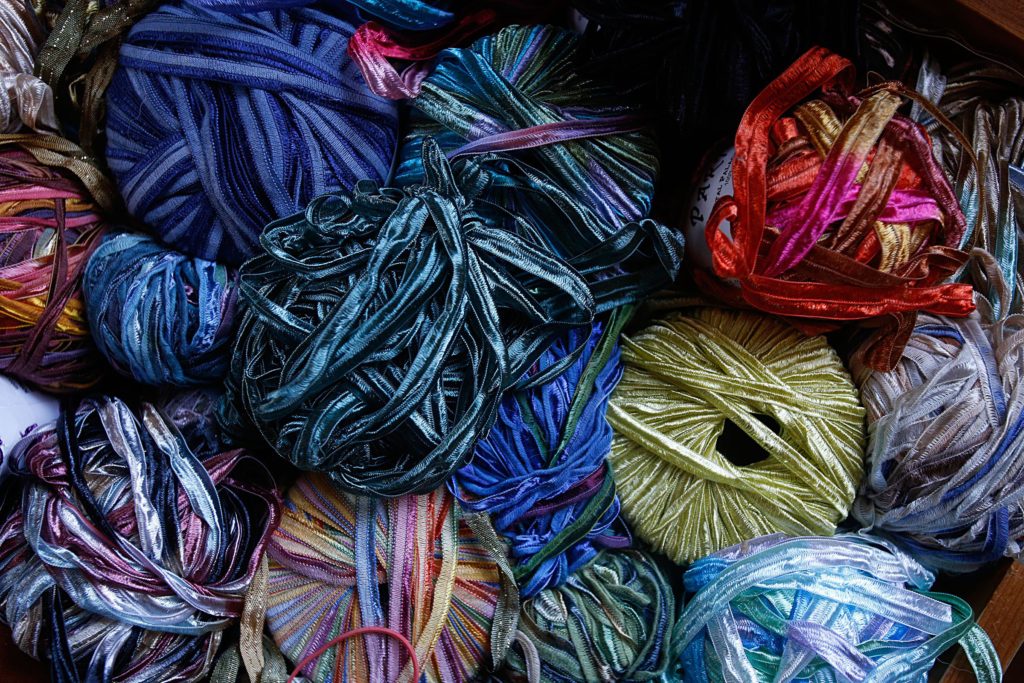 Some entrepreneurs' websites are all business, but that's not how fiber artist Carrie Cahill Mulligan rolls.
Along with photographs of Mulligan's jaunty handmade hats, visitors to ccmhats.com also will find illustrated vignettes on everything from her family to favorite recipes to the hockey habit she developed as an adult. There's even a video of her playing banjo.
Hats are "a really personal purchase," so sharing with customers about her life makes sense, said the Canaan resident, who says she has "kind of a woo-woo feeling" that people's energy is included in their handmade products.
"People's heads are sacred to them, their hair, their makeup. … Your whole juju is involved in your face and head," said Mulligan, 46, who also works part time for Dartmouth College's athletic department. "That's personal, so I think people like to know."
Her story also is embedded in the hats themselves.
A personal connection
Mulligan grew up in California and later moved to Alaska, where she discovered that the difference between "enjoying the cold and hating the winter" comes down to being properly dressed.
During return visits to California, her mother taught her to knit, a craft that brightened the long, dark northern winters and eventually led to the creation of her signature felted hats. In 2004, she and her husband, Andy Mulligan, moved to New Hampshire, where his family lives. Soon after, Mulligan was juried into the League of New Hampshire Craftsmen, and her pastime blossomed into a business, which she calls Heirloom Handknit Hats.
The hats, made of wool and alpaca or wool and llama fiber blends, are based on a bowler pattern she's tweaked over the years. They begin as giant hand-knit caps that are later felted, or washed in hot soapy water until the fibers interlock, forming a dense, soft fabric. They're hand shaped and air-dried, and lined with satin ribbon to prevent itching and help them maintain their shape. Mulligan then embroiders designs onto some of the hats, giving them a unique finishing touch.
Prices range from $125 for an unlined, unadorned version to $250, depending on the intricacy of the embroidery.
Over the years, Mulligan has added new designs and discontinued others. An early creation featured buttons made from antlers, likely from a caribou. Later, she introduced embroidery, including a three-flower design inspired by floral patterns native Athabascan women in Alaska use in their beadwork.
That design, and her lifestyle choices, took on a deeper resonance for Mulligan, who was adopted from Canada, in 2008. That's the year her birth father, who is Labrador Metis — meaning he has Native and European ancestry — found her.
The adoption agency had never really told the truth about her ethnicity, and she wished she'd known earlier, Mulligan said. "It was a really weird thing to explain to my mom why I wanted to go to the tundra," she said.
In Alaska, Mulligan's jobs included working as a naturalist in Denali National Park, where she encouraged visitors to tune into the plants that are unique to the area.
"I was really into the micro, micro part of the landscape, and that's what the embroidery reminds me of: getting people to slow down, just narrow in on the moment and look and be still for a little bit," she said.
Until recently, Mulligan came up with her own ideas for embroidered designs. Then, a customer made a special request for a colorful dragonfly.
Embroidering the turquoise insect on a red hat proved an uncomfortable prospect for Mulligan, who tends to pair hues that sit close to one another on the color wheel. Deciding which stitches to use, and how to orient the design on the brim, took some time.
Yet despite her misgivings, the design, which she has recreated in various colors, has turned out to be "the biggest blessing," she said, attracting people who "would never look twice at the hats, except that they love dragonflies."
A purveyor of expensive, durable items, Mulligan used to worry she'd created a "terrible" business model. Then she reconsidered.
For the person who loves them, "when this becomes your only hat, you only have one color," she said, and eventually customers will buy another — none of which she takes for granted.
"I think it's a really big deal when people invest in my hats," which aren't cheap, she said. "They're not just buying them on a whim."
Her customers include affluent men and women and others who save all year for a hat. Some stay in touch with her online or through visits to her booth at the annual League of New Hampshire Craftsmen's Fair in Newbury, N.H.
One woman comes every year, bringing such goodies as berries and her homemade soap, Mulligan said. "I feel very connected."
Valley News staff writer Aimee Caruso can be reached at acaruso@vnews.com or 603-727-3210.