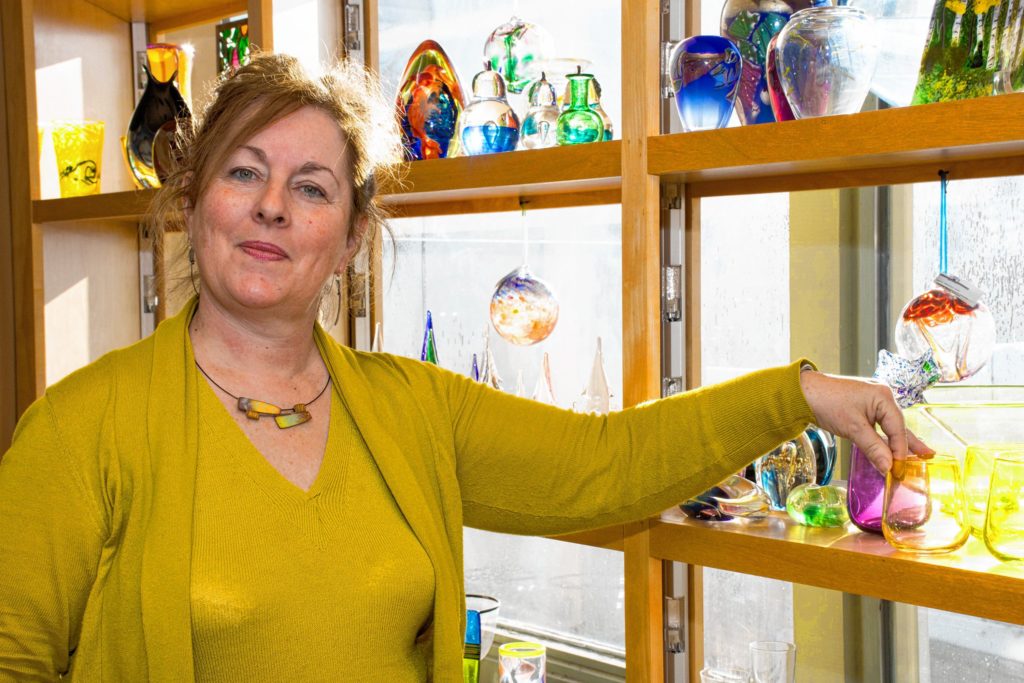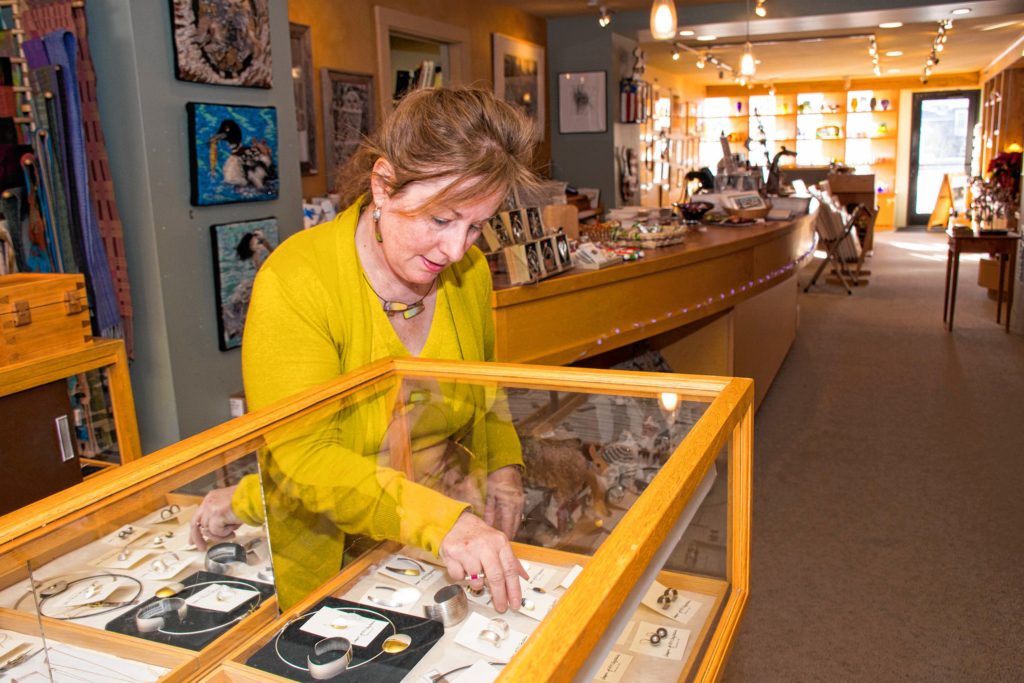 "History has shown again and again that the state and nation which supports its art lives on forever."

— Royal Bailey Farnum, a leader in the field of arts and crafts and among the first advisers to the League of New Hampshire Craftsmen.
Farnum's comments reach back to the early 1920s but remain the hallmark of the League of New Hampshire Craftsmen and its Hanover Fine Craft Gallery.
The league has been fostering and nurturing relationships within the Hanover community since its opening in 1952. Its dual gallery shop, located at 13 Lebanon St., close to the campus of Dartmouth College, and its CraftStudies program have brought generations of curiosity seekers, lifelong learners, artists and fine craft lovers together.
The Hanover gallery is adorned with hundreds of handmade pieces of contemporary and traditional fine craft made by local and regional artists. The three-story retail and studio space offers home decor, glass, woodwork, jewelry and fine craft, and also has become a popular educational hub in connection with the League of New Hampshire Craftsmen to promote classes and workshops that nurture the creativity and skills of aspiring artists of all ages and experience levels.
"Creativity does not stand still here," said Deb Cardew, manager of the Fine Craft Gallery shop. "There's a constant evolution of new and established artists who bring fresh ideas, new materials and approaches to us. They are invaluable, both personally and culturally, to our community."
The League of New Hampshire Craftsmen has been a benchmark since its founding in 1932, setting high standards and promoting fine craft throughout the United States and the world.
"We are constantly exploring new ways to engage our local patrons as well as art lovers around the globe," said Cardew, who has been with the gallery since 1999. "With so many alternatives for people to shop and e-commerce on the rise, it's important we provide good reasons for people to visit us," she said.
The gallery allows the league to "show and tell" in a way the internet can't, said Cardew, who hails from Cornwall, England, and has decades of retail experience, having helped run her family's pottery business. "We offer a personal experience for those who want to pick up the piece of pottery, hold the mug, try on the jewelry and grasp the art in their hands. They are looking for that one-of-a-kind piece and are also interested in learning about the artist and the process."
A loyal and steady group of customers support the Hanover gallery. Their reasons for visiting are different and personal: Some shop for a gift or to discover handmade objects to decorate a new space, while others explore the educational offerings.
Teaching crafts is another important function of the Hanover gallery, which has a mixed media, clay and metals studio. People of all ages and skill levels bring their imaginations to classes and workspaces.
"It's heartwarming to see generations of families support our gallery. Grandparents will bring their grandkids in to shop or they'll take classes together," Cardew said. "We bring great value to our community beyond the goods. When they walk through our doors there's an immediate engagement with art and we're able to integrate that with a deeper, educational component."
Allison Riese, who lives on Goose Pond in Canaan, first visited the gallery after receiving a gift certificate for a pottery class. One class (on a potter's wheel) led to another (handbuilding) and another, before she volunteered her time as a studio monitor while students used open studio time to work on their craft. That evolved into an instructional opportunity. Riese now is in her fourth year of teaching pottery to 6- to 13-year-olds.
"To see young kids on their first visit start out with a ball of clay and become energized by their own creativity is amazing," Riese said. "The environment fosters imagination and teamwork and allows you to practice your craft in an open studio. It's relaxing and a way to relieve stress, just a wonderful outlet for creativity."
There is no shortage of traditional and contemporary art offerings at the gallery, with more than 250 "juried" crafters working in a wide range of mediums, from wood and clay to printmaking, jewelry, basketry and more. To earn juried status, an artist must undergo a rigorous process and adhere to the league's standards of excellence in creativity, innovation and technical expertise. Artists also must live in New Hampshire or within 10 miles of the state border.
Juried artists, who include jewelers, woodturners, glassblowers, printmakers, weavers and craft artists of many mediums, also put their work on display at the league's premier event, the annual nine-day Craftsmen's Fair. The popular event, which begins on the first Saturday in August at the Mount Sunapee Resort in Newbury, N.H., recently attracted more than 25,000 visitors who spent more than $2 million on crafts.
Despite its popularity, expanding foot traffic and membership at the Hanover gallery is a constant challenge. Cardew recently engaged with Upper Valley SCORE, the local chapter of the national nonprofit association that helps educate entrepreneurs and small businesses. She attended a SCORE marketing and selling workshop presented by Barry Rotman, a Norwich resident and successful New England retailer. There, Cardew learned some practical and new approaches to retail marketing.
The gallery has since introduced a more robust website, enhanced its e-commerce offerings, added new membership benefits and is planning special events for 2017.
And when it comes to telling the league's story, Cardew said she believes history is a great asset, one that should be shared and showcased at every opportunity. As a result, a new oversized video monitor has been placed center stage in the gallery's storefront window to play a streaming video of the league and its gallery to onlookers, street traffic and patrons.
"SCORE was a great resource and a comfortable environment to brainstorm, ask questions and share ideas," Cardew said. "I listened and learned from other entrepreneurs, businesses and marketers and walked away with some tangible takeaways and new ideas."
Editor's note: The Hanover Fine Craft Gallery shop can be reached at 603-643-5050 or hanleague@valley.net. For more information about SCORE, visit the Upper Valley chapter at uppervalley.score.org or call 603-448-3491.
Lynn Luczkowski is president of L2 Communications, a public relations, marketing communication and social media agency in Quechee. She can be reached at Lynn@L2comm.biz.