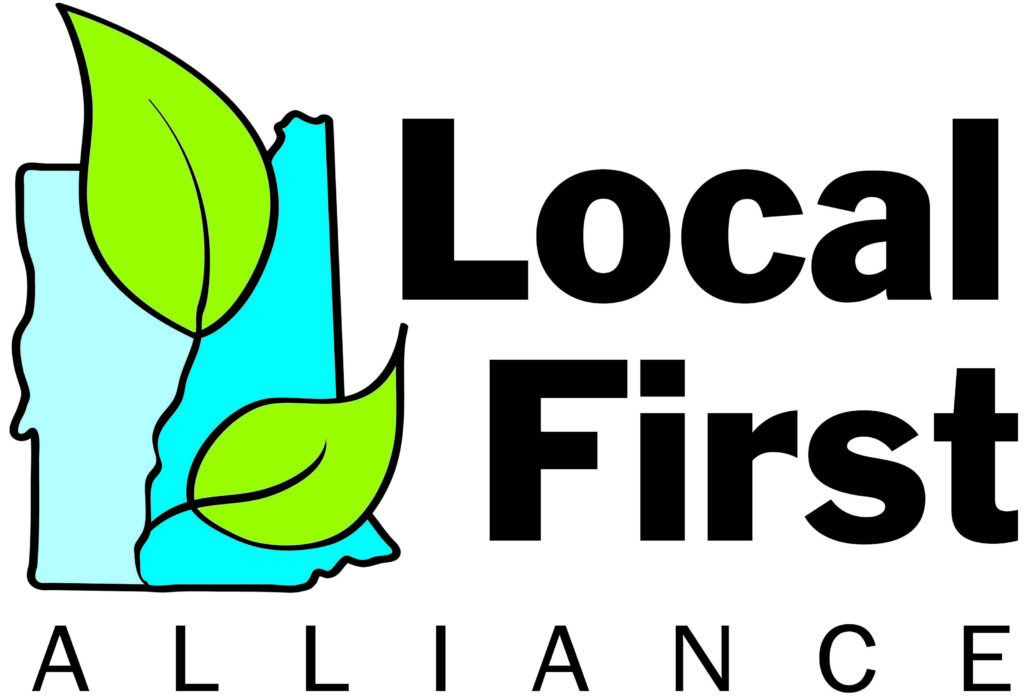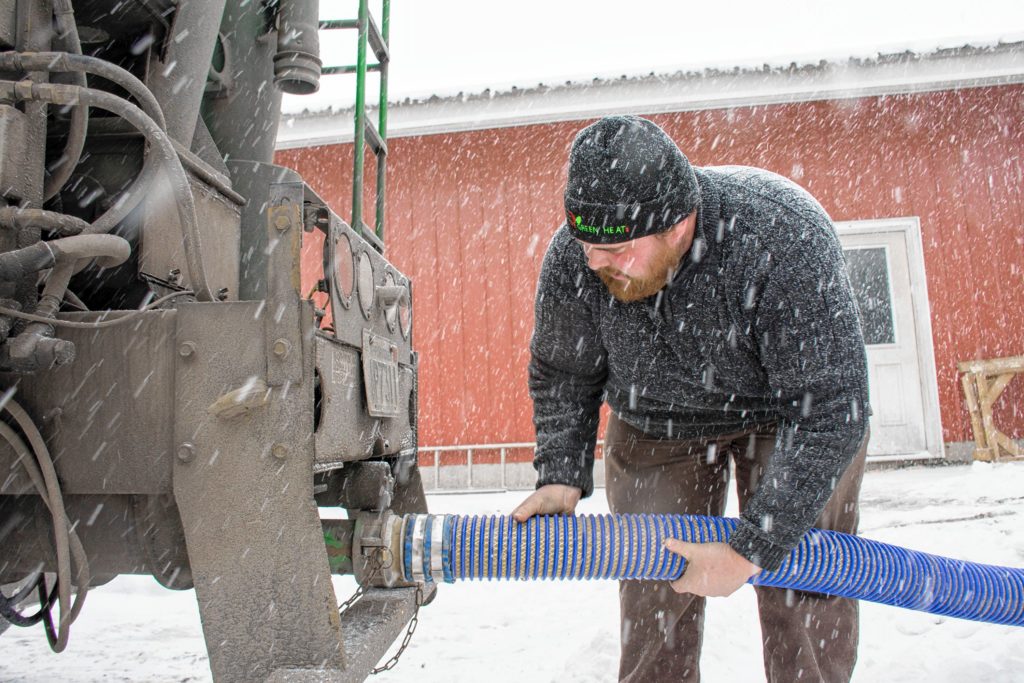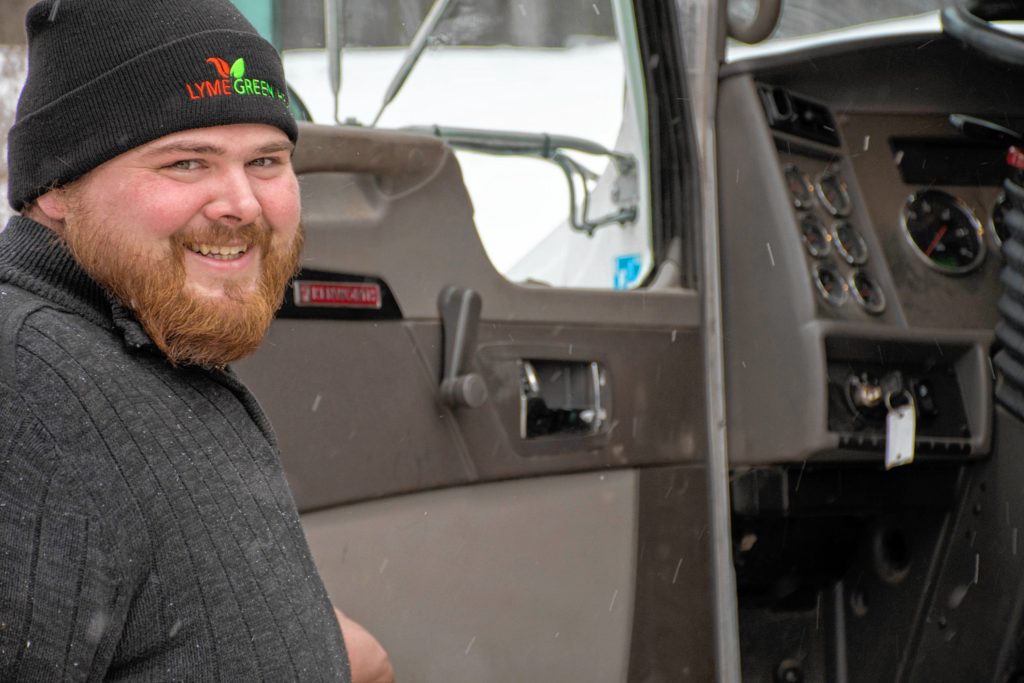 Editor's note: The is the first in a new series highlighting members of Local First Alliance, a program of Vital Communities.
When Morton Bailey started his company, Lyme Green Heat, nearly a decade ago, oil prices were high and wood-pellet fuel was dramatically cheaper. It made wood-pellet stoves a pretty attractive heating option for Upper Valley homeowners, and Bailey's business selling bagged wood-pellet fuel grew steadily throughout the region.
But when oil prices started plummeting a couple of years ago, he said, it left everyone in the solid-fuel industry scratching their heads about how to succeed when they'd lost one of their greatest selling points.
"As a startup looking to grow, we just kind of dug in our heels," he said. "We're not letting cheap oil slow down our progress. The oil price drop has forced me to do things that were kind of outside my comfort zone as a young company, but now they're paying dividends."
The biomass industry always sold against oil prices, "and there's just too much ebb and flow there," Bailey said. "Instead of continuing the pattern, I want to find a new approach. What other appetite is out there, and what advantage can we offer other than just being cheaper?"
Bailey seems to have hit on an answer that works: Combining advanced wood-pellet boiler systems with bulk wood-pellet delivery to provide an easy, efficient, renewable local heat source for Upper Valley residents and businesses.
Heating with wood-pellet boilers "was a really new concept here in New Hampshire" when he started selling them, Bailey said.
But the cost incentives — including generous state rebates in the Twin States — have encouraged people to take a serious look at the idea.
Today, Lyme Green Heat has shifted from selling bagged pellets to installing and servicing central wood-pellet boilers and delivering the fuel to feed them — the same way an oil or propane heating system works.
"You're burning wood with the ease of liquid fuel in a highly efficient, modern heating system. This is wood heat for everyone," Bailey said. "People don't want to burn fossil fuels. They want to burn locally sourced products, and we fit nicely into that marketplace."
The local aspect of Lyme Green Heat's business is critical to its success, Bailey said. And it goes well beyond the fact that he's a Lyme native running an area business that serves local customers and employs local people.
"The New Hampshire forest economy is a big deal," he said. "With paper mills shutting down throughout New England, it's getting more difficult for loggers and landowners to find uses for the low-grade timber that has to be harvested as part of sustainable forest management.
"Landowners large and small are working to keep open lands and forests, including large tracts in the Upper Valley, but the decrease in the low-grade timber value discourages the continued use of these properties as timber stands. Pellets are seen as a real economic driver in this state," Bailey said. "There's an economy that comes from that land, and wood-pellet heating can help support it. That's what makes wood pellets a unique renewable energy product. There aren't any other products out there that can say they do good for the place they come from."
A 2007 study found that 78 percent of every dollar spent on heating oil in New England leaves the region, according to U.S. Department of Energy data.
In contrast, essentially 100 percent of every dollar spent on wood pellets made in New England stays in the regional economy, said Joe Short, vice president of the Northern Forest Center in Concord.
Short said this is because those dollars are paid to local fuel deliverers, who buy the pellets from local mills, who purchase the wood from local sawmills and landowners.
Lyme Green Heat recently joined Local First Alliance, a program coordinated by the Upper Valley nonprofit Vital Communities, that works to raise the visibility of the region's local businesses and help consumers understand the positive impact they create every time they "think local first."
"It's important to remember that some companies are truly local and we should prioritize our spending that way," Bailey said.
His business is a somewhat unusual member of Local First Alliance — "think local first" is almost natural for many people when it comes to shopping or dining out, but local heating hasn't even crossed their minds.
"We have a very local focus because we know that the way we use wood here for heating is a smart way to do it," Bailey said. "We make a real, substantive, local change to the way people heat their homes."
'Heat local' is one of the biomass industry's favorite slogans," Bailey said. "This is truly a local product that keeps those local dollars in the local economy. It doesn't get much more local than this."
Allison Rogers Furbish is communications manager for Vital Communities. She remembers Morton Bailey delivering bagged wood pellets to her parents' home in Lebanon when they installed their first pellet stove nearly a decade ago.