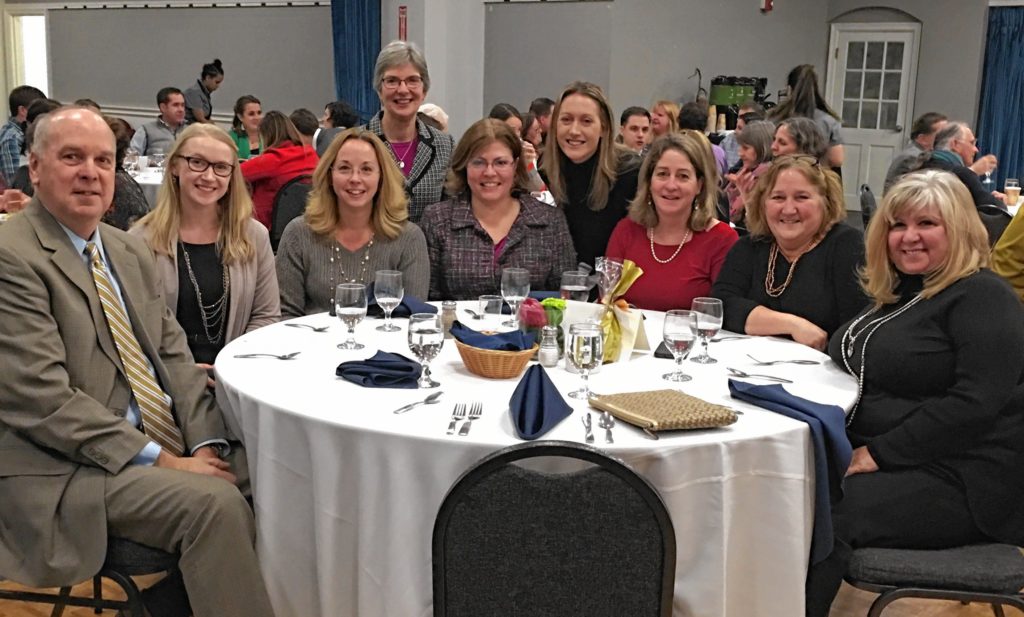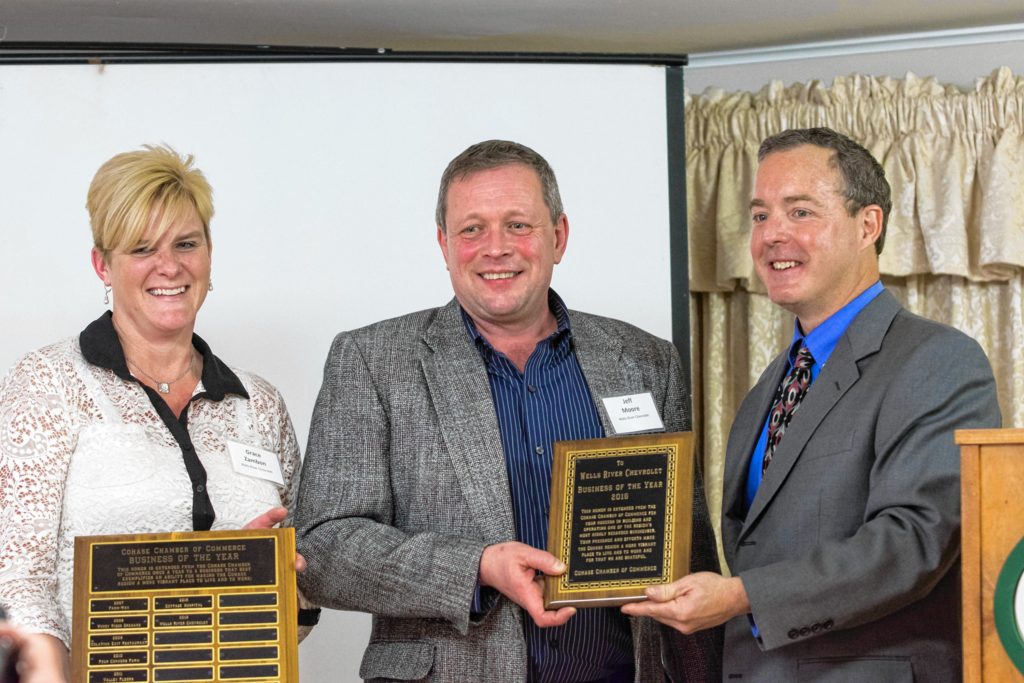 The Lake Sunapee Region Chamber of Commerce presented its Business of the Year award to Lake Sunapee Bank and its Community Member of the Year award to Tanya Wilkie during its annual meeting in January. The nomination for Newport-based Lake Sunapee Bank cited the bank's contributions to many organizations and causes throughout the Lake Sunapee Region. "In addition to generous monetary sponsorships and donations, bank employees do community work, including serving on many local boards and playing other key volunteer leadership roles in our communities," the nomination reads. Wilkie, of Sunapee, was honored as a community member who "selflessly gives of her time, money and support to local organizations, such as the Lake Sunapee Region Visiting Nurse Association and New London Hospital," the chamber said in a news release. A nurse-educator by training, Wilkie had a 20-year career at the Sugar River Valley Regional Technical Center's Health Science Technology program at Newport Middle High School before her 2013 retirement. As a volunteer, she has served on the boards of New London Hospital and the Lake Sunapee Protective Association, where she served as president. For the past year, she played an active role on the "Building for Health" capital campaign committee that raised donations in support of New London Hospital's new Newport Health Center.
Wells River Chevrolet has been named Business of the Year by the Cohase Chamber of Commerce, and Newbury residents Connie Philleo and Claude Phipps have been selected as Citizens of the Year. Wells River Chevrolet is being recognized for its commitment to the region's communities, its dedication to its employees and for its role as a key economic driver in the region, the chamber said in a news release. The company is a "frequent sponsor of community events, a dedicated regional employer and an integral part of the Cohase regional business community," the release said. Philleo and Phipps were selected for their roles as community leaders who have contributed in many ways to towns within the Cohase region. Their contributions include organizing Green Up Day and the AARP Tax Aid program in Newbury, volunteering for activities with the Wells River Action Program, serving as major forces behind the Old Village Church renovation and in the organizational evolution of Rivers Reach and Little Rivers Health Care. In addition, they have served on an "endless array of committees and boards and volunteering for many of our region's festivals, events and educational programs." the release said.
Janet Rebman has tendered her resignation as executive director of the Hanover Area Chamber of Commerce following an 11-year stint during which she helped transform the 350-member alliance from a typical small-town business booster group into an organization that offers innovative programs, education seminars and marketing help for members. Rebman joined the Hanover Chamber in 2006 after serving as director of alumni events at Dartmouth College and meetings organizer with an organization representing state legislatures. During her tenure, the Hanover Chamber launched such programs as Meet-Up Upper Valley, D'Perks and the Hanover Area Farmers Market. Rebman said she has acquired a "receptive tour operator" business that "creates tourism experiences" for visitors who are customers of tour operators. "It is a wholesale business so it is generally behind the scenes helping various travel groups to get unique experiences in local areas," she said.
Morano Gelato, the Hanover gelato cafe, is returning to the hands of its founder. Morgan Morano, who developed the gelato recipes and began selling the dessert out of freezer cases at the Norwich Farmers Market before opening the cafe in Hanover, has teamed up with a New London couple to buy back the store from the two couples she sold it to in 2013. Morano's partnering for recontrol of the Hanover store is the keystone of her plan several years in the works to expand the eponymous gelato brand at locations through franchise agreements. New stores are expected to open later this year in Westfield, N.J., and in New Hampshire under franchisee ownership. The 32-year-old Morano sold the Hanover store three years ago to Norwich residents Jennifer and John Langhus and Pam and Bill Miles. John Langhus is vice president of business development at Norwich Technologies, a White River Junction solar power company. Bill Miles is senior vice president and general manager of Picaboo, a Hanover digital image publisher and printer. Morano began selling her gelato at the Norwich Farmers Market in the summer of 2010 when it caught the eye of Kenny Fabrikant, the former owner of Rosey Jekes apparel store in Hanover. Fabrikant invited her to open a gelato counter in the ground-floor space on the backside of his building, and word of the creamy Italian dessert quickly spread. Within a year, Morano moved her business to its current location next to the Nugget, and then in 2012 expanded into the space formerly occupied by the shoe store Helium.
Crafts store Michaels is opening its first store in the Upper Valley in the space formerly occupied by Books-a-Million between Price Chopper and Wal-Mart on Route 12A. The move caps 18 months of planning for the Irving, Texas-based chain, which began laying the groundwork in 2015 when it advertised for employees to staff a store in West Lebanon. Michaels New Hampshire district manager Jennifer Dropski said the store is looking to hire 25 to 30 employees on an ongoing basis. The nearest Michaels store locations are in Rutland; Keene, N.H.; Manchester and Concord. "We look for communities that love crafting," Dropski said. "I live in New Hampshire and I know there are a ton of crafters here, that's for sure." Michaels, which bills itself as the "largest specialty provider of arts, crafts, framing, floral, wall decor and seasonal merchandise for the hobbyist and do-it-yourself home decorator," operates 1,368 stores in the U.S. and Canada. For the third quarter of 2016, the most recently available results, Michaels reported net sales rose 5 percent to $1.2 billion and net income was essentially flat at $76.5 million compared with the comparable period a year earlier. Michaels is coming into a market already occupied by its chief rival, Jo-Ann Fabrics and Crafts, which also sells home crafting supplies. Wal-Mart, in the same shopping plaza where Michaels will be located, has a crafting aisle. In addition, Hobbies 'N' Stuff and Valley Art Supplies in the Glen Road Plaza sells arts and crafts supplies.
After 15 years on South Main Street, Title Mortgage Solution has relocated its Hanover mortgage lending office to 7 Lebanon St., Suite 105. The new office, behind Salt hill Pub and Talbots, is twice the size of the previous space and features more private offices as well as a closing conference room and state-of-the art technology, the company said in a news release. "Our entrance is on the first floor in a courtyard and there is plenty of natural light," Josh Bennett, vice president and loan officer of Title Mortgage, said in the release. "This new space is already feeling like home." Title Mortgage Solution which employs 13 people, has done more than $1 billion in mortgage financing since opening its doors in 2000. It opened an office in Burlington in March.
A new State Farm Insurance office has opened at 240 River St. in Springfield. In a news release from the Springfield Regional Chamber of Commerce, owner Jerry Farnum said his family has a long association with the Springfield community "and I want to continue that tradition, providing jobs and services to the community I grew up in — the community we are raising our kids in." The Springfield office employs four individuals, including Farnum's son Sean. The office can be reached at 802-885-2939.
Cioffredi & Associates/The Institute for Health and Human Performance has earned an honorable mention designation in the Physical Therapy Practice of the Year award competition sponsored by Advance Healthcare Network's Advance Magazine. This is the second consecutive year Lebanon-based Cioffredi & Associates has earned the designation. The contest, now in its 15th year, tallies anonymous entries from across the country and scores them on a range of success metrics. The contest is free and is not connected with advertising contracts or incentives, the company said in a news release.
Sugar River Pharmacy, which opened in 2009 in the Sugar River Plaza in Newport, opened two new locations last week. Chad Beane, who owns the pharmacy stores with Thomas Wilmot, said their new Claremont location, in the brick building at 109 Pleasant St., is where Carl Bannon operated Bannon Pharmacy for many years. Bannon is the pharmacy manager at the new Claremont store. The Claremont hours are 8 a.m. to 6 p.m., Monday through Friday; and 9 a.m. to 2 p.m. on Saturdays. In Newport, Beane and Wilmot opened a second location at the new Newport Health Center. Health Center Pharmacy is open 9 a.m. to 5:30 a.m., Monday through Friday.
Gnomon Copy Co., which operates locations in Lebanon and Hanover, is under new ownership. James Bolger, 50, of North Carolina, recently purchased the business following the death in April of his brother-in-law, Gary Caplan, 53, of Lebanon, who operated the business for 14 years. Bolger has more than 25 years of financial management and technology consulting experience. Prior to purchasing Gnomon Copy, he worked at Oracle Corp. for 16 years and earlier held financial positions in the automotive and consumer products industries. He holds a bachelor's degree in accounting from Ohio State University. Bolger said he will commute to the Upper Valley from his home in North Carolina pending a planned relocation to the area in the future.
Longtime Lebanon yarn shop Country Woolens is closing after more than 50 years, with owner Deborah Hodges saying internet sales have eaten into her business and she has grown weary of vandalism to the Mechanic Street property. Country Woolens is the second yarn store in the Upper Valley to close in recent months: White River Yarns in White River Junction closed its doors in November. Hodges, a onetime administrator at Dartmouth College, has owned Country Woolens since 1999.